Classic vanilla no-bake cheesecake with added green spirulina for festive color with no artificial dyes. Light and fluffy in texture, this cheesecake is cream cheese perfection. Adding snow-kissed rosemary was the perfect natural garnish for this wintry cheesecake. It is a simple, impressive dessert that holds its shape well!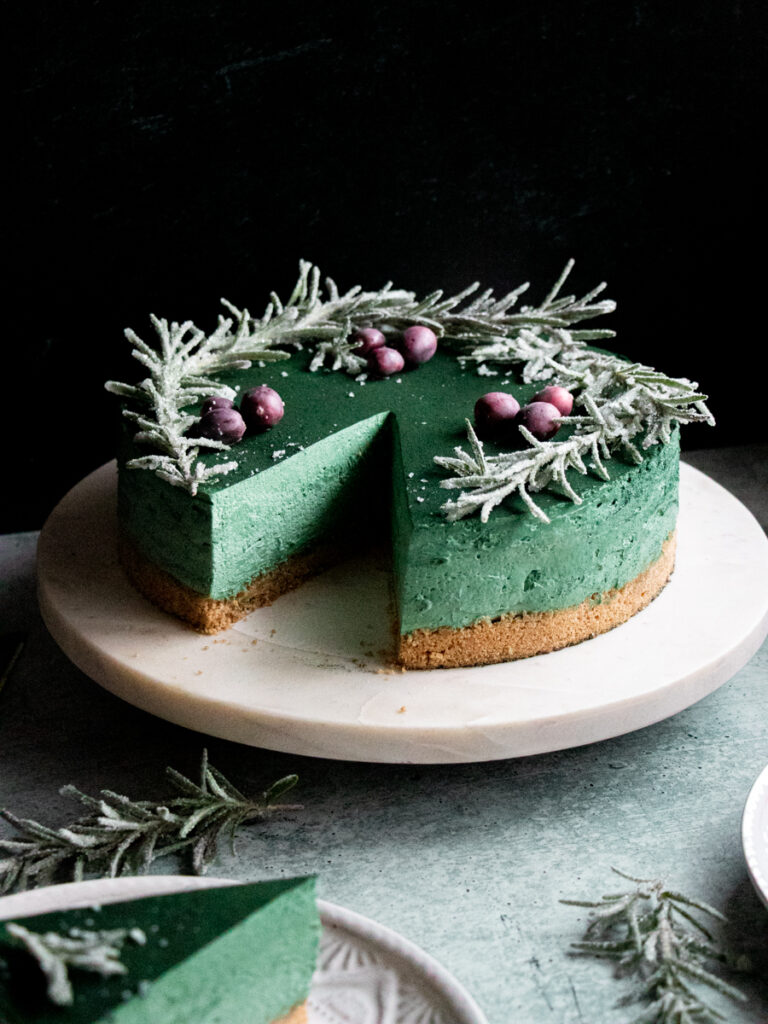 When I came across a gluten-free, dairy-free vegan version of this cheesecake, I knew I had to make this for the holidays with real cream cheese and fluffy whipped cream so the whole family would enjoy it. (And yes, my freezer is bursting at the seams with desserts I've prepped in advance, thanks for asking!) I used my classic No-Bake Cheesecake recipe as the base of this dessert.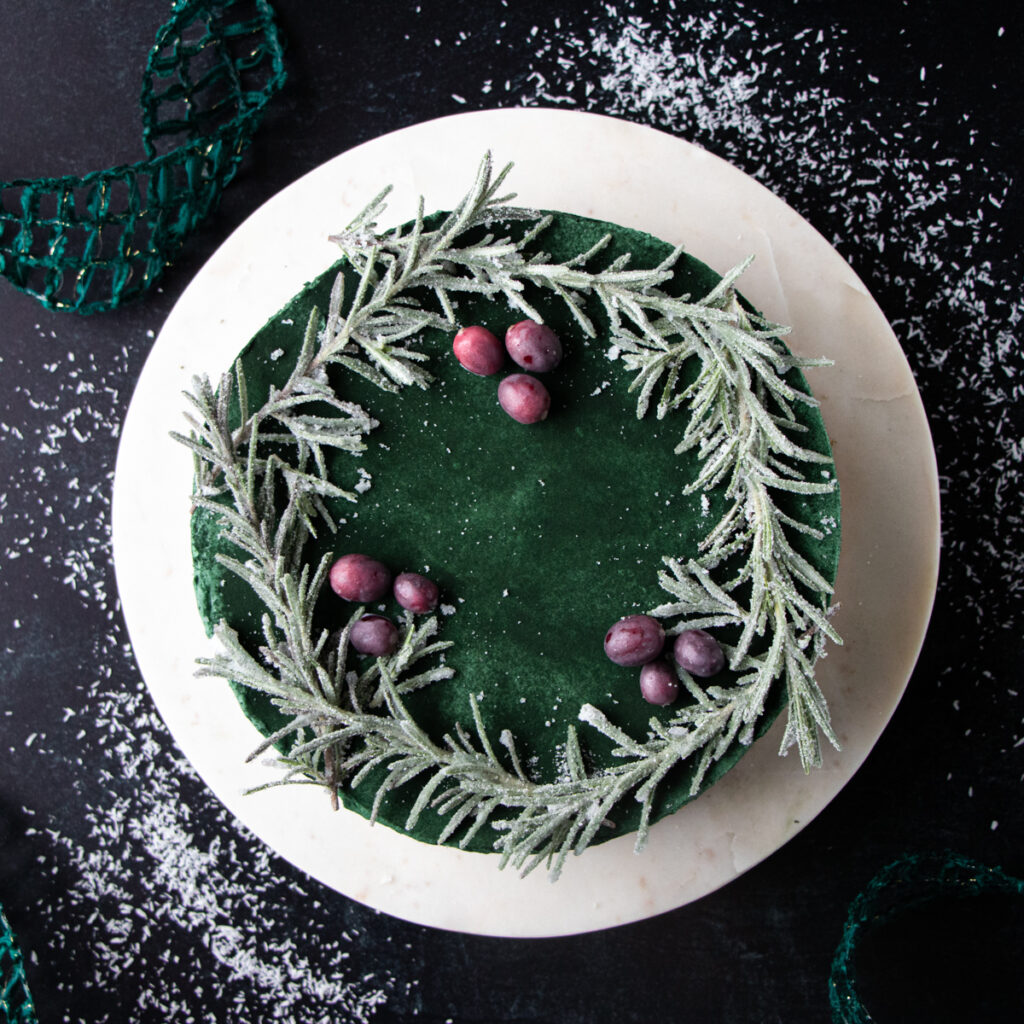 As an Amazon Associate, I earn from qualifying purchases. I endorse products that I love and use daily.
Why use Spirulina in a cheesecake?
According to Wikipedia, Spirulina is a "blue-green algae that can be consumed by humans and animals." It is a naturally occurring substance with a mild flavor and has nutritious benefits from a variety of vitamins, minerals, and protein.
Now that I have a child, I've been a lot more sensitive to adding artificial dyes in my baked goods. Spirulina seemed to be the best solution for finding a beautiful, natural green dye with minimal flavor. I bought the organic Kate Naturals brand on Amazon because it is a quality product with a great price point. You can add spirulina to smoothies as well!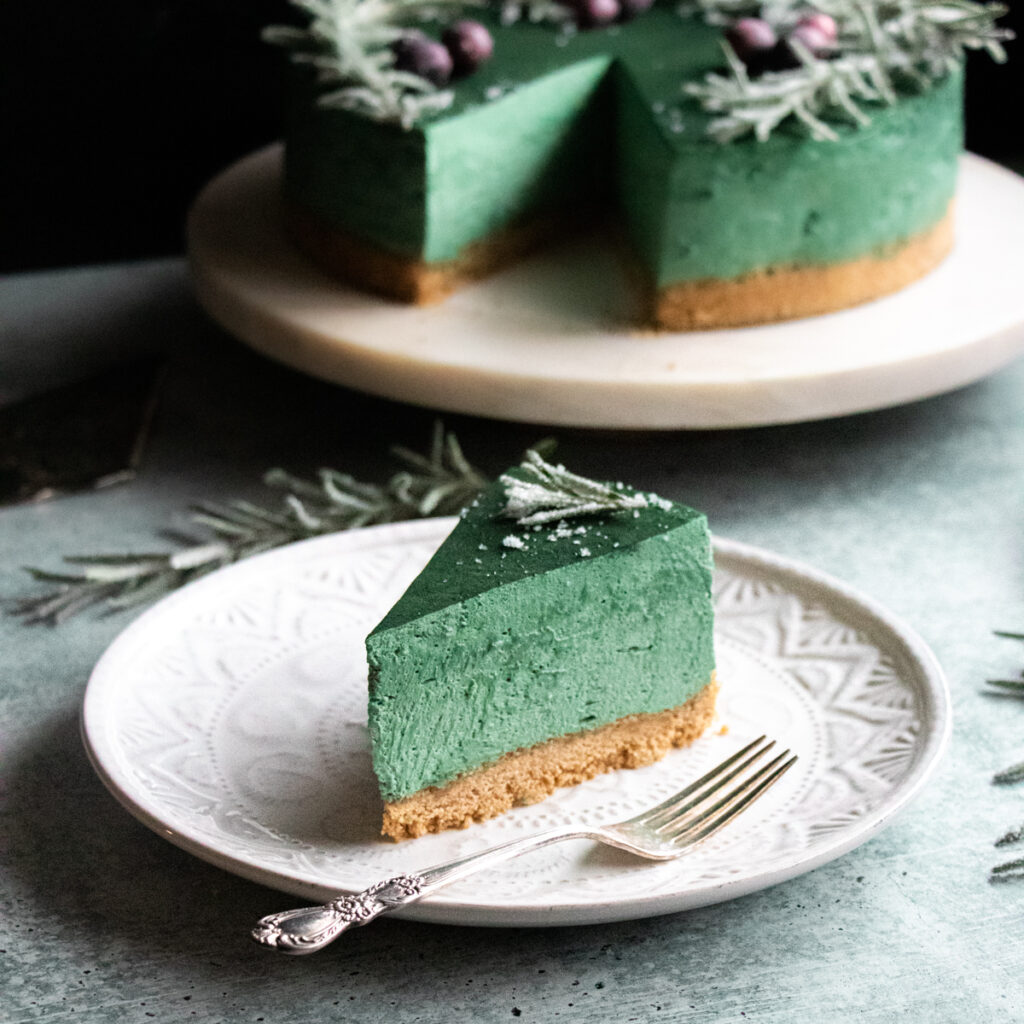 Rosemary Wreath Garnish
For a frosty, snow-covered garnish, a rosemary wreath is a must! I used a highly concentrated simple syrup to make candied rosemary and cranberries to garnish this cheesecake. Simply dip the herbs in the simple syrup, dry on a cooling rack for about 1 hour, and roll through a plate of granulated sugar. Set aside. My cranberries were gorgeous without the extra roll through granulated sugar because I added edible glitter to my simple syrup.
Simple Syrup
1 cup sugar
¼ cup water
¼ teaspoon edible glitter *optional, but coats cranberries with a gorgeous shimmer
Bring syrup to a boil, then reduce heat to simmer on low for 3 minutes. Remove from heat and set aside to use. Coat the rosemary first for added flavor to the syrup before dipping cranberries. Do not refrigerate sugared rosemary or the condensation will lose the sugared effect and you will have to re-roll them in sugar. For full detailed instructions, check out Barley and Sage's recipe for sugared rosemary.
To create a gorgeous contrast of colors, I added a very thin layer of spirulina powder on top of this cheesecake. It created a gorgeous, green velvety texture I was looking to achieve. Do this right before serving as the powder will get moist from condensation if placed in the refrigerator.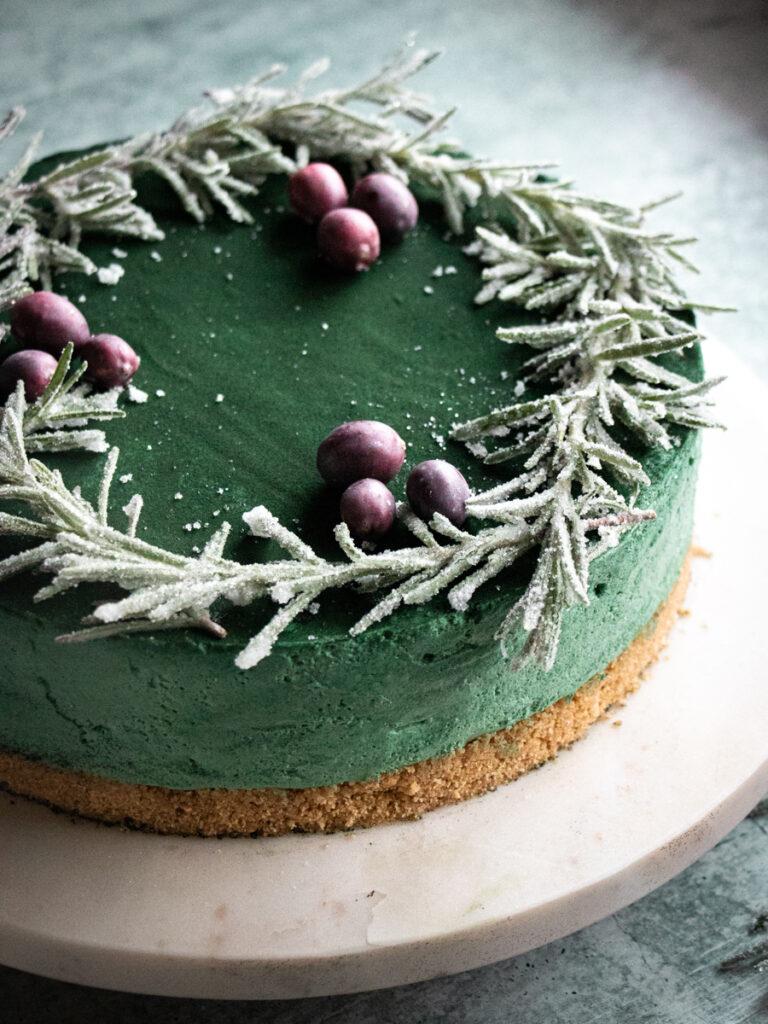 Alternative Garnishes
This cheesecake would be stunning topped with berry sauce to achieve a gorgeous holiday color scheme with added flavor. Alternatively, you can never go wrong with the classics, using a basic whipped cream topping.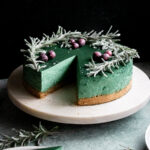 Green Spirulina Cheesecake (Dye-free, No-bake)
Classic vanilla no-bake cheesecake with added spirulina for color. It's simple and quick to make and holds its shape well.
YIELD
9
-inch (23cm) cake
Ingredients
Crust:
2

cups

(200g/7 oz) graham cracker/digestive biscuit crumbs*

¼

cup

(50g) granulated sugar

7

Tablespoons

(100g/3.5 oz) unsalted butter,

melted
Cake:
¼

cup

(60ml) water

1

Tablespoon

powdered gelatin

24

oz

(680g) cream cheese, at room temperature

2

cups

(224g) powdered sugar

1 ½

Tablespoons

spirulina powder (or less for a lighter green color)

2

teaspoon

pure vanilla extract

1

Tablespoon

vanilla bean paste or 1 vanilla bean, scraped

1

Tablespoon

lemon juice

zest of one small lemon

*optional

1 ½

cups

(360ml) heavy cream

berry sauce, whipped cream, or rosemary wreath
Instructions
Make the crust:

In a medium bowl, mix together crumbs and sugar. then add melted butter and mix until combined and crumbs are moistened. Press the mixture very tightly onto the bottom of a parchment-lined 9-inch springform pan using either your fingers or the bottom of a cup to form a crust layer. Refrigerate until needed.

Make the filling:

Place ¼ cup water in a small bowl and sprinkle gelatin over the surface in a single layer. Be sure not to pile it as that will prevent the crystals from dissolving properly. Let stand for 5-10 minutes to soften.

In a medium bowl, whisk together the powdered sugar and spirulina powder until well combined. In a large mixing bowl and mixer fitted with the paddle attachment, beat the cream cheese until smooth and creamy. Slowly add in the powdered sugar mixture to the cream cheese until smooth and creamy. Add in vanilla extract, lemon zest and juice, beat until combined. Microwave gelatin for 5-10 seconds, just until melted and syrupy. Add gelatin to the cheesecake batter and mix until combined. Set aside.

In another bowl of an electric stand mixer fitted with the whisk attachment, whisk heavy cream until soft peaks form (they should hold their shape but have a soft texture). Using a spatula, gently fold half of the whipped cream into the cream cheese mixture, then fold in the other half.

Pour filling into the springform pan and smooth the top. Cover pan with plastic wrap and place in the fridge for at least 4 hours, or until completely set, before serving. Cheesecake can be left in the fridge for up to 2-3 days. Serve cold.

Cheesecake can also be frozen, wrapped tight, for a month. To thaw, place overnight in the fridge.

Top with berry sauce, fresh fruit, whipped cream, or a rosemary wreath garnish. I sprinkled the top of my cheesecake with more spirulina powder for contrast and to achieve a rich, green color.
Recipe Notes
*To make crumbs, pulse in a food processor or blender until finely ground.