This easy homemade whipped cream recipe is fluffy, delicious, and perfect for topping cakes, pies, and ice cream. Plus, I've included tips and tricks on how to make it absolutely perfect!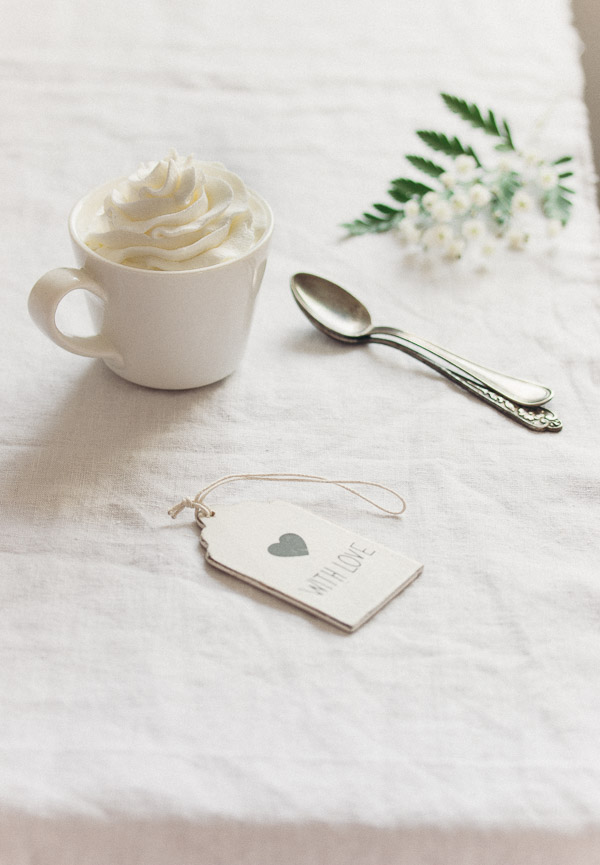 How many times have you overwhipped your cream to the point that it turns into butter? If your answer is zero, then you're either lying or a baking genius. I hope you are lying, so I could feel better about myself.
There was a time when I added whipped cream to just about everything – pecan pie, peanut butter ice cream, chocolate tart, you name it! Those days aren't totally over, but luckily I'm able to control myself a bit more. My point is, nothing beats homemade whipped cream, and knowing how to make it properly is essential for anyone who likes to bake. I'm guessing that's pretty much all of you, otherwise you wouldn't be here, right?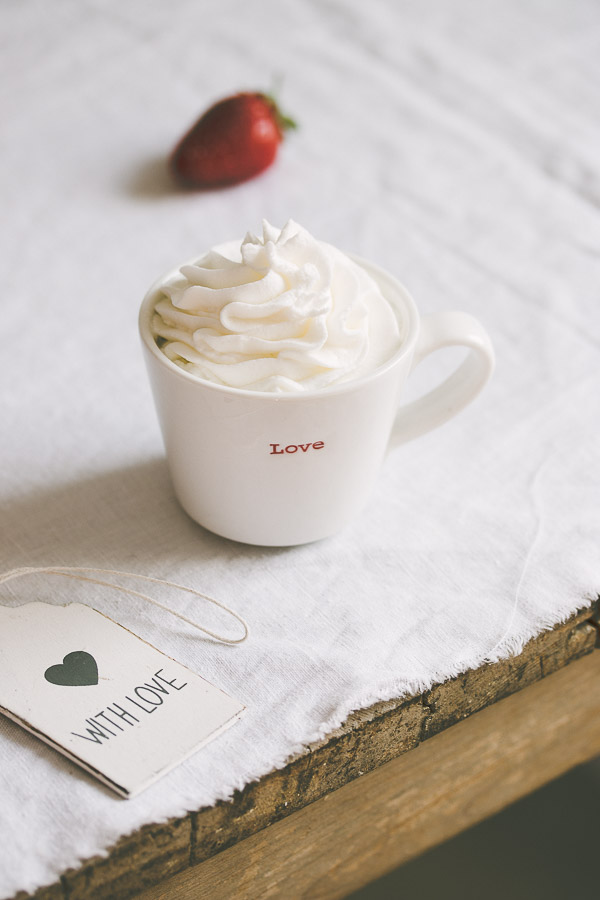 How to make whipped cream
Whipped cream is simple to make, but there are a few things to keep in mind to ensure it turns out.
To make whipped cream, pour cold cream in a mixer fitted with the whisk attachment. Or, you can use a handheld mixer. Simply whip the cream on medium-high speed with sugar and vanilla extract until desired consistency is reached. If you want to omit the sugar or vanilla, feel free.
Keep an eye on your cream as it whips – it can quickly overwhip and turn into butter!
My #1 tip: Chill the heavy cream. Chilling the cream is necessary for it to whip up properly. To be on the safe side, I also place my bowl and whisk attachment in the refrigerator or freezer for 15 minutes before I start whipping.
Sounds easy, right? It is! But to avoid any whipped cream mishaps, keep reading!
How do I know when my whipped cream is done? Soft peaks vs. stiff peaks
Excellent question – and the truth, it depends on what you're going to be using it for. Recipes typically instruct to whip cream to soft, medium, or stiff peaks. This terminology is a way to describe how thick and sturdy the cream is. You'll notice the longer you whip the cream, the thicker and sturdier it appears.
Soft peaks refers to the beginning stages of whipped cream, when it's just starting to incorporate air and transforms from a liquid to a scoopable cream. If you lift up the beaters and look, the peaks should curl down. Soft peaks don't hold their shape and have a softened texture.
Medium peaks is the next whipping stage. They hold their shape fairly well, but the tip of the peaks still curl slightly when the beaters are lifted.
Stiff peaks refers to cream that's been whipped for longer and has a very sturdy appearance. It will look almost like ice cream or frosting. The peaks will stand straight up and appear firm when the beaters are lifted up. (Note: Be careful not to overwhip your cream at this point. If you continue whipping too much the fat will separate, creating, you guessed it – homemade butter!).
Note: If you aren't following a recipe and are whipping cream simply to use as a topping, I recommend going for medium to stiff peaks. This will have a nice texture and hold itself up when dollopped on top of a dessert. If you want to pipe your whipped cream, definitely go for stiff peaks.
Can I flavor whipped cream?
For whipped cream topping, I add vanilla extract and a bit of sugar to give it some wonderful flavor. But you can use other extracts, too, such as almond, coconut, or orange extracts — even leave out the sugar if you don't want it to be sweet.
You can also try adding cocoa powder, instant coffee or espresso powder, fruit puree, seedless jams, citrus zest, melted chocolate, or a splash of liquor. The possibilities are endless!
Powders such as coffee or cocoa should be added at the beginning of whipping to allow it to dissolve. For other options, add them to the cream just before soft peaks start to form, then keep whisking until you reach the desired texture. Alternatively, you can fold them gently into the whipped cream once it's ready.
Note: If you want to flavor the entire amount of whipped cream in this recipe, here are some measurement options:
1 teaspoon coffee powder
1/4 cup jam, fruit puree, or lemon curd
2-3 tablespoons sifted cocoa powder
Once you add your flavoring, whisk a bit until mixed, then taste and add more as needed according to your own preferences.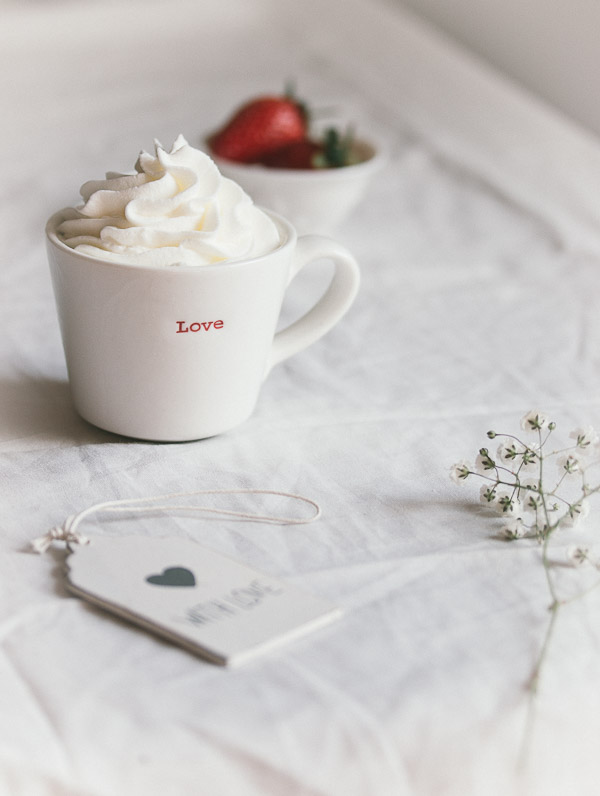 What's the difference between heavy cream and whipping cream?
While they are similar, the main difference is the fat content. In the US, heavy cream, which may also be called heavy whipping cream, must have a minimum fat content of 36%. If you see a container labeled whipping cream without the word heavy in front of it OR light whipping cream, it mean the product has less than 36% fat. Most likely, it contains a fat content somewhere between 30%-35%.
To make whipped cream, be sure to use heavy cream. While whipping cream will whipo, it won't be as sturdy or stable. It will be lighter and have a more pillowy texture.
How long can you keep whipped cream, and what's the best way to store it?
Whipped cream can be prepared up to 24 hours ahead of time if it's kept refrigerated. After this amount of time, it may start to separate. The best way to store it is by placing a fine-mesh strainer over a bowl and placing the cream on the strainer. That way, any liquid will leak into the bowl underneath.
If you want a more stabilized whipped cream (good for frosting cupcakes or cakes), here's a guide.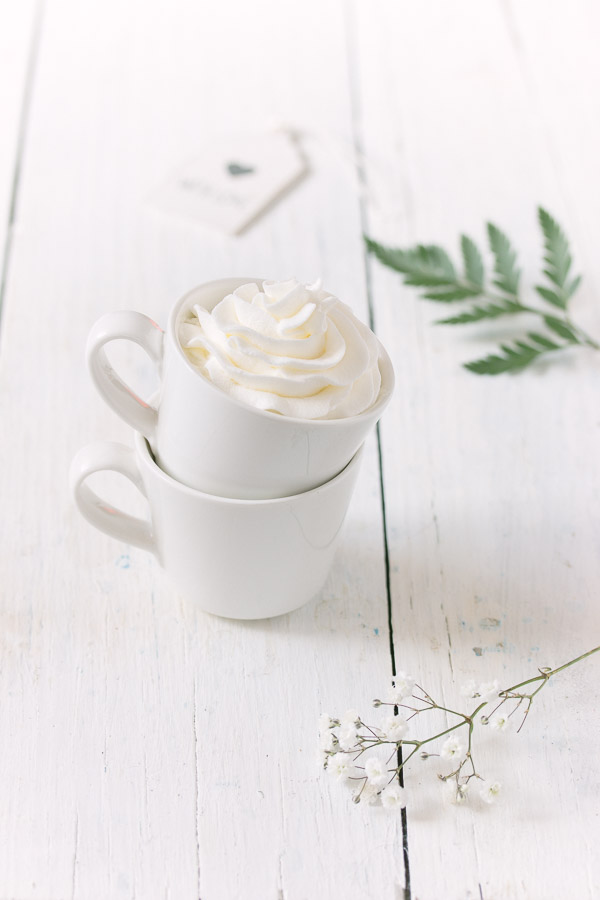 A few of my favorite desserts to pair with homemade whipped cream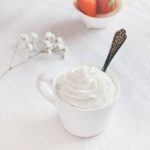 Whipped Cream
This easy homemade whipped cream recipe creates fluffy, soft whipped cream that pairs perfectly with cakes, pies, tarts, you name it!
---
Ingredients
1

cup

(240 ml) heavy cream, chilled

2

tablespoons

granulated sugar

1

teaspoon

pure vanilla extract

, optional
Instructions
Using a mixer fitted with the whisk attachment, whisk heavy cream, sugar, and vanilla on medium-low speed for 30 seconds. Increase speed to high and whisk until soft peaks form or desired thickness is reached. Avoid overbeating.

If not using immediately, place whipped cream on a fine-mesh strainer set over a small bowl and cover with plastic wrap. Refrigerate for up to 24 hours.