A quick and easy recipe for tender waffles that are soft on the inside and crispy on the outside.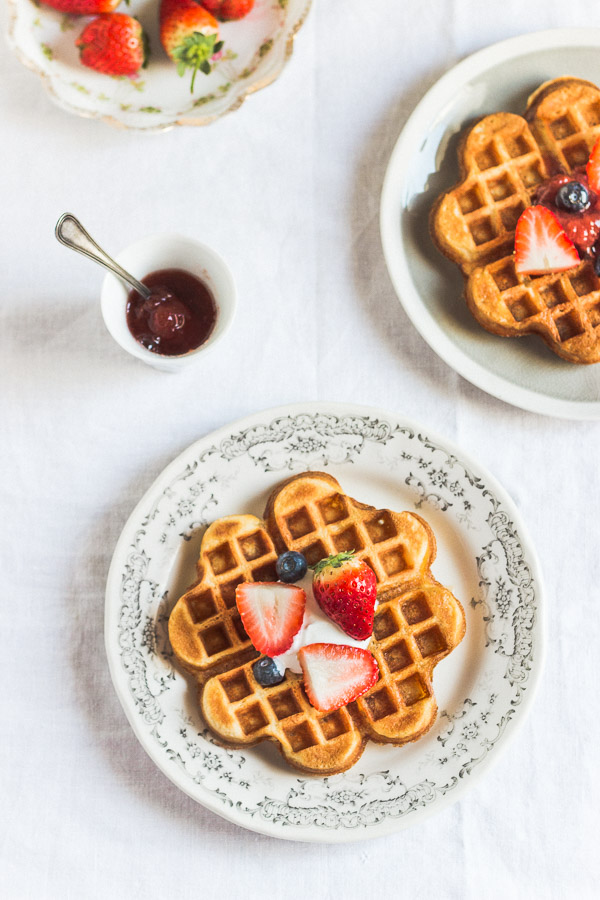 If I were to make a list of kitchen products that are barely ever used, I would guess that a waffle iron is pretty high up there. Honestly, how often do you actually make waffles? I obviously don't mean to discourage you from doing so, since I did prepare a very simple recipe for you today. So it's time to get that iron out of wherever it's been hiding, sweep the dust off, and make some waffles. It'll be so worth it!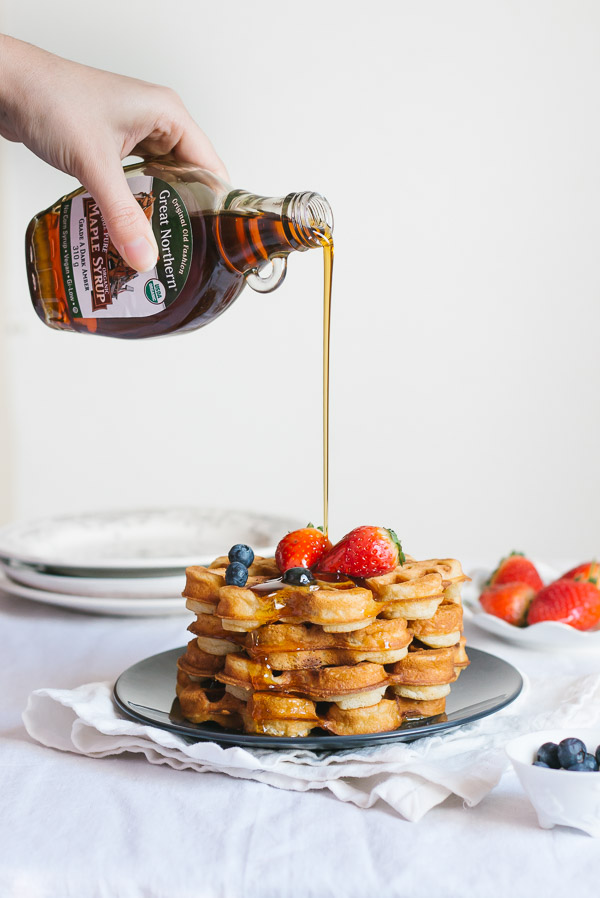 Unlike old-fashioned Belgian waffles that are made with yeast, these days you'll find that many bakeries make simpler waffles with a pancake-like batter. Leavening agents such as baking soda or powder are being used instead of yeast to make the waffles rise.
Before I made the first batch of my life (and, as shamed as I am to admit, that was not so long ago), I didn't even realize there were different ways to make waffles. I've tried them in every waffle bar I know of (and boy, there are plenty), sensing some difference but without knowing exactly what that was.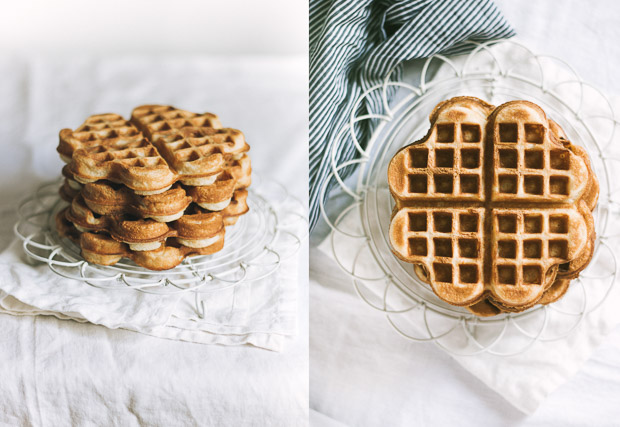 I'll probably post a yeast waffle recipe too sometime, not only because you know I have to, but also because I did get a chance to taste traditional waffles in Belgium and they were unlike anything I'd ever had before. As much as I like that recipe, it does involve some planning ahead by making the batter the night before, so for now, let's just focus on this quick and easy recipe that's perfect for Sunday morning cravings.
These waffles are tender, airy, and soft, but still crispy on the outside. They aren't mushy or soggy, which is great because – let's be honest – nobody likes soggy waffles. Not even me, and I love everything.
This recipe is the simplest one possible, and it is fabulous. There's nothing fancy in either the ingredients or the instructions. Still, here are a few tips and substitutions you can make to help you get the texture and flavor you like best:
Replace all or some of the milk with buttermilk. Buttermilk, with its slight tang, is a perfect fit for waffles so do use it if you can. I didn't include it in the recipe because not everyone has this ingredient at home. If you do have it, be sure to also reduce the baking powder in the recipe to 1 teaspoon, and add ½ teaspoon baking soda.
For crispier waffles with tender and fluffy centers, separate the eggs into yolks and whites. Add the egg yolks to the bowl with the wet ingredients, and set the whites aside. When the batter is completely ready and combined (after mixing wet and dry ingredients together), whisk the egg whites until soft peaks form (I recommend doing this with an electric mixer), then fold it into the batter. Ultimately, it takes an extra 5 minutes and it's worth it.
Reduce flour to 1 ⅓ cups and add ½ cup cornstarch. This brings a wonderful texture to the waffles (again – both soft and crispy), and is an accessible ingredient. I find the addition of cornstarch in many recipes I stumbled across, and when tried it myself, the results were amazing.
Replace some or all of the butter with a neutral oil such as vegetable or canola. Oil makes much crispier waffles, so if you really like your waffles crisp, then this will be compensation for the reduced buttery taste.
Although it adds to the taste and texture, if you prefer using less fat, you can reduce the amount of butter to ⅓ or even ¼ cup.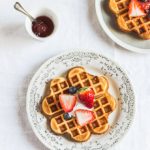 Waffles
Ingredients
1 ¾

cups

(250g/8.8 oz.) all-purpose flour, sifted

1

tablespoon

baking powder

2-4

tablespoons

granulated sugar

½

teaspoon

salt

2

large eggs

1 ¾

cups

(420ml) whole milk

1

teaspoon

pure vanilla extract

½

cup

(1 stick/115g) unsalted butter, melted and cooled

Butter or neutral oil

, for coating the iron
Instructions
Note: If you really like crispy yet tender and light waffles, refer to the above post for tips and substitutions.

Place flour, baking soda, sugar, and salt in a large bowl and mix to combine. In another medium bowl, place eggs and beat slightly. Add milk, vanilla extract, and melted butter to the eggs and whisk to combine. Make a well in the center of the flour mixture and pour in the egg mixture. Whisk until thoroughly combined and smooth. Don't over mix.

Preheat your waffle iron and grease lightly (oil spray is great for this). Bake waffles according to your iron manufacturer's instructions, or until brown and crisp. Usually, for each waffle you'll need to pour or spoon ¼ -½ cup batter, and the cooking time will be around 3-5 minutes. Don't overload it with batter on the first try, and don't check for doneness before cooking for at least two minutes (to prevent making a mess). Transfer to a plate and cover loosely with aluminum foil to keep warm. If you don't plan to serve the waffles right away, you can keep them warm in a preheated 200F/95C oven set with a wire rack for up to 30 minutes.