These chewy and flavorful oatmeal cookies are perfect for breakfast or as a snack. Pack them with your favorite ingredients: chocolate chips, nuts, or dried fruits.
Happy New Year guys! If there's one thing I wish for you this year, it's that you'll be blessed with some of these amazing oatmeal cookies, or maybe these chocolate chip cookies. If you lived near me, I would be happy to give you some, because (1) I'm generous, and (2) I made like 60 cookies because I got too excited about this new year.
I'm always surprised to learn just how many people prefer their chocolate chip cookies with oatmeal. If you're one of these people, then I've prepared these cookies just for you. They make a great base for anything you might want to add, not just chocolate chips.
These Oatmeal Cookies are Soft and Chewy
Even when I mistakenly over bake them, they still turn out chewy. They bake thick and beautiful, and they are super flavorful. For add-ins, I recommend chocolate chips or chunks, toasted nuts, dried fruits, or a combination of them.
Use Old-Fashioned Rolled Oats
Don't use quick or instant oats. Old-fashioned oats have the best flavor and will produce the best texture. Quick oats make less chewy cookies, and instant oats make them dense and much less flavorful.
Sugar
I use more brown sugar than granulated sugar for this recipe. This gives the cookies a slight caramel flavor and makes them super moist and chewy. If you want the cookies to have more crispiness and don't mind them being sweeter, you can add a few more tablespoons of granulated sugar, making sure not to reduce the amount of brown sugar or else the cookies will lose their chewiness.
Spices
While cinnamon is a classic addition to oatmeal cookies, you can add your favorite spice (about 1/4 teaspoon). Ground ginger or cardamom work very well here. If you don't want to use spices, make sure to at least use either the cinnamon or nutmeg for some flavor.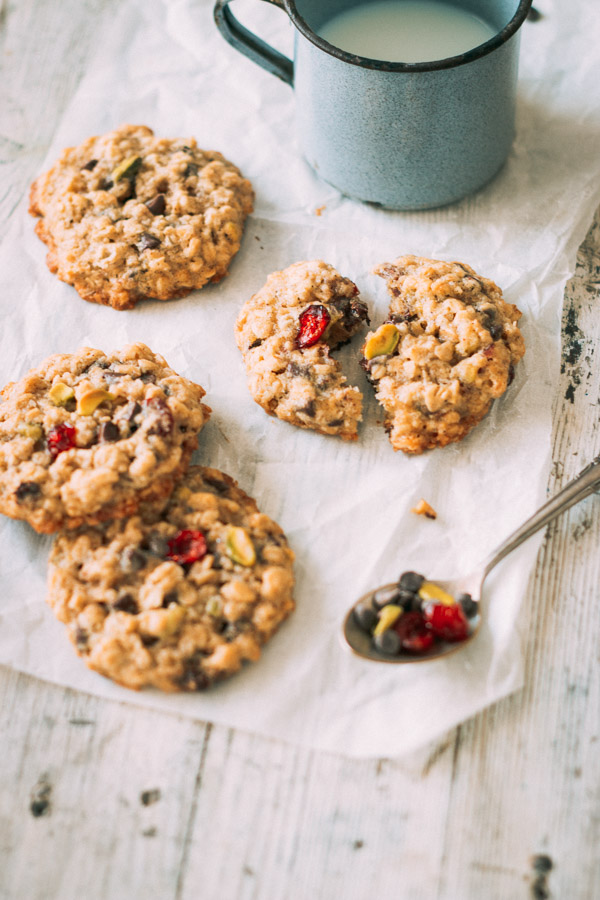 More Cookies: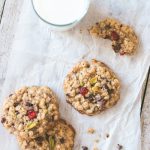 Oatmeal Cookie Recipe
---
Ingredients
3/4

cup

(100 g/3.5 oz.) all-purpose flour

1/2

teaspoon

baking soda

1/2

teaspoon

ground cinnamon

1/8

teaspoon

ground nutmeg

, optional

1/4

teaspoon

salt

1/2

cup

(1 stick/115 g) unsalted butter, at room temperature

1/2

cup

(100 g/3.5 oz.) light brown sugar (dark is fine, too)

1/4

cup

(50 g/1.7 oz.) granulated sugar

1

large egg

, at room temperature

1

teaspoon

pure vanilla extract

1

and 1/4 cups

(120 g/4.3 oz.) old-fashioned/rolled oats

1

cup

add-ins

(see note for options)
Instructions
In a large bowl, sift together flour, baking soda, cinnamon, nutmeg, and salt. Set aside.

In a standing mixer fitted with the paddle attachment, beat butter and sugars for 2-3 minutes, until fluffy. Beat in the egg until combined, then beat in vanilla extract. Add flour mixture and beat on low speed just until combined. Don't over mix. Add in oatmeal and all other add-ins, and keep mixing on low just until combined. The less you mix, the softer the cookies will be. Dough will be sticky and soft at this point, so I highly recommend chilling it for at least 30-60 minutes. Cover and place in the fridge.

Preheat oven to 350°F/180°C. Line pan with parchment paper and set aside.

Drop rounded balls of dough onto prepared baking sheet, the size of 2 tablespoons each, and spacing 2 inches apart. Bake for 10-12 minutes, until cookies just begin to brown at the edges and center is still soft. Cookies will appear undone and moist in the center, but will continue to bake on the warm baking sheet. Leave to cool for 10 minutes, then transfer to a wire rack to cool completely.

Store cookies in an airtight container at room temperature for up to 4 days, or freeze for up to 2 months. To thaw, leave on counter, still covered, or overnight in the fridge.
Recipe Notes
- To toast nuts: Place nuts on a baking sheet and bake for 8-10 minutes in a preheated 350F/180C oven, or until lightly browned and fragrant. Allow to cool, then chop into pieces.
- For add-ins: A great combination of add-ins is chocolate chips, toasted nuts (pecans, walnuts, pistachios, hazelnuts), and dried fruit (raisins, dried cranberries, dried cherries). Pecans and raisins are great together, as are pistachios and cranberries and dried cherries and chocolate chips. If you only add one kind of add-in, use 1.5 cups instead of 2.