These giant chocolate chip cookies are extra thick, extra chocolatey and extra big! The best part is that there's no chilling required so it's quick and easy to make.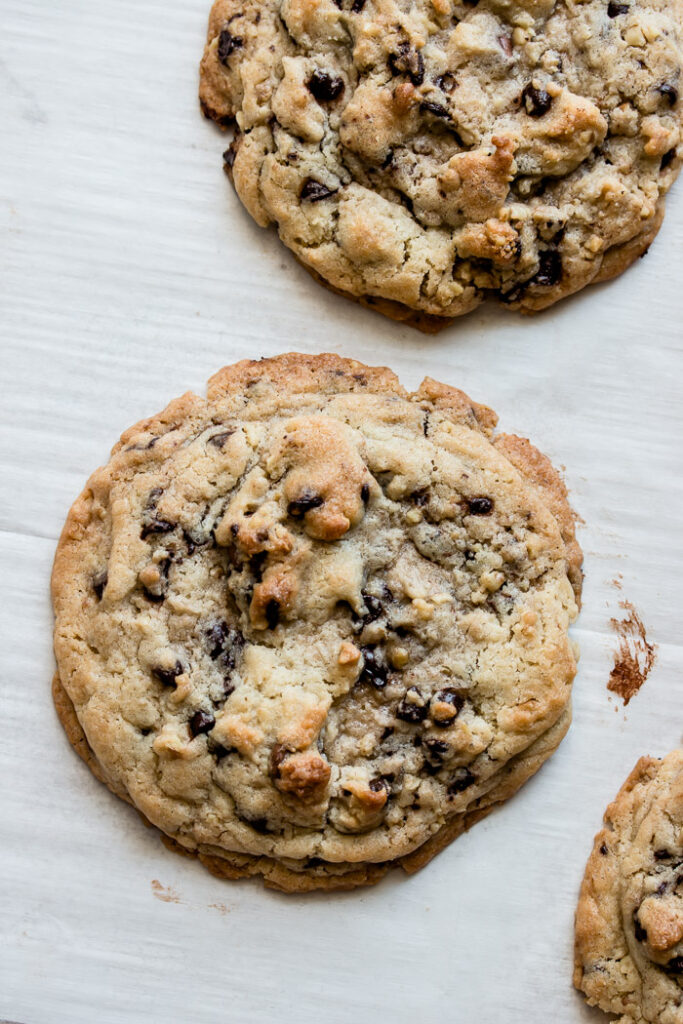 A homemade chocolate chip cookie is the way to my heart. It's filled with my favorite ingredient (chocolate) and is something I made as a kid and can now make with my own daughter.
The perfect chocolate chip cookie, however, has a lot of requirements. It must be thick and chewy in the middle, crispy on the edge, and guaranteed to have melty chocolate in every bite, just like my small batch chocolate chip cookie recipe. These easy chocolate chip cookies check every box, and even more. They don't require any extra chilling or special ingredients, which means you can try them out for yourself in less than an hour after reading this post!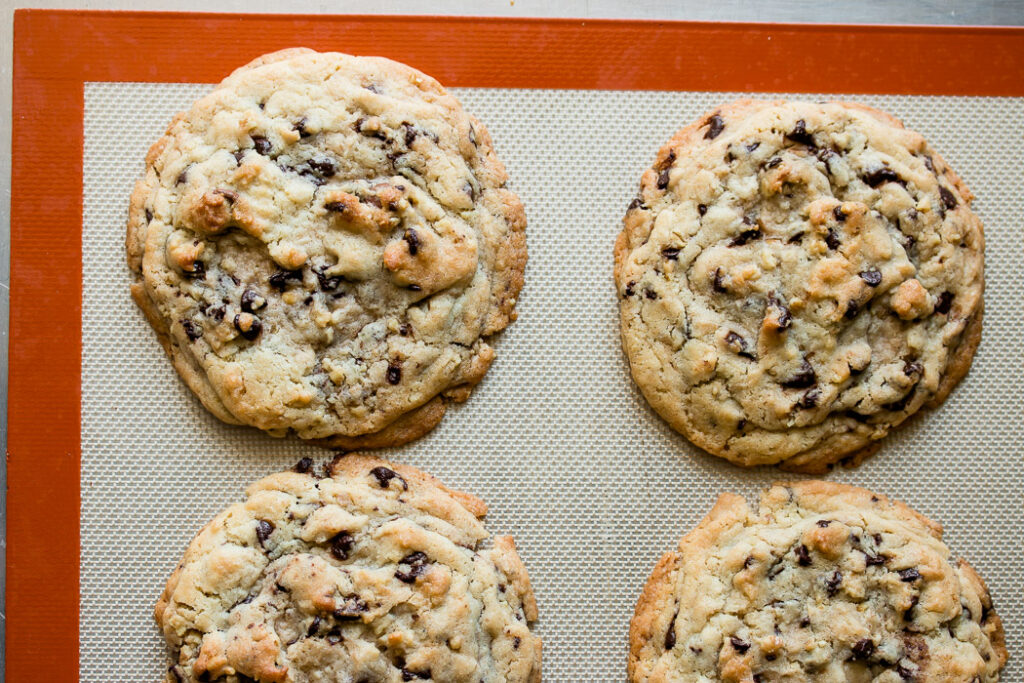 The recipe for these giant cookies is similar to my classic chocolate chip cookie recipe. I've adjusted measurements slightly to ensure the cookie bakes up perfectly without any chilling. With each cookie weighing 6 ounces, or almost 3/4 of a cup of dough, you better have a big sweet tooth or a friend to share one with.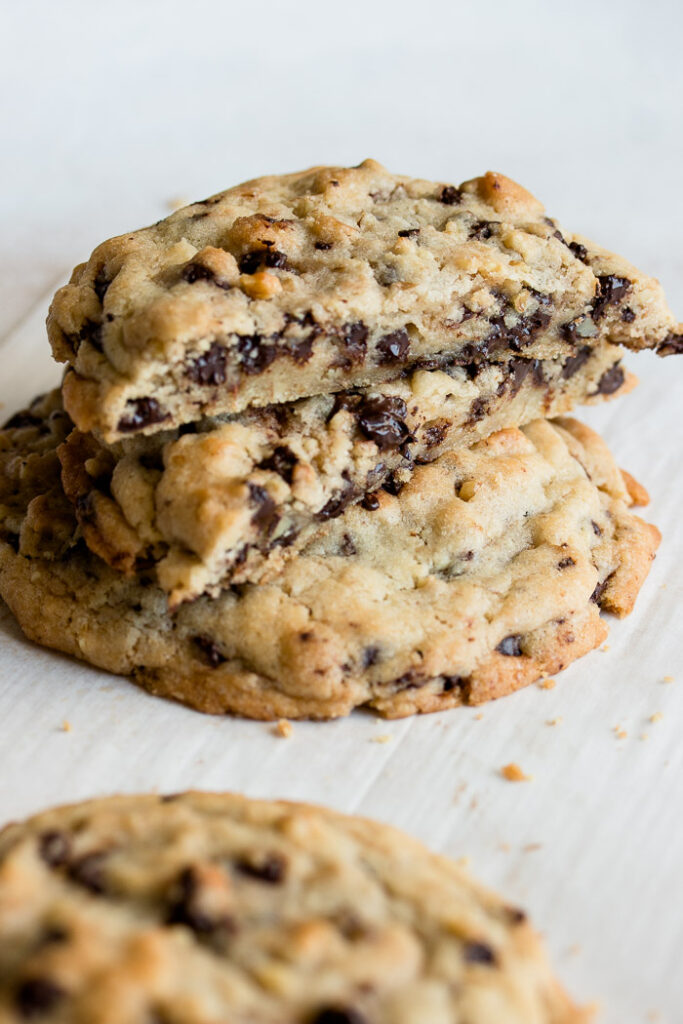 How to Make Giant Chocolate Chip Cookies
I like to begin all of my cookie recipes by whisking the flour with the other dry ingredients (only baking soda in this case). This way, they are ready to go when you need to add them to the dough.
The next step is to beat together the room temperature butter, sugars and salt until it is fluffy and creamy. This will take at least 3 minutes. For the perfect giant chocolate chip cookie, this step is the most important. Not creaming your butter will result in flat cookies, not the thick and chewy ones you crave.
Add the eggs and vanilla and mix until just combined. Pour in your flour mixture and beat on low speed until combined. Be careful not to overmix your cookie dough, as this will also make your cookies flat and dense. Finally, stir in the chocolate chips and nuts, if using.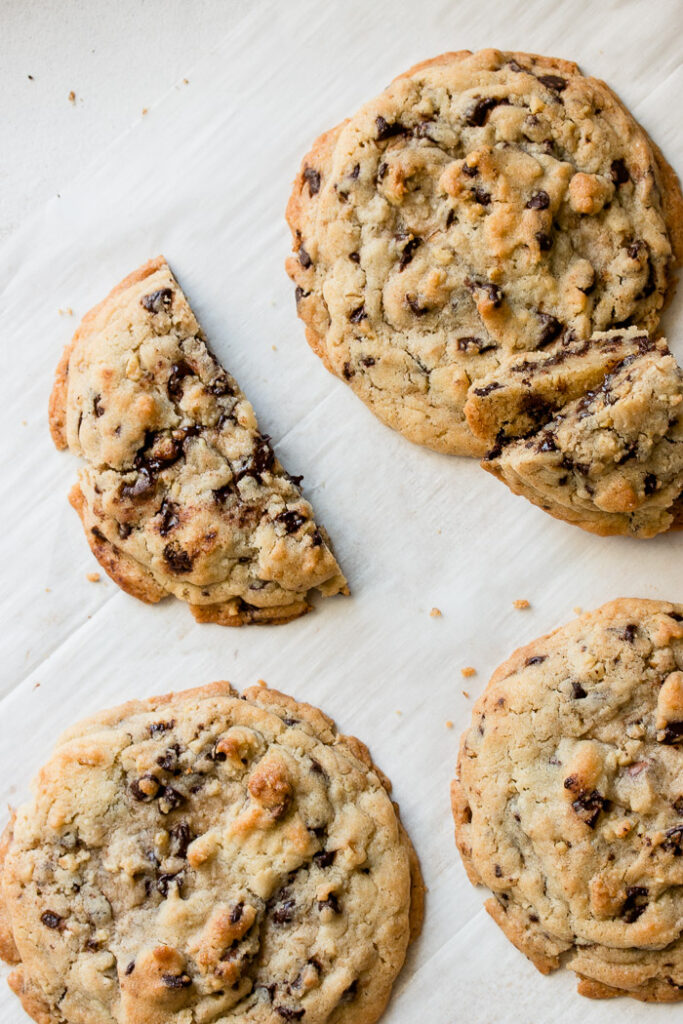 Scoop the cookie dough onto the baking sheets, using about 6 oz. of dough for each round. This giant chocolate chip cookie recipe makes 8 cookies, so 4 for each baking sheet.
Bake for 18-23 minutes, until browned at the edges but still soft in the center. Let them cool for 15 minutes on the sheet, letting them firm up slightly before moving to a cooling rack.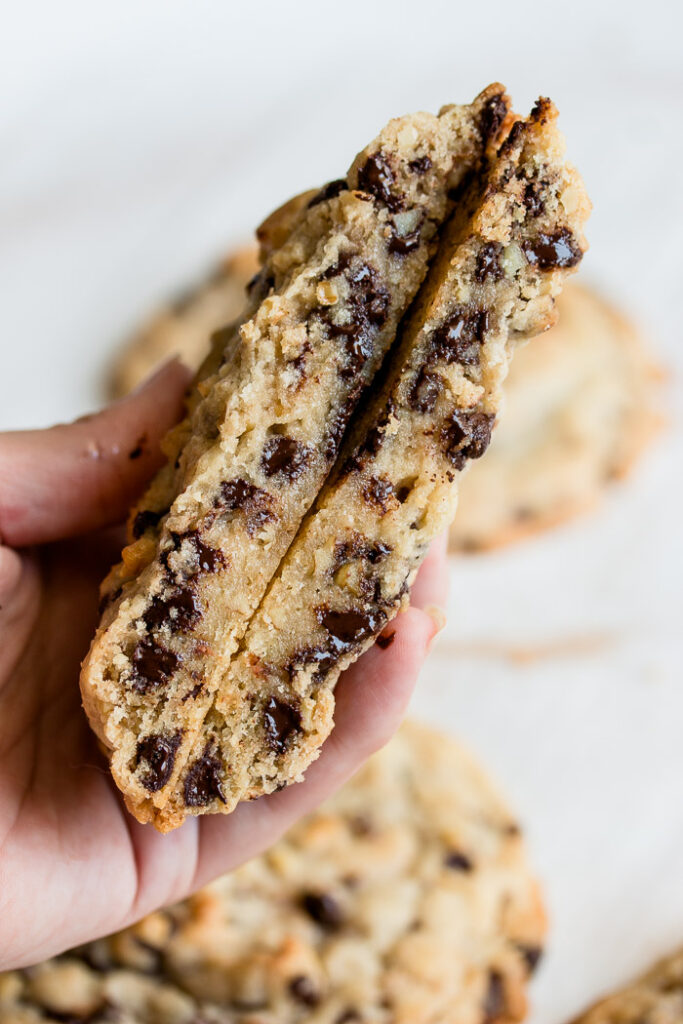 Perfect Cookie Tips
I've picked up a few tips from making cookies over the years and am sharing them so you can make the perfect chocolate chip cookies.
Use good chocolate: Although I use chocolate chips in my cookies often (there are some delicious high-quality ones), I prefer to use high-quality chocolate bars, cut into chunks, instead of chocolate chips. These not only taste better, but melt more since they don't have stabilizers.
Lightly shape your cookies: Don't pack the dough into tight, round balls. Instead, leave them slightly fluffy and only shape the bottoms into rounds. This will help them stay thick and tender as they bake.
Don't overbake: These giant cookies can take 18-23 minutes to bake. You'll know they are done when the edges are browned and the middle is still soft and very lightly golden.
Let them cool: It's so hard to resist biting into a warm cookie as it comes out of the oven, but the chocolate chip cookies need time to firm up and cool. Patience plays off, since as they cool they become chewier and the chocolate is still melty.
These giant chocolate chip cookies are unbelievable. Bursting with dozens of chocolate chunks in each cookie, they are only for those like me who have a sweet tooth that can't be cured and a love of all things chocolate.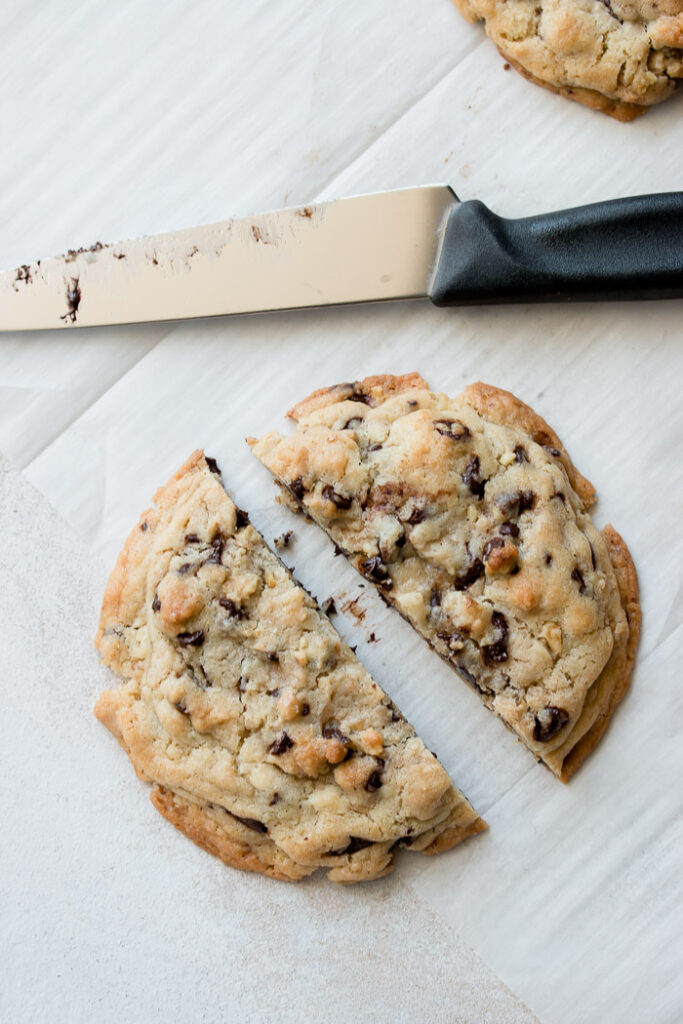 Other chocolate chip cookie recipes: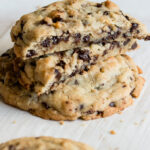 Giant Chocolate Chip Cookies
---
Ingredients
3

cups

(400g) all-purpose flour

1

teaspoon

baking soda

1

cup

(2 sticks or 227g) unsalted butter, at room temperature

3/4

teaspoon

salt

1

cup

(200g) light or dark brown sugar

3/4

cup

(150g) granulated sugar

2

large eggs

2

teaspoons

pure vanilla extract

2

cups

(340g) bittersweet or semi-sweet chocolate chips or chunks

1 – 2

cups

walnuts

, coarsely chopped
Instructions
Preheat oven to 375°F/190°C. Line two pans with parchment paper.

In a large bowl mix together flour and baking soda. Set aside.

In a large bowl using a hand mixer or a stand mixer fitted with the paddle attachment beat together butter, brown sugar, granulated sugar, and salt for 3-4 minutes until creamy. Add eggs and vanilla extract and beat until combined. Add flour mixture and beat on low speed just until combined. Don't over mix. Add chocolate chips and walnuts and keep beating on low just until combined. The less you mix, the softer the cookies will be.

Drop rounded balls of dough (try not to pack them too much into a ball, rather leave them a bit fluffy and only shape the bottoms into rounds), about 6 oz. per cookie (or 8 pieces in total), onto prepared baking sheets, placing 4 cookies in each pan. Bake for 18-23 minutes, until cookies are browned at the edges and very slightly browned at the top, and the center is still soft. Allow to cool for 15 minutes in pan, then transfer cookies to a wire rack to cool completely.

Store cookies in an airtight container at room temperature for up to 2 days or in the fridge for up to one week (but serve them at room temperature). Cookies can also be frozen for up to 3 months. To thaw, leave on the counter, still covered, or overnight in the fridge.