With lots of applesauce and some dried apples for extra flavor, this bread is super moist and makes a wonderful breakfast treat.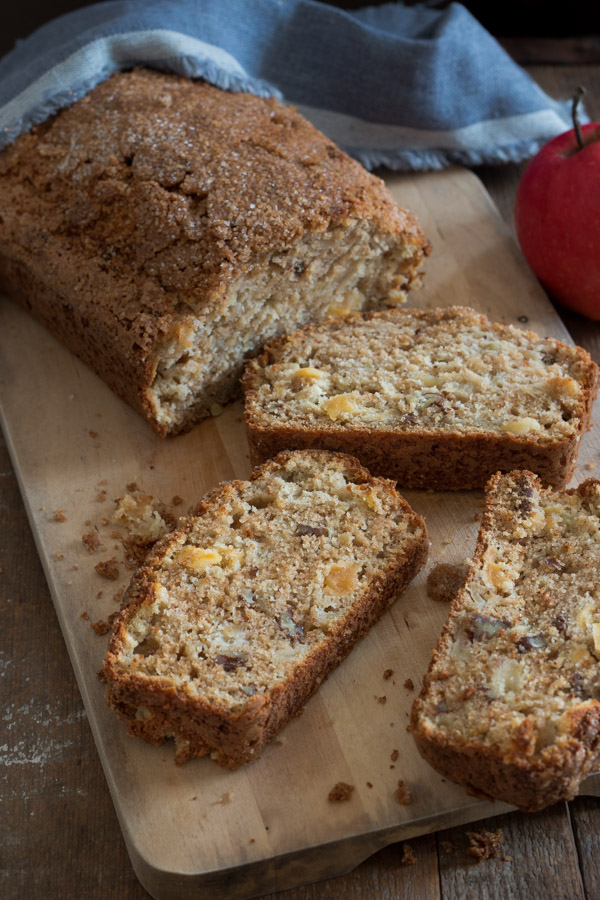 Although apples feel more like an autumn fruit, I've been craving spicy apple-based sweets all summer! After making this homemade applesauce, all I could think of was this applesauce bread. It was hard stopping Erez from nibbling so I had plenty to work with, but I've found a good way to hide food from him in the fridge. All I have to do is place it on the back of the shelf somewhere – he never even thinks to look.
MY LATEST VIDEOS
This is a quick bread that you can make in just minutes! All you need to do is put all your wet ingredients in one bowl, all your dry ingredients in another bowl, and mix them together.
Being super moist helps this cake to keep for several days at room temperature. The applesauce doesn't provide a very strong apple flavor, though, so I like to add dried apples to make it more intense. Even without them, this cake is delicious, boasting a wonderful delicate flavor.
Not only this bread is delicious, but it's quite healthy and low in fat. Plus, with a few substitutions, you can make it even healthier.  For example, you can replace 1/2 cup of the all-purpose flour with whole-wheat flour (which will result in heavier and denser texture), use reduced fat yogurt, and reduce the amount of sugar to 1/2 cup.
Following the recipe, this bread is so moist that it can keep for several days at room temperature. The applesauce helps add both moisture and flavor, as well as give it a cake-like texture. Oil, brown sugar, and yogurt continue to add to the moistness. Although there are spices in the recipe, the cake isn't very spicy, but you can play with it a bit if you like. You can use just cinnamon, or add some all-spice or ginger, or use fresh nutmeg instead of ground. You can increase the amounts of these spices to make stronger flavors, all depending on taste.
I like to sprinkle the batter with some sugar before baking, which gives it a sweet and crunchy top. Although it's very tasty this way, the top may crack (as you see in the photos), so if you don't like the look of it, you can sprinkle the cake with some nuts or oats instead, or don't top it at all.

Applesauce Bread
Yields:
one standard (9×5-inch) loaf pan
Ingredients
1¾ cups (250 grams/8.8 ounces) all-purpose flour, sifted
¾ teaspoon baking soda
½ teaspoon salt
¾ cup (150 grams/5.3 ounces) light brown sugar
1 teaspoon cinnamon
¼ teaspoon nutmeg
⅛ teaspoon cloves
2 large eggs
¼ cup canola, vegetable, or safflower oil
1¼ cups (300 grams) applesauce (unsweetened or slightly sweetened)
¼ cup yogurt or whole milk
1 teaspoon vanilla extract
¾ - 1 cup walnuts, pecans, dried apples, plumped raisins, or a combination, roughly chopped
Instructions
Preheat oven to 350F/180C degrees. Butter a 9×5-inch loaf pan.
In a large bowl, mix together flour, baking soda, and salt. In a small bowl, mix together sugar, cinnamon, nutmeg, and cloves. Reserve 2 tablespoons of sugar mixture for topping the cake and add the rest to the flour mixture (please see note regarding that step). In a medium bowl, whisk together eggs, oil, applesauce, yogurt, and vanilla until well combined, then pour into flour mixture and fold just until combined. Do not over mix – the less you mix, the lighter the bread will be. Fold in nuts.
Scrape batter into prepared loaf pan and sprinkle with reserved sugar topping. Bake for 45-60 minutes, until a toothpick inserted into the center of the bread comes out clean. Let the bread cool for 10 minutes on a wire rack, then turn out from pan and let cool completely.
Store bread at room temperature in an airtight container for up to 4 days. Bread can be frozen for up to 2 months. Thaw on counter, covered, or overnight in fridge.