Moist, tender, and super flavorful, these are the best baked apple cider donuts I've ever had, and they are easy to make, too. Their sugary spiced coating makes them irresistible!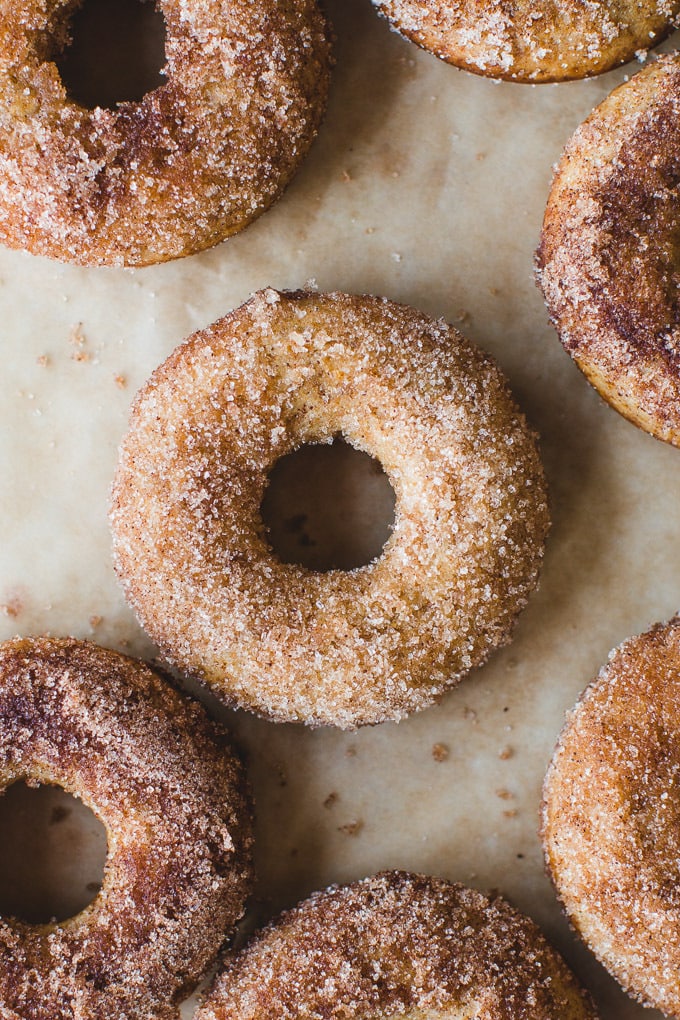 Today's date means that autumn is officially here, and although it's 30°C right now and I still get sweaty after 5 minutes of being outside, it is starting to feel like winter is coming. The nights are more chilly and Pinterest is full of photos of cozy sweaters, soups and hot chocolate. I can't wait for it to arrive already. It's been a long hot summer with those extra 17 pounds I carry in my belly.
So I think it's the perfect time for some spice donuts! Ever since I posted this amazing spice cake I've been craving those flavors. I've tried many baked apple cider donut recipes before but they were either dry or flavorless, so this week my mission was to make them perfect and as easy as possible.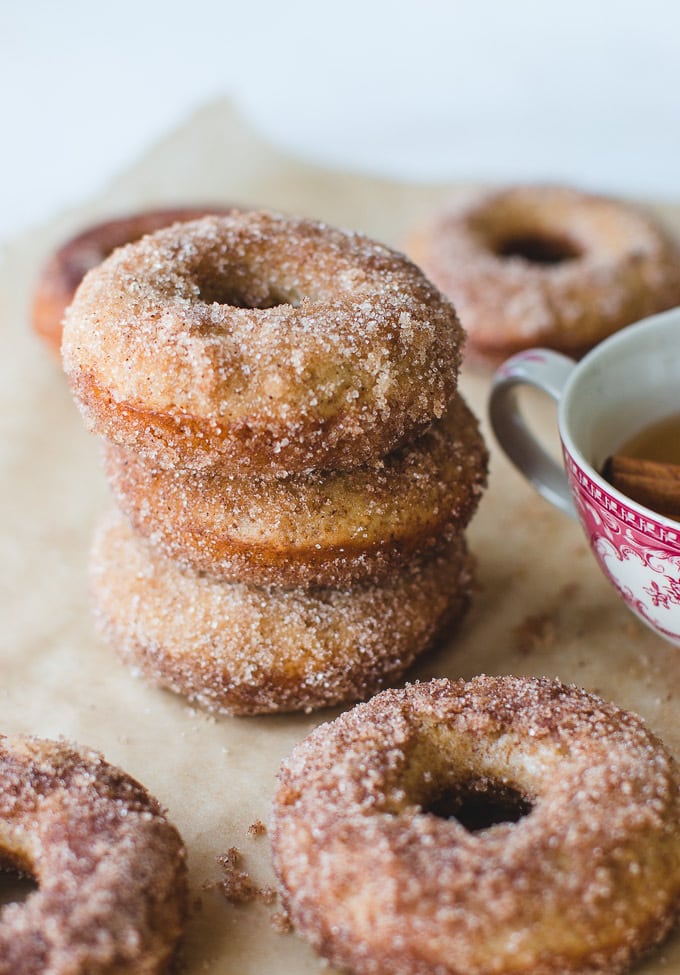 Flavor and texture
If you like spice cakes or apple cakes or anything with spices in it, then you'll love this donut recipe. The donuts have a dense crumb similar to muffins, but they are moist and tender. I love their texture almost as much as I love their flavor. Although they are baked and not fried, they taste just like the donuts you'd buy fresh from a bakery shop, only more flavorful.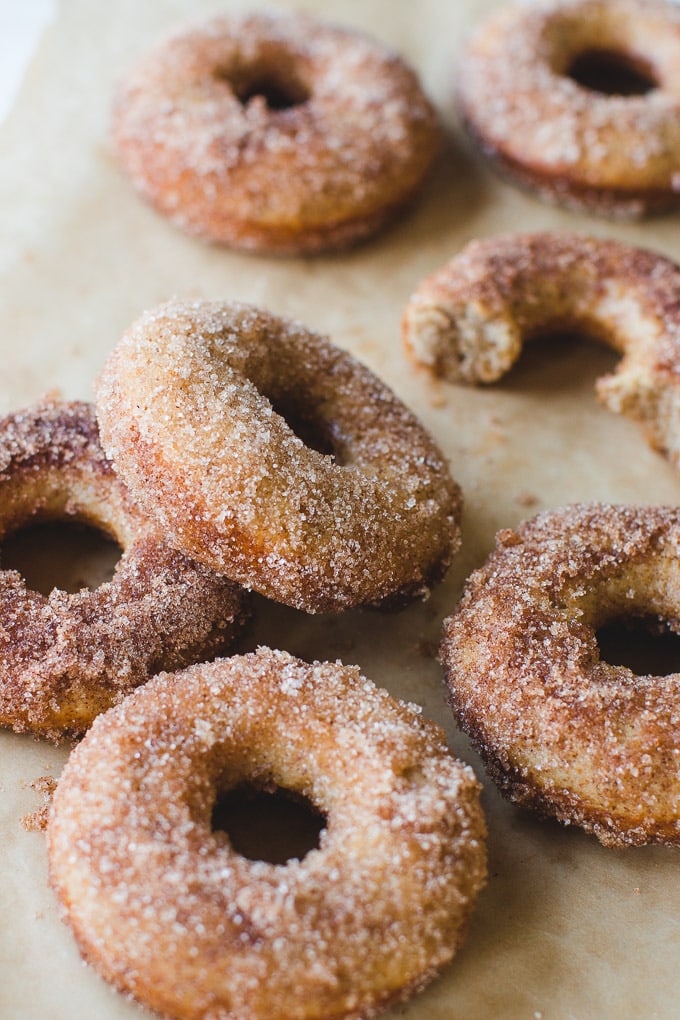 How to make apple cider donuts
Use concentrated apple cider: The first step in making these donuts is cooking 1 and 1/2 cups of apple cider on the stove to reduce it down to 1/3 cup, until you're left with a thick, syrupy liquid that contains less water and much more apple flavor. Mine took about 20 minutes. This helps in getting more apple cider flavor in your donuts. The apple cider flavor in the donuts is only subtle, so if you skip this step, you won't be able to taste it in the final product. If you find store-bought concentrated apple cider, you can use 1/3 cup of it in the recipe, and skip the cooking step.
After that, the recipe is super easy to make. You'll need to mix the ingredients in 2 bowls without using a mixer, and combine the two batters. Mix as little as possible just until the ingredients are combined, otherwise your donuts will be dense and heavy.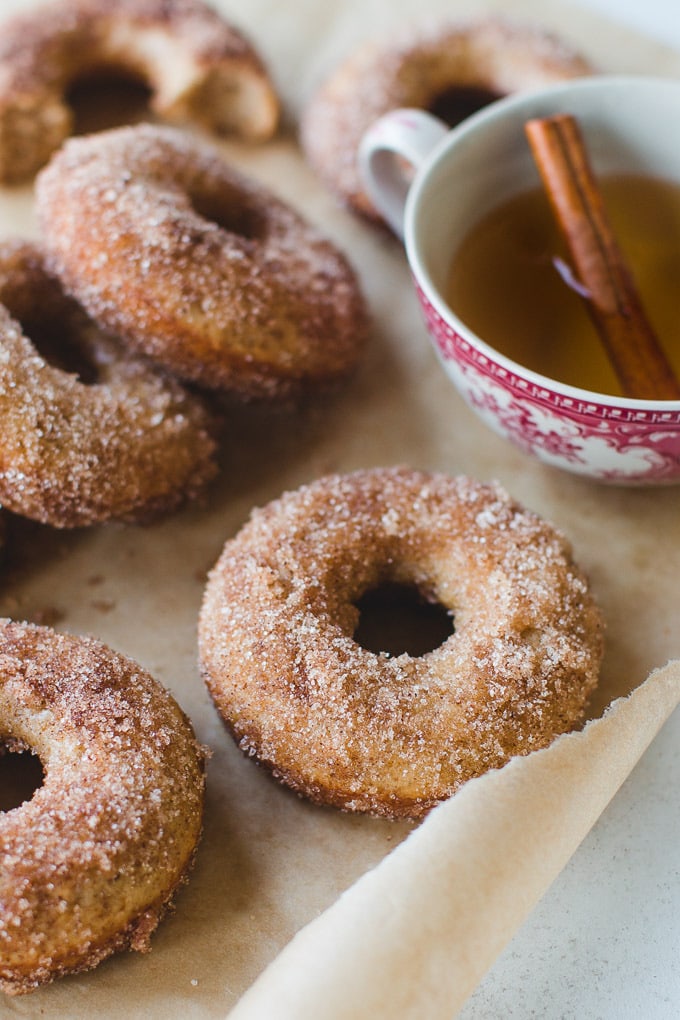 I use a donut pan to make baked donuts. Donut pans usually have 6 molds so I recommend buying 2 pans if you love baking donuts. I use a piping bag to pipe out the batter into the donuts. It's easier and quicker. You can also use a ziplock bag and cut off the corner for a quick fix piping bag.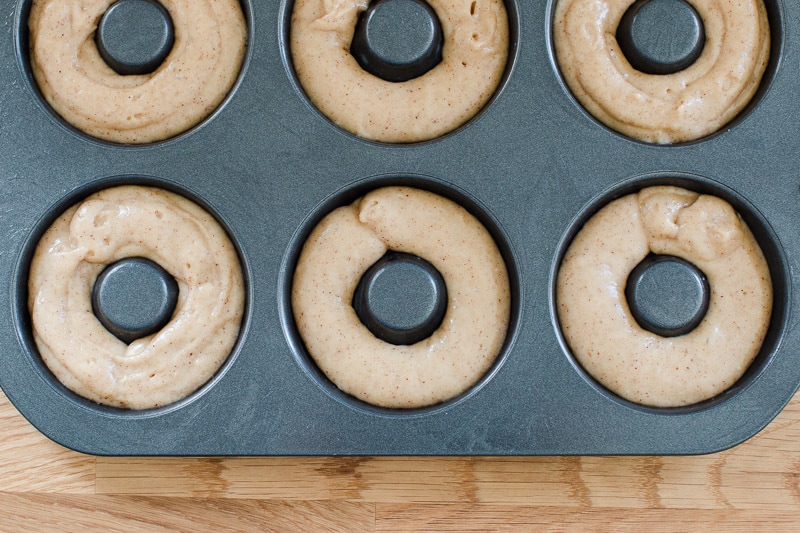 Once the donuts are ready and still slightly warm, dip them in melted butter, and then in sugar-spice mixture. Be careful at this point because before you know it, you'll realize you've just had 4 donuts (I'm talking from experience).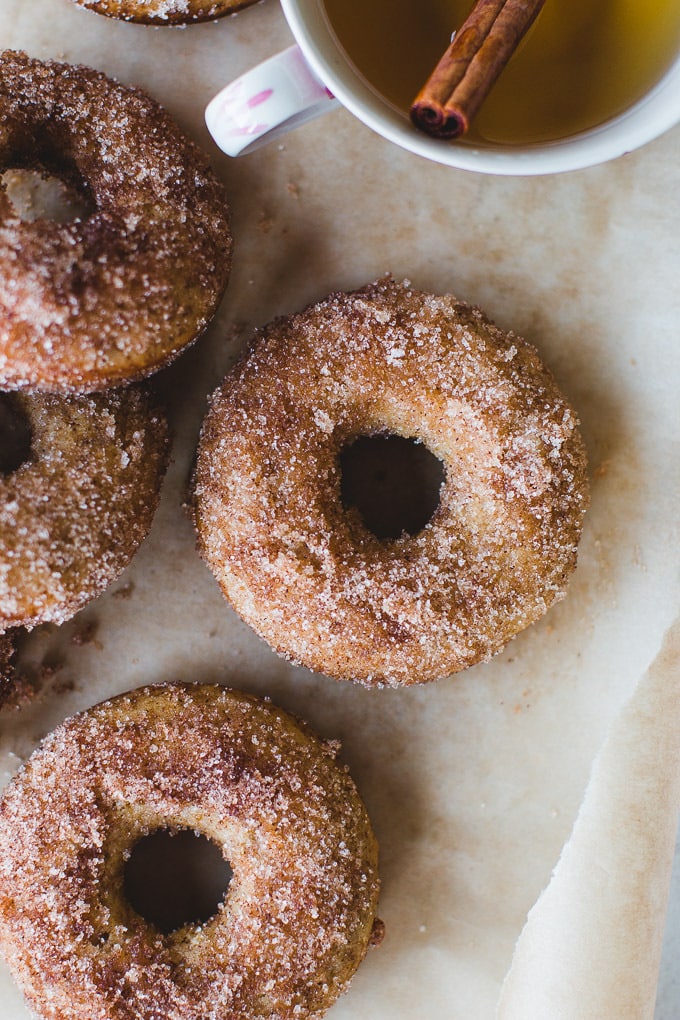 More Delicious Recipes: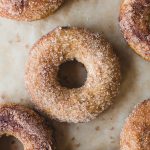 Apple Cider Donuts
---
Ingredients
Donuts
1 and 1/2

cups

(360 ml) apple cider

1 and 3/4

cups

(245 g) all-purpose flour

1

teaspoon

baking powder

1/2

teaspoon

baking soda

1

teaspoon

ground cinnamon

1/4

teaspoon

ground nutmeg

pinch

of ground cardamom

, optional

1/2

teaspoon

salt

1

large

egg

1/3

cup

(65 g) granulated sugar

1/3

cup

(65 g) dark or light brown sugar

3

tablespoons

(40 g) unsalted butter, melted

1/2

cup

(120 ml) buttermilk

(or milk)

1 and 1/2

teaspoons

pure vanilla extract
Topping
6

tablespoons

(85 g) unsalted butter, melted

1

cup

(200 g) granulated sugar

2

teaspoons

ground cinnamon

1/8

teaspoon

ground nutmeg

, optional
Instructions
Reduce the apple cider: In a small saucepan, bring apple cider to a gentle boil and let simmer over medium heat until thick and reduced to about 1/3 cup (80 ml), 15-25 minutes. Set aside to cool.

Preheat oven to 350°F/180°C. Grease donut pans with butter or nonstick spray. Set aside.

In a large bowl sift together flour, baking powder, baking soda, spices, and salt. Set aside.

In a small bowl whisk together the egg, granulated sugar and brown sugar, until well combined. Whisk in the melted butter. Add the reduced apple cider, buttermilk and vanilla extract, and mix until combined. Pour the mixture into the flour mixture and whisk just until combined and smooth. Don't overmix the batter.

Divide the mixture between the donut cavities, filling about halfway full. I recommend using a piping bag to pipe the batter, it will be much easier and less messy. Bake for about 10 minutes until a toothpick inserted into the center of the donuts comes out clean. Let donuts cool in the pan for 5 minutes and then transfer them to a wire rack.

Meanwhile, make the topping: In a medium bowl mix together the sugar, cinnamon, and nutmeg. Once cool enough to handle, for each donut, dip both sides in melted butter and then generously dip into the sugar mixture.

Donuts are best served immediately. Leftovers can be kept in the fridge for up to 3 days. Serve them warm or at room temperature.