Chewy, dense, rich and fudgy brownies from the famous Baked bakery.
I don't think I will ever reach my limit for trying new brownie recipes.  I'm pretty sure I have experimented with dozens so far. More than any other dessert. It's almost effortless to make, but yet so rewarding. A brownie will satisfy my craving for sweets for about 4 hours. Which is a lot.
On my last trip to NYC I really wanted to visit Baked bakery. Everywhere I travel, I have a 'bakery list' with me – kind of like a wish list. It's always too ambitious, so I only end up getting to half of the places I wanted to visit. Unfortunately I didn't make it to Brooklyn this time, so I had to skip over Baked.  I did however make it to the famous Levian bakery (their giant chocolate chip cookies are the best!) and Bouchon bakery – one of my favorites!
But back to Baked 🙂
The guys behind Baked say they improved their brownies over the years, to make them more and more perfect. And I think they nailed it.
Their brownies are just perfect. They're very rich – lots of chocolate, butter and eggs in there.
The espresso powder enhances the chocolate flavor, as does the small amount of cocoa they added. All the ingredients are there for a reason. A very good reason.
While the brownies are dense, they aren't heavy. They aren't too sweet either, if you use high quality chocolate (60-70 percent cocoa). I will admit that I don't always use high quality chocolate (I'm not that picky with my brownies), but when I do, I can definitely tell the difference. Brownies usually taste similar to the chocolate you use to make them with –  which makes sense after all. Therefore, choose a chocolate brand that you like – personally I don't necessarily like the taste of all high quality chocolate products.
This recipe is simple. Just like I like it. Start by melting butter and chocolate. Whisk in sugar. Then, whisk in the first 3 eggs, followed by the 2 remaining. Add vanilla extract and stir. Don't overmix after adding the eggs – this will create too many air bubbles, and the brownies will be cakey. Finally, add dry ingredients (cocoa, flour and salt) just until mixed.
Start checking the brownies 25 minutes after you put them in the oven. Baking brownies for just the right amount of time is the key to making them perfect. Always look for moist crumbs on the toothpick – no too liquidy and not dry. Overbaked brownies tastes like a dry cake and will not be fudgy as they were intended to be.
Baked have a lot of other really great recipes. I definitely recommend checking out their cookbooks.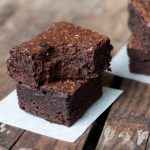 The Baked Brownie
Chewy, dense, rich and fudgy brownies from the famous Baked bakery.
---
Ingredients
1 1/4

cups

(155 grams or 5.5 ounces) all-purpose flour

1

teaspoon

salt

2

tablespoons

dark unsweetened cocoa powder

11

ounces

(310 grams) dark chocolate, coarsely chopped

1

cup

(2 sticks or 230 grams) butter, cut into small pieces

1

teaspoon

instant espresso powder

(or 1.5 teaspoons instant coffee granules)

1 1/2

cups

(300 grams or 10.5 ounces) granulated sugar

1/2

cup

(100 grams or 3.5 ounces) packed light brown sugar

5

large eggs

, at room temperature

2

teaspoons

vanilla extract
Instructions
Preheat the oven to 350F/180C. Line a 9×13-inch baking pan with parchment paper.

In a medium bowl, whisk the flour, salt and cocoa powder together.

Put the chocolate, butter, and instant espresso powder in a large bowl and set it over a saucepan of simmering water, stirring occasionally, until the chocolate and butter are completely melted and smooth. Turn off the heat, but keep the bowl over the water and add the sugars. Whisk until completely combined, then remove the bowl from the pan. The mixture should be room temperature.

Add 3 eggs to the chocolate mixture and whisk until combined. Add the remaining 2 eggs and whisk just until combined. Add the vanilla extract and stir until combined. Don't overmix at this stage or your brownies will be cakey.

Add the flour mixture to the chocolate mixture and fold until just a bit of the flour mixture is visible.

Pour the batter into the prepared pan and smooth the top. Bake in the center of the oven for 30 minutes, rotating the pan halfway through the baking time, until a toothpick inserted into the center of the brownies comes out with a few moist crumbs sticking to it. Let the brownies cool completely, then lift them out of the pan using the parchment paper. Cut into squares and serve.
Recipe Notes
- You can cut the recipe to half and bake it in a 8*8-inch pan for 20-25 minutes.
- Store the brownies at room temperature in an airtight container for up to 3 days.
- Brownies can be frozen for up to 2 months. Thaw them on the counter, still covered, or overnight in the fridge.
PS. Try out another one of my favorite brownie recipes, here!