Inside: A mini brownie cupcakes recipe.
I know many people who aren't quite as cheerful when their birthday comes around. Trust me, I get it, we're not getting any younger, but to me, a birthday has always been a happy day that I look forward to for weeks in advance. One of my favorite things is planning how to celebrate the next big party to make my friends and family happy. Here's a clue to how I stay so excited: it always involves TONS of food and sweets, plus, some dancing 😉
Delicious Chocolate Brownie Recipes
While thinking about what to bake today, I figured that since it's my birthday I should pick one of my favorite recipes. This obviously means it would have to be something insanely chocolatey and fudgy, like… brownies! However, since there are already a few brownie recipes on my blog (here, here, and here… and there are more ;)), I decided to spice things up and make mini brownie cupcakes. I made these last year as well and they seemed to be everyone's favorite over all the other sweets I made, so it only seemed right to bake them again.
So, I made a quick and simple one-bowl brownie batter, baked it in a mini-muffin pan, and frosted the mini brownie cupcakes with the simplest chocolate frosting possible, a rich chocolate ganache.
Baking Perfect Mini Brownie Cupcake
As small as they are, these mini brownie cupcakes are a chocolate explosion in your mouth. To make them perfectly fudgy, you'll have to watch the baking time; mini brownies can quickly go from being underdone to overdone. Mine took exactly 10 minutes. You'll know they're ready when the top and sides look set, but the center isn't fully baked. To be sure, a toothpick inserted into the center should not come out clean, but rather with moist crumbs.
Fudgy Chocolate Ganache
The ganache is a mixture of melted chocolate and heavy whipping cream. It's very chocolaty and rich, and that's why I like to bake these as minis. I also like how shiny and tempting it makes them look. I love following this ganache tutorial! Just remember you'll need to prepare the ganache ahead of time and let it sit at room temperature until it's thickened to a good frosting consistency.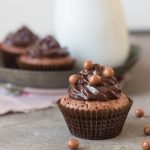 Mini Chocolate Brownie Cupcakes
Bite-sized fudgy chocolate brownie cupcakes with a rich chocolate ganache frosting that takes only 2 minutes to make.
---
Ingredients
Brownie Cupcakes:
4

ounces

(115 grams) bittersweet or semisweet chocolate, coarsely chopped

1/2

cup

(1 stick/113 gram) butter, cut into small pieces

3/4

cup

(150 grams/5.3 ounces) granulated sugar

2

large eggs

1

teaspoon

vanilla extract

1/2

cup

plus 1 tablespoon

(75 grams/2.7 ounces) all-purpose flour

1/4

teaspoon

salt
Chocolate Ganache Frosting:
200

grams

bittersweet or semisweet chocolate

, coarsely chopped

1/2

cup

plus 1 tablespoon

(135ml) heavy cream
Instructions
Preheat oven to 350F/180C. Line 30-32 mini muffin cups with liners. Set aside.

Make the ganache first: In a medium heat-proof bowl, place chocolate and heavy cream. Melt the mixture in the microwave in 20-second intervals, stirring between each interval, until melted and smooth. Alternatively, you can set the bowl over a saucepan of simmering water, stirring occasionally. Cover the bowl and leave to cool until it has reached room temperature and thickens. It should be ready by the time the cupcakes are able to be frosted.

To make the brownies: In a large heat-proof bowl, place chocolate and butter. Melt mixture in the microwave in 20-second intervals, stirring between each interval, until melted (or set bowl over a saucepan of simmering water, stirring occasionally). Add sugar and whisk until combined. Add eggs, one at a time, and whisk just until combined. Add vanilla extract and stir. Sift flour and salt over the chocolate mixture and fold, using a rubber spatula, until combined and smooth. Do not over mix.

Divide batter between cupcake liners, filling them 3/4 full. Bake for about 10 minutes, until a toothpick inserted into the center of the cupcake, comes out with a few moist crumbs. Be careful not to over bake as this will make the brownies dry. Transfer to a wire rack and let cool for 10 minutes before removing from pan. Once cupcakes have cooled and the chocolate ganache has thickened, frost cupcakes.

Store cupcakes in an airtight container in the refrigerator for up to 3 days. Allow to reach room temperature before serving.
How to Keep Cupcakes
Due to the dairy in the frosting, this mini brownie cupcakes recipe should be kept in the fridge, although they'll be fine sitting at room temperature for up to a few hours. Don't serve cold, though, because the frosting will be hard and unpleasant. Some people have also asked me if the frosting will melt. Unless it's under direct sunlight or a humid day, it should be fine. I've never had trouble with that before.