Forget about your typical, dense banana breads. This bread is moist, light, and full of banana flavor. The best I've ever tasted.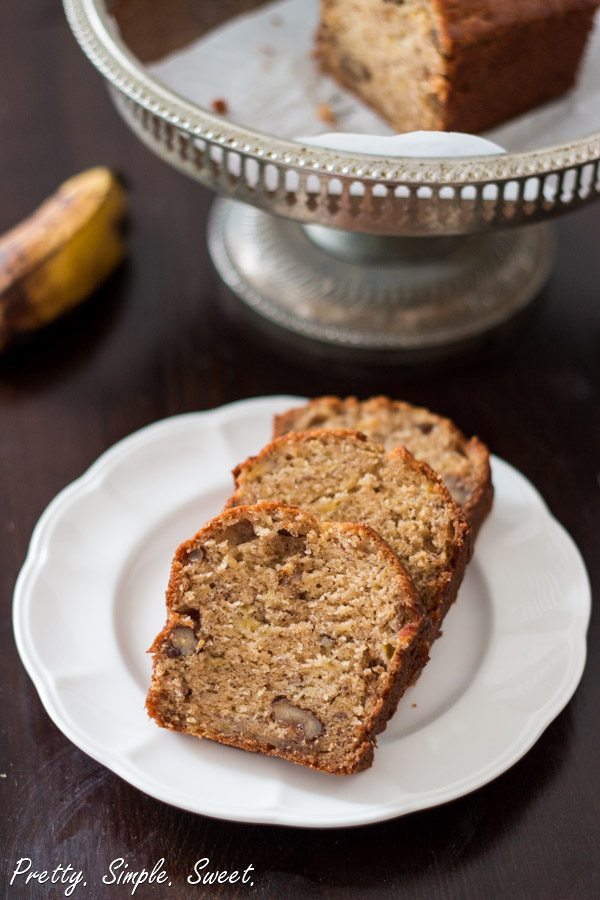 I'm always cautious when I say 'the best dessert ever', because what tastes like the best to me, might not taste like the best to you. But trust me, that this bread won't disappoint you. It is flavorful and banana-y. It is moist, fluffy and light. Not dense at all.
The best or not the best – this bread is good.
Let's go over some of the ingredients:
Bananas – the riper, the moister, the better. I measure mashed banana in cups rather than by the number of bananas. This is because one mashed bananas can yield anywhere between a third to a half cup. This makes a difference in a recipe with 3-4 bananas. Don't puree the bananas, it will make them too watery. Mash them with a fork until there are no big chunks left and the batter is smooth.
Butter – banana bread or almost any bread goes well with oil due to their naturally dense consistency. Oil makes them fluffy and moist. Some recipes use melted butter, but the bread won't be as fluffy as with oil. The melted butter is more for taste in this case. The third option (after oil and melted butter) is softened butter, used with the creaming method. This method makes a delicate crumb and the result tastes amazing, so this is what I use for this recipe.
Sugar – There is 3/4 cup sugar in the recipe and 2 tablespoons of honey. While some recipes use a double this amount, I find it sweet enough just like this, since the bananas add natural sweetness as well. The honey adds taste and goes well with bananas, but you can omit it if you like.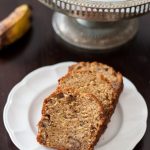 Banana Bread
---
Ingredients
1 3/4

cups

(250g) all-purpose flour

1

teaspoon

baking soda

1/2

teaspoon

salt

1

teaspoon

ground cinnamon

, optional

A pinch of ground or grated whole nutmeg

, optional

1/2

cup

(1 stick/115 g) unsalted butter, softened to room temperature

3/4

cup

(150g) light brown sugar

2

tablespoons

honey

2

large eggs

1 1/4

cups

(300g) mashed bananas

(about 3 bananas)

1

teaspoon

pure vanilla extract

1/4

cup

(60 ml) sour cream

3/4

cup

(80 g) walnuts or pecans, roughly chopped
Instructions
Preheat oven to 350°F/180°C. Butter a 9×5-inch loaf pan.

In a medium bowl sift together flour, baking soda, cinnamon, nutmeg and salt. Set it aside.

In a stand mixer fitted with the paddle attachment, beat together butter and sugars for 2-3 minutes until light and fluffy. Add honey and beat for one more minute. Scrape down the sides and the bottom of the bowl occasionally. On medium speed, beat in the eggs one at a time, beating well after each addition. Add mashed bananas and vanilla extract and beat. With the mixer on low speed, add half of the dry ingredients and beat just until combined. Add the yogurt and beat until combined. Add the other half of the dry ingredients and beat slowly or fold by hand just until combined. Do not overmix – the less you mix, the lighter the bread will be. Fold in the nuts.

Pour batter into prepared loaf pan and bake for 50-60 minutes until a toothpick inserted into the center of the bread comes out clean or with just a few moist crumbs. Let the bread cool for 10 minutes on a wire rack, then turn it out from the pan and let it cool completely.
Recipe Notes
-Store the bread at room temperature in an airtight container for up to 3 days.
-The bread can be frozen for up to 2 months. Thaw it on the counter, still covered, or overnight in the fridge.