This simple and homey apple cake makes the perfect dessert or snack for fall.
As soon as fall begins, my family gets all sorts of cravings. In the past few weeks, they've had almost constant requests for one specific dessert: caramel apple pie. If you've ever tried it, you understand why!
Although baking is becoming easier and less time-consuming for me, I will forever adore simple desserts. I love classic, nostalgic dishes, but if I'm being completely honest, my laziness probably has something to do with it, too.
So instead of apple pie, I made this apple cake recipe for my family  this weekend. When requests started pouring in for second slices and recipes, I knew I was forgiven.
This cake is moist and tender, and the spices give it a warm flavor that's perfect for the season. Plus, it's loaded with tiny, juicy apple slices and it smells divine! For best results, slice 2 apples into small ¼-inch pieces.
Ingredients and Substitutions
Sugar: You can use either 1 cup light brown sugar, half a cup brown sugar (either dark or light) plus half a cup granulated sugar, or 1 cup granulated sugar. Brown sugar adds a wonderful flavor and moisture to the cake, so I like to include it.
Buttermilk: Although I love using buttermilk for this cake, I've also tried this cake using plain yogurt and milk. All options are great. If you use just milk, replace the 1/4 teaspoon baking soda with 1/2 teaspoon baking powder in addition to the 1 teaspoon that's already in the recipe.
Spices: I usually use 1 teaspoon cinnamon, 1/4 teaspoon nutmeg, and 1/4 teaspoon ginger or cloves, but you can use your favorite spices. With this amount, the cake isn't overly spiced but rather balanced. I don't recommend leaving out the spices, and to use at least cinnamon for some flavor.
Apples: This cake is loaded with apple pieces. You can always add more or less according to your desired taste and consistency.
Ideas for add-ins and toppings
Add orange zest to the batter.
Add up to 1 cup cranberries.
Add 1/2 – 3/4 cup chopped nuts: walnuts, pecans, or almonds are great.
Add 1/2 cup nuts plus 1/2 cup shredded coconut (preferably unsweetened).
Add 1/2 cup walnuts plus 1/3 cup raisins.
Add 1/2 teaspoon pure almond extract (in addition to the vanilla extract).
Add 1 tablespoon rum or Calvados.
Toss the apples with some lemon juice and Calvados for extra flavor.
Before baking, sprinkle the top of the batter with a mixture of 1 tablespoon sugar plus 1/4 teaspoon ground cinnamon for a crunchy topping.
Sprinkle the top of the batter with flaked almonds before baking.
Top with cream cheese frosting after the cake has completely cooled. If you do, keep the cake refrigerated.
Drizzle cake slices with a simple vanilla sauce.
Or – just make this perfect cake as-is and dust the top with some powdered sugar.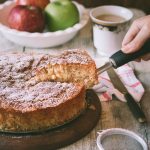 Apple Cake
YIELD
:
1
8-inch or 9-inch cake
---
Ingredients
1 1/3

cups

(180g) all-purpose flour

1

teaspoon

baking powder

1/4

teaspoon

baking soda

1/4

teaspoon

salt

1

teaspoon

ground cinnamon

1/2

teaspoon

combination of your favorite spices

(ground nutmeg, cloves, ginger)

1/2

cup

(115g) unsalted butter, at room temperature

1/2

cup

(100g) granulated sugar

1/2

cup

(100g) brown sugar

2

large eggs

1

teaspoon

vanilla extract

2/3

cup

(160ml) buttermilk

250

g

(about 2 cups/2 medium) apples, peeled, cored, and cut into ¼-inch cubes (cut first, then measure)
Instructions
Preheat oven to 350F/180C. Grease and flour an 8" or 9" round springform pan (8" pan will yield a taller cake).

In a large bowl, sift together flour, baking powder, baking soda, salt, cinnamon, and spices. Set aside.

In a mixer bowl fitted with the paddle attachment, beat butter and sugars on medium speed until light and fluffy, about 3 minutes. Beat in eggs, one at a time, until combined. Scrape down sides and bottom of the bowl as necessary. Beat in vanilla extract. On low speed, beat in flour mixture in 3 additions, alternating it with buttermilk in 2 additions, starting and ending with the flour. Do not over mix. Fold in apples.

Scrape batter into prepared pan and smooth the top. Bake for 35-40 minutes, or until a toothpick inserted into the center comes out clean. Place on a wire rack to cool completely.

Serve cake warm or at room temperature.

Store cake at room temperature in an airtight container for up to 3 days or refrigerate for up to 5 days.

Cake can be frozen for up to 2 months.