This homemade banana pudding from the famous Magnolia Bakery is so good yet simple to make, and can be served in either a large trifle bowl or individual dishes. My friends go crazy over it every time I make it!
…And when I say crazy, I mean CRAZY. It's light, fluffy, and addictive, so there are hardly ever any leftovers unless, maybe, I make a double batch. Just the other day, I told my friend I was about to make this for the blog and, well, let's just say I didn't get a reaction quite like that even when I told her I was getting married. I guess pudding is more exciting than marriage, though. Just kidding. Kind of.
This recipe makes a large batch, enough to feed quite a few hungry guests like the ones I usually have. It's light, airy, delicate, and melts in your mouth, and the combination of flavors is heavenly – vanilla pudding mixed with lots of whipped cream, fresh bananas, and cookies. Even a friend of mine who hates bananas loves this pudding. Need I say more?
The first step is mixing together water, pudding mix, and condensed milk until the pudding dissolves and the mixture is smooth. You then need to refrigerate it for at least 4 hours, or until it sets up to a pudding consistency. This waiting time makes it a perfect make-ahead dessert.
Next, you'll need to whip the cream to soft peaks – read through this post to understand what soft peaks means. Gently fold one third of the whipped cream into the pudding mixture until incorporated, then repeat twice more. The mixture should be very smooth and delicious (which means it's finally time to try it!).
Assembling the dessert is simple, and you can layer the ingredients in either a large trifle bowl or individual dishes. For a single large bowl, place 1/3 of the wafers, followed by 1/3 of the bananas, then 1/3 of the whipped pudding, and repeat the layering twice more. For individual dishes, divide the ingredients evenly between the dishes, then layer them in each dish.
I recommend serving this dessert within the first 24 hours after assembly. Any longer than that, and the cookies will start getting soggy. I will not deny the fact, though, that in the very rare case of leftovers, I'll place it in the back of the fridge where Erez never looks and enjoy every single bite, even a couple of days later. Please don't judge me.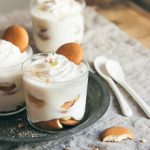 Banana Pudding
---
Ingredients
1 1/4

cups

(300 ml) water

2/3

cup

(100 g) instant vanilla pudding mix*

1

can

(400 g/14 oz.) sweetened condensed milk

3

cups

(720 ml) heavy cream

1

box

(340 g/12 oz.) vanilla wafers (or dry butter cookies)

5-6

bananas

, sliced
Instructions
In a large bowl, whisk together water, pudding mix, and sweetened condensed milk until smooth. Refrigerate for at least 4 hours, until it sets up completely.

Whip heavy cream until soft peaks form. Working in thirds, fold the whipped cream into the pudding mixture until well incorporated.

In a 3-quart (3-liter) trifle bowl or in individual trifle dishes (12 dishes, 1 cup/240ml capacity), layer wafers, sliced bananas, and pudding mixture, then repeat until you've used up all the pudding. Refrigerate for at least 30 minutes before serving, but no later than 24 hours to prevent sogginess. Leftovers will keep for another 1-2 days, but the cookies will get soggier over time.
Recipe Notes
* You don't need to make an actual pudding before using the instant pudding mix. Simply mix in the powder as is.
Recipe adapted from the Magnolia Bakery Cookbook.