My quick and simple recipe for a creamy eggless chocolate mousse.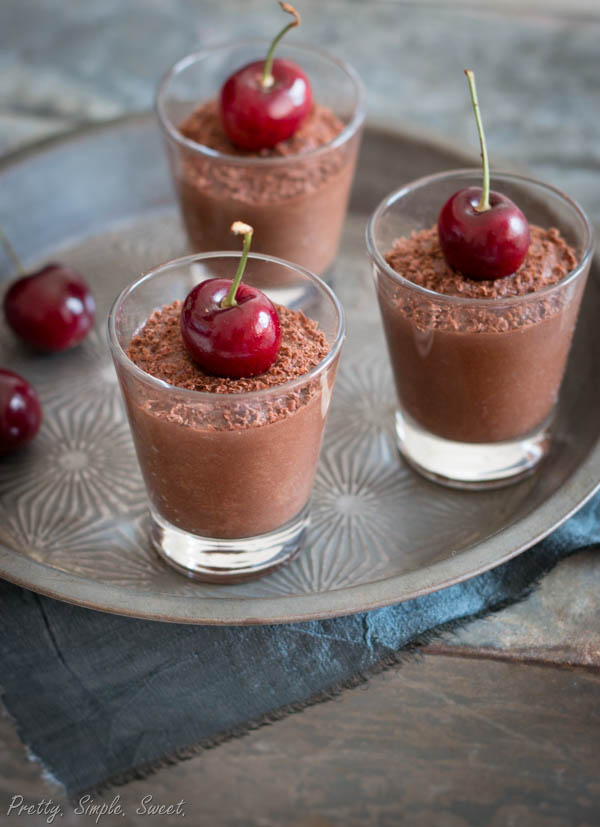 There's something about mousse recipes that you may have noticed – they're all extremely different from one another. Some use whole eggs, some use egg whites only, and some don't use eggs at all. Some use whipping cream or butter, while others don't. There are plenty of variations, so what's the difference?
Mousse means foam in French, which implies the airy texture this dessert should have. That's why we either whip cream or egg whites to incorporate air into the mixture. Basically, the lightness of the mousse is dependent on the ratio of whipped cream or whipped egg whites to the other ingredients. Using just egg whites without cream will make the mousse more delicate and light, while adding egg yolks, butter, or cream (even if whipped) will create a richer flavor and somewhat heavier texture.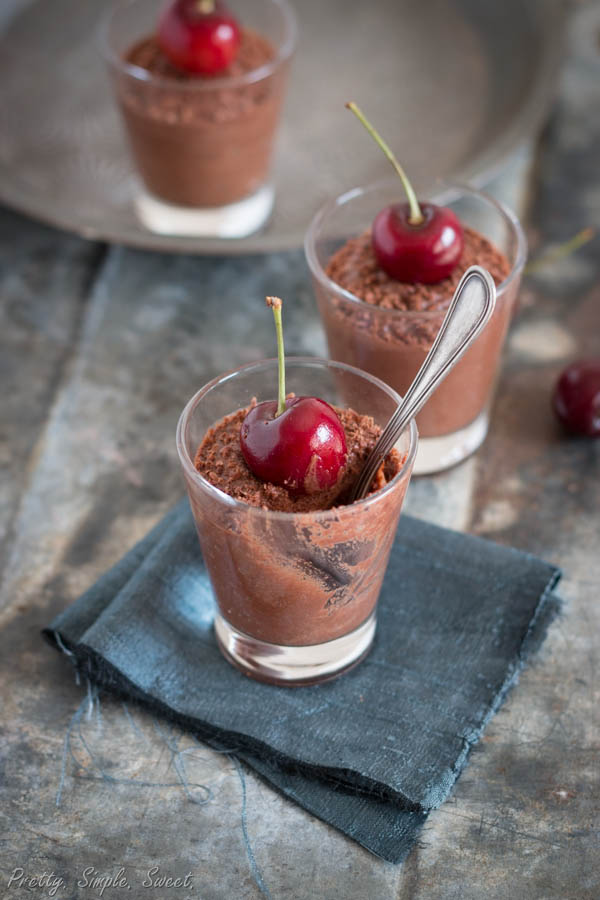 Most recipes use raw eggs, which generally shouldn't be a problem. Every time I make a mousse, though, there's always someone worried about salmonella. That's why today I chose to post an eggless mousse recipe. Plus, I made this for my friend who's currently pregnant, so it's not like I had a choice. 😉
This is a good, basic recipe that my guests always love. It's very rich thanks to the cream and chocolate (so be easy on the large servings!), but to make it a little lighter, I use a bit of water and no butter. This gives it an intense chocolate flavor and the perfect texture.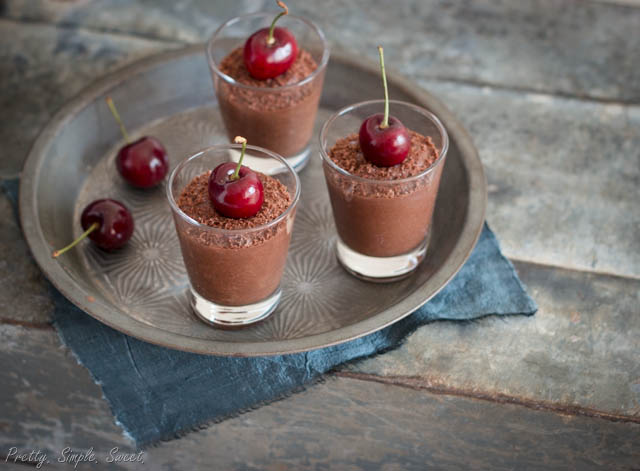 While some recipes call for melting the chocolate and letting it cool for a few hours before proceeding with the rest of the recipe, I use a different method to make the process quicker. First, heat the water and sugar in a saucepan until the mixture boils and the sugar has melted. Then pour it over the chocolate and let sit for 30 seconds. Mix until the chocolate completely melts. If there are still a few chunks of solid chocolate, melt the mixture in the microwave for a few seconds until melted and smooth. Whether you microwave the chocolate or not, it shouldn't take long until it's chilled to just above room temperature, letting you proceed to the next step: whipping the cream and folding it in. If you add the cream while the mixture is still hot, it will simply melt.
To get a perfectly smooth texture, whip the cream just until soft peaks form (kind of like shaving cream). Don't wait until it's stiff. Once folded into the chocolate mixture, the mousse should be soft, silky, smooth, and utterly delightful!

Eggless Chocolate Mousse
My quick and simple recipe for a creamy eggless chocolate mousse.
Ingredients
¼

cup

water

3

tablespoons

(35 grams/1.2 ounces) granulated sugar

200

grams/7 ounces dark chocolate

, coarsely chopped

½

tablespoon

dark rum

, brandy, or liquor of your choice (optional)

1

cup

heavy cream

1

teaspoon

instant coffee powder

(optional)
Instructions
Place chocolate in a large bowl.

In a medium saucepan, boil water and sugar over medium heat. Once sugar has melted, pour the hot syrup over the chocolate. Let stand for 30 seconds, then mix until chocolate has melted and the batter is smooth. If the chocolate hasn't fully melted, microwave the mixture for 15-20 seconds. Stir in liquor of choice. If mixture is warm, leave on the counter until it reaches room temperature.

In a mixer bowl, beat heavy cream and instant coffee until soft peaks form. Gently fold half of the whipped cream into the chocolate mixture until combined, then the remaining whipped cream until combined and smooth. Divide into serving cups.

Chill the mousse until it's set. It will become quite firm after long refrigeration, so take it out of the fridge 15-20 minutes before serving.

Store mousse in the fridge, covered with plastic wrap, for up to 3 days.