Full of caramel and banana flavor, these banoffee cupcakes are moist, creamy, and the best I've ever tried!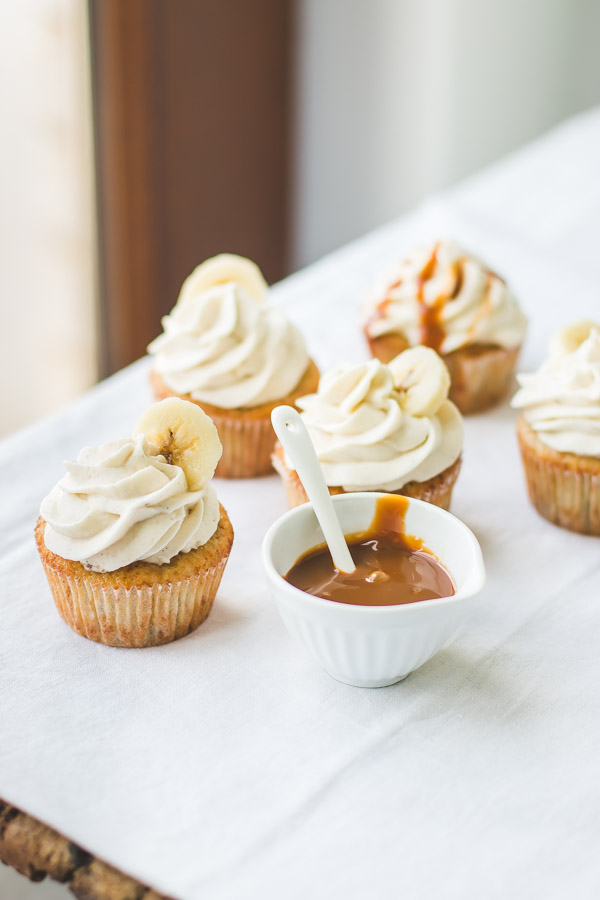 There are many different versions of banoffee cupcakes out there, and I've tried pretty much all of them. It's hard to go wrong with flavors like banana and toffee, so while the ones I tried were good, I still had my own vision for these cupcakes.
For a prominent banana flavor, I used bananas both for the base and frosting. At first I wasn't sure about using fresh bananas for the frosting because I thought it may turn black, but the frosting kept its beautiful bright color for several days. As for the caramel flavor, I found that it's best to just use a can of dulce de leche or caramel (store-bought is perfect) to fill the cupcakes with, which gives an intense flavor that goes amazing with all that banana goodness. If you want to add dulce de leche to the frosting as well, add a few teaspoons of it along with the banana puree.
I used a whipped cream-based frosting because I really wanted it to replicate the flavors of banoffee pie. The added cheese (I prefer to use mascarpone, but cream cheese is great as well) helps to stabilize the frosting and adds plenty of deliciousness. Because of the frosting, the cupcakes should be kept in the fridge, and the good news is that they stayed moist for several days this way. You can serve it at room temperature, just make sure it's not sitting under direct sun or that the temperature isn't too warm so it won't melt.
Make sure you're using very ripe bananas for the cupcakes—the riper, the better! That way they are sweeter and more flavorful and will make your cupcakes moist. For the frosting, on the other hand, you want to use a fresher banana as using a ripe one will keep it from turning out as pretty.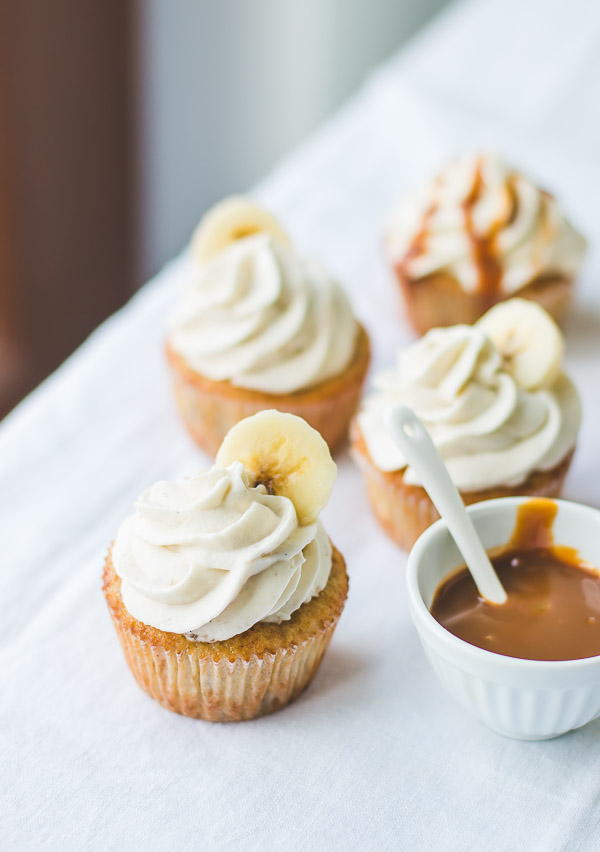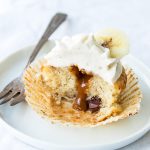 Banoffee Cupcakes
Full of caramel and banana flavor, these banoffee cupcakes are moist, creamy, and the best I've ever tried!
---
Ingredients
Cupcakes:
1¼

cups

(175 g/6.2 oz) all-purpose flour, sifted

1½

teaspoons

baking powder

¼

teaspoon

salt

½

cup

(1 stick/115 g) unsalted butter, at room temperature

1

cup

(200 g/7 oz) granulated sugar

2

large eggs

1

cup

mashed very ripe bananas

(2-3 bananas)

1

teaspoon

pure vanilla extract

1/4

cup

(60 ml) whole milk (or water)

1/4

cup

(40 g) chocolate chips
Whipped Cream Frosting:
1

cup

(240 ml) heavy cream, chilled

½

cup

mascarpone cheese

(or cream cheese)

¾

cup

plus 2 tablespoons

(100 g/3.5 oz) powdered sugar

½

teaspoon

vanilla extract

1

small banana

(1/4 cup puree)

banana chips

, for garnish, optional
Instructions
To make the cupcakes: Preheat oven to 350F/175C. Line muffin tin with cupcake liners. Set aside.

In a medium bowl, sift together flour, baking powder, and salt. Set aside.

In a standing mixer fitted with the paddle attachment, beat together butter and sugar on medium speed until light and fluffy, about 3 minutes. Scrape down the sides and bottom of the bowl occasionally. Beat in eggs one at a time, beating well after each addition. Add mashed bananas and vanilla extract and beat. With the mixer on low speed, add half of the flour mixture, followed by the milk, then add the rest of the flour mixture and beat just until combined. Do not overmix—the less you mix, the lighter the cupcakes will be. Fold in chocolate chips.

Divide batter evenly between muffin cups, filling them about ¾ full. Bake for 15-20 minutes until a toothpick inserted into the center comes out clean or with just a few moist crumbs. Allow cupcakes to cool for 10 minutes, then remove from pan and allow them to cool completely on a wire rack.

Fill the cupcakes: Core each cupcake with a cupcake or apple corer, or use a teaspoon to scoop out holes, leaving a well in the center of the cupcake. Place dulce de leche in a a pastry bag, cut off the corner of the bag, and fill the holes (or just use a teaspoon to fill it instead).

To make the frosting: In a mixer bowl, place heavy cream, cheese, sugar, and vanilla. Beat until soft peaks form. Add banana puree and beat just until stiff peaks form and mixture is smooth. Don't overbeat so it won't become grainy. Frost cupcakes immediately after making the frosting. Decorate with banana chips or crushed cookies if desired.

Cupcakes can be kept tightly covered in the refrigerator for up to 4 days.Unfrosted cupcakes can be kept tightly covered at room temperature for up to 3 days, or in the freezer for up to 2 months. Thaw, still covered, on the counter or overnight in the fridge.