These homemade funfetti cupcakes are a perfect way to brighten anyone's day. Fluffy, moist, and packed with colorful sprinkles — they are the perfect birthday cupcake!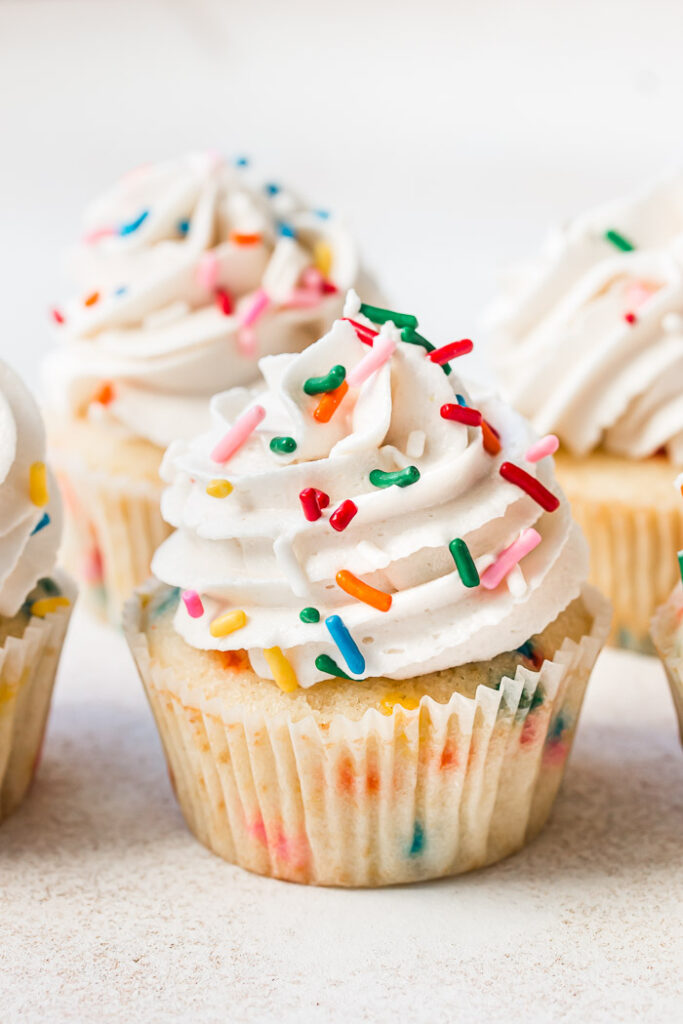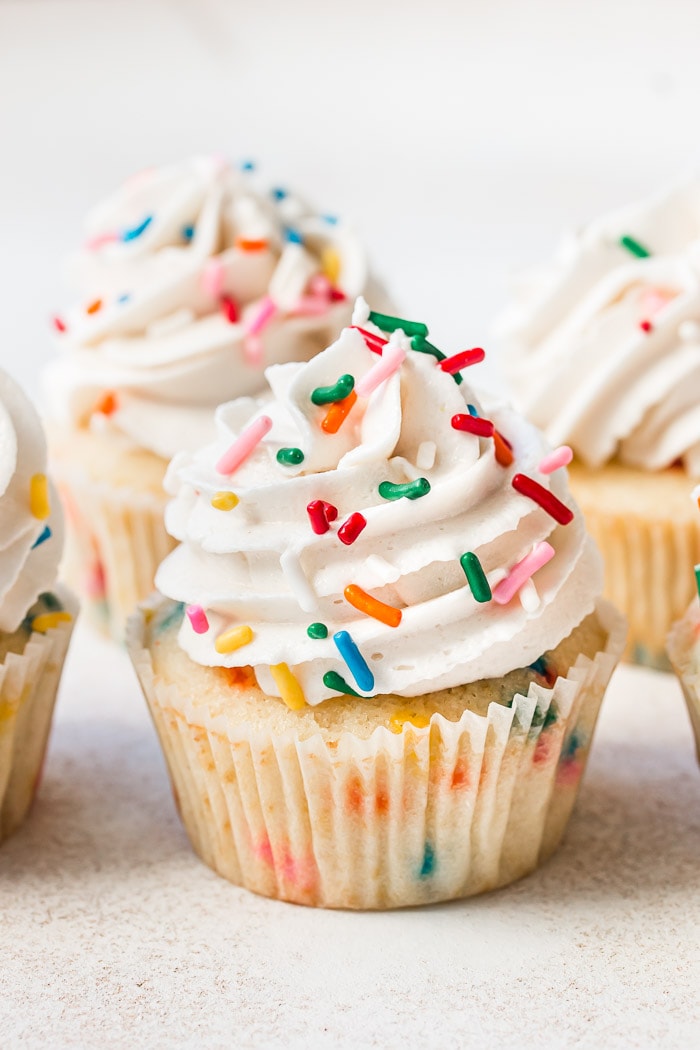 I recently celebrated my 35th birthday and it was one of my most memorable birthdays, despite not being able to hold a large celebration with friends and family because of the pandemic. The loving messages I received from everyone around the world, all facing similar challenges, was the best birthday present I could receive.
Seeing you all visit the blog, make my recipes and share them with loved ones is the greatest gift ever. Nothing makes me happier, not even chocolate, than seeing your beautiful creations of my recipes. You are the reason I get so much joy in the kitchen, so thank you from the bottom of my now-older heart.
Now about these funfetti cupcakes… nothing says 35 like rainbow sprinkles! The ultimate birthday cupcake, these homemade cupcakes are easy enough to make with kids but irresistible for anyone with a sweet tooth.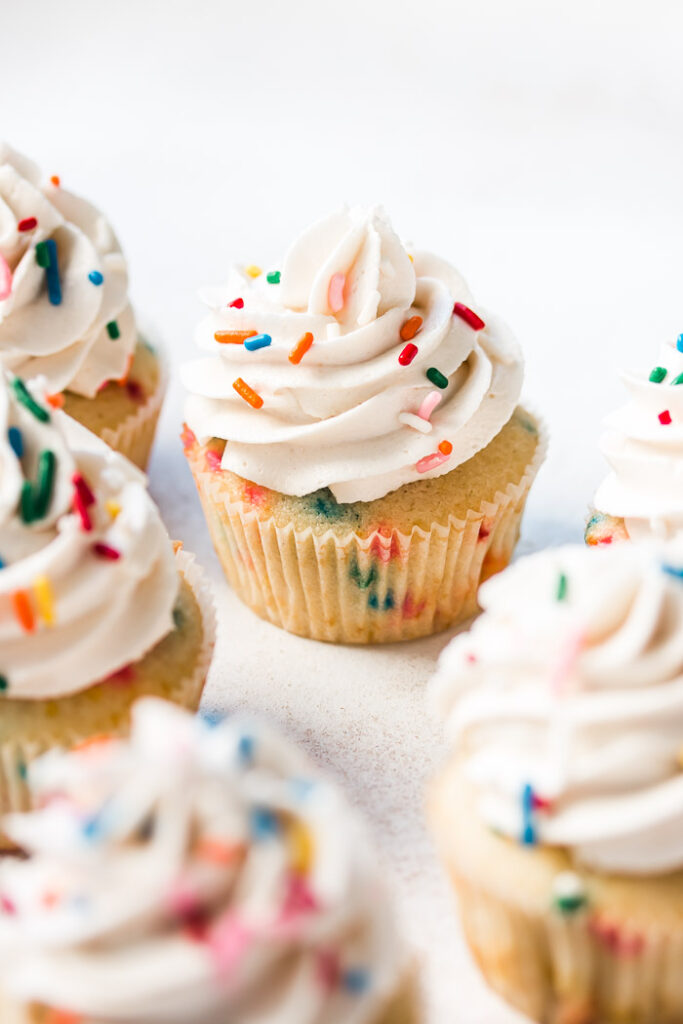 How to Make Funfetti Cupcakes
The funfetti cupcake recipe follows my basic vanilla cupcake recipe, with a few modifications explained below to make them extra white and fluffy. If you have a birthday coming up or need some added cheer, these confetti cupcakes are just for you.
Before you get mixing the cupcake batter, make sure to preheat your oven to 350°F and line a muffin tin. This recipe makes 14-16 cupcakes, depending on the size of your tin. Extras can be stored in the fridge or freezer, so this funfetti cupcake recipe is perfect for smaller celebrations when you don't want half a cake leftover.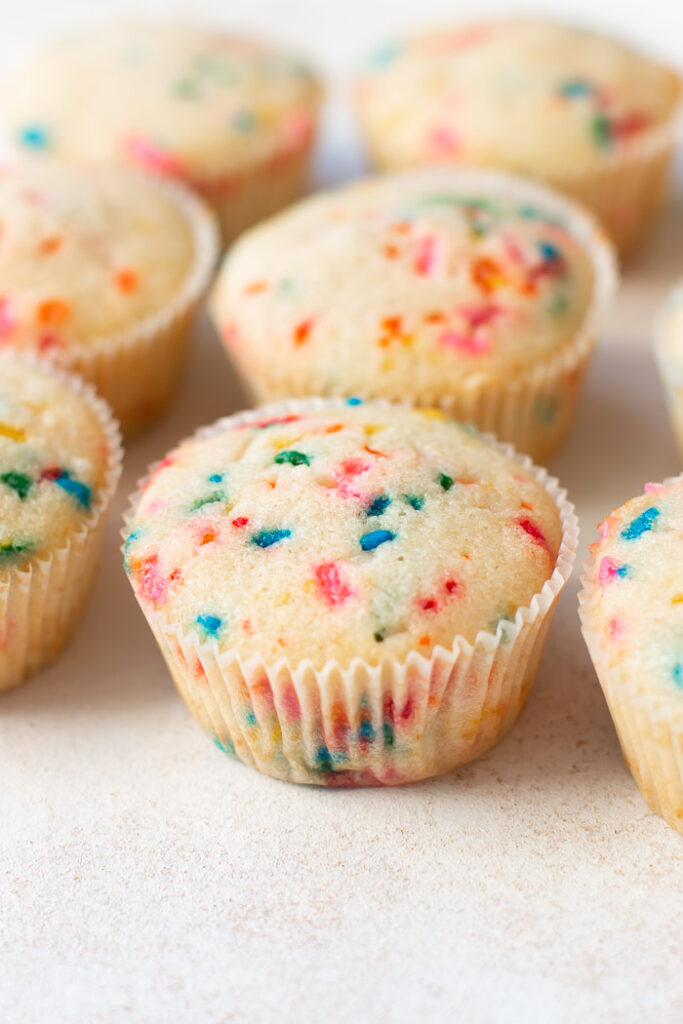 Next, sift or whisk together your dry ingredients and set them aside for later. In a mixer, beat together the butter and sugar until light and fluffy. This will take at least 3 minutes — it's important you don't skip this step as it is crucial for light and fluffy cupcakes.
Add in the egg whites, one at a time, followed by the vanilla extract. Turn the mixer to low and add in half of the dry ingredients, beating until just combined. Beat in the milk and sour cream, followed by the other half of the dry ingredients.
The last step is to stir in the sprinkles, being careful not to overmix the batter. A good rule of thumb to follow is the less you mix, the lighter your cake will be (cupcakes included).
Divide the batter, filling each cup about 3/4 of the way full. Bake for 15-20 minutes, until a toothpick comes out clean. Let the cupcakes cool completely before frosting and topping with more sprinkles.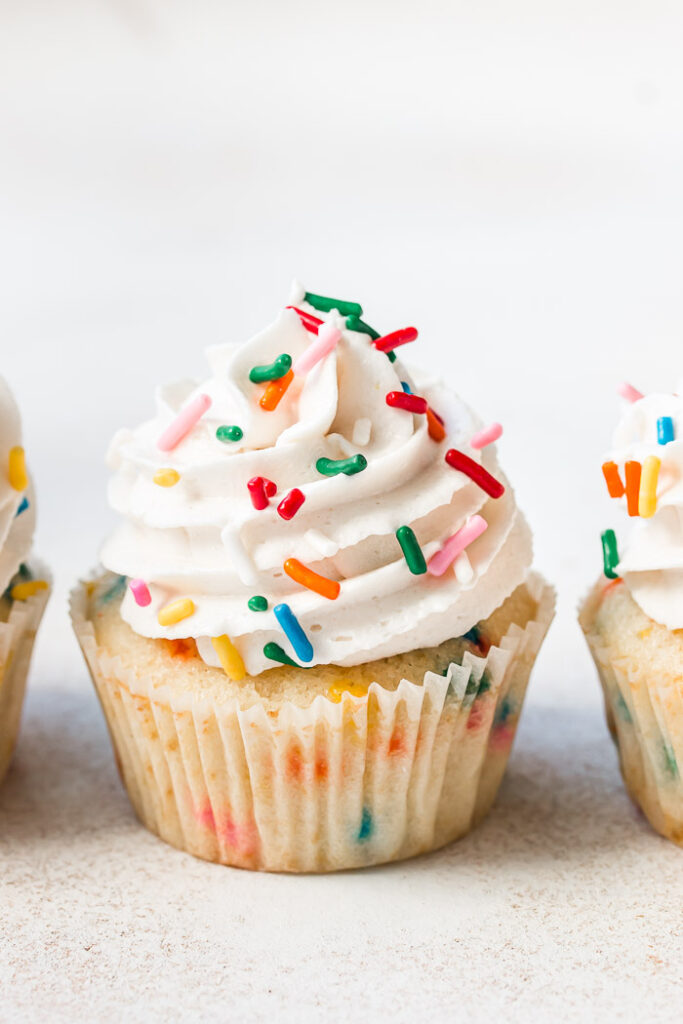 Funfetti Cupcake Ingredient Tips
There are a few secret ingredients to the best funfetti cupcakes, and luckily I'm sharing them with you! When turning my funfetti cake into cupcakes, I wanted a lighter and whiter cake that didn't need to hold up to layers. Follow these tips for the perfect birthday cupcake.
Egg Whites – I prefer to use egg whites instead of eggs to give the cupcakes an extra light texture and keep the color white. You can use 2 eggs instead, but note that the egg yolk will give the cake a yellow tint.
Whole Milk – With a slightly higher fat percentage of about 3%, whole milk lends a richer flavor and texture than regular 2% milk.
Sour Cream/Heavy Cream – In addition to whole milk, I like to add extra moisture with sour cream or heavy cream. You can also replace this with whole milk if that's all you have.
Sprinkles – I use these sprinkles and love them for baking. Sprinkles tend to bleed into cake batters, but these don't. I've also had good results from the cheap sprinkles that can be found in grocery stores.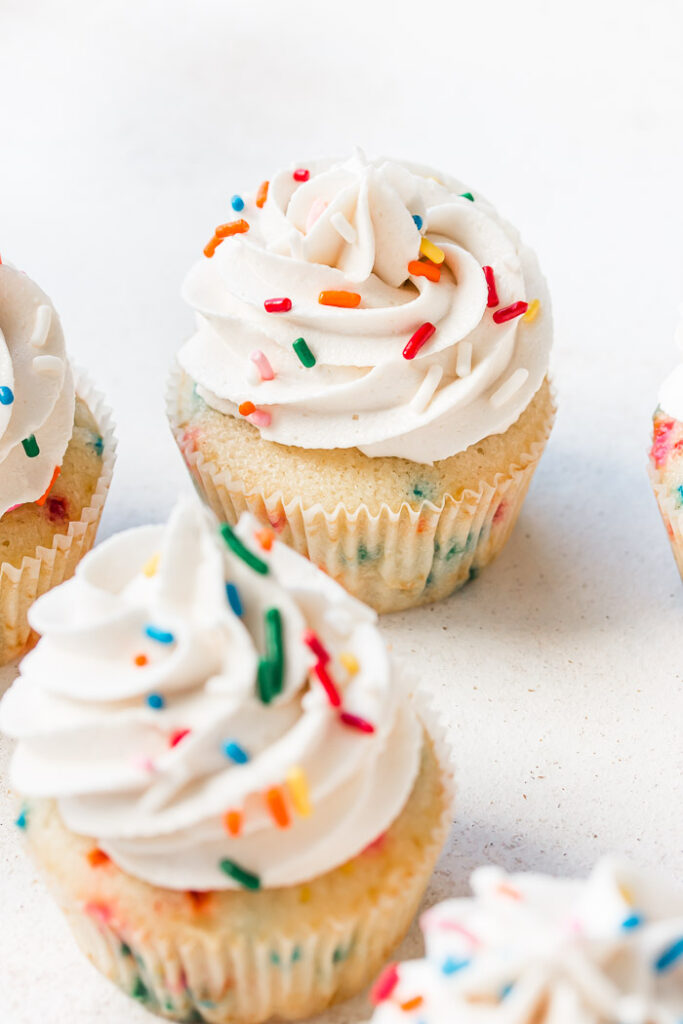 Favorite Frostings to Use
You can use any frosting you'd like for these easy funfetti cupcakes. I prefer to use a white frosting so the rainbow sprinkles stick out, but if you have a chocolate craving I totally understand.
My frosting recommendations would be either a Swiss Meringue Buttercream, a Cream Cheese Frosting, or a basic Vanilla Buttercream Frosting. Choosing which frosting to make all comes down to personal preference; the meringue frosting is lighter than the rich buttercream and the cream cheese adds a hint of tanginess to the cupcakes.
Whatever you decide to go with, I recommend using this piping tip when frosting the funfetti cupcakes. Make sure the confetti cupcakes are cool before piping on the frosting. You can store extra frosting in the fridge, bringing to room temperature before piping onto the extra cupcakes.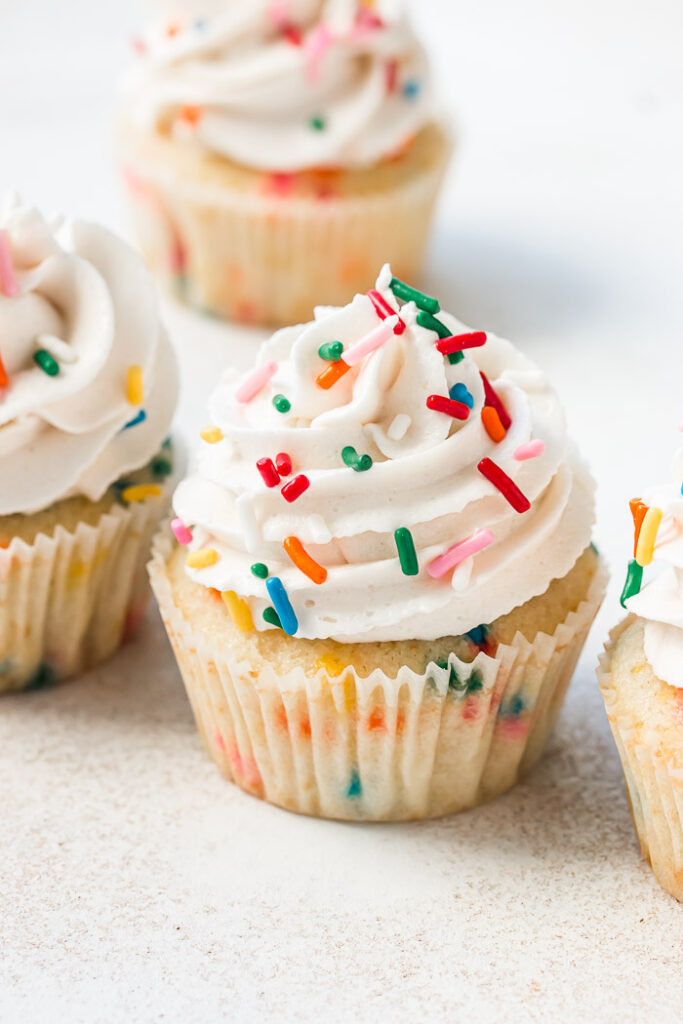 Other Cupcake Recipes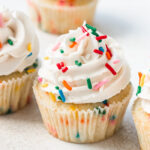 Funfetti Cupcakes
---
Ingredients
1 1/2

cups

(210g) all-purpose flour

1

teaspoon

baking powder

1/4

teaspoon

salt

1/2

cup

(1 stick/115g) unsalted butter, softened to room temperature

1

cup

(200g) granulated sugar

3

large egg whites

2

teaspoons

vanilla extract

1/2

cup

(120 ml) whole milk

1/2

cup

(120 ml) sour cream or heavy cream

(or whole milk for a total of 1 cup)

1/3

cup

sprinkles

(or up to 1/2 cup), plus more for decoration
Instructions
Preheat oven to 350°F/180°C. Line muffin tin with cupcake liners. Set aside.

In a medium bowl, whisk or sift together flour, baking powder, and salt. Set aside.

In a mixer fitted with the paddle attachment, beat together butter and sugar on medium speed until light and fluffy, about 3 minutes. Scrape down the sides and bottom of the bowl as necessary. On medium speed, beat in egg whites, one at a time, beating well after each addition. Add vanilla extract and beat until combined. With the mixer on low speed, add half of the dry ingredients and beat just until combined. Add milk and sour cream/heavy cream and beat until combined. Add the other half of the dry ingredients and beat slowly just until combined. Stir in sprinkles. Do not over mix – the less you mix, the lighter the cupcakes will be.

Divide batter evenly between the cups, filling them about 3/4 full. Bake for 15-20 minutes until a toothpick inserted into the center comes out clean. Let cupcakes cool in the pan for 10 minutes, then remove from pan and allow to cool completely on a wire rack. Frost cupcakes with frosting and top with sprinkles.

Unfrosted cupcakes can be kept tightly covered in the fridge for up to 3 days, or in the freezer for up to 2 months. Thaw, still covered, on the counter or overnight in the fridge (same for the frosting but bring it to room temperature and stir well before using to frost the cupcakes). Frosted cupcakes can be kept at room temperature for 24 hours or in the fridge for up to 3 days. Bring to room temperature before serving (at least 1 hour).