Inside: A carrot cake cheesecake recipe. 
If I had to choose between a carrot cake and a cheesecake, I would choose both! Combining these two treats into one makes it an oh-so-good special occasion cake. The carrot cakes I'm used to making are super moist! So,  when combined with creamy cheesecake and another layer of cream cheese topping, every bite will melt in your mouth.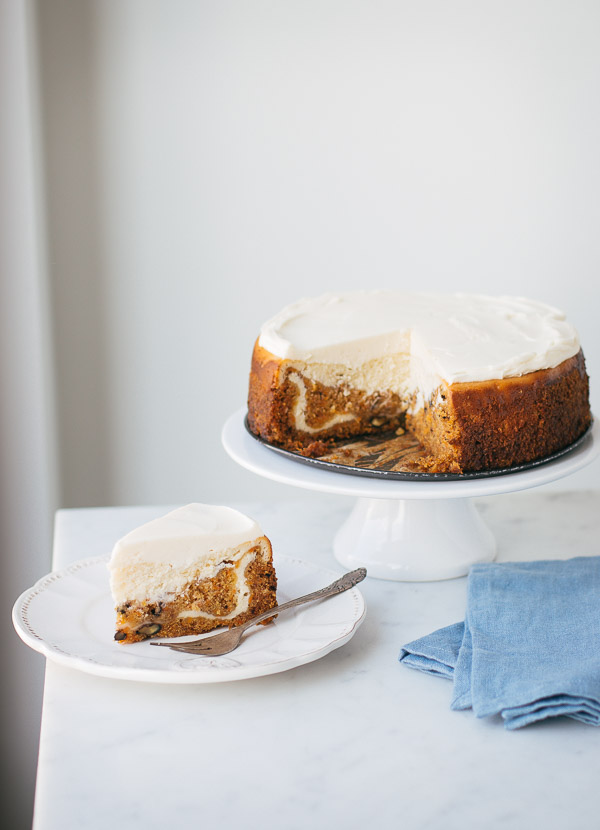 Speaking of the topping, the first few times I made this cake I skipped it because I tend to get lazy, but when I did finally add it, I knew there was no going back. It adds more to the cake than you think, and makes it much prettier looking. For garnish, you can sprinkle nuts or coconut, but a clean look works just as well.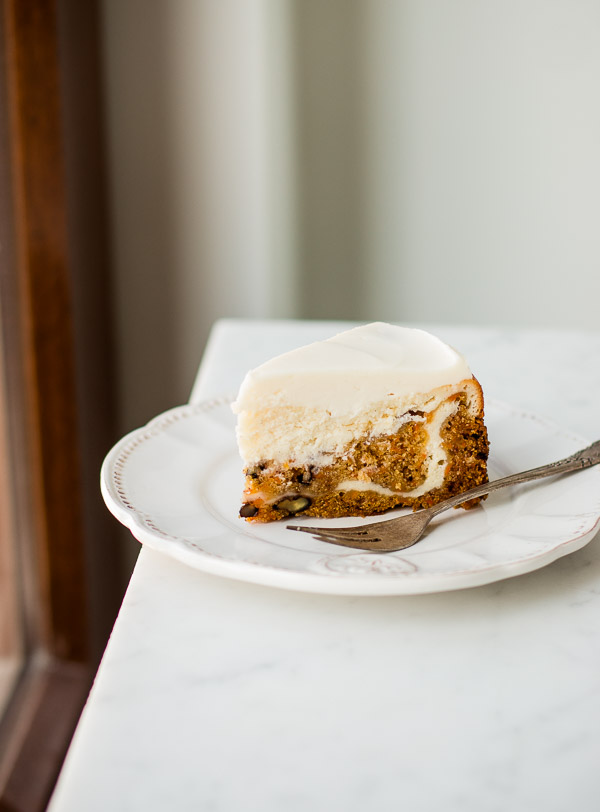 How to Make Carrot Cake Cheesecake
Now if you think there's a lot of work involved in this carrot cake cheesecake, then you're not totally wrong, but the good news is that every layer is simple to make and the result is definitely worth it. Plus, the second time you make it will be much easier than the first.
The Carrot Cake
For the carrot cake, you can use your favorite add-ins. Nuts are my top choice, but shredded coconut or raisins are great as well. Use a total of 1 cup of any combination, such as ½ cup nuts plus ½ cup coconut.
The Cheesecake
I used a traditional cheesecake recipe, you can get that here. Once you start to assemble your carrot cake cheesecake you will just lightly dollop your cheesecake into the pan with the carrot cake!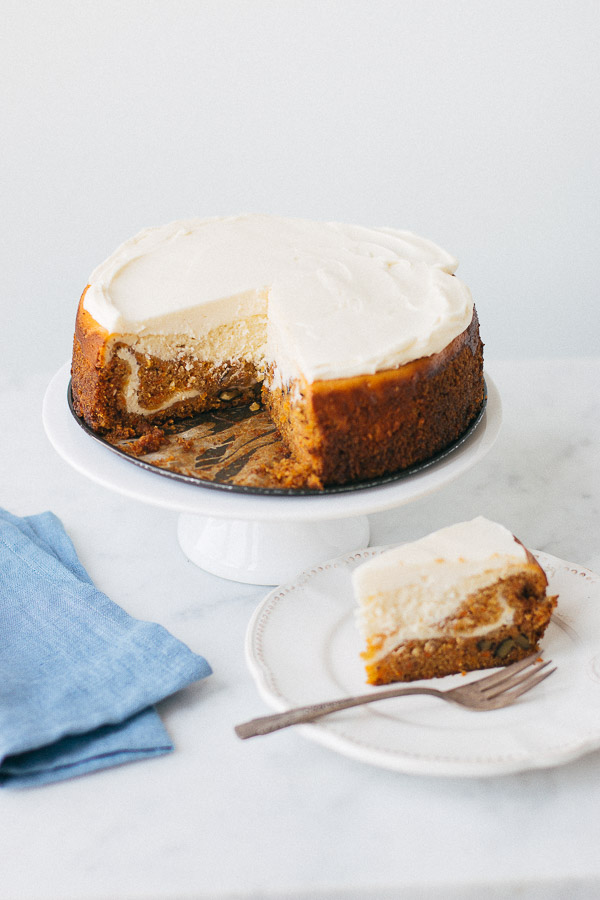 The Best Baking Pan
I usually make a 9-inch cake but you can also use an 8-inch pan to get a taller cake. As well as a 9.5-inch pan and get a shorter but larger cake. For the smaller pan you'll need to bake the cake a few minutes more and for the bigger pan a few minutes less. This cheesecake is ready when it's set.  The center will still be a bit wobbly, and a toothpick inserted into the center all the way down comes out clean. An hour of baking should be enough.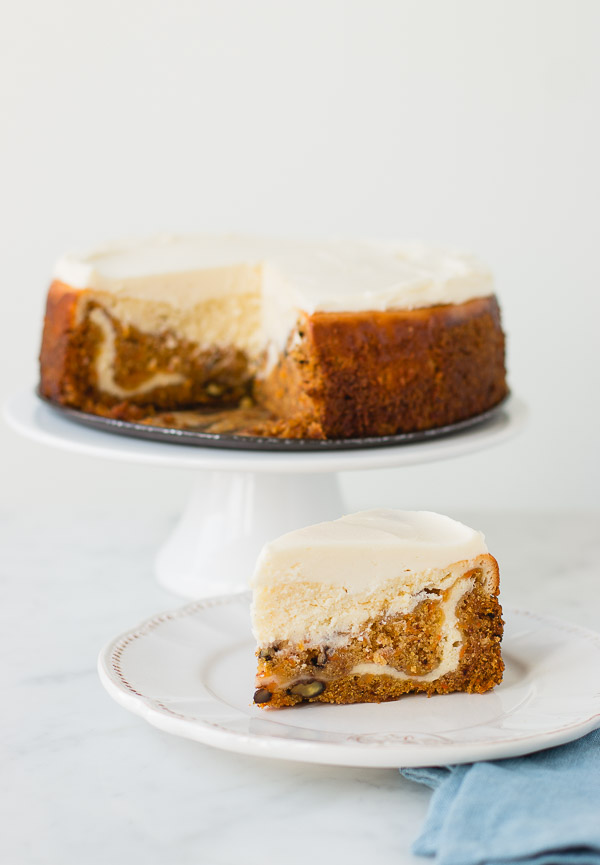 A Few More Delicious Recipes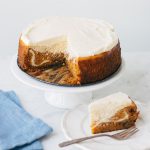 Carrot Cake Cheesecake
This over-the-top special carrot cake cheesecake is so moist it will melt in your mouth!
---
Ingredients
Cheesecake:
16

oz/450 g cream cheese

, softened to room temperature

2/3

cup

(130 g/4.5 oz) granulated sugar

1

tablespoon

all-purpose flour

2

large eggs

1

teaspoons

vanilla extract

(optional)
Carrot Cake:
1 ¼

cups

(175 g/6.2 oz) all-purpose flour

½

teaspoon

baking soda

1

teaspoon

baking powder

¼

teaspoon

salt

1

teaspoon

ground cinnamon

1

cup

(200 g/7 oz) granulated sugar

2

large eggs

2/3

cup

(160 ml) canola oil (or vegetable, safflower)

1

teaspoon

pure vanilla extract

180

g

(about 1 and ½ cups) grated carrots (about 2 large or 3 medium carrots)

½

cup

(50 g) pecans or walnuts, roughly chopped
Cream Cheese Frosting:
4

oz/115 g cream cheese

, softened to room temperature

4

tablespoons

(55 g/2 oz) unsalted butter, softened to room temperature

3/4

cup

(80 g/3 oz) powdered sugar, sifted

1/2

teaspoon

vanilla extract
Instructions
Preheat oven to 320F/160C. Grease a 9-inch springform pan.

To make the cheesecake: In a standing mixer fitted with the paddle attachment or in a bowl using a hand mixer, beat cream cheese and sugar on medium-low speed until smooth, about 2 minutes. Beat in flour until combined. Beat in eggs one at a time until completely smooth, then beat in vanilla extract.

Rinse beaters clean for the carrot cake, and if you only have one mixer bowl, transfer cheesecake mixture to another large bowl and rinse the mixer bowl.

To make the carrot cake: In a large bowl sift together flour, baking soda, baking powder, salt, and cinnamon. Set aside.

In a mixer bowl fitted with the paddle attachment, beat together eggs and granulated sugar on medium-high speed until light and fluffy, about 2 minutes. On low speed and with the mixer running, add oil slowly and beat until combined, then add vanilla extract. Beat in carrots, followed by dry ingredients just until combined. Stir in nuts, being careful not to overmix.

To assemble the cake: Pour 1 ½ cups of carrot cake mixture into the pan and smooth it into an even layer. Dollop 1/3 of the cheesecake mixture on top, then drop dollops of the rest of the carrot cake mixture. Finish by pouring on the rest of the cheesecake mixture. The cheesecake should cover the carrot cake entirely. Smooth the top and bake for 55-60 minutes, until cake is set and the center is slightly wobbly. A cake tester inserted all the way down to the bottom of the cake should come out clean. Allow to cool completely on a wire rack, then refrigerate for at least 8 hours. Cake can be frosted either before or after refrigeration.

To make the frosting: In a mixer bowl fitted with the paddle attachment, beat butter and cream cheese for 1 minute, then add powdered sugar and beat until completely smooth. Stir in vanilla extract. Frost cheesecake with frosting. Garnish with nuts if you like.

Cake will keep in the fridge, well covered, for up to 5 days.