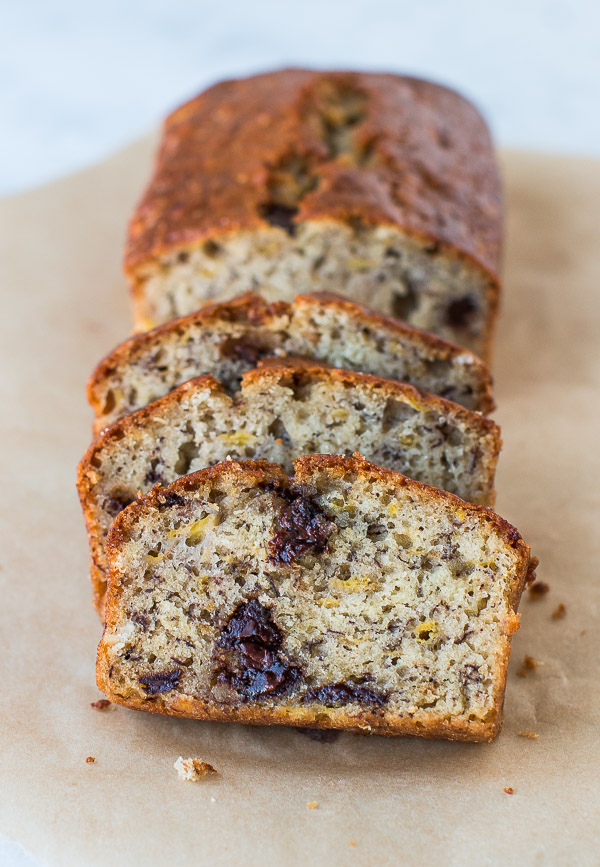 Problem: 4 overly ripe bananas.
Solution: chocolate chip banana bread. The chocolate chips are just  bonus!
With banana breads the rule is the riper the bananas, the better, because they are sweet and add a lot of moistness to the cake.
The recipe for this bread is similar to my banana bread recipe, which is moist, fluffy and light compared to other breads I've tasted. In my banana bread post you'll find information about how to make the perfect banana bread.

Chocolate Chip Banana Bread
Yields:
one standard (9×5-inch) loaf pan
Moist and fluffy banana bread loaded with chocolate chips and drizzled with an easy to make chocolate ganache.
Ingredients
For the banana bread:
1¾ cups (250 g/8.8 oz) all-purpose flour
1 teaspoon baking soda
½ teaspoon salt
½ teaspoon cinnamon
½ cup (1 stick/115 g) butter, softened
¾ cup (150 g/5.3 oz) granulated or light brown sugar
2 large eggs, room temperature
1½ cups mashed bananas (3-4 bananas)
1 teaspoon vanilla extract
⅓ cup (80 g) yogurt or sour cream
¾ cup chocolate chips
Instructions
Preheat oven to 350F/180C. Butter a 9×5-inch loaf pan.
In a medium bowl sift together flour, baking soda, cinnamon and salt. Set it aside.
In a stand mixer fitted with the paddle attachment, beat together butter and sugars on medium speed for 3 minutes until light and fluffy. Scrape down the sides and the bottom of the bowl as necessary. On medium speed, beat in the eggs one at a time, beating well after each addition. Then beat in mashed bananas and vanilla extract. With the mixer on low speed, add half of the dry ingredients and beat just until combined. Add the yogurt and beat until combined. Add the other half of the dry ingredients and beat slowly or fold by hand only until combined. Do not overmix – the less you mix, the lighter the cake will be. Fold in chocolate chips.
Pour batter into prepared loaf pan and bake for 50-60 minutes until a toothpick inserted into the center of the cake comes out clean or with just a few moist crumbs. Let the cake cool for 10 minutes on a wire rack, then turn it out from the pan and let it cool completely.
To make the ganache:
In a medium heat-proof bowl, place the chocolate and heavy whipping cream and melt in the microwave in 20 second-intervals, stirring in between each interval, until melted and smooth (or set it over a saucepan of simmering water, stirring occasionally). Let the frosting cool slightly to thicken, then, using a spoon, spread the frosting on top of the cake.
Store the bread in the refrigerator for up to 4 days. Cover it tightly. Bring to room temperature before serving.
The bread can be kept at room temperature or fridge, tightly covered, for up to 5 days. It can also be frozen for up to 2 months. Thaw it on the counter, still covered, or overnight in the fridge.
SaveSaveSaveSaveSaveSave