Thick peanut butter pancakes loaded with chocolate chips and drizzled with melted, warm peanut butter. 
After being away 4 weeks for my honeymoon, waking up at home today feels strange. A long to-do list is waiting for me on my desk and I'm trying to pretend like it doesn't exist. But honestly, since I work from home and bake for a living, it releases some of the stress and kind of makes me happy. I remember the days I was a programmer and didn't want to get out of bed to go to work. I was miserable. Luckily, I was brave enough to quit one day and the rest is history. But forget about work and let's talk about pancakes!
While I was in Australia, I ate pancakes almost every morning (because I was on vacation and could!)… 4-layer, 5-layer, banana and caramel, coffee and chocolate, cream and berries… You name it, I ate it. So this morning I was totally in the mood for pancakes – the best way to start the day (well, except maybe for cinnamon rolls).
I always prefer to bake with ingredients that I already have at home… I love staying in my pajamas 🙂 Please don't judge. Since I wasn't around for a month, my refrigerator and pantry were almost empty. Luckily 1) pancakes are made from basic, simple ingredients, and 2) I have a stash of chocolate chips and peanut butter all around the house. Seriously, like EVERYWHERE.
The recipe for chocolate chip peanut butter pancakes is the same as your basic batter, with the addition of peanut butter. There isn't a strong flavor of peanut butter in the pancakes, but you can definitely taste it. Too much of peanut butter, and the pancakes will be heavy and dense. I loaded the pancakes with chocolate chips because it makes me happy. The batter was smooth and pretty thick, so the pancakes turned out to be thick as well. You can choose to make each pancake with less batter than the recipe suggests, to make them thinner.
Making pancakes is easy peasy: mix the dry ingredients in a bowl, the wet ingredients in a separate bowl and mix the two together. Then, fold in chocolate chips.
To cook the pancakes, heat a griddle or a skillet over medium heat and coat with cooking spray/oil/butter. You'll need to coat the griddle or skillet with spray before every pancake you cook, so they won't stick to the bottom of the pan. I like each pancake the size of 1/4 cup (batter). You can also use just 2-3 tablespoons for each pancake. Cooking time will be 1-2 minutes on each side. If you use a large skillet, you can cook more than one pancake at the same time.
To keep the pancakes warm while you finish cooking the rest, either put them in a warm oven, or stack them on a plate covered with aluminum foil.
Pancakes are best when served immediately. Melt a few tablespoons of peanut butter in the microwave (about 2 tablespoons for each serving) and drizzle over the warm pancakes… Mmmm…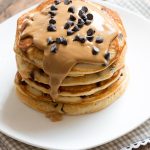 Chocolate Chip Peanut Butter Pancakes
Thick peanut butter pancakes loaded with chocolate chips and drizzled with melted, warm peanut butter.
---
Ingredients
1

cup

(140 grams or 5 ounces) all-purpose flour

2

teaspoons

baking powder

1/4

teaspoon

salt

2

tablespoons

granulated sugar

1

large egg

1

cup

milk

1/4

cup

peanut butter

1/3

cup

chocolate chips

canola oil

, for spraying the pan

Peanut butter

, melted (to drizzle)
Instructions
In a large bowl sift together flour, baking powder and salt. Add sugar. Set aside.

In a separate medium bowl, whisk together the egg, milk and peanut butter.

Make a well in the dry ingredients and pour in the wet ingredients. Stir until combined and moistened. Don't overmix. Fold in chocolate chips.

Heat a griddle or a skillet over medium heat. Coat with cooking spray (or oil/butter). For each pancake, drop 1/4 cup of batter onto skillet. Cook 1-2 minutes, until surface of pancakes have some bubbles. Flip carefully and cook 1-2 minutes more. Transfer to a plate and cover loosely with aluminum foil to keep warm. Make sure to coat the skillet with cooking spray before every pancake or batch of pancakes so they don't stick.

Serve immediately while pancakes are still warm. Drizzle with melted peanut butter and top with chocolate chips, if desired.