Freshly baked cinnamon rolls made from scratch. The perfect balance between delicate, fluffy dough and a sweet cinnamon filling, these tasty rolls will fill your house with an amazingly delightful smell as they bake.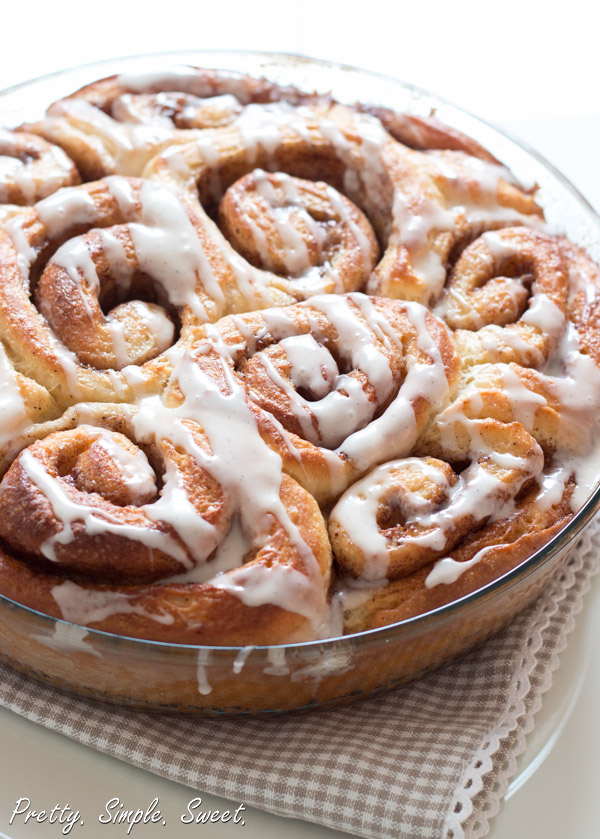 Cinnamon is one of my all-time favorite spices to bake with. It's so versatile and pairs well with so many ingredients. And let me start by saying that cinnamon rolls are a complete weakness of mine. Ooey gooey and soft, they taste amazing. And just like cinnamon babka, cinnamon rolls take some time to make – but they really aren't as hard as you may think. Most of the prep time is actually spent waiting for the dough to rise. I promise you – it's worth the wait!
These cinnamon rolls are everything a cinnamon roll should be. Soft and fluffy with crunchy tops and sweet, cinnamon swirl filling. I prefer using light brown sugar for a more caramel flavor. Topped with a light vanilla glaze, these cinnamon rolls are the perfect breakfast or brunch pastry. Or let's be honest: they're also the perfect midday snack, after-dinner dessert, or late-night sugar binge.
If you're a fan of cinnamon rolls, I highly recommend checking out my cinnamon roll cookie recipe – just like classic rolls but in crunchy cookie form!
Let's see how we make these babies, shall we?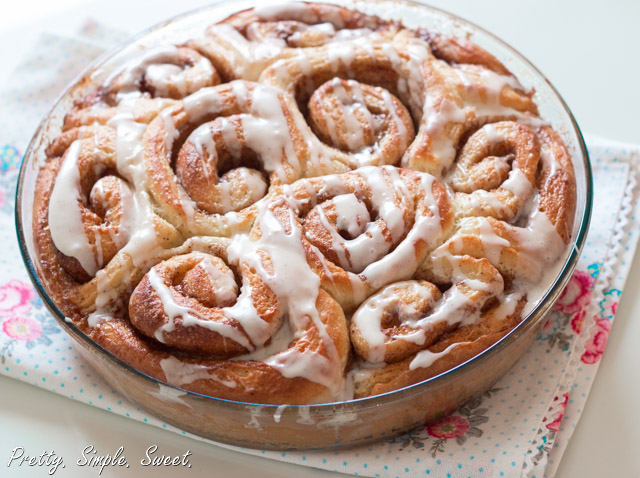 How to make perfect cinnamon rolls
Here's a breakdown of the process.
Make the dough. If you have a mixer with a dough hook, it will do most of the work for you. If not, don't worry, you can make and knead the dough by hand.
Let it rise! Let the sweet roll dough rest for an hour in a warm environment until it doubles in size (I have a trick for you that will work like a charm).
Roll it out. Using a rolling pin, roll the dough into a rectangle. Spread melted butter and cinnamon-sugar onto the dough, and roll it into a log shape. Cut the log into individual rolls and place them in a pan.
Second rise. Let the cinnamon rolls rest in the pan for 30-45 minutes until they double in size. The second time, it's even easier!
Bake for 25-30 minutes. You won't be able to concentrate on anything else until they're out of the oven.
Glaze. Drizzle glaze over warm cinnamon rolls and enjoy!
Now, let's dive a bit deeper into each individual step.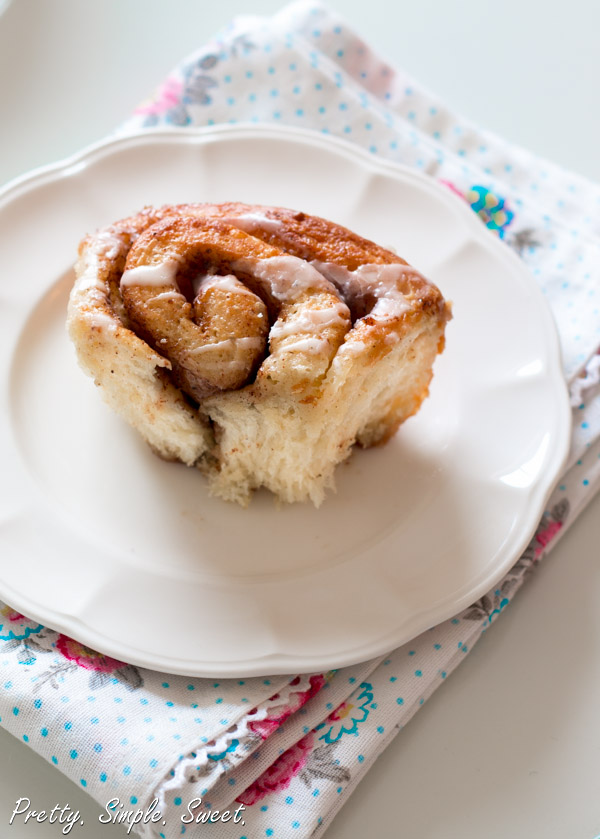 Step 1: Making the dough
Start by sprinkling the dry yeast over lukewarm liquid (i.e. milk/water), which should be around 110°F/45°C. If the liquid is too hot (over 130°F), the yeast will die, so you don't want it to be too hot — it should feel like warm bath water. After you have verified that the liquid is the right temperature, sprinkle the yeast on top of the lukewarm milk-water mixture. Let it sit for 10 minutes. The yeast will start to look foamy.
In the meantime, in a separate bowl (or a mixer bowl) mix all the other ingredients together, except for the flour. Add the yeast mixture and mix just until combined. This can be done by hand or with the mixer on low speed. Add 3 cups of the flour and mix together with a wooden spoon or using the mixer on low speed using the dough hook.
Mix until the dough starts to come together. You'll probably need to add more flour at this point – 2 tablespoons at a time, until the dough is smooth and starts to pull away from the sides of the bowl. For my dough I used exactly 450 grams flour – about 3¼ – 3½ cups. Do not use more than 3½ cups.
After you add all the flour and the dough has come together, keep kneading the dough on low speed in the mixer for 5 minutes, or by hand on a floured surface for 7-8 minutes. The dough should be smooth and elastic, just slightly sticky and easy to handle.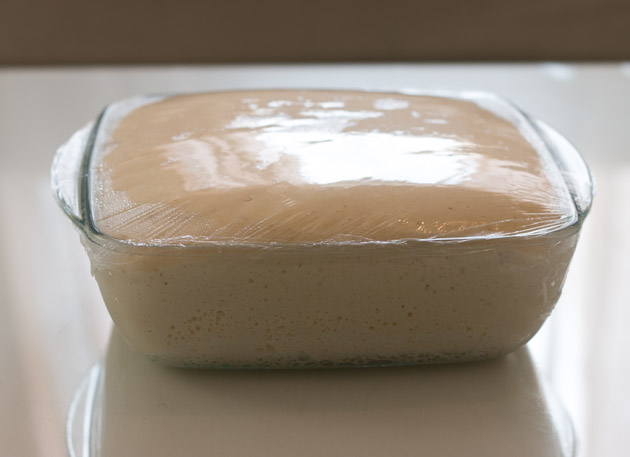 Step 2: Let the dough rise
Put the dough in a greased bowl and cover it with a plastic wrap. It will need to double in size, and the best way to do this is to keep it in a warm spot. While you can leave it on the counter to rise, this will take a bit longer. To speed up the process, put an oven rack in the middle of your oven. Fill a pan or a bowl with hot water and place it on the bottom of the oven. Then, let the dough rest on the oven rack in the middle. Close the oven door and let the dough rest for 45 minutes-an hour.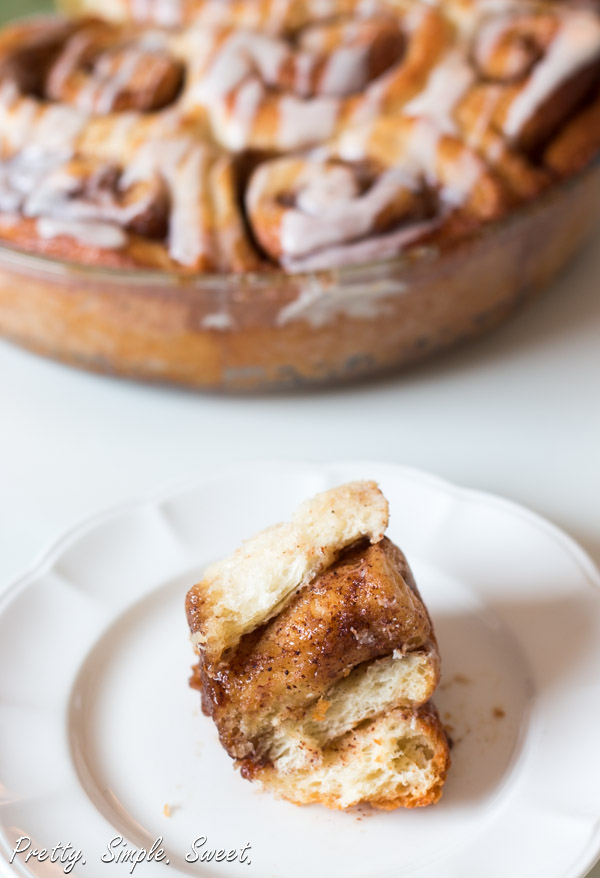 Steps 3 + 4: Roll out the dough and allow cinnamon rolls to rise again
One your dough has doubled in size, roll it on a floured surface into a 14×10-inch rectangle about 1/4-inch thick. If the rectangle is a bit bigger or smaller, that's fine. Using a pastry brush or knife, spread soft butter over the rolled out dough, leaving a 1/4-inch border unbuttered. Then
Sprinkle the butter with the cinnamon-sugar mixture, leaving a small border around the edges of the dough. Press the sugar mixture gently into the dough so it sticks to the butter.
Starting with one of the longer edges of the rectangle, curl the dough on top of itself to start rolling it up. Continue to roll the dough until you a have full log. Cut off the edges with a serrated bread knife and then cut the log into even pieces, about 12 rolls.
Place them facing up in a buttered 9×13-inch pan or a 9-inch round pan, leaving gaps between the rolls because they will expand during the next rise. Cover rolls with plastic wrap and let them rise for 30-45 minutes, until doubled in size. You can also use the oven trick I mentioned previously to speed up the process, or simply let them rise on the counter.
Note: At this point you can refrigerate the rolls for a few hours or overnight covered with plastic wrap and then bake them straight from the fridge. This rolls will still rise in the fridge – just slower because of the cold.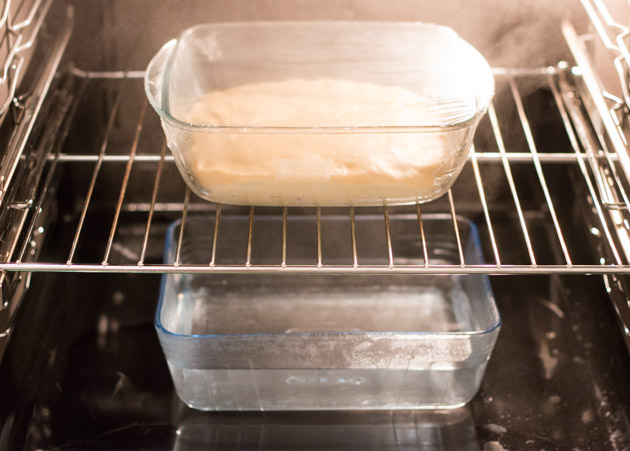 Steps 5 + 6: Bake and glaze
Brush your cinnamon rolls with heavy/light cream or milk, which helps develop nice caramelized crunchy tops. Bake the cinnamon rolls for 25-30 minutes. When they are ready, a toothpick inserted into the rolls should come out clean.
Allow the cinnamon rolls to cool slightly before glazing, or else the glaze will absorb into the cinnamon rolls completely. Drizzle glaze on warm cinnamon rolls and enjoy!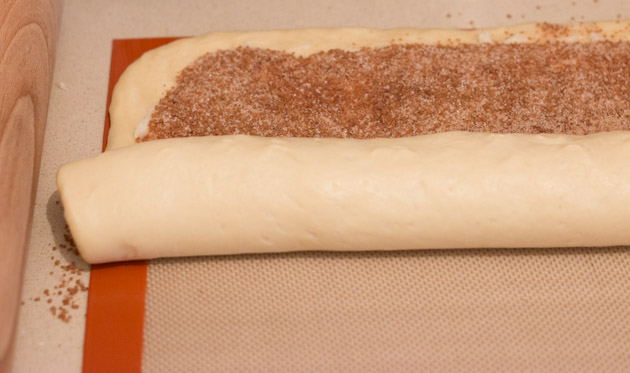 Tips for making perfect cinnamon rolls
Don't kill the yeast. To prevent the yeast from dying, I highly recommend using a thermometer to test the temperature of the liquid before adding the yeast to it. It should be around 110°F/45°C. If it's hotter than 130°F, the yeast will die.
Bring your ingredients to room temperature. Because yeast thrives in warm environments, you don't want your dough to become cold. Before making your dough, let the butter and egg come to room temperature. It will then warm up eve more when you add the warm liquid-yeast mixture.
Don't add too much flour. We don't want dry or tough cinnamon rolls. Therefore, when mixing your dough, pay close attention to not add too much extra flour. The dough should be slightly sticky but workable when you touch it.
Let your dough rise in a warm environment. This will help the yeast activate and the dough to rise so it can double in size faster.
Flour your surface before rolling out your dough. This is a sticky dough, so flouring your surface is crucial to prevent it from sticking to it.
Roll your cinnamon roll dough up tightly. This will help the rolls maintain their shape so you can cut them more easily and bake into beautiful rolls.
Let the rolls cool before icing. Otherwise, the glaze will absorb and melt. Only glaze once they are warm, not hot. Then, indulge!
Freeze an extra batch. This recipe is a great make-ahead dessert! The best point for freezing is after you've sliced the rolled up log of cinnamon roll goodness. You can place the cinnamon rolls directly on a pan wrapped in plastic wrap or in a freezer-safe container (not stacked) for up to 2 months. To thaw and rise, place the frozen rolls directly in the fridge overnight. By the morning, they'll be ready for baking.
Want to try some more of my favorite sticky roll recipes? Check out my orange chocolate rolls and caramel apple rolls!
More delicious cinnamon treats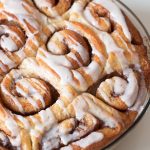 Cinnamon Rolls
Freshly baked cinnamon rolls made from scratch. The perfect balance between a delicate, fluffy dough and a sweet cinnamon filling, these tasty rolls will fill your house with a delightful smell as they bake.
---
Ingredients
For the rolls:
1/2

cup

water

1/2

cup

whole milk

2 1/4

teaspoons

(7g) active dry yeast

1/4

cup

(55g) unsalted butter, melted

1

large egg

1/4

cup

(50g) granulated sugar

1/2

teaspoon

salt

3 1/4

cups

(450g) all-purpose flour
For the filling:
1/2

cup

(115g) unsalted butter, melted or at room temperature

3/4

cup

(150g) light brown sugar (or granulated sugar)

1

tablespoon

ground cinnamon
For the glaze:
1/2

cup

(60g) powdered sugar

1/4

teaspoon

pure vanilla extract

1-2

tablespoons

heavy cream

(or whole milk)
Instructions
In a small saucepan, heat water and milk until lukewarm (110°F-115°F). Sprinkle the yeast over the lukewarm milk mixture and let it sit for 10 minutes.

In a bowl of a standing mixer fitted with a dough hook, add the butter, egg, sugar and salt and mix. Add the milk mixture and mix until combined. Add flour and mix on low speed until the dough comes together and pulls away from the sides of the bowl. The dough should be soft, smooth, elastic and just slightly sticky. Once it has reached this consistency, keep kneading on low speed in the mixer for 5 minutes. Cover the dough with plastic wrap and let rest in a warm place for about one hour until doubles in size.

Meanwhile, make the filling. In a small bowl, mix together sugar and cinnamon. Set aside.

When the dough has doubled in size, gently punch it to remove air. Then, roll it into a 14×10 inch rectangle. Leaving small border around the edges, spread the dough with butter, then with sugar mixture and press gently. Roll up dough to form a log, starting with the longer edge, and pinch to seam seal. Cut into 12 equal size rolls and place cut side up in a greased 9-inch round pan or 9*13-inch pan. Cover and let rest to rise for about 30-45 minutes or until it doubles in size.

Preheat oven to 375°F/190°C. Bake cinnamon rolls in the preheated oven for 25-30 minutes, until the tops have browned and a skewer inserted into the rolls comes out clean. If the rolls brown too fast, cover them loosely with aluminum foil. Allow to cool on a wire rack before glazing.

To make the glaze, mix all ingredients together, adding little cream at a time until the desired consistency. Drizzle over the rolls. Serve rolls warm or reheat before serving.