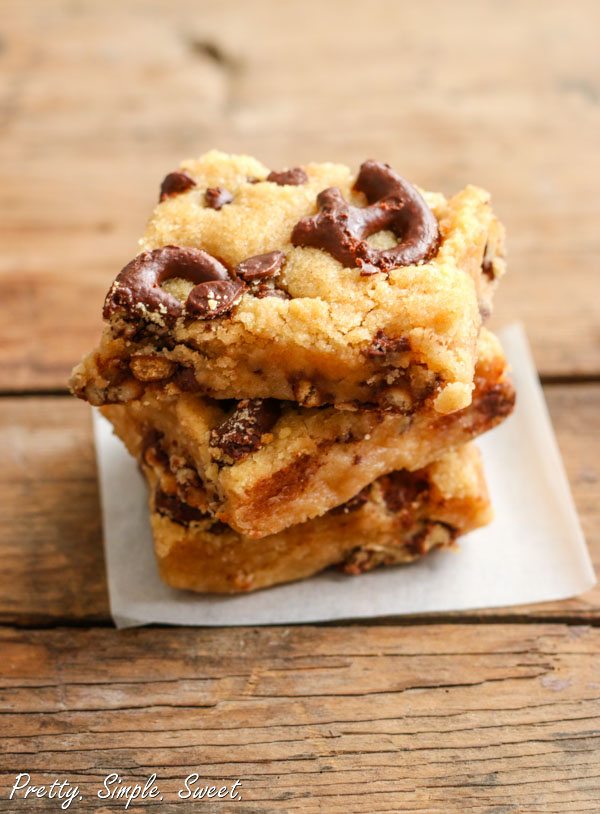 Peanut Butter. Chocolate. Pretzels. Need I say more?
The first time I tasted chocolate covered pretzels there were sparks in the air. I saw them. I LOVE sweet and salty desserts. They make my heart sing. They make your heart sing too, I know.
I went to the grocery store the other day to refill my usual 2 pound supply of butter and sugar, when I came across a bag of chocolate covered pretzels. It was right next to the peanut butter jar. At that moment the idea came to me – combining peanut butter and chocolate covered pretzels to make  a sweet treat. Yum!
Peanut butter bars are sweet and fudgy as opposed to pretzels, which are crunchy and salty. To make the ultimate combination of flavors and textures, I load my peanut butter bars with pretzels. As you will see below, I wrote one cup in the recipe, but usually I find myself adding more…. And more. And then some extra on the top. If you don't have chocolate covered pretzels, just use regular pretzels. But trust me, with chocolate it's much tastier.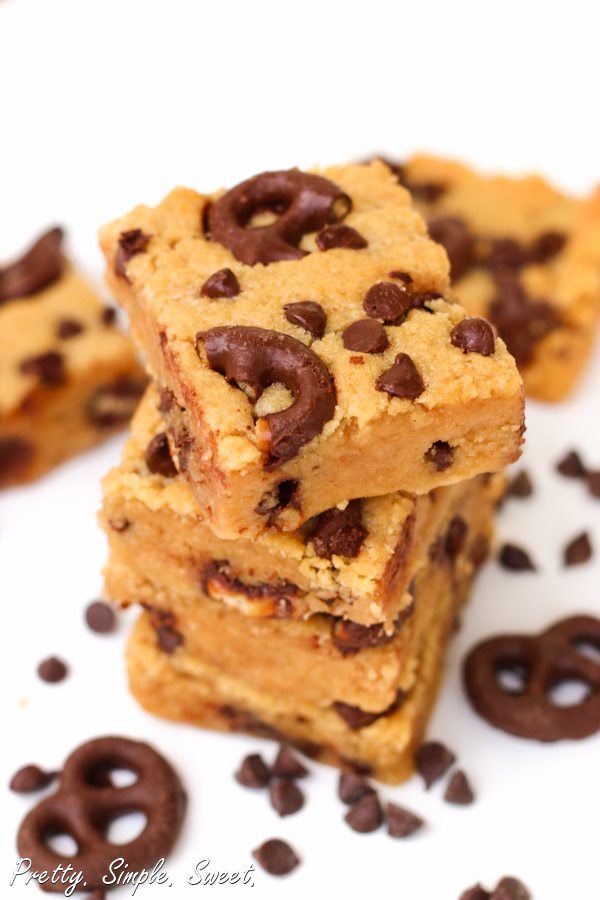 In order to cut the bars into beautiful looking squares (for picture perfect morsels – no need to do this at home –it's a total waste of perfectly yummy bites), I had to cut off the crispy edges.  When the time came to prep them for their photo shoot, they were still warm and gooey. I couldn't resist, I had to taste one. So I took a small bite. And then another one and then well… I ended up eating them all (the crispy edges that is). I just couldn't help it.
The bars are made with the regular creaming method (butter should be soft, in room temperature). Nothing new or complicated, just follow the recipe. The dough will be sticky, but, what's fun about making bars (versus making cookies) is that you just put the dough in the pan without making a huge mess in the kitchen.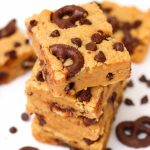 Chocolate Covered Pretzel Peanut Butter Bars
Ingredients
2

cups

(260 grams or 8.8 oz) all-purpose flour

1

teaspoon

baking powder

½

teaspoon

salt

1

cup

(2 sticks or 227 grams) butter, softened

1

cup

peanut butter

1 ½

cups

(300 grams or 10.5 ounces) granulated sugar

2

large eggs

2

teaspoons

vanilla extract

1 ½

cups

chocolate covered pretzel

, chopped, plus extra to sprinkle on top
Instructions
Preheat oven to 350F/180C degrees. Butter a 9x13-inch pan or line with parchment paper.

In a medium bowl sift together flour, baking powder and salt. Set it aside.

In a stand mixer fitted with the paddle attachment, beat together butter,peanut butter and sugar for a few minutes until light and fluffy. Scrape down the sides and the bottom of the bowl. Add the eggs one at a time until combined. Stir in the vanilla. Stir in the flour mixture and beat slowly or fold by hand just until mixed . Add the chocolate covered pretzels and stir.

Scrape the dough into the prepared pan and smooth the top. Sprinkle some more chocolate covered pretzels on top if you like. Bake for about 30 minutes until a toothpick inserted into the center of the bars comes out clean. Let the bars cool completely and only then cut into squares.
Recipe Notes
Store the bars at room temperature in an airtight container for up to 3 days.
Bars can be frozen for up to 2 months.