With only two ingredients, this is an easy last minute dessert no one can resist. All you need is strawberries, chocolate, and 15 minutes of your time.
Are you feeling the loveee? Have you already decided what to make for your special someone? Not yet? Don't worry, I can help you with that.
You know how your mom always tells you not to leave things for the last minute? Well, this time you can. This is not to suggest that moms are sometimes wrong. Because they never are, right? (love you mom!) With Valentine's Day just around the corner, I've whipped up a last minute dessert for you, which no one will say no to. Unless, of course, they don't like strawberries. I will assume that everyone likes chocolate, ok? Ok.
These babies make the perfect light dessert after a heavy meal and are completely guilt-free. It's fruit, so… it's healthy, right?
How to Make Chocolate Covered Strawberries
Use the prettiest strawberries you can find, and high-quality chocolate. All you need to do is melt the chocolate in the microwave (carefully – so it won't burn), pour it into a short glass for easy dipping, and dip the strawberry. You can do the dipping using your hands, or by inserting a skewer into the stem (the green part) of the strawberry for easier dipping. After dipping each strawberry, tap a bit to remove any excess chocolate. Right after dipping the strawberries in chocolate, you can dip them in sprinkles/nuts/coconut etc. or leave plain. Place them on a baking sheet lined with parchment paper or silicon baking mat and refrigerate for 10 minutes.
How to Store Chocolate Covered Strawberries
Chocolate covered strawberries should be kept refrigerated (unless you're using candy melts – read below). Don't leave the strawberries at room temperature for a long time after being refrigerated, because they will start to sweat. Although, that's not usually an issue, because they most likely will be gone in no time.
What Kind of Chocolate to Use?
Ready for Chemistry class? When you melt chocolate, it goes out of temper – a process in which the crystals of the cocoa butter lose their shape. When the chocolate hardens, the crystals won't resume their previous shape. This will result in a chocolate that may look dull and have white streaks and spots on it. It's perfectly fine to eat it, but just unappealing. To avoid this – we need to temper the chocolate – a process not everyone is familiar with. The good news is that we can avoid tempering the chocolate by simply refrigerating the dipped strawberries. The coolness of the refrigerator will stratify the cocoa fat and the chocolate will look fine. Another option is to dip the chocolate covered strawberries in sprinkles, nuts or any other topping so it will cover the chocolate entirely, and then store them at room temperature.
Candy Melts
Another important thing you should know is that candy melts don't have to be tempered since they are made mostly of hydrogenated fat, and therefore act differently than "real chocolate". If you choose to use candy melts, you can leave the dipped strawberries at room temperature. By using candy melts, the flavor won't be as good as genuine chocolate, but if you like its flavor, then just use that.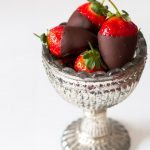 Chocolate Covered Strawberries
---
Ingredients
15

medium size strawberries

100

g

(3.5 oz.) chopped dark, milk, or white chocolate
Instructions
Line a baking sheet with parchment paper or silicone baking mat.

Gently melt chocolate in a small bowl in the microwave (or over a double boiler). Microwave for 20 seconds, take out ant stir. Repeat until melted. You can pour the chocolate into a short glass for easy dipping. Dip strawberries (you can insert a skewer into the stem and then dip) in chocolate and then tap gently to remove any excess. Transfer to the parchment paper.

Sprinkle strawberries with sprinkles, nuts, coconut flakes or leave plain.

Refrigerate chocolate covered strawberries for 10 minutes until chocolate hardens.

Store chocolate covered strawberries covered in the fridge. Best when served the same day they're made.
You may also like:
No Bake Nutella Peanut Butter Bites