Rich and crumbly classic shortbread cookies dipped in dark chocolate.
Old-fashioned shortbread cookies are rich, crumbly, buttery, and made with only three ingredients—flour, butter, and sugar. Many flavors can be added such as cinnamon, chocolate, or coffee, but today we're going for the classic and using vanilla extract. Since there are only a few ingredients, make sure to use high quality butter and pure vanilla extract for the best flavor.
Dough
The dough needs to be chilled before rolling, so once it's formed, place it in the fridge for at least one hour or until firm. The more patient you are, the prettier your cookies will be. The dough should roll out nicely and make beautiful cut-out cookies. Instead of using a cookie cutter, you can roll the dough into a rectangle and cut it into 2-inch squares with a knife.
Before you bake the cookies, place them in the freezer or fridge for at least 15 minutes to firm up again. This helps them hold their shape better while baking.
If your cookies do spread out while baking or don't look perfect, don't worry too much because they'll still taste delicious!
Chocolate dipping
Shortbread cookies are great on their own, but for me, everything gets better with a little bit of chocolate. For chocolate dipped cookies, you'll need to melt half of the chocolate, then add the remaining chocolate and stir occasionally until all of it is melted. This method ensures that the chocolate will set evenly.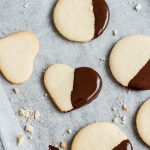 Chocolate Dipped Shortbread Cookies
YIELD
:
2
-3 dozen cookies
Rich and crumbly classic shortbread cookies dipped in dark chocolate.
---
Ingredients
2

cups

(280 g/10 oz) all-purpose flour

¼

teaspoon

salt

1

cup

(2 sticks/227 g) unsalted butter, at room temperature

2/3

cup

(130 g/4.5 oz) granulated sugar (or 1 cup/120 g powdered sugar)

1

teaspoon

vanilla extract

170

g/6 oz dark chocolate
Instructions
In a medium bowl, sift together flour and salt. Set aside.

In a mixer bowl place butter and sugar. With the mixer fitted with the paddle attachment, beat on medium-low speed for 2-3 minutes. Beat in vanilla extract. Reduce speed to low and add flour mixture, beating just until dough starts to come together. Do not overmix or the cookies will be tough.

Form dough into a ball, then flatten slightly to form a disc. Wrap with plastic wrap and refrigerate for 1-2 hours, until firm enough to roll. If you don't want to use the dough right away, you can refrigerate it for up to 3 days or freeze it for up to a month, then thaw overnight in the fridge.

Take the dough out of the fridge and let it sit on the counter for a few minutes to soften slightly for easy rolling. On a lightly floured surface (or between 2 pieces of parchment paper), roll the dough to a ¼-inch thickness. Cut into 2-inch squares/rounds using a cookie cutter and place them on baking sheets lined with parchment paper. If at any point the dough becomes too warm, place it back into the fridge for a few minutes. Reroll the remaining scraps and repeat. Place sheets of cookies in the freezer or fridge for at least 15 minutes, until firm, so that they will be less prone to spreading.

Preheat oven to 350F/180C. Bake cookies for 8-12 minutes, or until cookies appear golden brown at the edges. Baking time will vary and may take longer depending on the size of your cookies. Allow cookies to cool in the pan for 10 minutes, then gently transfer to a wire rack to cool completely.

Place half of the chocolate in a heatproof bowl, then place the bowl over a saucepan of simmering water. Stir occasionally until melted. Add remaining chocolate and remove bowl from heat. Stir occasionally until smooth and glossy. Dip ½ of each cookie in the chocolate and place on a baking sheet lined with parchment paper. Place cookies in the refrigerator for a few minutes until chocolate hardens.

Store cookies at room temperature in an airtight container for up to a week.
SaveSaveSaveSave