Brown butter chocolate chip cookie cake is everything you love about cookies in cake form. Soft and gooey in the center, chewy on the edges, and loaded with chocolate chips, it's only made better by nutty brown butter.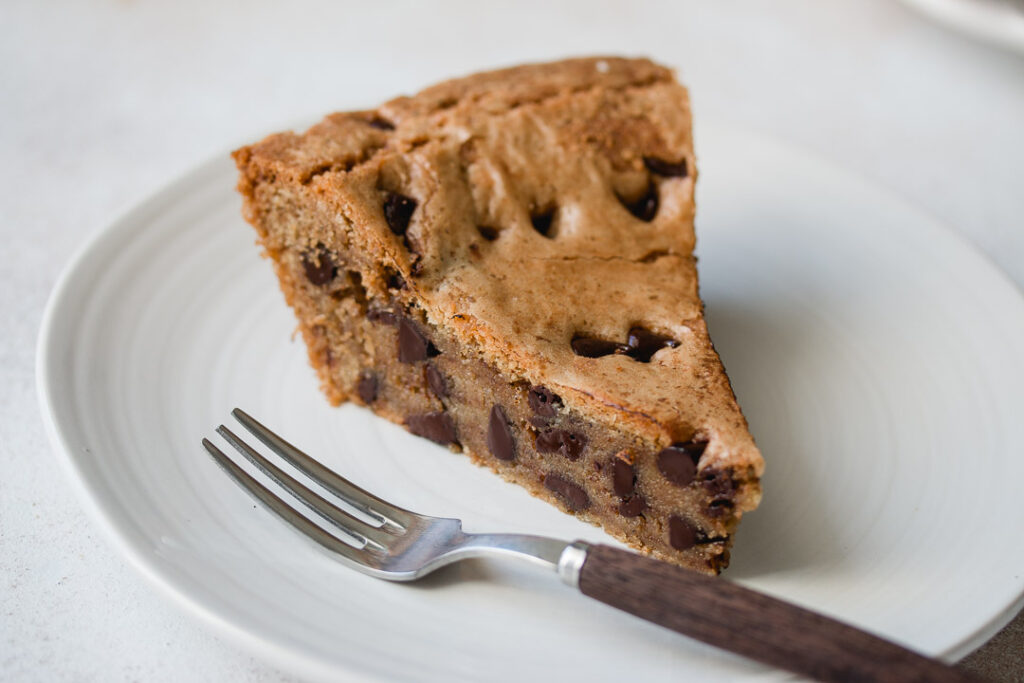 I've been on a brown butter kick recently, using it as my secret ingredient in countless baking projects. I've become obsessed with the nutty, caramel flavor it brings to baked goods, especially chocolate chip cookies. It's truly a magical ingredient in the kitchen. Not only does it add depth in flavor, but it also saves time since you don't need to wait for your butter to soften to room temperature! Just brown it and let it cool slightly before mixing into your recipe.
Chocolate chip cookie cake is another genius recipe. It brings out the best elements of chocolate chip cookies — gooey center, chewy edges — and comes together quickly since you don't need to chill the dough and roll into individual balls. Everyone loves cake and chocolate chip cookies, so what's better than a brown butter chocolate chip cookie cake!
What is brown butter
Brown butter is actually really simple to make, it just takes some practice so you know what to look for. When you are browning butter, you are essentially cooking the milk solids in the butter until they begin to brown. At first the butter melts, and then as it continues heating, the milk solids begin to brown and you can smell a nutty aroma.
This video tutorial is very helpful for beginners, but the most important thing to remember is to keep stirring and take it off the heat as soon as it's done because it will continue cooking as it cools. It takes seconds to go from perfectly brown butter to burned butter, but once you've made it a few times it will become second nature.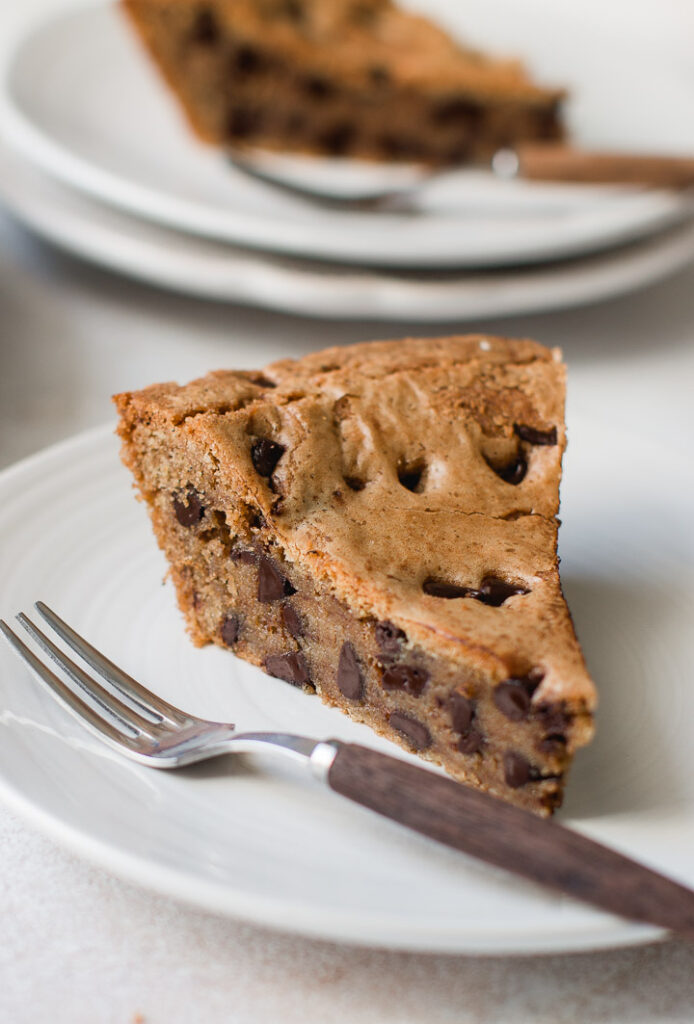 How to make brown butter chocolate chip cookie cake
Once you've made the brown butter, the rest of this brown butter chocolate chip cookie cake recipe will be done in minutes. Make sure to preheat your oven to 350ºF/180ºC and grease a 9-inch pie dish or cake pan.
Sift together the dry ingredients and set this aside for later use. To your slightly cooled butter, add both the sugars and whisk until well blended. Whisk in the egg and vanilla, until combined and a smooth consistency. Stir in the flour mixture and mix just until combined. Be careful not to overmix here, as this will result in a dense, not chewy, cookie cake. Lastly, fold in the chocolate chips because it's not a chocolate chip cookie cake without the chocolate!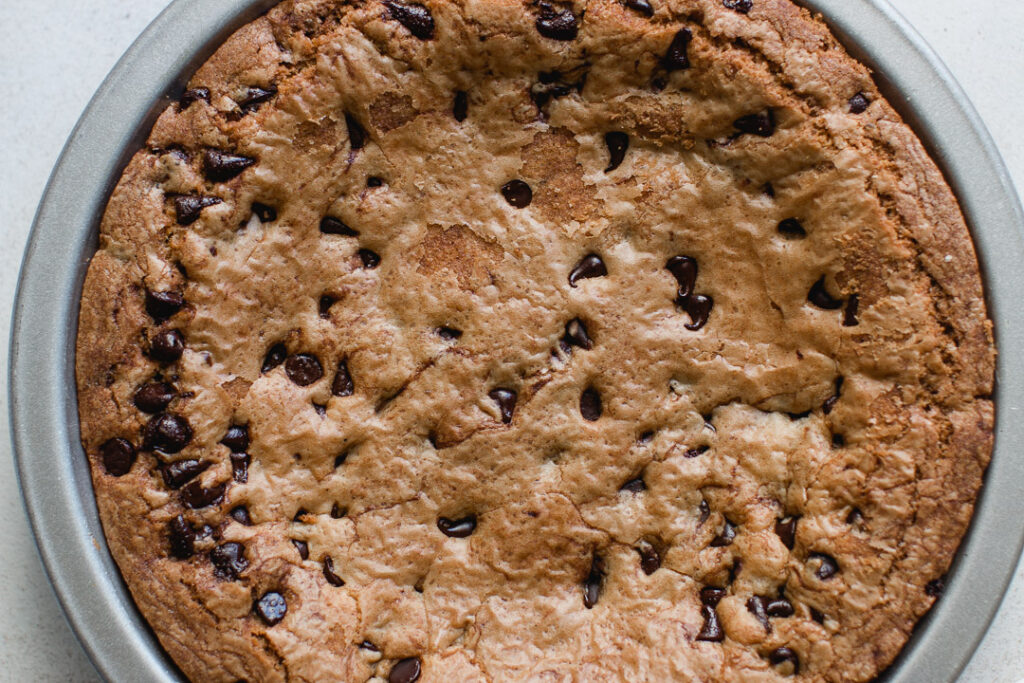 Press the dough into the pan and bake for 20-25 minutes. I find mine done on the earlier side, since it firms up as it cools. You'll know it's done when the edge is a deep golden brown but the center is still soft. You may need to cover it loosely with aluminum foil after 15 minutes if the edges begin browning too quickly.
Let the cookie cake cool on a wire rack completely before serving. I actually like to place it in the refrigerator for a little bit to help it firm up before cutting. You can serve it warm or at room temperature, with some whipped cream or ice cream if you like.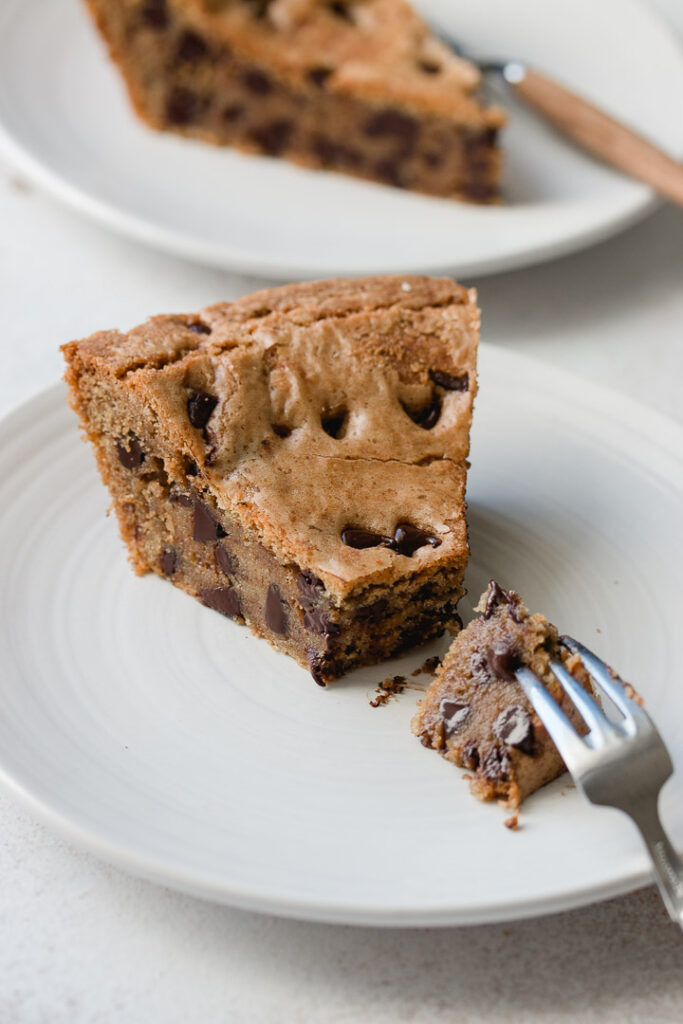 Other chocolate chip cookie recipes: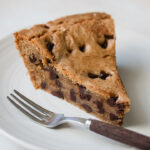 Brown Butter Chocolate Chip Cookie Cake
---
Ingredients
1 3/4

cups

(245g) all-purpose flour

1

tablespoon

cornstarch (optional, makes the cookies softer)

1

teaspoon

baking soda

1/2

teaspoon

salt

3/4

cup

(1 1/2 sticks/170 g) unsalted butter

2/3

cup

(135g) light or dark brown sugar

1/3

cup

(65g) granulated sugar

2

teaspoons

pure vanilla extract

1

large egg plus 1 egg yolk

1 1/4

cups

(200g) bittersweet or semisweet chocolate chips or chunks
Instructions
Preheat oven to 350F/180C degrees. Grease a 9-inch pie dish or cake pan. Set aside.

In a medium bowl whisk together flour, cornstarch, baking soda and salt. Set aside.

To brown the butter, place butter in a medium, heavy-bottomed saucepan over medium heat and melt. Keep heating just until small golden bits start to appear at the bottom, and the butter smells nutty and caramely. Watch it carefully because the butter can burn quickly at this point. Remove from the heat and immediately pour melted butter into a large bowl and allow it to cool slightly.

Add brown sugar and granulated sugar and whisk until well blended. Add egg and vanilla extract and whisk until combined. Stir in flour mixture, mixing just until combined. Don't over mix. Fold in chocolate chips.

Press cookie dough into the pan. Bake for 20-25 minutes (mine is ready in 20-22 minutes) until deep golden brown but still soft at the center, covering it loosely with aluminium foil after 15 minutes so the edges won't brown too much. Remove cake from oven and set the pan on a wire rack. Allow to cool completely (I recommend then placing it in the refrigerator for a little while to set before slicing). Serve warm or at room temperature, with whipped cream or chocolate frosting, if you like.

Cake is best eaten the same day it's made but will keep, covered tightly, for up to 2 days at room temperature or in the fridge. Leftovers can be frozen for up to 2 months.