Extremely soft, chewy and thick chocolate chip cookies with a subtle caramel flavor. Warm from the oven and they will melt in your mouth.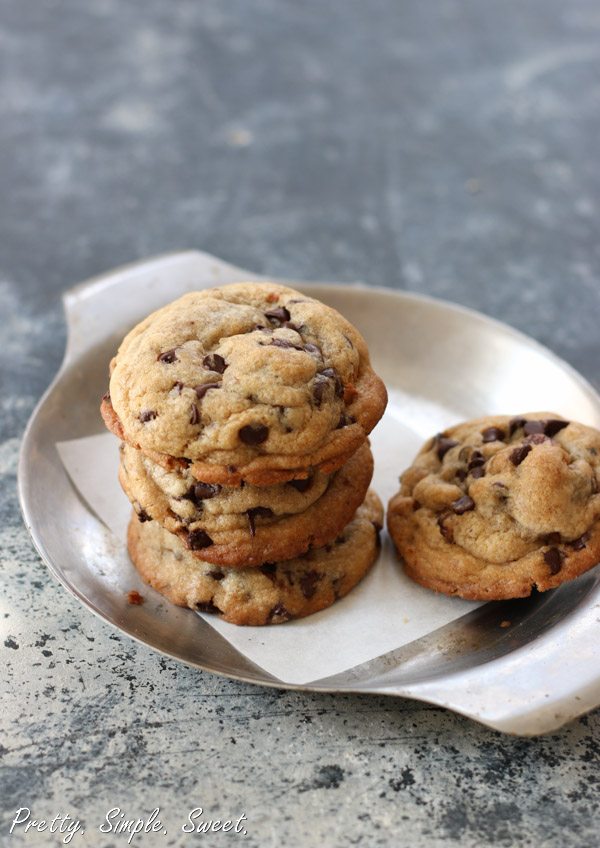 Oh my goodness. These cookies….
These classic chocolate chip cookies will melt in your mouth, but before I tell you how delicious they are, first things first … let's start from the beginning.
I've tried countless cookies recipes, which has led me to a a very important conclusion. I love ALL cookies. Although I'll eat almost every kind of cookie, I still have my idea of the perfect cookie: chewy, thick, and slightly underbaked with a hint of a caramel flavor.
Soft Vanilla Pudding Cookies are also my idea of a perfect cookie, but let's focus on these cookies for now. Where was I? Oh yea … perfection is the right word to describe them I think. They are all the things I mentioned above. They aren't too sweet either. Try them when they are still warm… To die for!
So what make these cookies so soft and chewy?
Sugar – Brown sugar adds moistness and therefore increases chewiness. White sugar makes cookies crispier. Therefore using more brown sugar than white sugar make cookies moister, softer, chewier and more flavorful. It is all about the right white-brown sugar balance. Don't use just brown sugar though, since the cookies will turn out way too moist and soft.
Butter – melted butter rather than room temperature increases chewiness.
Eggs – instead of using just whole eggs, we add an egg yolk. I know I know. It's annoying. But trust me – it's necessary. The egg yolk increases chewiness as well!
To make the cookies, melt the butter and wait a few minutes until it's warm (not hot). Then add the sugars and whisk until well combined. Whisk in the egg, egg yolk and vanilla extract until combined. Add dry ingredients and fold using a wooden spoon or a rubber spatula just until combined. The dough should pull away from the sides of the bowl. Do not overmix – the less you mix, the softer the cookies will be. Overmixing will make cookies tough. Gently fold in chocolate chips and nuts if using.
You may notice once you have finished making the dough, how soft and 'creamy' it is. The color is perfect, the texture is perfect and there's nothing that stands in your way to eat that entire bowl of cookie dough.
Now it's chilling time. It's not mandatory but I highly recommend it. The dough is so soft at this point that you might end up with flat, spreading cookies. While chilling, the flour absorbs the liquids which therefore leads to thicker, less-spreading cookies. The thing with baking cookies thick is that while the edges get crispy, the center is still underbaked and therefore stays soft. Preferably you should chill the dough overnight. Don't you like the sound of fresh cookies first thing in the morning? If you can't wait that long, then chill for a minimum of 2 hours.
As for baking time, it took my cookies 11 minutes to be baked perfectly. Start checking to see if they are done after 10 minutes. The edges of the cookies will begin to brown but the center will still look soft and underbaked. That's how we (I mean I) like it! The longer you bake, the crispier the cookies will be. Underbaking slightly is a secret for cookies softness.
Another secret to achieving ultimate cookie softness is cornstarch. In this recipe, I didn't use it, in order to keep things simple, but I will post another recipe with cornstarch as well, so don't you worry!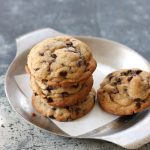 Soft, Chewy & Thick Chocolate Chip Cookies
Extremely soft, chewy and thick chocolate chip cookies with a subtle caramel flavor. Warm from the oven they will melt in your mouth.
---
Ingredients
2

cups

(280 grams or 10 ounces) all-purpose flour

1/2

teaspoon

baking soda

1/2

teaspoon

salt

3/4

cup

(1.5 sticks or 170 grams) butter, melted (warm, not hot)

1/2

cup

(100 grams or 3.5 ounces) granulated sugar

3/4

cup

(150 grams or 5.3 ounces) brown sugar (preferably dark)

1

large egg

, plus 1 egg yolk

2

teaspoons

vanilla extract

1

– 1 1/4 cups

(200 grams or 7 ounces) chocolate chips

3/4

cup

walnuts

, toasted and chopped (optional)
Instructions
In a medium bowl sift together flour, baking soda and salt. Set aside.

In a large bowl, place the melted butter, granulated sugar and brown sugar. Whisk until well combined. Whisk in the egg, egg yolk and vanilla extract. Add flour mixture and mix just until combined. Do not overmix. Fold in chocolate chips and walnuts.

Chill the dough for at least 2 hours, preferably 6 hours or overnight (or up to 3 days).

Preheat oven to 325F/165C degrees. Line pans with parchment paper.

If the cookie dough is hard to handle, leave it on the counter for a few minutes.

Drop rounded balls of dough onto prepared baking sheet, the size of 3 tablespoons each. Bake for 10-12 minutes, until cookies just begin to brown at the edges and center is still soft. Cookies will appear undone but will continue to bake on the warm baking sheet. Leave to cool for 10 minutes, then transfer to a wire rack to cool completely.

Store cookies in an airtight container for up to 3 days. They can also be frozen for up to 2 months.
Recipe is adapted from The cook's illustrated Baking Book