Refreshing with a hint of citrus, these moist muffins are naturally sweetened by fresh strawberries.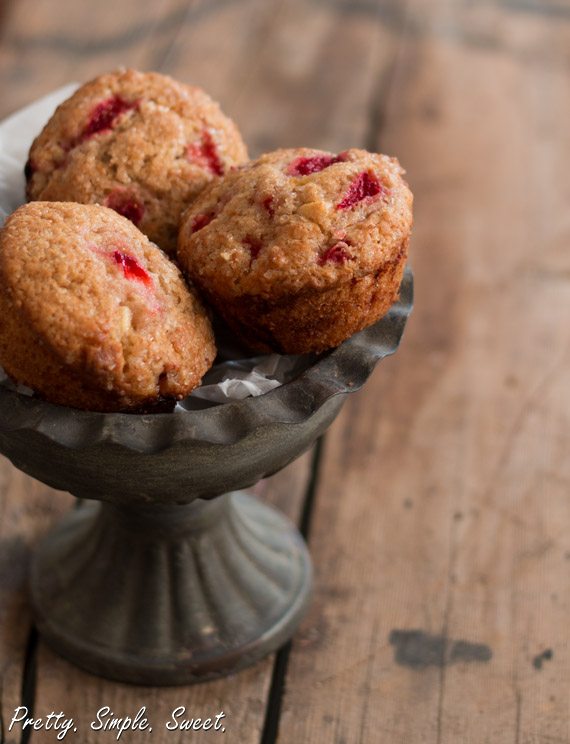 Let me tell you why you're going to love these strawberry citrus muffins. They make a wonderful snack or breakfast and they are my choice for healthier muffins.

A touch of lemon and orange adds a unique, refreshing flavor. The strawberries add lots of natural sweetness. Half of the flour used in the recipe is white whole-wheat flour to make it healthier, but you can substitute part or all with all-purpose flour if you prefer. If you are looking for a stronger citrus flavor, replace 1/4 cup of the buttermilk with 1/4 cup orange juice (in addition to the 2 tablespoons that are already in the recipe).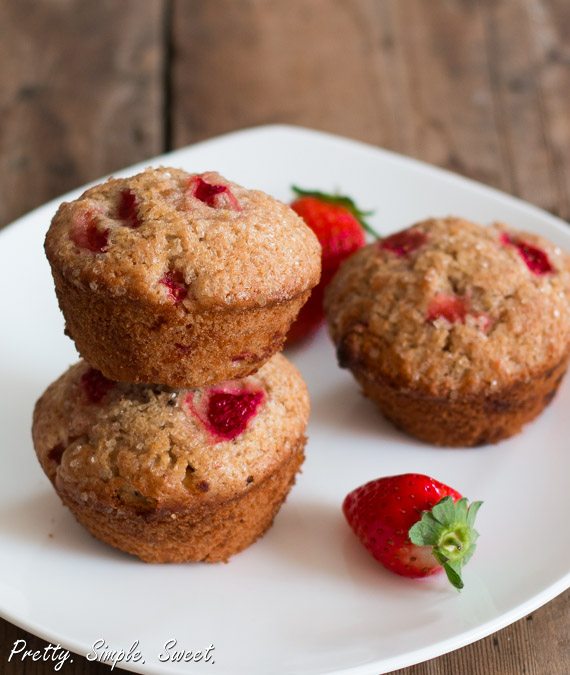 To make the muffins, start by mixing the granulated sugar with the lemon and orange zest. Combining the two first instead of just mixing them with all the other ingredients really brings out the citrus flavor (total trade secret. Shhh). Then, in one bowl, mix all the dry ingredients, including the sugar mixture. In another bowl mix all the wet ingredients. Pour the wet ingredients into the dry ingredients and mix with a wooden spoon or a rubber spatula. Number one rule in muffins making is to not to overmix the batter. The more you mix, the heavier and tougher the muffins will be. Mix just until all combined, then fold in the strawberries gently.
I made these muffins twice so far. The first time I made them just the way the recipe below suggests and it was fabulous. The strawberries are the dominant flavor, which is a good thing. The second time I made them, I replaced some of the buttermilk with orange juice. Humm… and added 1/3 cup of white chocolate chips. Yes, I added chocolate to a healthy muffin. It was only 1/3 cup and worth every calorie. But hey, don't let me ruin your diet. Stick to the recipe and you won't regret.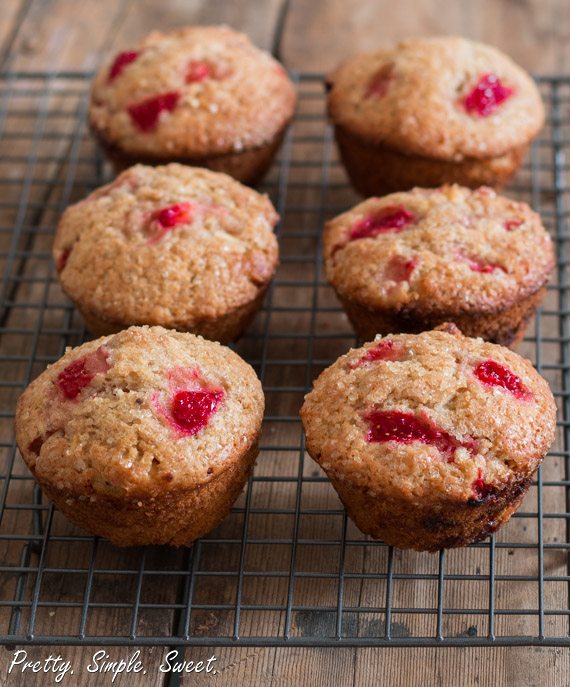 Strawberry Citrus Muffins
Yields:
12 standard-size muffins
Moist citrus strawberry muffins with crunchy tops. Refreshing and delicious with a hint of citrus, these muffins are naturally sweetened by fresh strawberries.
Ingredients
Zest of one lemon
Zest of one orange
⅔ cup (130 grams or 4.6 ounces) granulated sugar
1 cup (130 grams or 4.5 ounces) all-purpose flour
1 cup (130 grams or 4.5 ounces) white whole-wheat flour (or mix of whole-wheat and all-purpose)
2 teaspoon baking powder
¼ teaspoon baking soda
¼ teaspoon salt
1 large egg
¾ cup buttermilk*
¼ cup canola oil
2 tablespoon lemon juice
2 tablespoons orange juice
1 teaspoon vanilla extract
1 - 1¼ cups diced strawberries
Instructions
Preheat oven to 400F/200C degrees. Butter 12 muffin cups or line them with liner papers.
In a small bowl mix sugar with the lemon zest and orange zest.
In a large bowl sift together all-purpose flour, white whole-wheat flour, baking powder, baking soda and salt. Add the sugar mixture.
In a medium bowl, whisk the egg with the buttermilk, oil, lemon juice, orange juice and vanilla extract. Pour the wet ingredients into the dry ingredients and fold with a wooden spoon or a rubber spatula just until combined. Do not overmix. The batter should be quite thick and lumpy. Gently fold in the diced strawberries.
Divide the batter among the muffin cups. Bake for 15-20 minutes until a toothpick inserted into the center of the muffin comes out clean. Cool for 5 minutes in the pan, and then move to a wire rack to cool completely.
Notes
- Buttermilk substitution: Take a measuring cup (one cup) and pour 1 tablespoon of white vinegar or lemon juice in it. Add milk until it reaches the top/one cup. Stir and let sit for 5 minutes.
- Muffins are best the same day they are made.
- Muffins can be frozen for up to a month.