These white chocolate strawberry truffles are a hit at any party, and they are as delicious as they are pretty.
Once upon a time a girl didn't like strawberries that much. Until she mixed it with white chocolate.
True story. I don't know what there is not to like about strawberries, but growing up I wasn't a fan. Today is a different story of course, because today I eat everything.
A few years ago I was looking for a simple recipe for a bachelorette party, and eventually came up with this idea. Everyone went crazy for it, so I started using the combination of strawberries or raspberries and white chocolate often in my recipes. I use it in ganache (I like to top my cheesecake with it), whipped cream, blondies, and smoothies.
I like to make these strawberry truffles for bachelorette parties, baby showers, new years, and other festive holidays and occasions.
You can use frozen or fresh strawberries for this recipe, or you can use raspberries instead. I like to use fresh ones for the best flavor, but when they're not in season, I use frozen. To make strawberry puree you need to blend the strawberries in a food processor or blender, and then strain the mixture through a fine mesh strainer because you want a smooth puree without any seeds. If you are using frozen strawberries, place them in a bowl to thaw, or, if you need a quicker option, heat them in a small saucepan over medium heat until they are warm and release their juices, then add the strawberries with the juices to the food processor, and continue as above.
For a strong pink or red color, you can add a drop of pink or red food coloring. Add just a drop at a time, until you like the color. When I use fresh strawberries, the truffles have a light pink color that I like, so I don't add food coloring.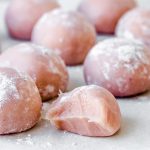 Strawberry Truffles
Unless you don't like lemon, I recommend using the lemon zest for freshness and a light lemony flavor.
---
Ingredients
8-9

strawberries

about a cup, stems removed

400

g/14 oz coarsely chopped white chocolate

1

tablespoon

heavy cream

zest from 1 lemon

1/4

cup

powdered sugar

for rolling

red or pink food coloring

optional
Instructions
Place the strawberries in a food processor, and process until pureed. Strain the mixture through a fine mesh strainer to remove the seeds. This is your strawberry puree. You'll need 1/4 cup of puree for this recipe. If you have extra, save it for another purpose.

Place chopped chocolate and cream in a medium heat-proof bowl. Carefully microwave in 20-30 second intervals, stirring in between each interval to prevent overheating, until melted. Alternatively, set the bowl over a saucepan of simmering water, stirring occasionally, until melted. Add ¼ cup strawberry puree and lemon zest and mix until combined. Add food coloring, if using, a tiny drop at a time. Cover the bowl and chill in the refrigerator for 4 hours or until firm.

Place powdered sugar in a small bowl. Take chocolate mixture out of the fridge. Using an

ice cream scoop

, spoon, or melon baller, scoop out small sections and form them into balls with your hands. Roll each ball in powdered sugar and place on a baking sheet lined with parchment paper. Refrigerate until firm.

Store truffles in the fridge in an airtight container for up to a week. Serve chilled.

Truffles can be frozen for up to 2 months. To thaw, leave them in the fridge overnight.