Extra moist and soft, these strawberry ricotta muffins are the perfect breakfast treat. Filled with fresh strawberries and sweet ricotta cheese, these are good to the last crumb.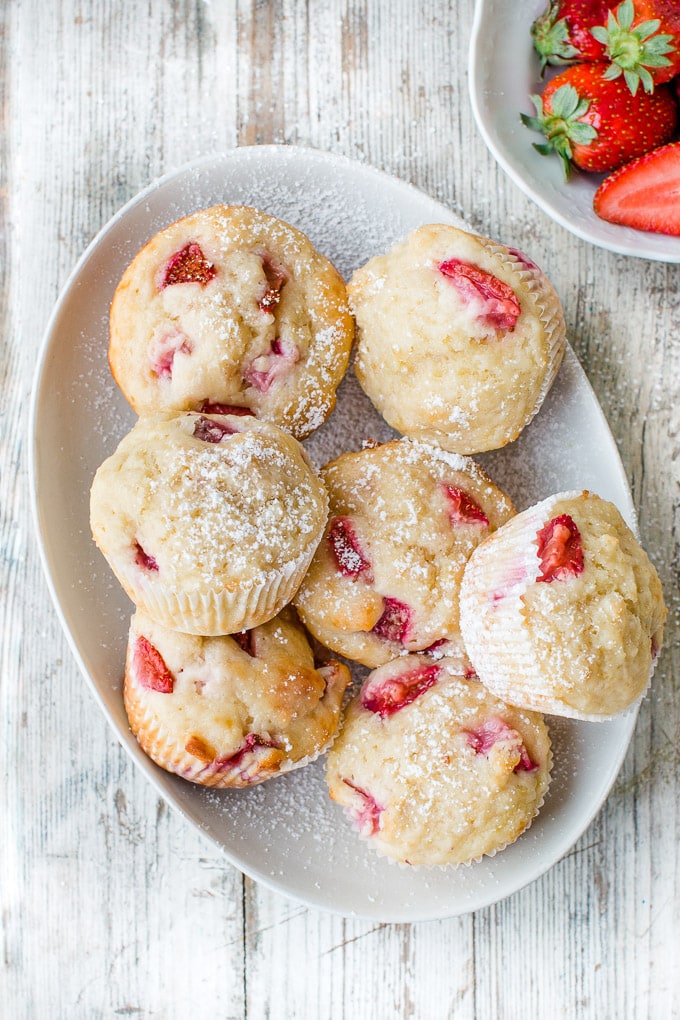 Loaded with fresh strawberries, these delicate, melt-in-your-mouth strawberry muffins have a secret ingredient to get the perfect moist texture: ricotta cheese. The ricotta cheese makes these muffins extra light and fluffy. It adds moisture, without making them dense or chewy.
This simple strawberry ricotta muffin recipe can be made in two bowls, no mixer required. In under 30 minutes, you'll find yourself with a batch of warm muffins ready to be enjoyed.
How to Make Strawberry Ricotta Muffins
To start, whisk together your dry ingredients in a large bowl. Set this aside while you prepare the rest of the muffin batter.
In another bowl, whisk together the ricotta cheese until smooth. You want to lighten up the ricotta cheese and remove any lumps before adding the remaining ingredients. Doing this now helps reduce the amount you'll need to mix the batter later – an important step in keeping these muffins light and fluffy!
Add the eggs and sour cream to the ricotta and whisk until smooth. Repeat with the oil and vanilla, mixing until combined. Add the ricotta mixture to the flour and fold with a spatula. Be careful not to overmix your strawberry ricotta muffin batter. It may have a few lumps, and that's perfectly fine. Lastly, fold in the diced strawberries.
Divide the batter evenly between the muffin cups. Since muffin pans differ slightly, make sure to fill each cup no more than ¾ full with batter. Filling them up all the way actually causes them to collapse and not have that perfect domed top. Bake the strawberry ricotta muffins for 15-20 minutes or until a toothpick inserted into the center comes out clean.
These strawberry ricotta muffins are best the same day they are made, but they will stay moist for several days. Packed with berry flavor and incredibly moist and tender from the ricotta, each bite is unbelievably delicious!
Other ricotta recipes: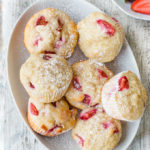 Strawberry Ricotta Muffins
Ingredients
2

cups

(280g) all-purpose flour, sifted

¾

cup

(150g) granulated sugar

2

teaspoons

baking powder

½

teaspoon

salt

1

cup

(240 ml) ricotta cheese

2

large eggs

¾

cup

(180 ml) sour cream

¼

cup

(60 ml) canola or vegetable oil

2

teaspoons

vanilla extract

1 ¼

cups

diced fresh strawberries
Instructions
Preheat oven to 350ºF/180ºC. Spray muffin cups with nonstick cooking spray or line with cupcake liners. Set aside.

In a large bowl combine flour, sugar, baking powder, and salt. In a medium bowl, whisk ricotta cheese until smooth. Add eggs and sour cream and whisk until smooth. Add oil and vanilla extract, and mix until well combined. Add the ricotta mixture into the flour mixture and fold with a wooden spoon or a rubber spatula just until combined. Gently fold in diced strawberries.

Divide batter evenly between muffin cups. Bake for 15-20 minutes or until a toothpick inserted into the center of a muffin comes out clean. Remove from oven. Allow to cool 10 minutes in pan, then gently transfer to a wire rack to cool completely.

Muffins are best the same day they are made, but can be kept in an airtight container in the fridge for up to 3 days. They can be frozen for up to 2 month and thawed overnight in the fridge.