A classic pizza made with homemade crust, quick tomato sauce, just the right amount of cheese, and your favorite toppings. Plus, many tips for making the prefect pizza!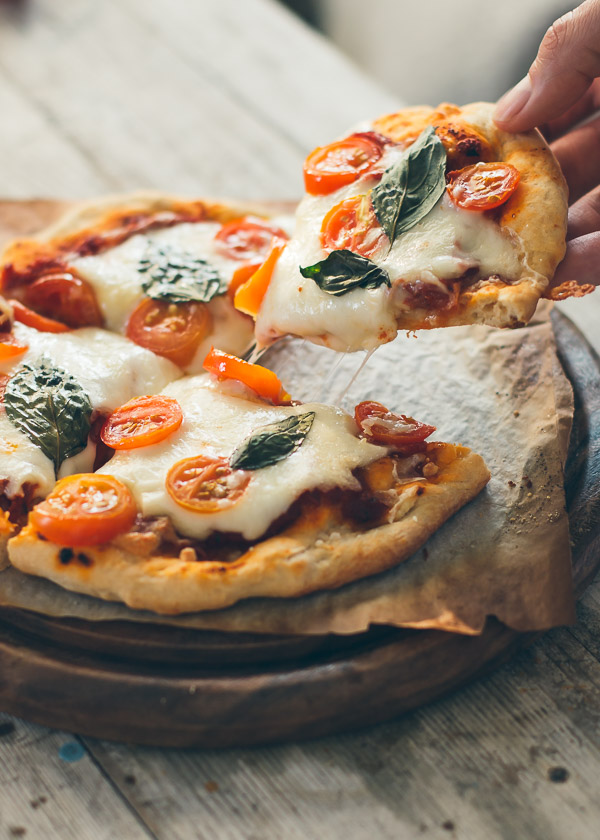 The world is divided into three main kinds of pizza lovers. Some like it thin and crispy, while others like it thick and chewy. And then there's me, the third kind, the kind who loves all pizza. Especially with extra cheese whenever possible.
As a starting guide for pizza, I'm sharing my most basic recipe. Everyone who tastes it loves it because it's almost impossible not to.
The crust. My basic dough recipe is not too thick nor too thin, and it's both chewy and crispy on the edges. You can read my full post with more tips here.
Tomato sauce. For a quick sauce, I use canned tomatoes instead of fresh to shorten the cooking time, and it turns out just perfect.
Cheese. I like the combination of basic mozzarella and Parmesan, the latter of which adds great saltiness and flavor. However, you can use only mozzarella if you prefer, either shredded (usually my preference) or as thin discs.
Toppings. Be easy on the toppings, including extra cheese, as too much can make the crust soggy.
Make sure you preheat your oven. For one hour, to be exact. The baking stone has to be really, really hot to be effective. If you're stressed for time, 30 minutes is fine, but no less than that.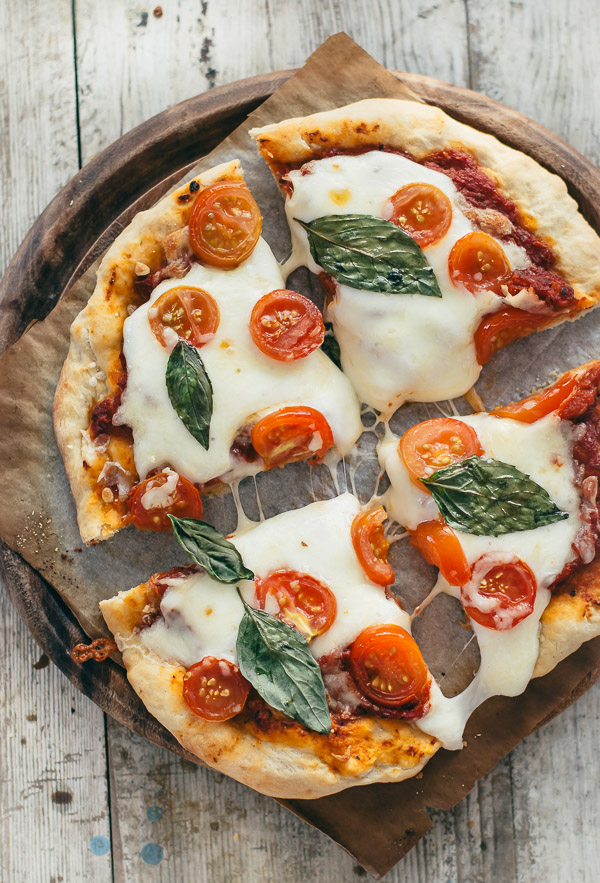 Baking stone – Do you really need it?
Pizza requires a very high temperature for baking, and a baking stone helps to maintain that heat. It also makes for a crisper crust. After testing both with and without a baking stone, I much prefer the results when using a stone, so if pizza is your thing, I suggest investing in one. If you don't have one just yet, you can use an upturned baking sheet instead.
If you're looking to buy a pizza stone, I recommend this one. Its square shape gives more room than a round one, making it perfect for when you want to bake a few small pizzas at once.
Shaping the pizza.
Perfectly shaping a pizza is tricky for beginners and takes a few tries before it becomes easy. You don't even want to know how my first ever pizza looked—more of an artistic polygon than anything. I recommend using your fingertips to shape the dough, and to avoid using a rolling pin, which ruins the airy texture and makes the dough tough. If the dough isn't stretching well, let it rest for a few minutes, then try again.
What if my pizza turns out ugly or tough?
My first pizza didn't look or taste great, either, to say the least. It was quite inedible, though I still ate the whole thing. If you're not thrilled with how your pizza turned out, here's what you can do:
Read the recipe carefully again, go over all the tips, and watch some videos on how to shape pizza to get the hang of it. Don't take any shortcuts.
Try it again. And again. And again. After 2-3 tries it should become simple and delicious enough to actually serve to other people.
As for special equipment, I recommend these: baking stone, baking peel, and baking wheel.
Classic Pizza
Yields:
one 14 in/35 cm pizza
A classic pizza made with homemade crust, quick tomato sauce, just the right amount of cheese, and your favorite toppings.
Ingredients
For the tomato sauce:
1 tablespoon olive oil
1 clove garlic
1 can (400 g/14 oz) crushed tomatoes
¼ teaspoon oregano, optional
Salt and pepper
For the pizza:
100 g/4 oz (about 1 cup) shredded mozzarella cheese (or thin mozzarella discs)
¼ cup Parmesan cheese
Toppings of your choice
Olive oil, for the crust
Instructions
To make the tomato sauce: Heat oil in a medium saucepan over medium heat. Add garlic and cook for 2-3 minutes, until fragrant. Add tomatoes (with liquid) and oregano, and season with salt and pepper. Let simmer for about 10 minutes, stirring occasionally, until thickened.
Sauce will keep, covered with plastic wrap, for up to a week in the fridge or for several weeks in the freezer.
To make the pizza Preheat oven to the highest temperature (450F-500F) for one hour before baking. Set oven rack to the lowest position and place a baking stone on the rack. If you don't have a baking stone, use an upturned baking sheet instead.
On a lightly floured surface, stretch the dough into a 14-inch disc using your fingertips, working along the outer edge and rotating it in quarters after each stretch. The dough should be very thin. Transfer dough carefully to parchment paper.
Spread tomato sauce evenly over dough, leaving a border around the edge. Sprinkle with cheese and add toppings of your choice. Brush the rim with olive oil.
Slide parchment paper with the pizza onto a pizza peel (if you don't have a pizza peel, use a large flat plate or cutting board), then slide onto the baking stone. Be careful when you open your oven; it will be very hot.
Bake for 7-10 minutes, until cheese is bubbly and crust is golden brown and crispy. To remove pizza from the oven, slide parchment paper with the pizza back onto the peel.
Serve immediately.