This classic French custard is thick and creamy and commonly used as a filling for cakes, tarts, and pastries. It requires no baking and tastes amazing! Learn how to make it absolutely perfect.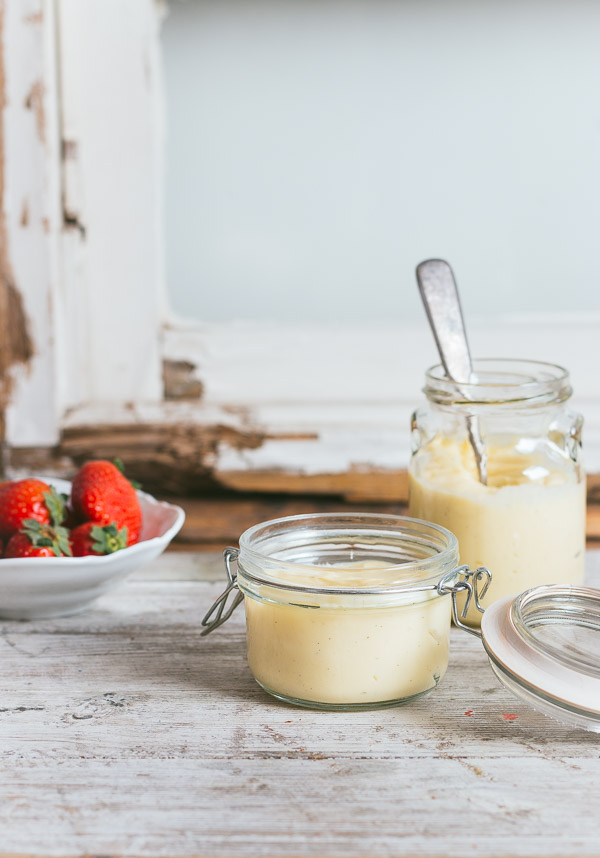 Vanilla pastry cream, also known as creme patissiere in French, is one of the most fundamental and classic French pastry confections. If you've ever had cream puffs, éclairs, or Boston cream pie, then you most likely have has pastry cream.
Pastry cream is a thick, creamy custard made of eggs or egg yolks, milk or cream, and sugar. It's flavored with vanilla and is thickened with cornstarch and sometimes flour, too. This delicious custard is the base of many desserts, including classic souffles and is the classic filling for eclairs and cream puffs You can add butter for creaminess, whipped cream for lightness, cream cheese, fruit puree, or almond cream, or any other flavoring you want such as chocolate, coffee, lemon, etc.
With its creamy texture, this custard is perfect as a filling for pastries. It's also delicious for fruit or berry-based trifle desserts.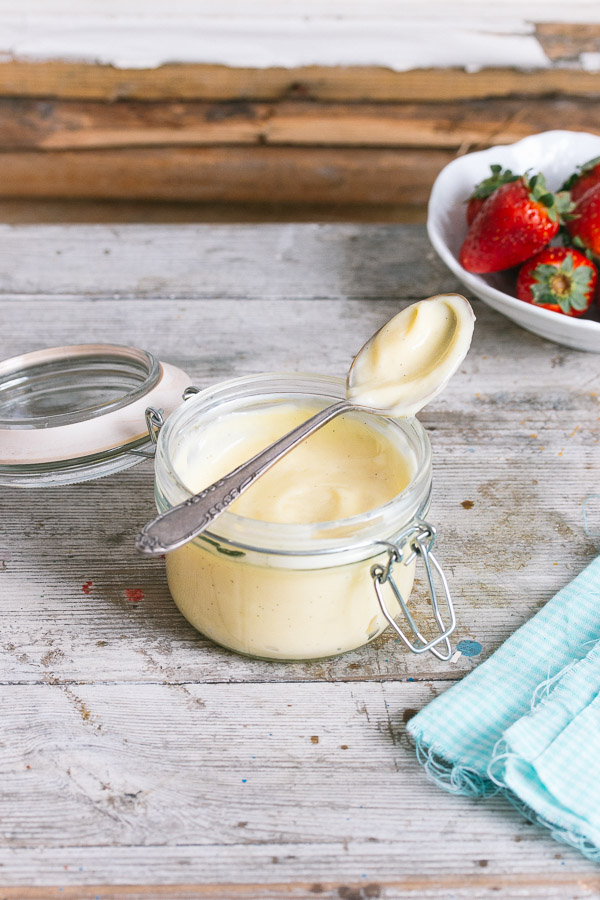 How to make vanilla pastry cream
Combine egg yolks, sugar, and cornstarch. In a medium sized bowl, whisk together the egg yolks, sugar, flour and cornstarch.
Heat the milk. In a medium-sized saucepan, heat the milk and vanilla together until it is steaming and very hot. Discard the vanilla pod if using.
Temper the milk with the egg yolk-mixture. Slowly pour the hot milk into the egg mixture in a steady stream, whisking the egg mixture constantly.
Cook the mixture. Pour the mixture back into the saucepan and heat again gently on low-medium heat. From this point on, don't stop whisking or the mixture will curdle. It will start to become very thick. Once thick and boiling, keep whisking for about 30 seconds more before removing from the heat.
Strain the custard. I highly recommend straining the thickened custard using a fine-mesh strainer to remove any curdled egg yolk. This will ensure your custard is super creamy and free of any lumps.
Cool the custard in an ice bath. Fill a large bowl with a bit of cold water and ice cubes. Place your bowl of pastry cream inside the larger bowl, allowing it to cool quickly so it stops the cooking process and doesn't create any more curdled egg.
Store in the refrigerator. Once cooled, press a piece of plastic wrap directly onto the top of the custard to prevent a skin from forming. Store the pastry cream in an airtight container in the refrigerator.
Tip: For extra rich and creamy creme patisserie, add 2 tablespoons of unsalted butter to the mixture while it's still warm. Mix in completely and allow to cool.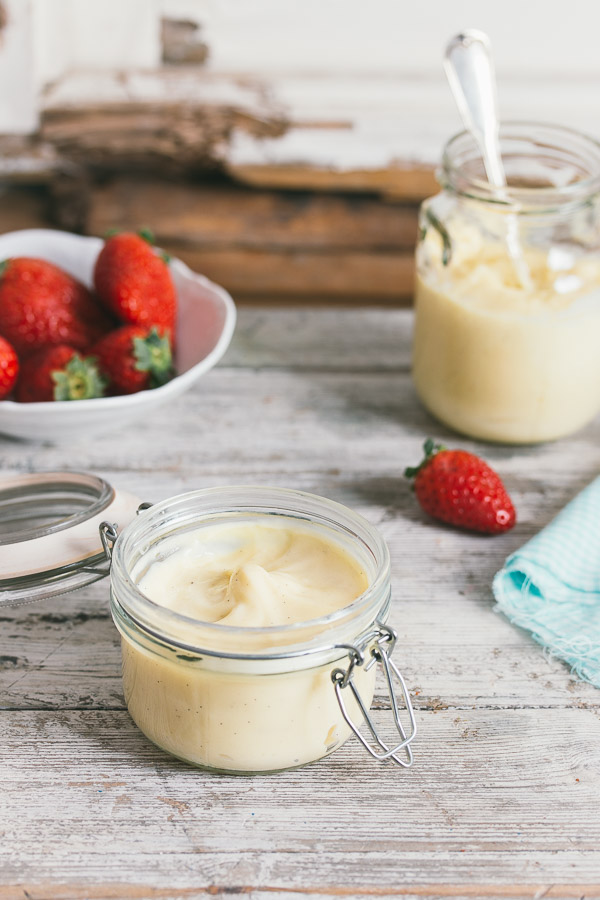 Tips for making creme patisserie
To make a creamier pastry cream, add a few pieces of room temperature butter while the custard is warm. Add a bit at a time, and whisk until well blended (recommended).
To make a light pastry cream, fold in 1/2 cup soft whipped cream (made by whisking heavy cream in your electric mixer with a bit of sugar until soft peaks form).
Flavor the pastry cream: You can add lots of flavorings to your creme patisserie. Some of my favorites include:

-1-2 teaspoons instant coffee powder (heat together with the milk and sugar).
-Lemon or orange zest (heat with the milk and sugar),
-60g/2 oz. of your favorite chocolate (whisk into the hot milk before tempering)
-A few tablespoons of fruit puree (add once the custard has cooled).
-Add 1/2 tablespoon alcohol of your choice to the warm custard: Grand Marinier, Limoncello, Kirsch, brandy, rum, etc.

I highly recommend straining the pastry cream once it's finished cooking on the stovetop. Even though you will have continuously mixed the custard while cooking on the stove top, there is usually a bit of egg that curdles due to the heat. To remove this, strain using a fine mesh strainer.
Allow the custard to boil for 30 seconds. This helps activate the cornstarch and gets rid of the cornstarch flavor.
What desserts can I make with pastry cream?
How long does creme patisserie stay fresh?
Pastry cream will stay fresh in the refrigerator for up to 5 days.
Can I freeze my creme patisserie?
Yes! Store in a freezer-safe container for up to 3 weeks.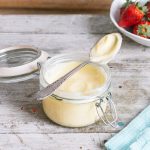 Creme Patissiere (Pastry Cream)
This classic thick and creamy custard is commonly used as a filling for cakes, tarts, and pastries. It's simple to make and tastes amazing!
---
Ingredients
3

large (60g) egg yolks

5

tablespoons

(65g) granulated sugar

1 1/2

tablespoons

(15g) all-purpose flour

1 1/2

tablespoons

(15g) cornstarch

1 1/4

cups

(300 ml) whole milk

1/2

vanilla bean, split and seeded, or 1 teaspoon pure vanilla extract

2

tablespoons

unsalted butter, optional
Instructions
In a medium bowl, whisk together egg yolks and sugar just until pale yellow and creamy, then whisk in cornstarch and flour. Set aside.

In a medium saucepan, heat milk, vanilla pod, and vanilla seeds on medium heat just to a boil. Remove from heat and remove vanilla bean. Gradually pour the hot milk into the egg mixture while simultaneously whisking constantly until smooth.

Transfer mixture back into saucepan. Cook over medium-low heat, whisking constantly and vigorously so that the eggs won't curdle, until mixture thickens. Remove from heat and strain using a fine mesh strainer. Transfer to a medium heatproof bowl and add butter, if using. Press a piece of plastic wrap directly onto the surface of the creme patisserie to prevent it from creating a 'skin'. Cool using a water bath.* Let cool to room temperature, then store in the refrigerator.

Creme patissiere can be covered with plastic wrap and refrigerated for up to 3 days. Whisk before using to get rid of any lumps.
Recipe Notes
*Using a water bath helps cool the pastry cream quicker and stops the cooking process to prevent any more egg from curdling. To create a water bath, fill a large bowl with a bit of water and ice cubes. Place your bowl of pastry cream inside the larger one so the cold water surrounds the bowl, but does not get inside.