This classic thick and creamy custard is commonly used as a filling for cakes, tarts, and pastries.
How many times in your life do you think you've actually had creme patissiere? If your answer is none, like mine was a few years ago, and if you're a dessert freak, like I've been my whole life, then you may be wrong. Like I was.
Creme patissiere is such a basic and necessary component in the pastry world that you may not even know it's been inside many of the desserts you eat on a regular basis. If you've ever had a cream puff, éclair, fruit tart, Boston cream pie, Napoleon or Danish pastry, then you most likely had a part of this pure joy called crème patissiere. If you haven't tried any of them, then something is seriously wrong.
Creme patissiere – or in simple English, pastry cream – is a thick, creamy custard made of simple ingredients and usually flavored with vanilla. It is the base of many desserts, so once you have the custard ready, you have millions of options. You can add butter for creaminess, whipped cream for lightness, cream cheese, fruit puree, or almond cream, or any other flavoring you want such as chocolate, coffee, lemon, etc.
With its creamy texture, this custard is perfect as a filling for pastries. It's also delicious for fruit or berry-based trifle desserts. In that case, though, I like to lighten it up with some soft whipped cream.
The process: Start with making the egg mixture. Whisk the eggs and sugar well until it's creamy, thick, and pale, then whisk in the flour and cornstarch.
Heat the milk and vanilla together, bringing it just a boil. Once it boils, remove from the heat and discard the vanilla pod if using. Immediately pour the hot milk into the egg mixture; it's important to do this slowly and in a steady stream, while simultaneously whisking the egg mixture. It's not as complicated as it may sound, so don't worry. If you find it hard, pour ½ of the milk, whisk until well combined, then repeat with the other ½.
Pour the mixture back into the saucepan and heat again gently on low-medium heat. From this point on, don't stop whisking or else it may curdle. It will become thick quite fast and will start to boil. Once thick and boiling, keep whisking for about 30 seconds more before removing from the heat. Your custard is now done. Yay!
Notes and tips:
To make a creamier pastry cream, add a few pieces of room temperature butter while the custard is warm. Add a bit at a time, and whisk until well blended.
To make a light pastry cream, fold in 1/2 cup soft whipped cream (made by whisking heavy cream in your electric mixer with a bit of sugar until soft peaks form).
Add your favoring flavoring: 1-2 teaspoons instant coffee powder (heat together with the milk), lemon or orange zest, 60g/2 oz. of your favorite chocolate (whisk into the hot cream), or a few tablespoons of fruit puree (add once the custard has cooled).
Add 1/2 tablespoon alcohol of your choice to the warm custard: Grand Marinier, Limoncello, Kirsch, brandy, rum, etc.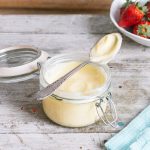 Creme Patissiere (Pastry Cream)
This classic thick and creamy custard is commonly used as a filling for cakes, tarts, and pastries.
---
Ingredients
3

large

(60g) egg yolks

5

tablespoons

(65g) granulated sugar

1 1/2

tablespoons

(15g) all-purpose flour

1 1/2

tablespoons

(15g) cornstarch

1 1/4

cups

(300 ml) whole milk

1/2

vanilla bean

, split and seeded, or 1 teaspoon pure vanilla extract
Instructions
In a medium bowl, whisk together egg yolks and sugar just until pale yellow and creamy, then whisk in cornstarch and flour. Set aside.

In a medium saucepan, heat milk, vanilla pod, and vanilla seeds on medium heat just to a boil. Remove from heat and remove vanilla bean. Gradually pour the hot milk into the egg mixture while simultaneously whisking constantly until smooth.

Transfer mixture back into saucepan. Cook over medium-low heat, whisking constantly and vigorously so that the eggs won't curdle, until mixture thickens. Remove from heat and transfer to a medium heatproof bowl. Press a piece of plastic wrap directly onto the surface of the pudding to prevent it from creating a 'skin'. Let cool to room temperature, then refrigerate until chilled.

Creme patissiere can be covered with plastic wrap and refrigerated for up to 3 days. It does not freeze well. Whisk before using to get rid of any lumps.