This old-fashioned banana cream pie is made with my favorite homemade flaky pie crust and layers of fresh bananas, vanilla pastry cream, and whipped cream. It tastes like banana pudding, only better!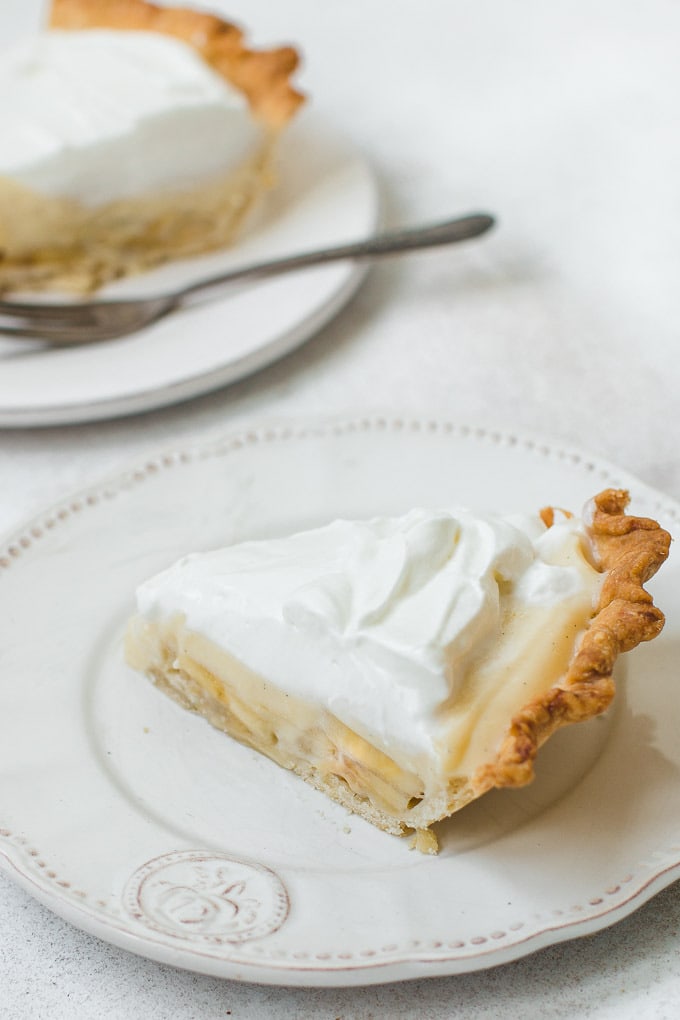 I've been waiting to share with you this banana cream pie recipe for weeks now, but first I needed to find the best ripe bananas I could get, because you know how I need everything to be perfect, and turns out it wasn't that easy. But when I finally did, the wait was well worth it! It takes a few steps to make this pie but once you bite into that thing you'll understand why I make it again and again. It's really that good.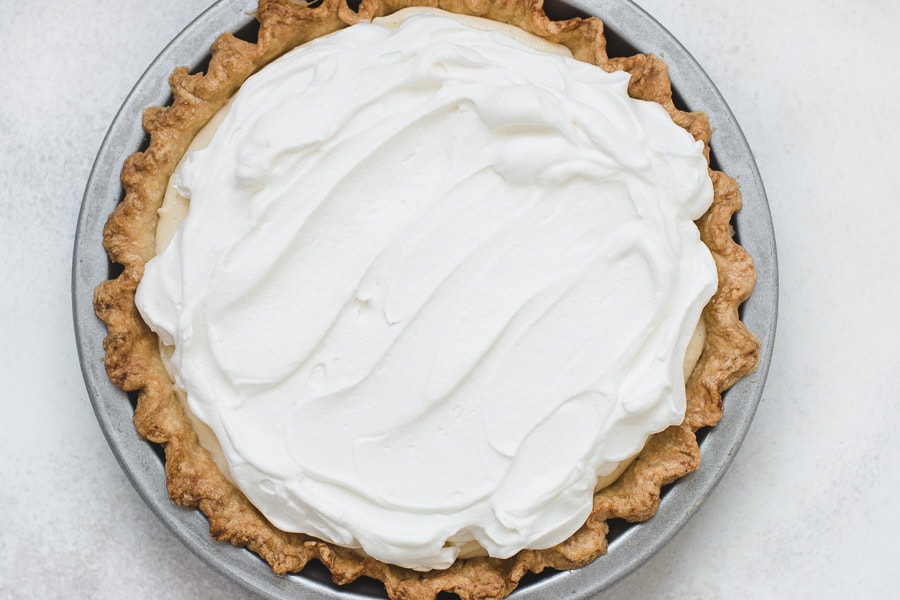 MY LATEST VIDEOS
How To Make Banana Cream Pie
Crust
My homemade pie crust uses butter for the best flavor and flaky texture. It's a classic recipe. I have step-by-step photos here.
You need to bake the crust before filling it with the filling ingredients. To fully bake the crust you'll first need to bake it with pie weights, dry beans, or uncooked rice (because the pastry puffs up during baking), and then a few minutes longer without pie weights. Here's a visual guide on how to use weights when baking a crust.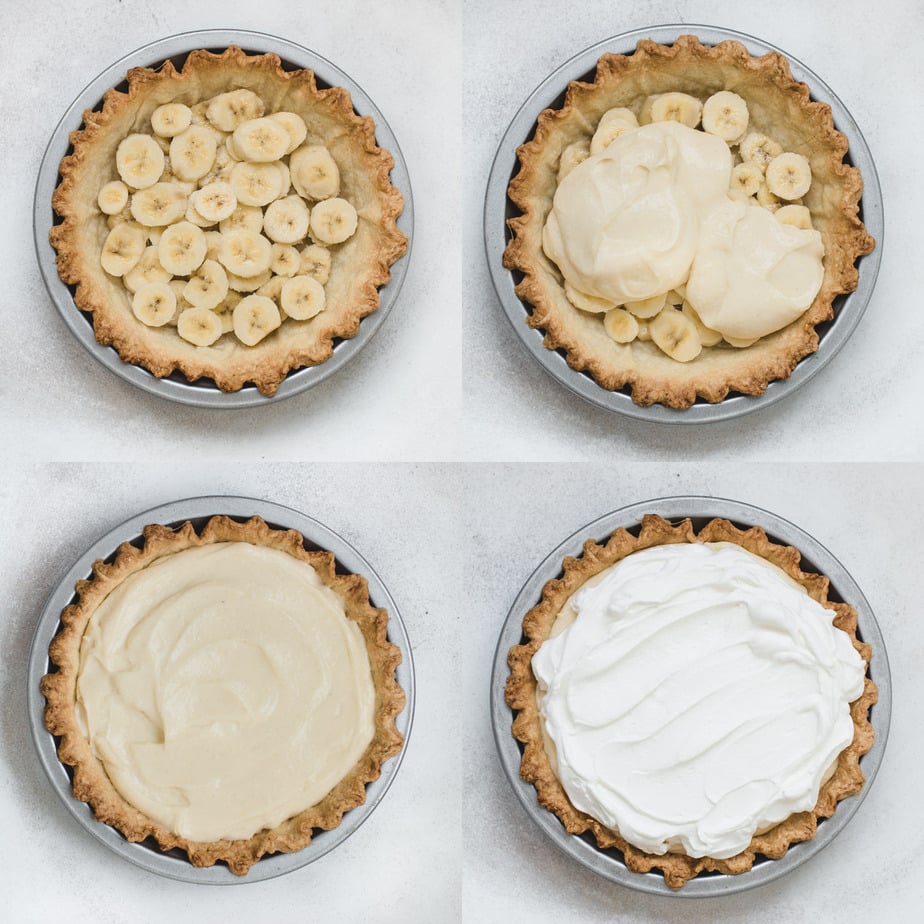 Filling
The pie filling is made of 3 layers:
Fresh bananas. Use ripe bananas to ensure they are soft and sweet, and not black, overly ripe bananas.  They should be slightly speckled but not mushy.
Vanilla pastry cream. You can read more about pastry cream here. The recipe is a bit different, but you can find info about the method and other tips. I use vanilla bean when I have it on hand, but most of the times I use vanilla extract.
Whipped Cream. You want the whipped cream to be whipped to stiff peaks. To learn more about what that means, read my whipped cream guide.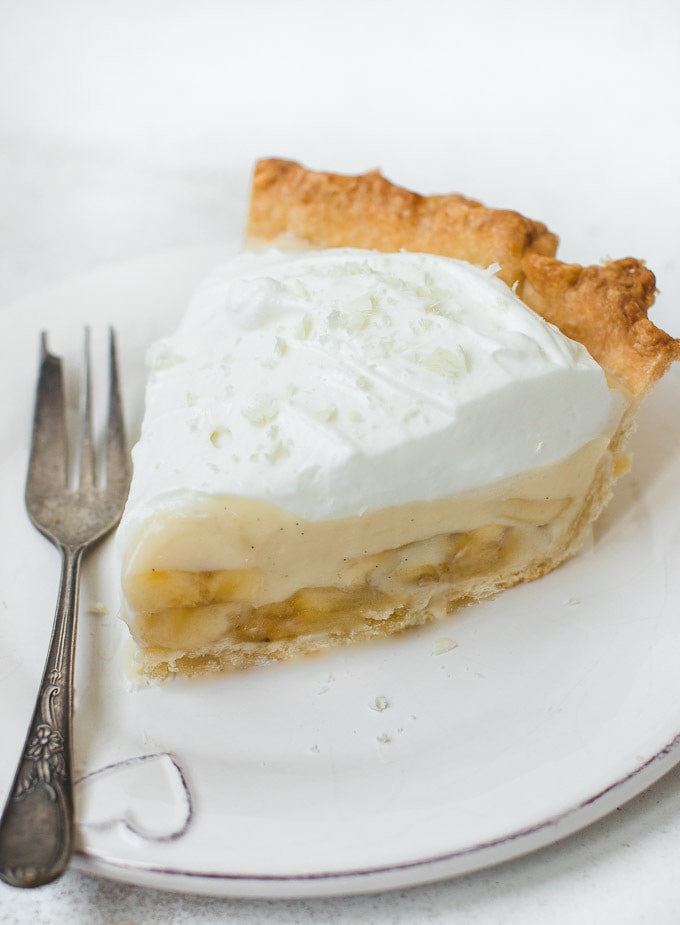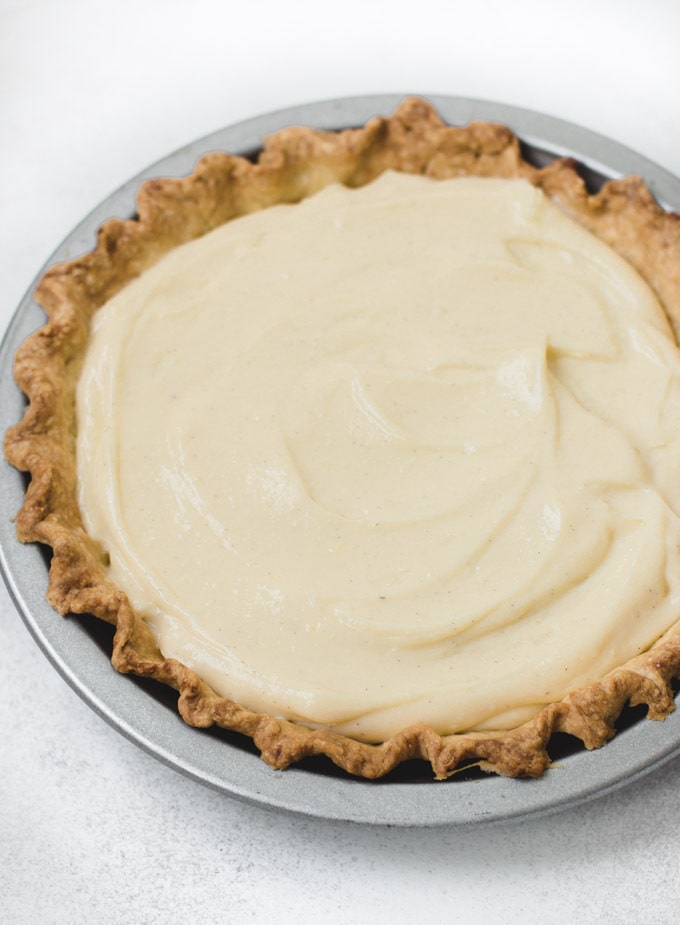 More Pie Recipes: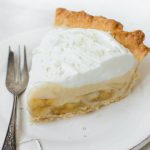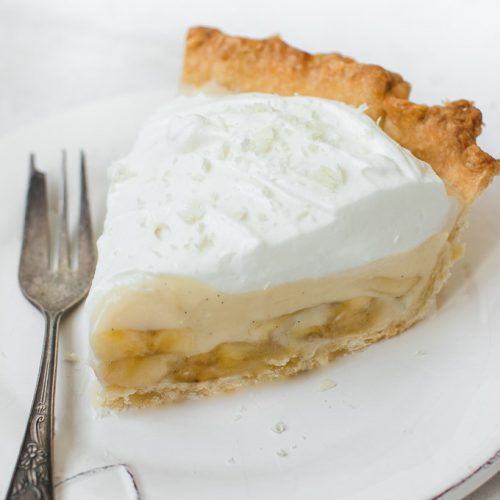 Banana Cream Pie
---
Ingredients
Banana Layer
3

ripe but not overly ripe bananas
Pastry Cream
4

large egg yolks

2/3

cup

(135g) granulated sugar

2

tablespoons

(18g) cornstarch

2

tablespoons

(18g) all-purpose flour

1 and 1/2

cups

(360ml) whole milk

1/2

cup

(120ml) heavy cream

3

Tablespoons

(42g) unsalted butter, softened to room temperature

1 and 1/2

teaspoons

pure vanilla extract

1/8

teaspoon

salt
Whipped Cream
1

cup

(240ml) heavy cream, chilled

1/4

cup

(30g) powdered sugar

1/2

teaspoon

pure vanilla extract

, optional
Instructions
Roll out the dough for the crust: Take the dough out of the fridge and let it sit on the counter for a few minutes to soften slightly for easy rolling. On a floured surface, roll dough out into a 12-inch (30cm) circle, then place gently into a 9-inch pie pan; you can do this by flouring a rolling pin and rolling the dough loosely around it, then unrolling it into the pan. With a sharp knife, trim the edges of the pastry to fit the pie pan. Use a fork to create a decorative border or crimp the edges using your fingers. Chill in the fridge for 30 minutes before baking.

Preheat oven to 375°F/190°C and place a rack in the center of the oven.

Bake the crust: Press parchment paper or aluminum foil tightly against the crust, covering the edges to prevent them from burning. Fill with pie weights/dried beans/uncooked rice. Bake crust for about 20 minutes until the foil no longer sticks to the crust. Transfer crust to a wire rack and remove weights and foil. Bake crust for about 10 minutes longer until golden brown and the bottom feels dry to the touch. Transfer to a wire rack and allow to cool completely.

Make the pastry cream: In a medium bowl, whisk together egg yolks and sugar until combined, then whisk in cornstarch and flour. Set aside.

In a medium saucepan, heat milk and heavy cream on medium heat just to a boil. Remove from heat and gradually pour the hot milk mixture into the egg mixture while simultaneously whisking constantly until smooth (this will prevent the eggs from being cooked by the heat). Transfer mixture back into saucepan. Cook over medium-low heat, whisking constantly and vigorously so that the eggs won't curdle, until mixture thickens and bubbles burst on the surface. Remove from heat and whisk in butter, vanilla, and salt. Strain through a fine-mesh strainer set over a bowl. Cover with plastic wrap directly on top of the filling to prevent a skin from forming. Allow to cool to room temperature, then refrigerate until chilled.

Just before assembly, make the whipped cream: Using a mixer fitted with the whisk attachment, whisk heavy cream, sugar, and vanilla on medium-low speed for several seconds. Increase speed to high and whisk until stiff peaks form and whipped cream is thick and spreadable.

Assemble the pie: Slice the bananas and arrange slices into the cooled pie shell. Spread cooled pastry cream on top of the bananas. Spread the whipped cream on top. You can make swirls using the back of a spoon. Sprinkle with grated white chocolate if you like. Refrigerate for at least 5 hours or overnight to ensure that the filling is completely set. You can make the pie 1 day ahead of serving.