The best Boston cream pie recipe is here! And we're making it from scratch. It has two layers of buttery vanilla sponge cake sandwiched together with a creamy pastry cream filling, and topped with chocolate ganache. Every bite will melt in your mouth!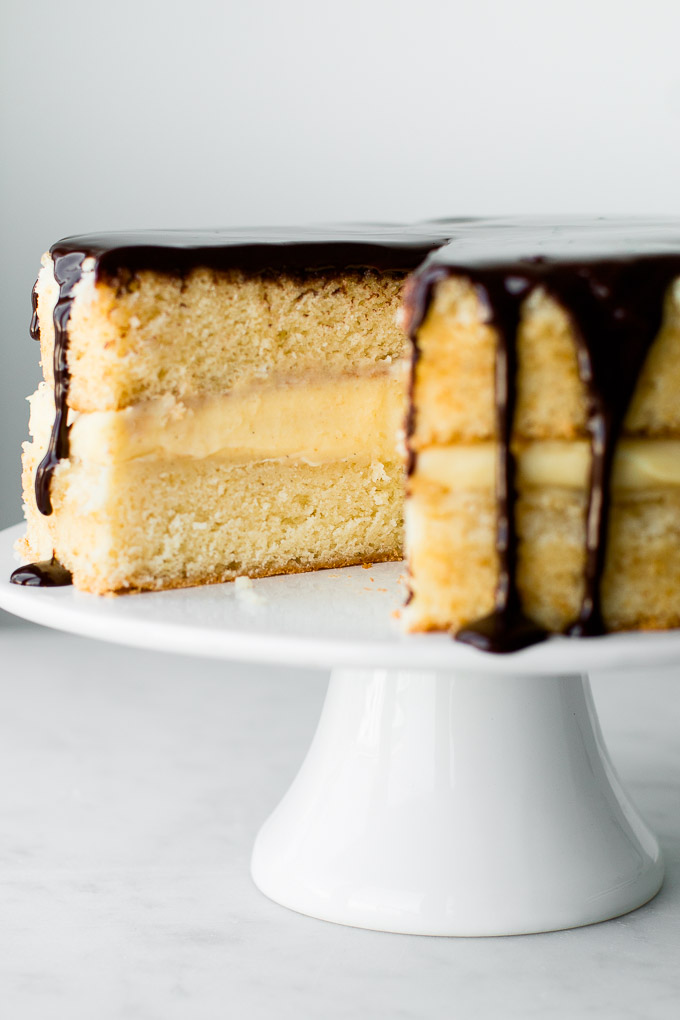 Boston cream pie is a simple delicious cake, usually a sponge cake or butter cake, filled with a thick layer of vanilla pastry cream and glazed with a shiny chocolate ganache. It's called Boston cream pie rather than Boston cream cake because when it was invented way back, the common pans that were used to make cakes were pie pans.

How to make Boston cream pie
Boston cream pie consists of 3 components:
Sponge cake. This is my favorite sponge cake recipe (but you can use any sponge cake or butter cake that you like). It's enriched with butter and milk, therefore super flavorful, and is different than other sponge cakes that are only based on eggs and sugar. The cake is made by whisking eggs and sugar first, which gives the cake its airy texture, then gently mixing in warm milk and melted butter, and lastly mixing in flour, salt, and baking powder for an extra rise. This is a delicate and moist cake, the kind that melts in your mouth, yet the texture is stronger than most sponge cakes so it stands up well to almost any filling or frosting.
Boston cream pie filling – Pastry cream or creme patissiere is a thick creamy custard with a mild vanilla flavor. Read my pastry cream post to learn more about how to make it. The recipe I'm using for this cake is a bit different than my other recipe mainly because I'm using cream instead of just milk for a richer flavor. Some recipes use only flour or only cornstarch as a thickener. I like to use both because in my opinion it gives the best texture, without having a starchy aftertaste from the cornstarch, and it thickens wonderfully. This pastry cream is thick and quite firm, especially after refrigeration, but still very creamy and tender, so it's great as cake filling.
Chocolate ganache. Ganache is the final touch to this cake, and adds beauty, shine, and awesome flavor, because chocolate makes everything better. always. Read my chocolate ganache post for more info.

Make ahead tips
You can make the pastry cream a day or two ahead and keep it in the fridge. Whisk it before using to remove any lumps. It won't keep well in the freezer. The cakes can be made ahead of time and kept, covered in plastic wrap, in the freezer for up to 2 months, and thawed overnight in the fridge. I recommend making the chocolate ganache just before assembling the cake. It's quick and easy to make, and it'll have the best texture if making it right before. After making the ganache, let it sit at room temperature for a few minutes until it thickens slightly, then pour over the cake. The cake is best the day it's made or the day after so you can assemble it a day ahead if you have room for it in the fridge. Leftovers can be kept for another 2-3 days in the fridge. Allow it to come to room temperature before serving.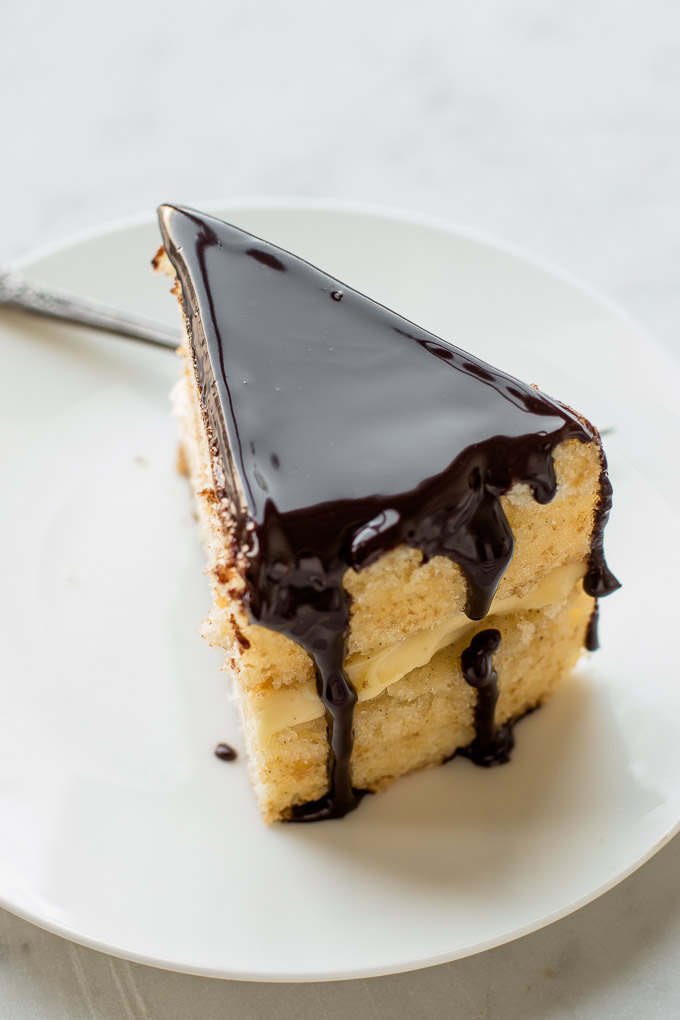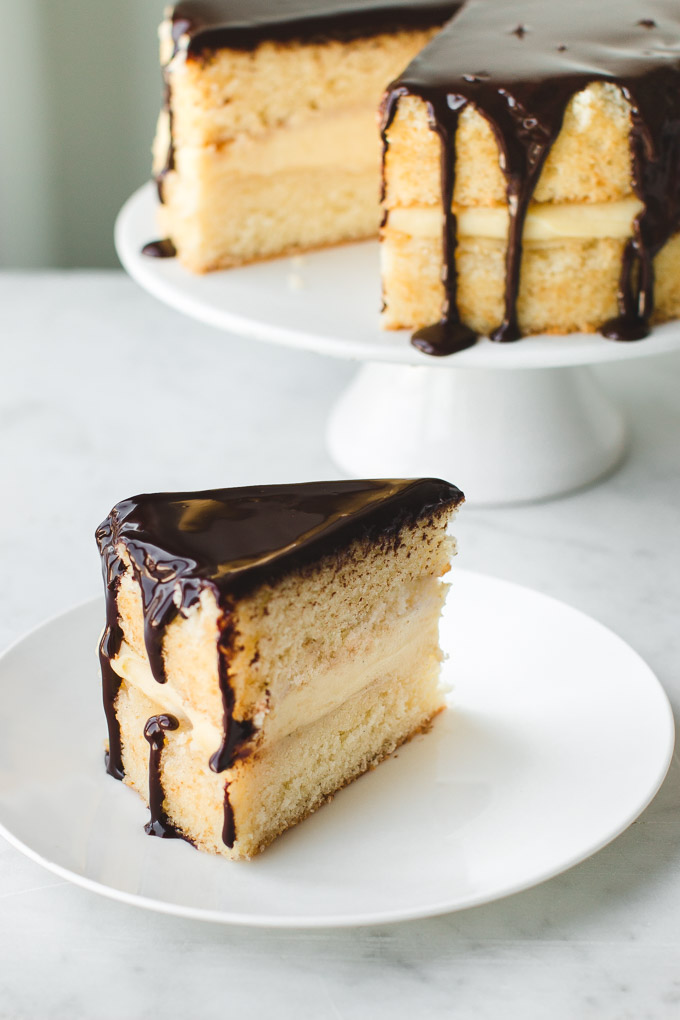 More Classic Layer Cakes: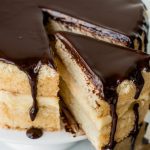 Boston Cream Pie
When making the pastry cream, instead of using 1 cup heavy cream and 1 cup milk, you can use 2 cups of half and half. I don't recommend freezing this cake because the pastry cream can break. To make the ganache shiny for longer, you can add 1-2 tablespoons of light corn syrup if you have it, heating it along with the cream.
---
Ingredients
Cake:
1 and 1/3

cups

(185 g) all-purpose flour

2

teaspoons

baking powder

1/4

teaspoon

salt

1/2

cup

(120 ml) whole milk

1/2

cup

(1 stick/115 g) unsalted butter

1 and 1/2

teaspoons

pure vanilla extract

3

large eggs

, at room temperature

1 and 1/2

cups

(300 g) granulated sugar
Pastry Cream:
5

large egg yolks

1/2

cup

(100 g) granulated sugar

2

tablespoons

(18 g) cornstarch

2

tablespoons

(18 g) flour

1

cup

(240 ml) heavy cream

1

cup

(240 ml) whole milk

1 and 1/2

teaspoons

pure vanilla extract

1/4

cup

(55 g) unsalted butter

, softened to room temperature
Chocolate Ganache:
115

g/4 oz. semisweet or bittersweet chocolate

, finely chopped

1/2

cup

(120 ml) heavy cream
Instructions
Cake: Preheat oven to 325°F/160°C. Butter two 9-inch pans (8-inch pans work, too) and line the bottoms with parchment paper. Don't skip this step or the cakes will stick to the bottom.

In a medium bowl, sift together flour, baking powder, and salt. Set aside.

In a small saucepan or in the microwave, heat butter and milk just until butter is melted. Do not let it boil. Set aside.

In a mixer bowl fitted with the whisk attachment, whisk eggs and sugar on high speed for 5 minutes. Beat in vanilla extract. Reduce speed to medium-low and add warm milk-butter mixture into the egg mixture in a slow, steady stream. Add flour mixture in 3 additions and fold by hand using a rubber spatula just until combined.

Pour batter into prepared cake pans and smooth the top. Bake for 20-25 minutes, until the cake springs back when slightly touched and a skewer inserted into the center comes out clean. Allow cakes to cool on a wire rack for 20 minutes, then run a knife around the edges and invert the pan onto the rack. Let cool completely. Refrigerate cakes for at least 1 hour before assembly to ensure the interiors are completely cooled and not too soft.

Pastry cream: In a medium bowl, whisk together egg yolks and sugar until combined, then whisk in cornstarch and flour. Set aside.

In a medium saucepan, heat heavy cream and milk on medium heat just to a boil. Remove from heat and gradually pour the hot milk into the egg mixture while simultaneously whisking constantly until smooth (this will prevent the eggs from being cooked by the heat). Transfer mixture back into saucepan. Cook over medium-low heat, whisking constantly and vigorously so that the eggs won't curdle, until mixture thickens and bubbles burst on the surface. Remove from heat and whisk in vanilla and butter. Strain through a fine-mesh strainer set over a bowl. Press a piece of plastic wrap directly onto the surface of the cream to prevent it from creating a skin. Let cool to room temperature, then refrigerate until chilled.

Chocolate ganache: Place chocolate in a medium heat-proof bowl. Set aside. In a small saucepan over medium heat, bring cream just to a boil. Immediately pour cream over chocolate and let sit without stirring for 2 minutes. Then, whisk mixture gently until completely melted and smooth.

Assembly: Place one cake layer on a plate or cake stand. Spread pastry cream evenly on top. Place second cake layer on top and gently press down to adhere to the pastry cream. Pour glaze into the center of cake, then gently spread it to the edges, allowing it to drip down the sides.

Keep cake in the fridge, covered, for up to 4-5 days. Allow it to come to room temperature before serving. I don't recommend freezing the cake because the pastry cream can break if frozen.