I don't usually get jealous of other people, but when I'm sitting at a coffee shop and my only company is decadent hot chocolate and a huge muffin, while the girl sitting next to me is dressed all sportive and eating a salad, I kind of wish I was a bit more like that and a bit less like Bridget Jones. That's what happened to me yesterday, and to comfort myself, I came back home and I made a large batch of coffee cake muffins. I know you guys can understand.
I've made about 4 different coffee cakes lately, but you guys seem to like them, so I didn't think you'd mind one more. The recipe is very similar to my classic coffee cake recipe, but I adjusted it slightly to get some nice looking muffins. These crumb muffins are slightly sweet and perfect for breakfast, with a crunchy crumbly cinnamony to-die-for topping. My non-American friends always ask why these crumb-type cakes are called coffee cakes if they aren't flavored with coffee, and the answer is that they are simply intended to be eaten with coffee as they go great with it—but then again, don't all cakes?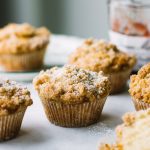 Coffee Cake Muffin Recipe
---
Ingredients
For the streusel:
¾

cup

(100 g/3.5 oz) all-purpose flour

½

cup

(100 g/3.5 oz) granulated sugar

1

teaspoon

ground cinnamon

85

g/3 oz unsalted butter

, melted
For the muffins:
1½

cups

(200 g/7 oz) all-purpose flour

1¼

teaspoons

baking powder

¼

teaspoon

baking soda

¼

teaspoon

salt

75

g

(2/3 stick/2.6 oz) unsalted butter, softened to room temperature

¾

cup

(150 g/5.3 oz) granulated sugar (or 1 cup if you've got a real sweet tooth)

1

large egg

, at room temperature

1 ½

teaspoons

vanilla extract

3/4

cup

(180 ml) sour cream
Instructions
Preheat oven to 375F/190C. Line muffin cups with liner papers.

To make the crumbs: In a medium bowl, whisk together flour, sugar, and cinnamon. Add melted butter and mix with a fork until mixture is uniformly moistened and crumbs form. Set aside.

To make the muffins: In a medium bowl, sift together flour, baking powder, baking soda, and salt. Set aside. In a standing mixer fitted with the paddle attachment, beat together butter and sugar on medium speed until light and fluffy, about 3 minutes. Scrape down the sides and bottom of the bowl as necessary. Add the egg and beat until combined. Beat in vanilla extract. Reduce mixer speed to low. Add half of the dry ingredients and beat just until combined. Beat in sour cream, followed by the other half of the dry ingredients and beat only until combined.

Divide batter evenly between 10-12 muffin cups, then sprinkle with crumb topping. Bake for 15-20 minutes until a toothpick inserted into the center of a muffin comes out clean. Allow pan to sit on a wire rack for 10 minutes, then remove muffins from pan and let cool completely on a wire rack.

Muffins are best the same day they are made, but can be frozen, tightly covered, for up to 2 months. To thaw, place overnight in the fridge.
SaveSave