With only 4 ingredients, these quick, easy, and super delicious puff pastry apple tarts will be ready in a matter of minutes.
The phrase 'easy as pie' has never been truer. This apple tart is hassle-free, unbelievably delightful, and is probably the easiest and quickest tart you'll ever make.
Next time your guests are coming, trust me that this is the dessert you need to make. Serve them a warm piece with some powdered sugar and ice cream, and they will never want to leave. Unless you do want them to leave, in which case serve them something else and make this just for you.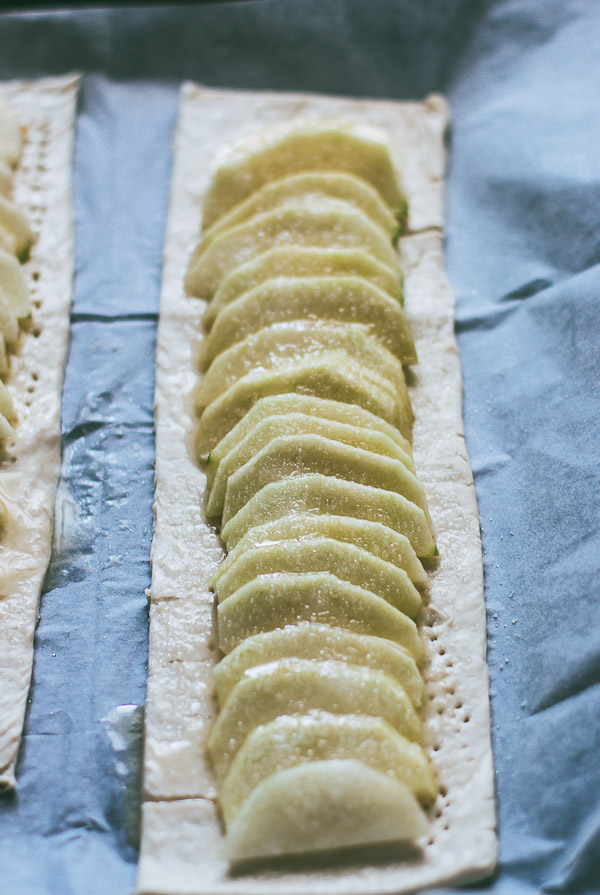 Puff Pastry
Rolled puff pastry sheets come in different sizes in different countries. After thawing the pastry sheet (best done by leaving it in the fridge for a few hours), unfold and cut it to the size mentioned in the recipe. A single store-bought package is sure to be enough, and you will probably need to use only about half.
I usually cut the pastry to 9-10 cm wide so the apples fit perfectly and still have a little border around them, and I make them as long as I want, usually about 30cm so it fits a standard baking pan. However, you can make the tarts in any shape or size you like. You can make one large and wide tart or a round one and arrange the apples in a few rows, slightly overlapping each other. Sprinkle with some sugar, drizzle with some butter, and that's it.
My rule of thumb is this: for every apple I'm using (each apple weighs about 6-7 ounces) I use 1.5 tablespoons of sugar and 1.5 tablespoon butter. You can also sprinkle some cinnamon or sliced almonds if you like.
You can use any stone fruit instead of apples. Plums, apricots, and cherries are all great options.
Easy Puff Pastry Apple Tart
With only 4 ingredients, these quick, easy, and super delicious puff pastry apple tarts will be ready in a matter of minutes.
---
Ingredients
Frozen and thawed puff pastry

(one store-bought package is enough)

2-3

apples of your choice

(I like Granny Smith)

3

tablespoons

(40 g) granulated sugar

3

tablespoons

(40 g) unsalted butter, melted
Instructions
Preheat oven to 400F/205C. Line a baking sheet with parchment paper and set aside.

Cut puff pastry into two long strips, each approximately 9x30 cm (3.5x12 inch).

Peel apples, cut them in half through the core, and remove the core using a melon baller or a knife. Place the halved apples cut side down, and slice into very thin pieces.

Arrange apples on the pastry, overlapping each other slightly, leaving a bit of a border around the sides. For each tart, sprinkle half of the sugar and gently brush with half of the melted butter.

Bake for 20-25 minutes, until edges are golden brown. Allow to cool completely on a wire rack.

Serve warm or at room temperature. Sprinkle with powdered sugar and serve with ice cream if you like.
SaveSave