If you can't resist a spoonful of dough when baking cookies then this edible cookie dough is for you! Made with no raw eggs or raw flour, it's perfectly safe to eat and irresistible.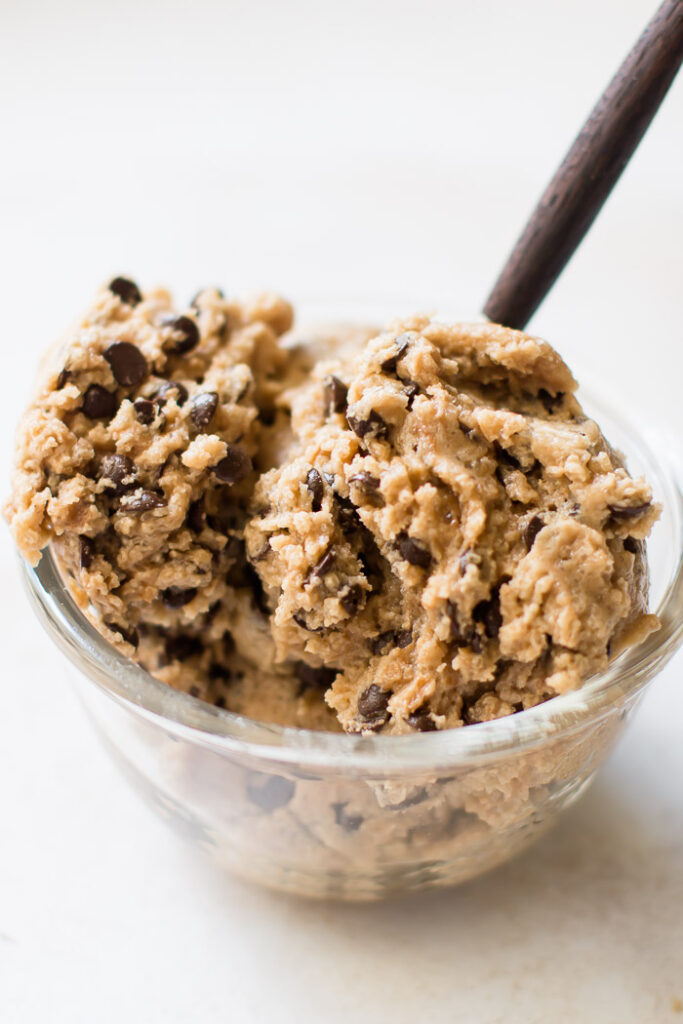 Perhaps my favorite part of making chocolate chip cookies is sneaking a taste of the dough before baking the rest into cookies. I know I'm not supposed to, but it's irresistible!
Cookie dough is one of the best treats out there. It's creamy, sweet and full of chocolate chip morsels in every bite. While regular chocolate chip cookie dough contains ingredients that can carry food born illnesses, I've perfected a recipe for edible cookie dough that lets you have your cake (or cookie dough), and eat it too.
I'm sharing a detailed guide to making safe edible cookie dough below, along with my favorite mix-ins to give you several flavors to choose from.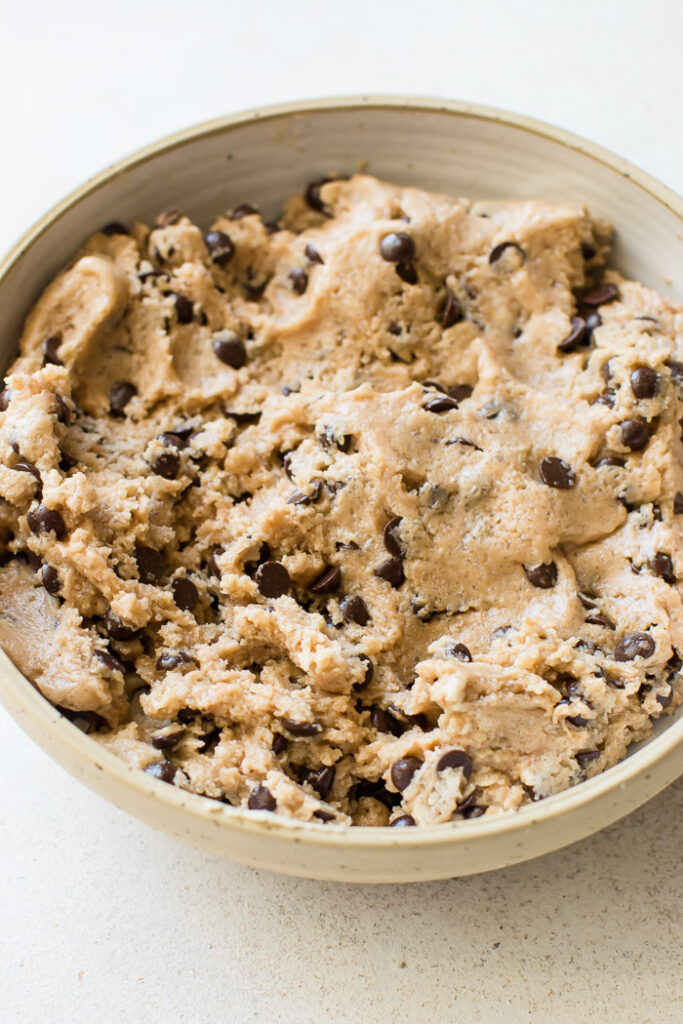 Ingredients in Edible Cookie Dough
This edible cookie dough recipe features your favorite cookie ingredients —flour, butter, sugar, and of course chocolate chips — but leaves out the eggs and heats the flour to kill off any bacteria. It's super easy to make and uses only 7 ingredients, many of which you probably have in your kitchen already.
Flour: I explain how to heat treat this to make it safe for eating.
Unsalted butter: cream it just like you do for regular chocolate chip cookies.
Light brown sugar: I prefer the deep flavor brown sugar adds but you can use a combination with granulated sugar if you'd like.
Heavy cream: thicker and richer than milk, this is what replaces the eggs to add moisture and creaminess to the edible cookie dough recipe. If you only have milk, I recommend using whole milk.
Chocolate chips: I like to use mini chocolate chips, but any kind would work.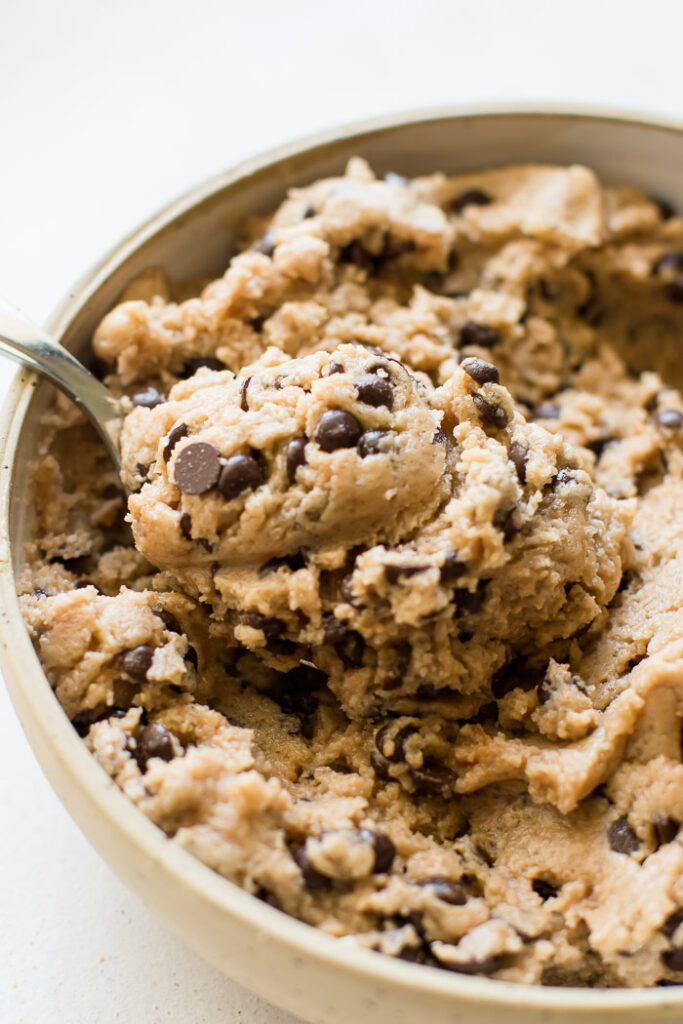 How to Heat Treat Flour
The first thing you need to do when making edible cookie dough is to heat treat your flour. You can do this in either the microwave or oven, and I recommend using an instant read thermometer to make sure you hit 165°F throughout.
Microwave method
Place your flour in a microwave-safe bowl and microwave it on high in 30 second intervals, stirring in between. Be sure to stir well since microwaves have hot spots and you don't want any of the flour to burn.
It should take about 60-90 seconds total, and I like to use an instant-read thermometer to make sure it has reached 165°F throughout. If you get a lower reading in part of the flour, simply stir it again and heat for an additional 30 seconds.
Oven method
Preheat your oven to 300°F. Spread your flour onto a rimmed baking sheet and bake in a process similar to the microwave. Every 2 minutes, take the flour out and give it a stir to prevent burning. It should take about 5-8 minutes for the flour to reach 165°F.
For both of these methods, let the flour cool completely before using. You want your flour to be soft and fluffy, so if it has clumps be sure to give it a whisk or sift the flour to remove any lumps.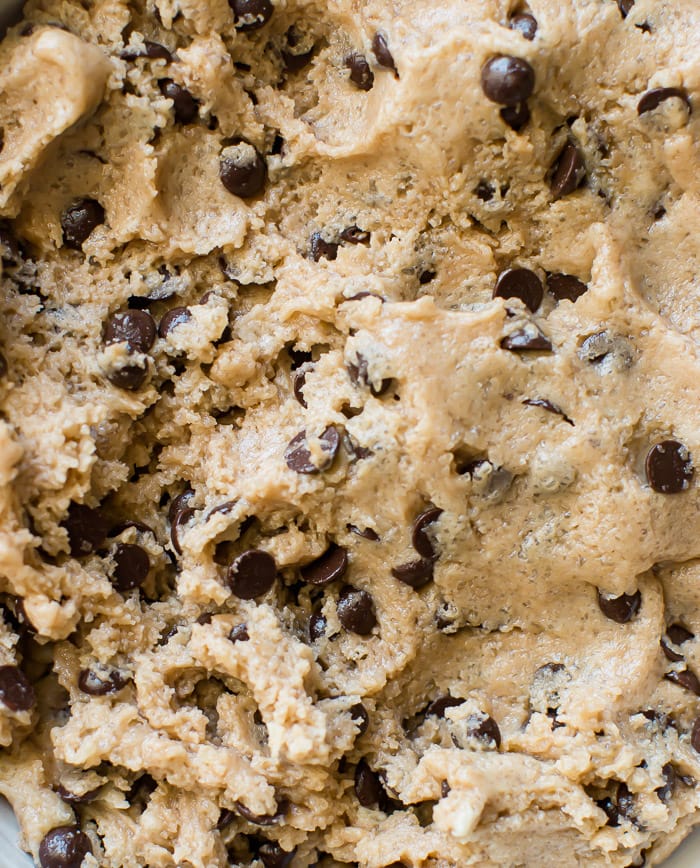 How to Make Edible Cookie Dough
Once you've heat treated the flour, the rest of the cookie dough recipe takes minutes to make.
Just like with regular chocolate chip cookies, you need to cream together the butter and sugar until light and fluffy. It's important to fully cream these ingredients since you want the sugar to be completely dissolved (If you have issues with gritty cookie dough, process the sugar in a food processor to make even smaller granules that will dissolve more easily with the butter).
Add the salt and vanilla extract and beat until combined. Mix in your heat treated flour, beating just until combined. Beat in 2 tablespoons of heavy cream, mixing only for a few seconds until creamy. You may need to add up to 1 additional tablespoon of heavy cream to reach your desired texture.
Stir in your chocolate chips, or any other mix-ins you want for your edible cookie dough. Some of my favorites include milk chocolate chips + pretzels or nuts, white chocolate chips + macadamia nuts or mini marshmallows. I usually use about 1 to 1 1/4 cups of mix-ins, but you can play around with the quantity to your preference.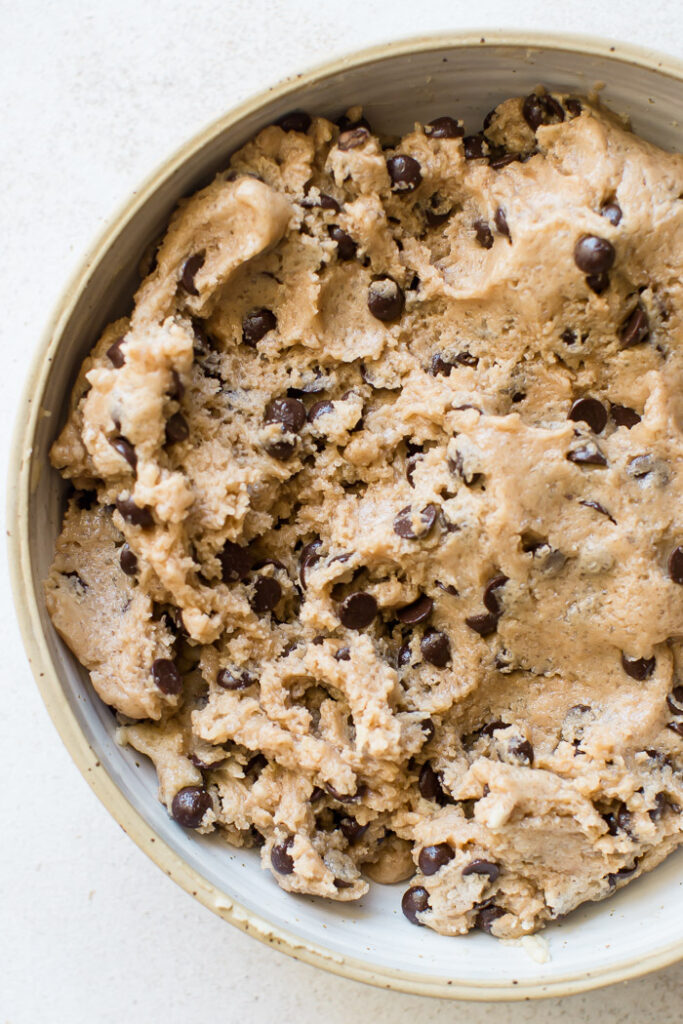 The edible cookie dough can be eaten right away or chilled in the refrigerator for up to a week. If chilling, let it sit out for at least an hour at room temperature before serving.
If you love cookie dough, then this edible cookie dough recipe is perfect for you. It's easy to make, adaptable to whatever mix-ins you desire, and is perfectly safe to eat. Try out the classic chocolate chip or let me know what other creations you come up with!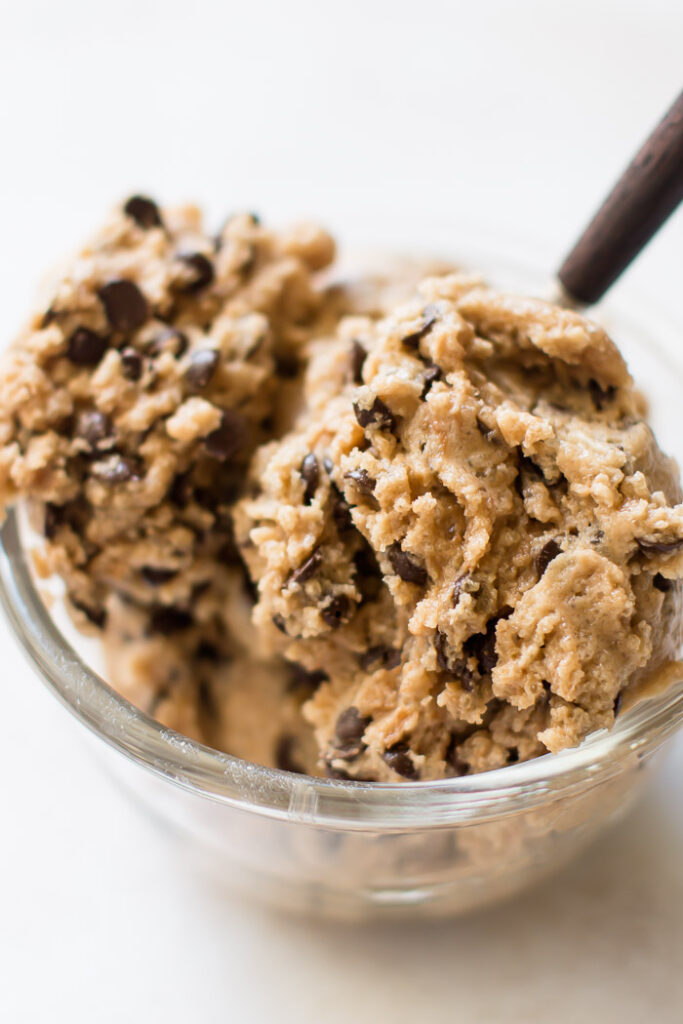 Other cookie recipes: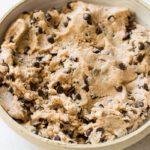 Edible Cookie Dough
---
Ingredients
1

cup

(140g) all-purpose flour

1/2

cup

(115g) unsalted butter, softened to room temperature

1

cup

minus 1 tablespoon

(180g) light brown sugar

1/4

teaspoon

salt

1 1/2

teaspoons

vanilla extract

2-3

tablespoons

heavy cream

(or whole milk)

1

cup

(170g) chocolate chips (mini chocolate chips are great for this recipe)
Instructions
First, heat treat the flour in the microwave or oven.

Oven method: Preheat oven to 300°F/150°C. spread flour out onto a rimmed baking sheet. Bake in preheated oven for 5-8 minutes, or until flour temperature registers 165°F/74°C on an instant read thermometer. To prevent the flour from burning, I recommend stirring it often, about every 2 minutes, and checking the temperature after about 5 minutes. Let flour cool completely before using.

Microwave method:This is my preferred method because it's easier but it's more tricky because microwaves have hot spots so you'll need to be careful not to overheat the flour. Place the flour in a bowl and microwave on high for 25-30 seconds at a time, stirring well between each interval to make sure it doesn't burn. This should take 60-90 seconds in total. If possible, use an instant-read thermometer to make sure it has reached 165°F/74°C throughout. Let flour cool completely before using.

In a mixer bowl fitted with the paddle attachment (a hand mixer is ok), beat together butter and sugar on low-medium speed for 3-4 minutes until creamy and smooth and the sugar is dissolved into the butter. Add salt and vanilla extract and beat until combined. Add flour and beat just until combined. Add 2 tablespoons of heavy cream and beat for a few seconds until creamy. Depending on your desired texture of the cookies, add up to 1 tablespoon more heavy cream. Mix in chocolate chips.

Transfer cookie dough to a large serving bowl or individual serving dishes and cover with plastic wrap so it won't dry out. Store at room temperature if using the same day or in the fridge. Take it out of the fridge and leave at room temperature for at least 1 hour before serving. You can freeze the cookie dough for up to 2 months, then thaw overnight in the fridge or at room temperature.