With the filling being eggless and alcohol-free, this is a quick version of tiramisu – a dessert made of layers of coffee-soaked ladyfingers and a rich, airy mascarpone cream.
It took a long time before I made a "real" tiramisu. Instead, I kept coming back to today's recipe, and not just because it was easier. In a classic tiramisu recipe, Marsala, a slightly sweet red wine, is added (although there are substitutions). While there are several valid reasons to omit alcohol, I simply didn't feel like buying a whole bottle for just a few drops. Then one day about two years ago, Erez showed up after work, holding a bottle of Marsala.
Apparently, this wine is also a perfect addition to tomato sauce, which is why Erez bought it. A few days before, we had tasted an amazing tomato sauce at a restaurant, and he wanted to try recreating it for us. He's a superb cook, and I'm a lucky girl.
At first, I wasn't sure why the name Marsala sounded familiar, but it kept resonating in my head. It took me 3 days to realize it's the one ingredient I was always missing for tiramisu. A lot of tiramisus have been made in my kitchen since then.
Although I love a traditional tiramisu, this quicker version isn't less delicious, and I find reasons to make it all the time. With the filling being egg-free, the dessert is much quicker to put together.
The mascarpone, folded with the cream, makes a thick yet airy mixture. I couldn't stop eating spoonfuls of it! Mascarpone is always SO good! If you want a richer filling, you can add more mascarpone (up to ½-1 cup); if you want a lighter filling, you can add more whipping cream, (up to ½-1 cup). In the last case, know that the dessert will be harder to manage if made in a dish instead of glasses because the cream will make it extra airy.
The alcohol in the recipe is optional, but definitely add it if you can.
I prefer serving this particular tiramisu in individual glasses or trifles because, due to the lack of eggs in the filling, the cream sets less than in a traditional tiramisu. Besides, it looks fancier served this way. If you choose to make it in a baking dish, make sure you give it a few hours (at least 8) to set completely.
For more detailed information on how to assemble the recipe, or if you're looking for a more traditional tiramisu, please refer to my other tiramisu post.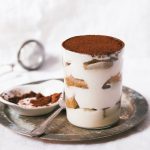 Quick Alcohol-Free Tiramisu
YIELD
:
1
8-inch baking dish or 5-6 glasses (double the recipe for a 9x13-inch dish)
With the filling being eggless and alcohol-free, this is a quick version of tiramisu – a dessert made of layers of coffee-soaked ladyfingers and a rich, airy mascarpone cream.
---
Ingredients
Coffee Syrup:
1

cup

(240 ml) brewed espresso or strong coffee (made of 1 cup hot water mixed with 2 tablespoons instant coffee granules or espresso powder)

2

tablespoons

granulated sugar

2

tablespoons

coffee or almond liqueur

, optional
Filling:
1

cup

(227 g/8 oz.) mascarpone cheese, at room temperature

1

teaspoon

pure vanilla extract

2

tablespoons

Marsala wine

, dark rum, or brandy, optional

1

cup

(240 ml) heavy cream

1/3

cup

(65 g) granulated sugar

200

g/7 oz.

(20-24 units) ladyfingers
Instructions
For coffee syrup: In a small bowl, combine hot coffee, 2 tablespoons sugar, and 2 tablespoons liqueur. Mix until sugar dissolves. Set aside to cool.

For filling: In a large bowl, whisk mascarpone vigorously by hand until creamy and smooth. Whisk in vanilla extract and alcohol. In a different mixer bowl, whisk together heavy cream and sugar using an electric mixer until stiff peaks form. Fold whipped cream into mascarpone in 2 additions until mixture is smooth.

Assemble tiramisu: Dip ladyfingers very quickly (less than a second) into the coffee syrup and line them in one layer in an 8-inch baking dish (see note for individual glasses). If necessary, break a few ladyfingers to fit them in the dish. Spoon half of the filling over the ladyfingers and smooth the top. Repeat with a second layer of coffee-dipped ladyfingers, then with the rest of the cream. Cover and refrigerate for at least 6 hours or up to 2 days. I don't suggest freezing tiramisu since it will ruin its texture.

Serve cold. Right before serving, dust the top with cocoa powder or grated chocolate (or both!).

For individual glasses: Spoon a dollop of the mascarpone cream mixture into the bottom of the glass. Break each ladyfinger into 4 pieces, soak in the coffee and place on top of the cream. You don't have to use all 4 pieces at once; it depends on the size of the glass. Repeat with layering filling and ladyfingers, creating 2-3 layers in total. For each ladyfinger, add about 2-3 heaping tablespoons of cream. It doesn't have to be exact – if you like more cream, go ahead and add more. For each serving, use 2-3 ladyfingers in total. For individual servings, you might need fewer ladyfingers than what the recipe suggests.