An easy tiramisu for chocolate lovers that is made with layers of mascarpone cream, chocolate ganache, and ladyfingers dipped in hot chocolate.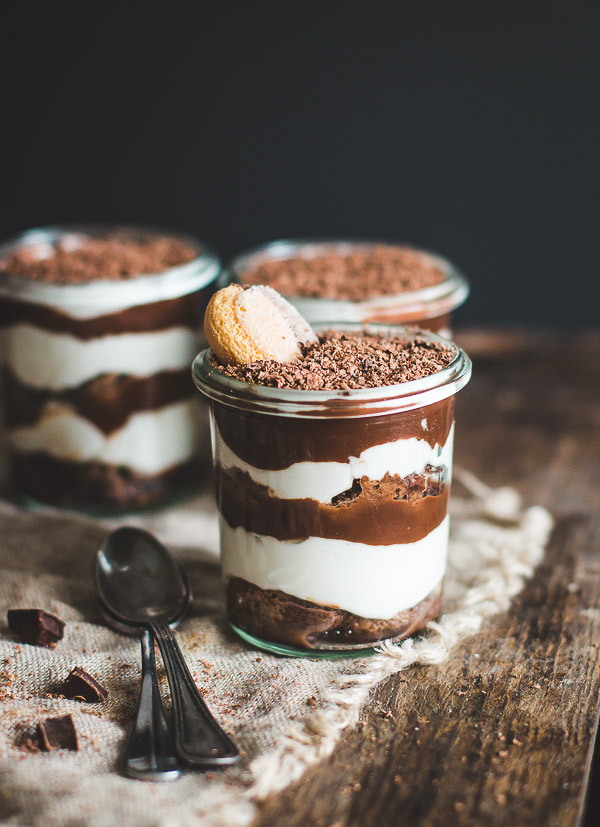 I'm always surprised to find out that not many people like the coffee flavor in tiramisu because I, on the other hand, am a huge fan of it—although that might not be the best example because I'm a huge fan of everything with sugar in it.
If you're one of those people who don't like coffee desserts, then this version of tiramisu is for you (unless you don't like chocolate either, in which case what do you eat?). I'll admit that I wasn't sure at first that the chocolate and mascarpone would be great together, but I couldn't be more wrong.
Just imagine this: a spoonful of airy mascarpone cream, cookies dipped in hot chocolate, and smooth chocolate ganache. You really can't go wrong here.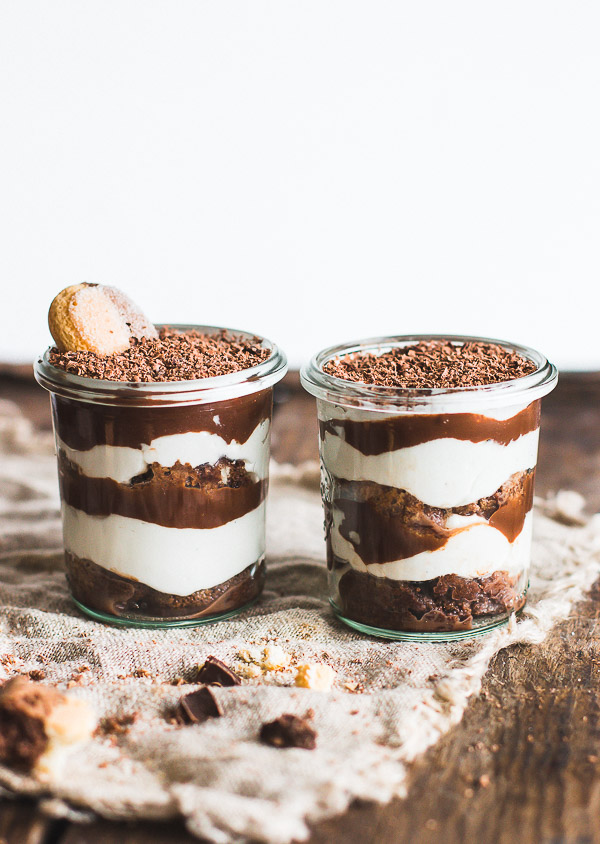 Simple to make
Although there are a few layers that need to be prepared separately, they are all pretty simple to make. I've even made some alterations from the traditional recipe, such as no eggs being used in the filling to make the process easier, so don't let that intimidate you.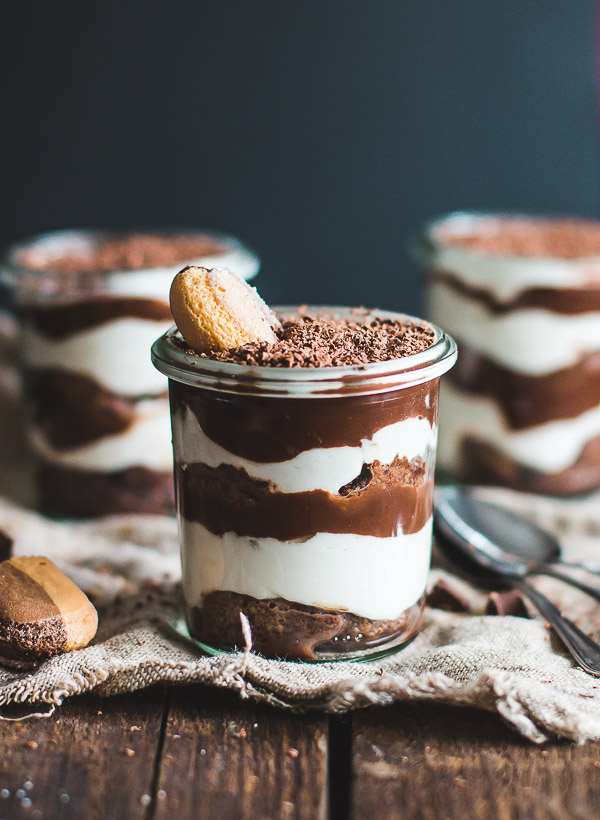 Chocolate syrup or coffee syrup for dipping?
To make this dessert coffee-free and pure chocolate goodness, I dip the ladyfingers in a cocoa mixture that tastes like hot chocolate. If you prefer some coffee flavor, you can replace the chocolate syrup with the classic coffee syrup for tiramisu. Simply mix together 1 cup brewed espresso or strong coffee + 2 tablespoons sugar + 3 tablespoons coffee liqueur (the latter is optional).
I like to add chocolate liqueur to the chocolate syrup because it really takes it to the next level and reminds me of real tiramisu. Use it if you can!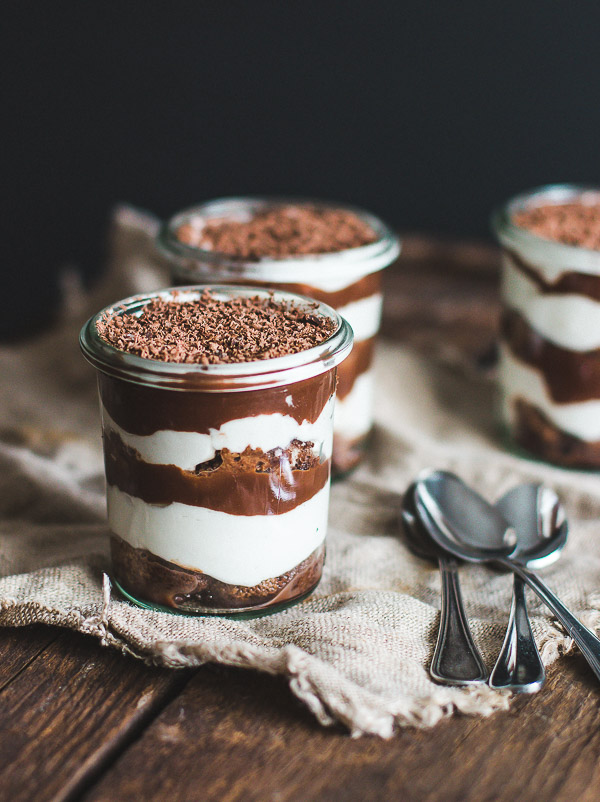 You can also try my amazing recipe for a classic tiramisu or this easier version.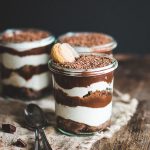 Chocolate Tiramisu
YIELD
6
individual cups (200 ml each)
Ingredients
Chocolate Syrup for Dipping:
1

cup

hot water

1 ½

tablespoons

unsweetened cocoa powder

2

tablespoon

granulated sugar

2-3

tablespoons

chocolate liqueur or brandy

, optional
Chocolate Ganache:
100

g/3.5 oz dark chocolate

, coarsely chopped

½

cup

(120 ml) heavy cream
Filling:
1

cup

(227 g/8 oz) mascarpone cheese, at room temperature

1

teaspoon

pure vanilla extract

1

cup

(250 ml) heavy cream

⅓

cup

(65 g/2.5 oz) granulated sugar

about 200g/7 oz

(18-24 units) ladyfingers

cocoa powder or grated chocolate

, to sprinkle on top
Instructions
For the chocolate syrup: In a small bowl, combine hot water, cocoa powder, 2 tablespoons sugar, and liqueur. Set aside to cool slightly.

For the chocolate ganache: Place chopped chocolate and cream in a medium heat-proof bowl. Carefully microwave in 20-second intervals, stirring in between each interval, until melted. Alternatively, set it over a saucepan of simmering water, stirring occasionally. Set aside to cool slightly.

For the filling: In a large bowl, place mascarpone and vanilla extract and whisk vigorously until creamy and smooth (there's no need to use the mixer for this). In a different mixer bowl, using an electric mixer, whisk together heavy cream and sugar until stiff peaks form. Fold whipped cream into mascarpone in 2 additions until mixture is smooth.

Assemble tiramisu: Dip ladyfingers very quickly (less than a second) into the chocolate syrup. Break each one into 4 pieces and place them at the bottom of the glasses (you don't have to use all 4 pieces at once; it depends on the size of the glass.). Spoon a dollop of the mascarpone cream mixture on top. Add a thin layer of chocolate ganache, about 1-1.5 teaspoons, on top of the mascarpone cream. Repeat once more and finish with another layer of mascarpone cream. Dust the top with cocoa powder or grated chocolate.

Refrigerate for at least 1-2 hours until set. Tiramisu will keep for 3 days in the fridge.
SaveSave
SaveSave