The ultimate recipe for traditional tiramisu – a dessert made of layers of coffee-soaked ladyfingers and a rich, velvety mascarpone cream.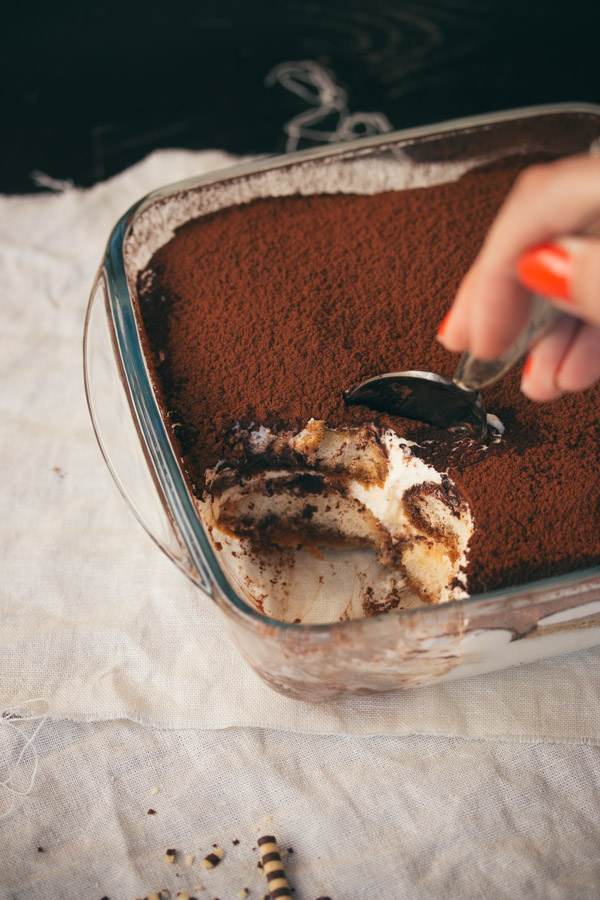 It's easy to tell if you've made a tiramisu just right. Each bite will have rich yet airy yellowish cream, a touch of alcohol, and dreamily soft, but not mushy, coffee-flavored ladyfingers. It should also have a subtle sweetness with just the right bitterness from the coffee and cocoa powder.
Although I like to go on and on about my stories in some of my posts, today I'm going to concentrate solely on the dessert because I have plenty to share with you about it.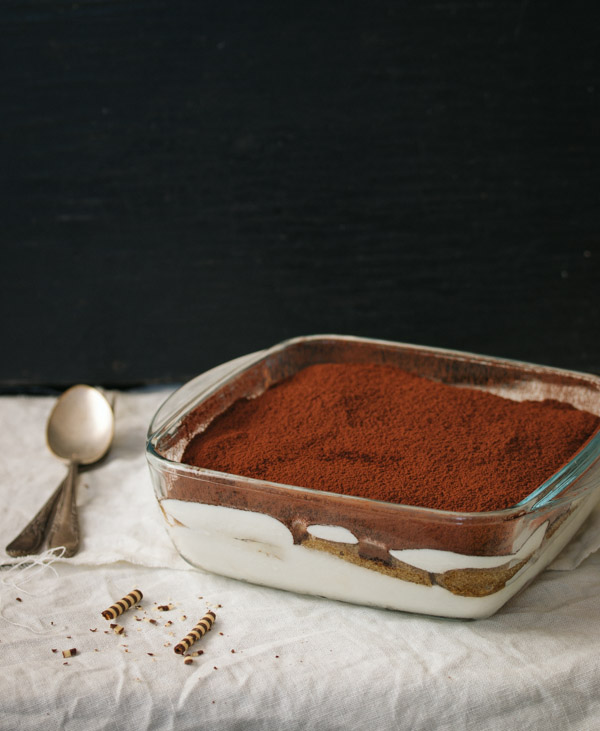 In most traditional tiramisu recipes, you'll find egg yolks. This is what gives the filling its yellowish color, decadent taste, and thick texture. While some recipes, such as the most classic ones, use raw eggs, it's always best to cook them due to the risk of salmonella, so that's what this recipe calls for.
Let's take a look at some of the other ingredient options:
Mascarpone, cream cheese, or both? For the best results, use only mascarpone. Cream cheese has a sourer taste than the sweet mascarpone. Some recipes combine these two, which does give a more complex flavor, but for the richest (and, in my opinion, best) taste, I use mascarpone only.
Egg whites or whipping cream (heavy cream)? The majority of recipes use one of these two. Both must be whipped in order to make a light filling, then folded into the egg yolks and mascarpone. However, each will contribute a different flavor. Egg whites will make the batter more airy, while heavy cream will add richness. One thing to consider is that egg whites are usually used raw.
In today's recipe, I use whipping cream. Not only do I choose it because – let's be honest – heavy cream and I are best friends, but I prefer my desserts to be as rich as possible.
In order to use egg whites instead of whipping cream, simply omit the cream and use 3 egg whites instead. Whisk them using an electric mixture until stiff peaks form, then fold them into the mascarpone-egg yolk mixture. Since the eggs are used raw, be sure to use the freshest eggs possible with intact shells.
Alcohol: Marsala is a sweet red wine traditionally used for tiramisu. If you're looking for a substitution, then dark rum is my favorite, but brandy is another good option. You can also use coffee or almond liquor.
Here is a basic overview of the steps in making this tiramisu recipe:
Prepare the coffee and set aside to cool.
Make a sabayon or zabaione, which is a custard made from egg yolks, sugar, and sweet wine (in our case, Marsala). Cook these 3 ingredients together over a bain marie – a pot of boiling water turned to low heat and over which you cook ingredients in a heatproof bowl. This method helps to cook the eggs slowly and in a way that they won't scramble. You'll need to constantly whisk the mixture while it's on the bain marie, either by hand or with an electric mixer (easier), until the mixture is finger hot, has doubled in volume, and has a thick, foamy texture. Once done, remove from the heat and let it cool slightly (about 15 minutes).
Using an electric mixer, whisk the heavy cream until stiff peaks form.
Add mascarpone to the cooled egg yolk mixture and whisk by hand until smooth. Fold in the cream in 2 additions.
Assemble the dessert. Dip each ladyfinger into the coffee syrup (do this quickly, less than a second) and place in the pan in a single layer. Add half of the mascarpone cream and smooth the top. Repeat with a second layer.
Tiramisu should be served cold. Refrigerate for at least 6-8 hours in order to let the filling set properly. This will also give the ladyfingers enough time to absorb the liquids and soften to just the right texture.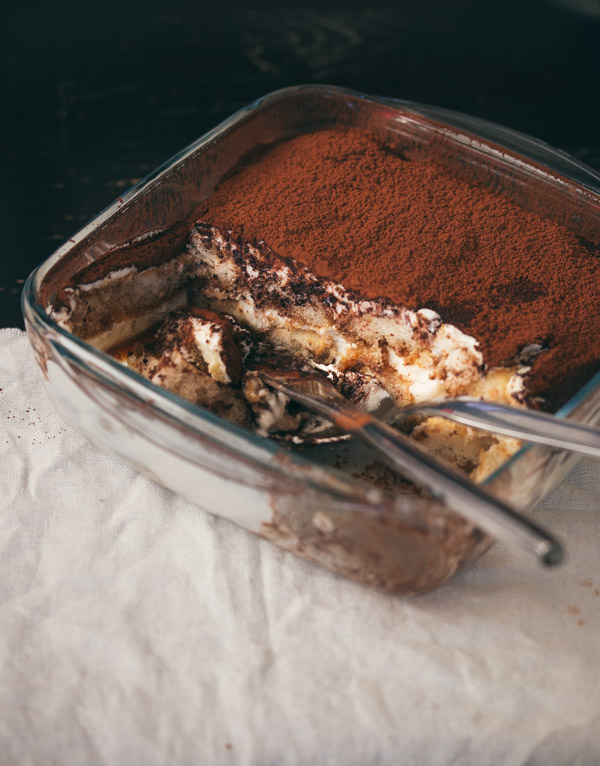 Feel like you need a different recipe? Here's a quicker one that contain no eggs or alcohol.

Classic Tiramisu
Yields:
1 8-inch baking dish or 5-6 individual glasses (double the recipe for a 9x13-inch dish)
A recipe for traditional tiramisu – a dessert made of layers of coffee-soaked ladyfingers and a rich, velvety mascarpone cream. Read the full post to learn about different variations and substitutions for this Italian dessert.
Ingredients
Coffee Syrup:
1 cup brewed espresso or strong coffee (made of 1 cup hot water mixed with 2 tablespoons instant coffee granules or espresso powder)
2 tablespoons granulated sugar
2 tablespoons Marsala, dark rum, brandy, or coffee or almond liquor
Filling:
3 egg yolks
⅓ cup (70g/2.5 oz) granulated sugar
2-3 tablespoons Marsala wine, dark rum, or brandy
¾ cup (180ml) heavy cream
1 cup (227g/8 oz) mascarpone cheese, at room temperature
about 200g/7 oz (20-24 units) ladyfingers or Savoiardi biscuits
Sifted cocoa powder or grated chocolate
Instructions
For the coffee syrup: In a small bowl, combine hot coffee, 2 tablespoons sugar, and 1-2 tablespoons Marsala. Mix until sugar dissolves. Set aside to cool.
For the filling: Place egg yolks, sugar, and Marsala in a medium heatproof bowl and set over a bain marie (i.e., place the heatproof bowl over a saucepan of boiling water; the bowl should not touch the water). Reduce heat to low. Whisk constantly using a hand whisk, or preferably a handled electric mixer, until the mixture doubles in volume, is hot to the touch, and has a thick, foamy consistency (around 5-10 minutes). Remove from heat and set aside to cool slightly, about 15 minutes. In a different mixer bowl, whisk heavy cream using an electric mixer until stiff peaks form. Once egg yolk mixture has cooled, add the mascarpone and whisk until smooth. Then gently fold in the whipped cream in 2 additions until smooth.
Assemble tiramisu: Dip ladyfingers very quickly (less than a second) into the coffee syrup and line them in one layer in an 8-inch baking dish (see note for individual glasses). If necessary, break a few ladyfingers to fit them in the dish. Spoon half of the filling over the ladyfingers and smooth the top. Repeat with a second layer of coffee-dipped ladyfingers, then with the rest of the cream. Cover and refrigerate for at least 6 hours or up to 2 days. I don't suggest freezing tiramisu since it will ruin its texture.
Serve cold. Right before serving, dust the top with cocoa powder or grated chocolate (or both!).
For individual glasses: Spoon a dollop of the mascarpone cream mixture into the bottom of the glass. Break each ladyfinger into 4 pieces, soak in the coffee and place on top of the cream. You don't have to use all 4 pieces at once; it depends on the size of the glass. Repeat with layering filling and ladyfingers, creating 2-3 layers in total. For each ladyfinger, add about 2-3 heaping tablespoons of cream. It doesn't have to be exact – if you like more cream, go ahead and add more. For each serving, use 2-3 ladyfingers in total. For individual servings, you might need fewer ladyfingers than what the recipe suggests.
SaveSave