This sweet fig jam is so easy to make at home! With its unique taste, it goes perfect with either sweet or savory dishes like scones, muffins, breads, or cheeses.
I have this ridiculous amount of ripe figs that I enthusiastically bought since the season started. My solution to this is always jam, so I threw all the figs into a large pot and made homemade jam.
You can make either jam or preserves with this recipe. The only real difference between them is that preserves contain large chunks of fruit, while jam has a smoother consistency. So if you prefer pieces of fruit in your spread, simply cut them to the desired size.
Unlike the more common jams such as strawberry or raspberry, fig jam has a unique taste that is kind of fancier and pairs perfectly with cheeses.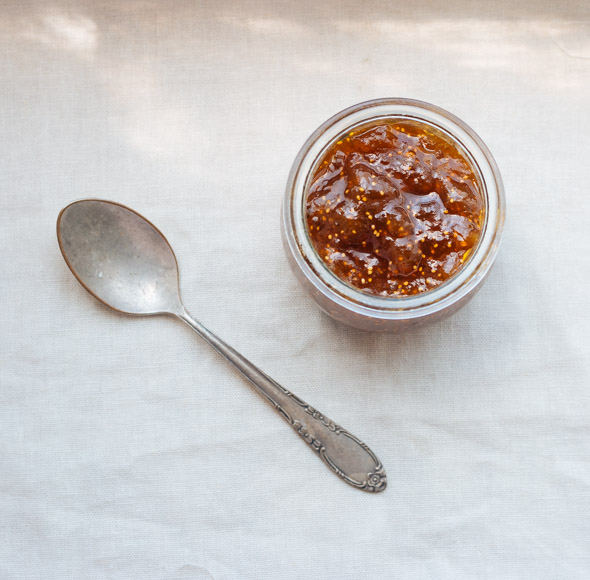 The jam needs to be cooked for a long time on low heat. It may take anywhere between 30-60 minutes, depending on the heat and the amount of liquid that need to evaporate, so be patient (unlike me). Generally, the texture needs to be thick and pour off a spoon in a stream, not drip by drip. It will be noticeable once it starts to thicken. That's how I test it, but if you want to be even more sure, then there are 2 more ways to check. One is that the temperature has to be over 220F degrees. The second is that if you place some jam on a plate and put it in the freezer for 2 minutes, then run you finger through it, it should stay divided.
You can add flavors to the jam such as vanilla and cinnamon, it's mentioned in the recipe but it's optional. You can replace some of the sugar with honey for more flavor, but don't replace too much since the honey can easily overpower the delicate figs. I suggest starting with 1/4 cup honey instead of 1/4 cup sugar. I find the 1.5 cups of sugar in the recipe sweet enough for my taste, but my original recipe called for 2 cups, so you can choose. Either one is fine.
You can keep the jam for 2 or even 3 months in the refrigerator. If you would like to keep it for longer, then there's a process for that. Start by sterilizing your jars and lids (10 minutes in boiling water should do the trick). Wipe the rims and fill the jars with jam, leaving 1/4 – 1/8 inch space and seal well with lids. Next, put the jars in a waterbath – a big pot with a rack on the bottom filled with boiling water, enough to cover the jars by at least 1 inch. Process the jars in the waterbath for 5 minutes. Then keep your jam in a dark, cool place until ready for use. This should keep your jam fresh for up to a year. Once you open it, keep it in the fridge. There's plenty of information online with step-by-step photos on how to do this.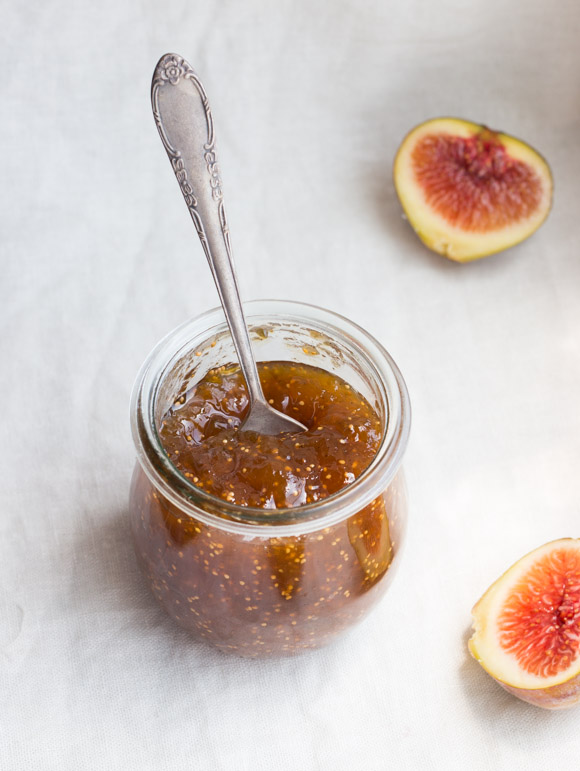 More Fig Recipes: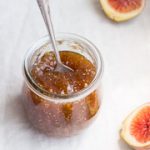 Fig Jam
This sweet fig jam is so easy to make at home! With its unique taste, it goes perfect with either sweet or savory dishes like scones, muffins, breads, or cheeses.
---
Ingredients
2

pounds

figs

, stemmed and cut into 1/2-inch pieces (about 4 cups sliced figs)

1 1/2

cups

(300 grams/10.5 ounces) granulated sugar

1/4

cup

water

1/4

cup

lemon juice

Pinch

of salt

1

vanilla bean

, split and seeded (optional)

1

cinnamon stick

(optional)
Instructions
In a medium saucepan, large enough to fit the figs, place all ingredients (if you add vanilla, add both the pod and seeds) and bring to a boil until sugar dissolves, stirring occasionally. Reduce heat to low and cook figs, uncovered and continuing to stir occasionally, for 30-60 minutes or until the liquid is thick and sticky and drops heavily from the spoon (refer to post for more ways to check for being done). Remove from heat and discard vanilla pod and cinnamon stick. For a chunky jam, gently mush large pieces of figs with a fork or potato masher; for a smoother jam, process in a food processor. Spoon jam into jars, leaving ¼ inch space and close with lid. Let cool to room temperature, then refrigerate. Store jam in the refrigerator for up to 2 months.