Poppy seeds help give these moist, fluffy lemon muffins a deliciously delicate crunch.
I promised myself I wouldn't be making any lemon recipes this month, especially not these lemon muffins, which my family asks for about every other week. While I was taught to never make promises I can't keep, I've heard it's considered legitimate to break promises for the greater good, and I believe these muffins are just that. Ok, maybe this isn't the only promise I've broken. There may be a few others I make to myself and have trouble keeping, such as eating less in general, or reducing the amount of desserts per day from 2 (or 3, or 4) to just 1. Less than 1 dessert per day and my life would be meaningless. That's pretty sad, I know.
Evidently I have a thing for muffins, not just because they're my favorite thing to snack on with coffee, but because they're easy and quick to make. This means that if you want your muffins now, you will get them now. To make muffins, you just need to place all the dry ingredients in one bowl, the wet ingredients in another bowl, then mix the two together and bake!
These muffins are so flavorful, it's incredible. I ate 2 of them immediately after getting them out of the oven, without even thinking straight. They're moist and fluffy, and compared to quick breads which are usually dense, they're pretty light. If I need to prepare something quick for a picnic or brunch, these muffins are among the first things to come to mind. They are amazing without the poppy seeds, but I love that extra texture and crunch.
The muffins are delicious without the glaze in case you want to skip it, but it makes them pretty and adds a sweet tangy flavor, just like in a good old-fashioned lemon cake.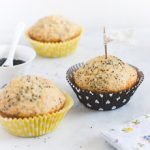 Lemon Poppy Seed Muffins
YIELD
:
12
standard-sized muffins
Poppy seeds help give these moist, fluffy lemon muffins a deliciously delicate crunch.
---
Ingredients
For the muffins:
1 3/4

cups

(250 g/8.8 oz) all-purpose flour

1 1/2

teaspoons

baking powder

1/2

teaspoon

baking soda

1/4

teaspoon

salt

3/4

cup

(150 g/5.3 oz) granulated sugar

2

tablespoons

poppy seeds

2

teaspoons

lemon zest

2

large eggs

3/4

cup

(180ml) sour cream or plain yogurt

3/4

stick

(85 g/3 oz) unsalted butter, melted and cooled

1/4

cup

(60ml) freshly squeezed lemon juice (1-2 lemons)

1/2

teaspoon

vanilla extract
For the lemon glaze (optional):
1

cup

(115 g/4 oz) powdered sugar

2-3

tablespoons

lemon juice
Instructions
To make the muffins: Preheat oven to 400F/200C degrees. Butter 12 muffin cups or line them with liner papers.

In a large bowl sift together flour, baking powder, baking soda and salt. Mix in the sugar, poppy seeds and lemon zest.

In a medium bowl, whisk the eggs with the sour cream, melted butter, lemon juice and vanilla extract just until combined. Pour the wet ingredients into the dry ingredients and stir with a wooden spoon or a rubber spatula just until combined. Do not over mix. The batter should be thick and lumpy.

Divide the batter evenly between the muffin cups. Bake for 15-20 minutes until a toothpick inserted into the center of the muffin comes out clean. Allow to cool for 10 minutes on a wire rack before removing from pan.

To make the glaze: Place powdered sugar in a small bowl. Add lemon juice, a bit at a time, and whisk, until the consistency is thick but pourable. Once the muffins have cooled, drizzle their tops with the glaze.

Muffins are best the same day they are made, but can be stored in an airtight container at room temperature for up to 2-3 days. Alternatively, they can be frozen for up to 2 months. Thaw them on the counter, or overnight in the fridge.