These easy pumpkin muffins are light, tender, and super flavorful, and they stay moist for days. They take 10 minutes to make, and you don't need a mixer to make them. You won't be able to stop eating them!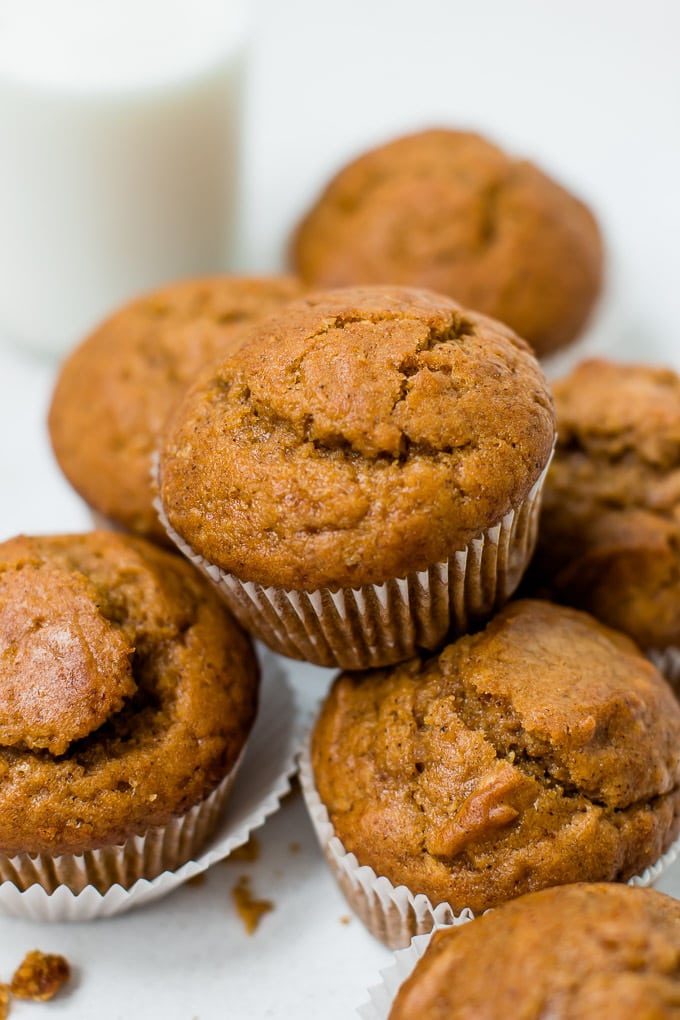 I was never a big fan of pumpkin until I added sugar to it. Although I'm Jewish and wasn't raised celebrating Christmas or Thanksgiving, I wait for this time of the year to indulge in all the comforting pumpkin cakes and pies, with their beautiful aroma and creamy texture. I remember one time when I was trick or treating when I visited my cousins, there was this lady who gave us beautifully wrapped pumpkin spice muffins instead of candy, and even as a child I liked the flavors so much that I ate the whole thing in a second.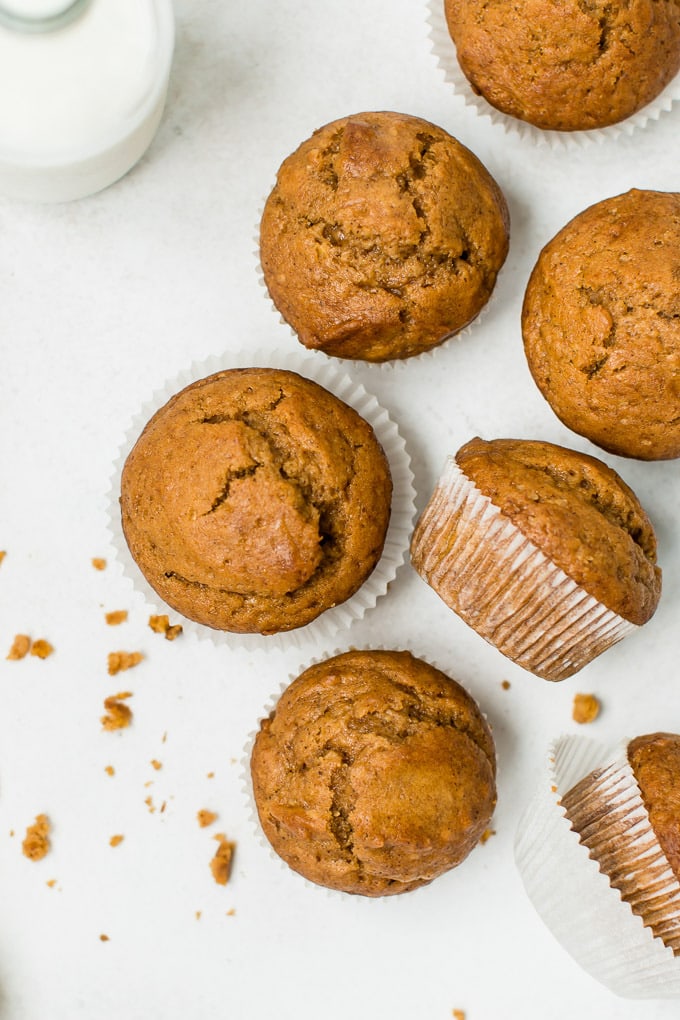 Flavor and Texture
Some pumpkin muffin recipes use a whole can of pumpkin puree but I use a bit less so the muffins aren't heavy and have a subtle pumpkin flavor. They are tender and stay moist for 3 days. You can see the texture at the end of the video below. I like to keep them in the fridge, and bring them to room temperature before serving, but if you're craving one right now (can't blame you), they will still be soft and delicious straight from the fridge. You can play with the amount of spices if you want. You can definitely taste the spice in there, but it's not overpowering the other flavors.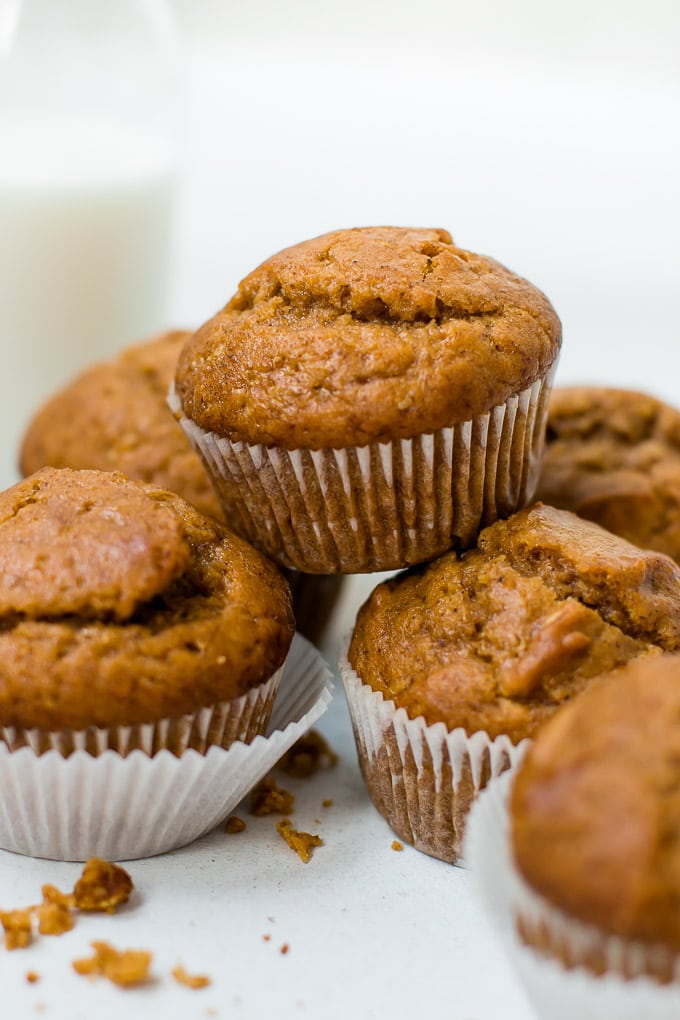 Make Pumpkin Bread Instead
You can use this pumpkin muffin recipe to make muffin bread in a standard loaf pan. I use a 9×5-inch pan. Bake it in a preheated oven at 350°F/180°C for 50-65 minutes until a toothpick inserted into the center of the bread comes out clean. If the top of the bread is browning too much while baking, cover the pan loosely with aluminum foil.
To make pumpkin chocolate chip muffins add 2/3 cup chocolate chips.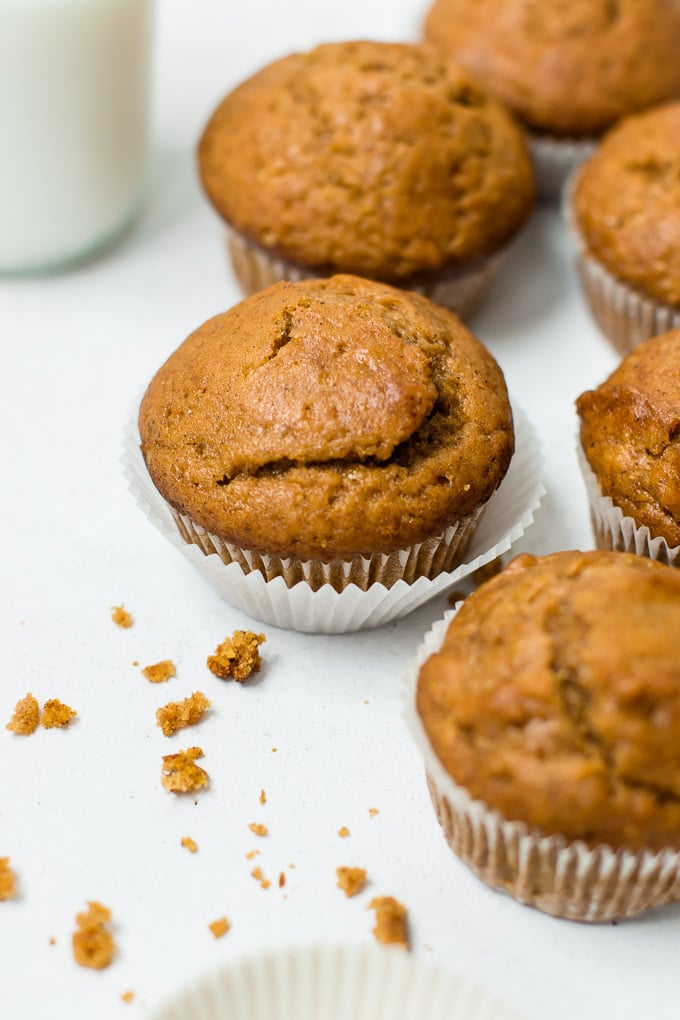 More Delicious Treats:
Pumpkin Muffins
---
Ingredients
1 and 2/3

cups

(230g) all-purpose flour

1

teaspoon

baking soda

1 and 1/4

teaspoons

ground cinnamon

1/2

teaspoon

ground ginger

1/4

teaspoon

ground nutmeg or freshly grated nutmeg

1/2

teaspoon

salt

2

large eggs

3/4

cup

(150g) granulated sugar

1/2

cup

(100g) light or dark brown sugar

1/2

cup

(120ml) vegetable or canola oil

1 and 1/4

cups

(285g) pumpkin puree (canned or fresh)

1/4

cup

(60ml) milk
Instructions
Preheat oven to 375°F/190°C. Grease a muffin pan or line with muffin liners.

In a large bowl whisk together flour, baking soda, cinnamon, ginger, nutmeg, and salt.

In a medium bowl, whisk together eggs, granulated sugar and brown sugar until combined. Ad oil and whisk until combined. Add pumpkin and milk and whisk until combined. Pour the pumpkin mixture into the flour mixture and mix gently just until combined.

Divide batter among muffin cups. Bake for 16-22 minutes until a toothpick inserted into the center of the muffin comes out clean. Allow to cool for 5 minutes in the pan, then transfer to a wire rack to cool completely.

These muffins stay moist for up to 5 days. Keep them in the fridge in an airtight container. Bring them to room temperature before serving. The muffins can also be frozen for up to 2 months.