These easy pumpkin muffins are light, tender, super flavorful, and they stay moist for days. They take 10 minutes to make, and you don't need a mixer. You won't be able to stop eating them!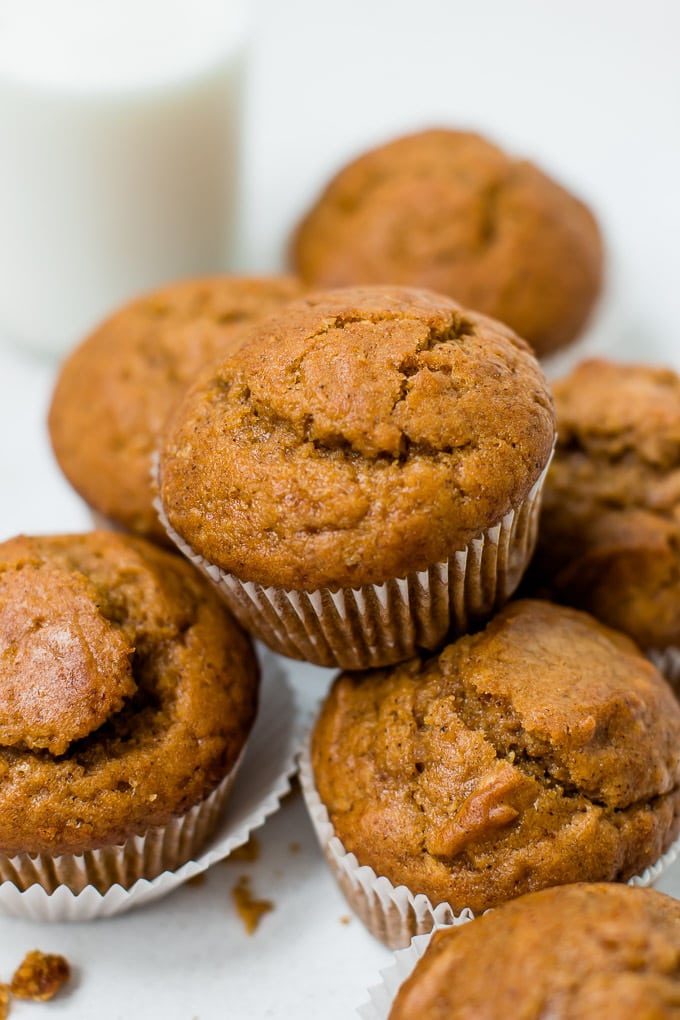 I was never a big fan of pumpkin until I added sugar to it. Although I live in Israel and wasn't raised celebrating Christmas or Thanksgiving, I still look forward to this time of year to indulge in all things pumpkin: pumpkin bread, pumpkin cupcakes, pumpkin pie, and of course, pumpkin muffins. I love the aroma of all things pumpkin spice and simply adore the beautiful orange color. These muffins are now one of my favorite Thanksgiving dessert recipes.
I remember one time when I was visiting my cousins in the States as a kid and we went trick or treating, there was a lady who handed out beautifully wrapped pumpkin spice muffins instead of candy, and even as a child I liked the flavors so much that I ate the whole thing in a second.
As an Amazon Associate, I earn from qualifying purchases. I endorse products that I love and use daily.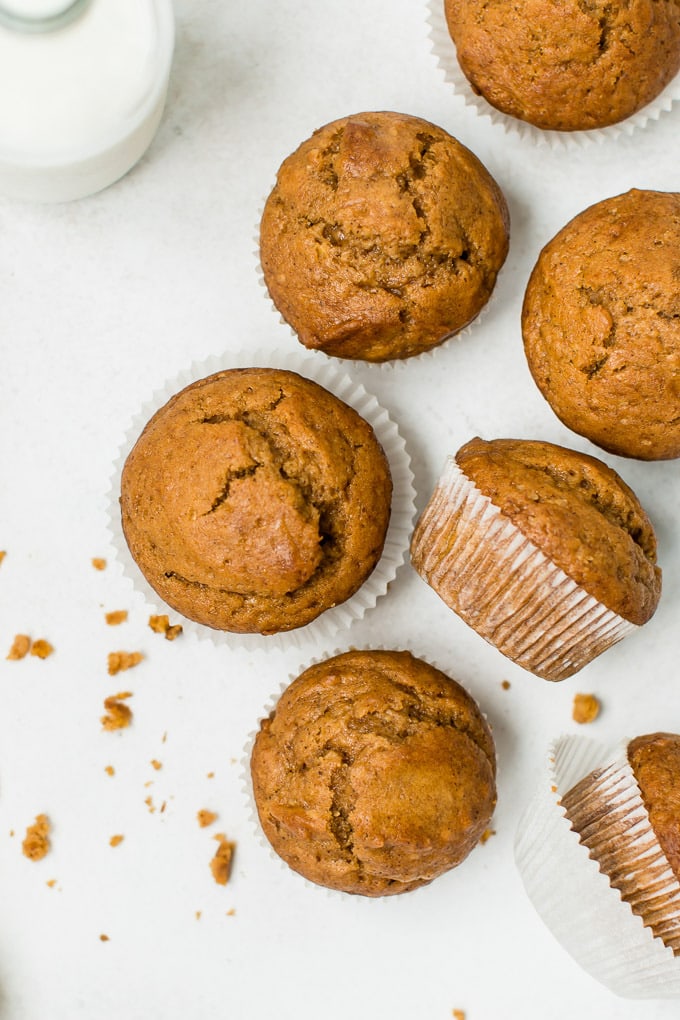 How to make easy pumpkin muffins
This recipe is incredibly simple to make! The first step is to combine all your dry ingredients in a single bowl, including: flour, baking soda, salt, and spices.
In a separate bowl, whisk together the eggs and sugars. Once combined, you can add the pumpkin puree and mix it all together.
Once all the ingredients are fully incorporated, gently add the dry ingredients to the wet ingredients, and use a spatula to fold them in. I prefer doing this is 2-3 additions.
Next is to deposit equal amounts of the batter in a muffin pan or a cupcake pan with paper liners. Fill them about ¾ of the way full to leave space for them to rise. If you have extra batter, you can make a few extra in another muffin pan.
Put the pan in a preheated 375 degree oven for 16-22 minutes until a toothpick comes out of a muffin without any wet batter on it.
Be sure to let the pumpkins muffins cool completely before indulging.
Can I add chocolate chips to my pumpkin muffins?
Absolutely! I love this pumpkin dessert recipe because it's so simple to add chocolate chips to. If you want to add chocolate chips, I prefer using dark or bittersweet chocolate. Simply add ⅔ of a cup to the final batter and fold in gently with a spatula. This will increase the amount of batter you have and make an additional 4-6 muffins.
Flavor and texture of these easy pumpkin muffins
Some pumpkin muffin recipes use a whole can of pumpkin puree but I use a bit less so the muffins aren't heavy and have a subtle pumpkin flavor. They are tender and stay moist for about 3 days. You can see the texture at the end of the video below.
I like to keep them in the fridge, and bring them to room temperature before serving, but if you're craving one immediately (can't blame you), they will still be soft and delicious straight from the fridge. You can play with the amount of spices if you want. You can definitely taste the spice in there, but it's not overpowering the other flavors.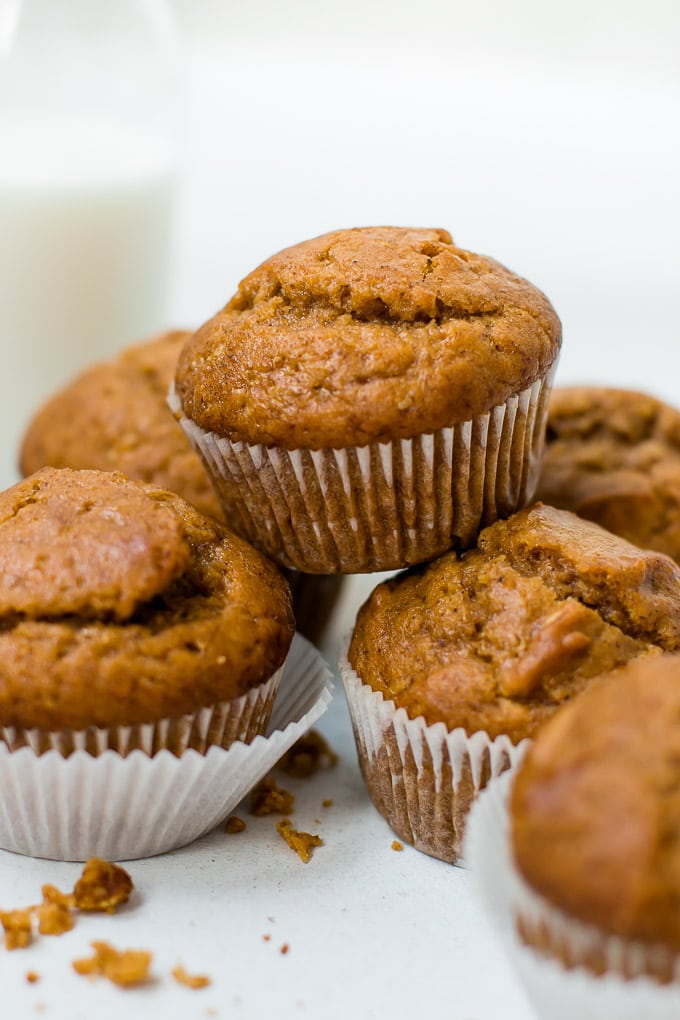 Pro tip for making pumpkin muffins
My main tip when making these pumpkin muffins is: Do not overmix the batter. While you want all ingredients to be completely combined, overmixing will produce more gluten and create denser muffins, so just mix until everything is incorporated and gently deposit the batter into the lined muffin tin. I like to use a rubber spatula to help fold the ingredients together because it's more gentle on the batter.
Can this recipe also make pumpkin bread?
Yes! You can use this pumpkin muffin recipe to make muffin bread in a standard loaf pan. I use a 9×5-inch loaf pan. Bake it in a preheated oven at 350°F/180°C for 50-65 minutes until a toothpick inserted into the center of the bread comes out clean. If the top of the bread is browning too much while baking, cover the pan loosely with aluminum foil.
You can also check out my pumpkin bread recipe or pumpkin banana bread recipe for some more delicious options.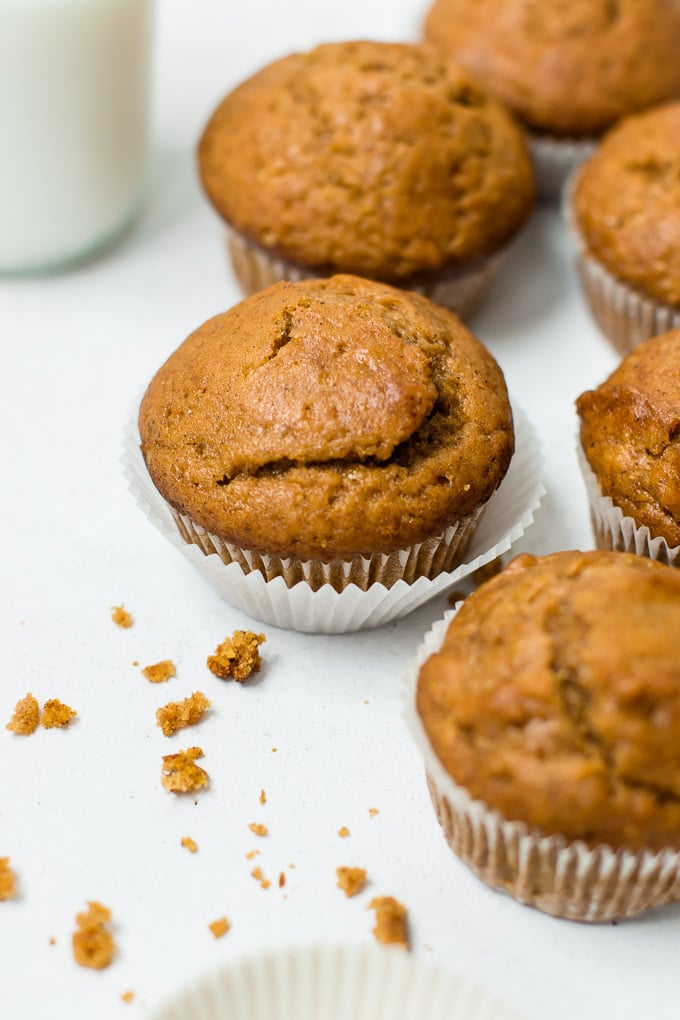 More of my favorite pumpkin recipes
As an Amazon Associate, I earn from qualifying purchases. I endorse products that I love and use daily.
Pumpkin Muffins
Ingredients
1 and ⅔

cups

(230g) all-purpose flour

1

teaspoon

baking soda

1 and ¼

teaspoons

ground cinnamon

½

teaspoon

ground ginger

¼

teaspoon

ground nutmeg or freshly grated nutmeg

½

teaspoon

salt

2

large eggs

¾

cup

(150g) granulated sugar

½

cup

(100g) light or dark brown sugar

½

cup

(120ml) vegetable or canola oil

1 and ¼

cups

(285g) pumpkin puree (canned or fresh)

¼

cup

(60ml) milk
Instructions
Preheat oven to 375°F/190°C. Grease a muffin pan or line with muffin liners.

In a large bowl whisk together flour, baking soda, cinnamon, ginger, nutmeg, and salt.

In a medium bowl, whisk together eggs, granulated sugar and brown sugar until combined. Ad oil and whisk until combined. Add pumpkin and milk and whisk until combined. Pour the pumpkin mixture into the flour mixture and mix gently just until combined.

Divide batter evenly in a silicon muffin pan or a cupcake pan with paper liners.. Bake for 16-22 minutes until a toothpick inserted into the center of the muffin comes out clean. Allow to cool for 5 minutes in the pan, then transfer to a wire rack to cool completely.

These muffins stay moist for up to 5 days. Keep them in the fridge in an airtight container. Bring them to room temperature before serving. The muffins can also be frozen for up to 2 months.