Moist, fresh mango muffins with a crunchy coconut streusel topping.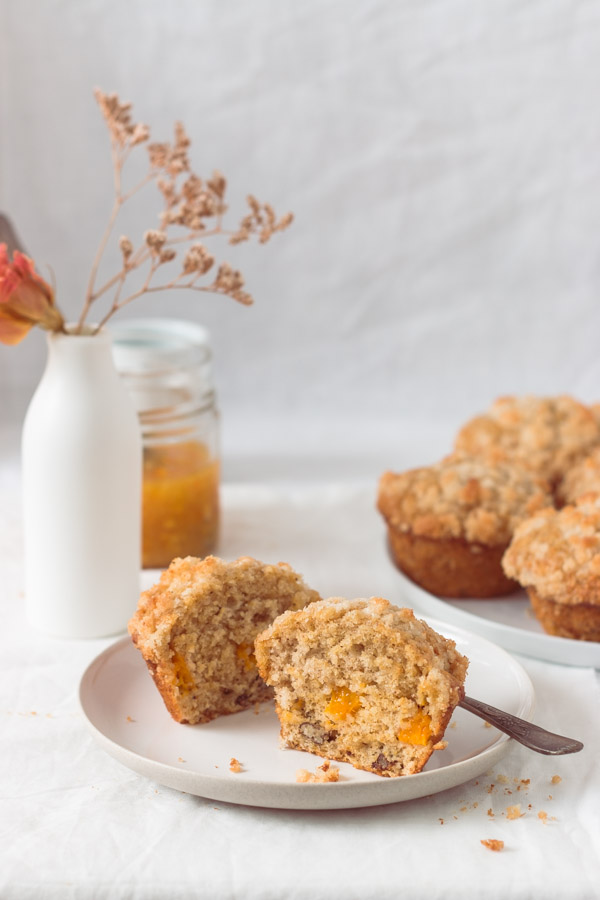 Although today didn't start off on the right foot for me, it turned out to not be all that bad. Let me explain – for awhile now, I'd been planning on making a Nutella cheesecake. I'd been dreaming about it for days and just knew today would be the perfect time for it. I woke up this morning pretty excited, understandably so as I'm sure most of you are well aware of my love affair with Nutella. It's getting pretty serious.
Unfortunately, it seems that Nutella doesn't love me as much as I love it. When I opened the kitchen door to where I stash all my good stuff (you know, peanut butter, M&Ms, chocolate chips…), all I could register was a loud crash. The next thing I knew, my last jar of Nutella was smashed all over the kitchen floor! And I mean ALL OVER. Let me tell you guys, it wasn't a pretty sight. The more I tried to clean it, the messier and stickier it got. Not only that, but the entire floor was covered with small pieces of scattered glass. Life can be harsh sometimes.
Clearly, making a Nutella cheesecake today just wasn't meant to be. I took a deep breath (or 5) and decided it was time to move on. Mango sounded like a fresh start to me.
I posted this incredibly good moist mango bread before. The fresh bits of mango are just what you need to make your summer days better. I decided to make a muffin variation of it, and I did make a few changes from the original recipe. I wanted it to be a little less moist so it would be more like bakery-style muffins, which I love! Plus, to give it a little extra something (I can't help myself), I added coconut streusel.
I ate most of the streusel before it even got to the oven. It turns out that mixing butter with coconut is pretty irresistible. Since I like to load my muffins with this stuff, I sometimes double the amount of the streusel the recipe calls for to get a hefty amount.
The muffins are moist, with a hybrid cake/bread texture. The coconut adds a subtle yet perfect flavor, and gives a nice crunch to these deliciously soft sweets. The mango, as I've already mentioned, is obviously the best part, so make sure you use a perfectly ripe and sweet one!
This is what I call a perfect morning (and noon, and evening) treat.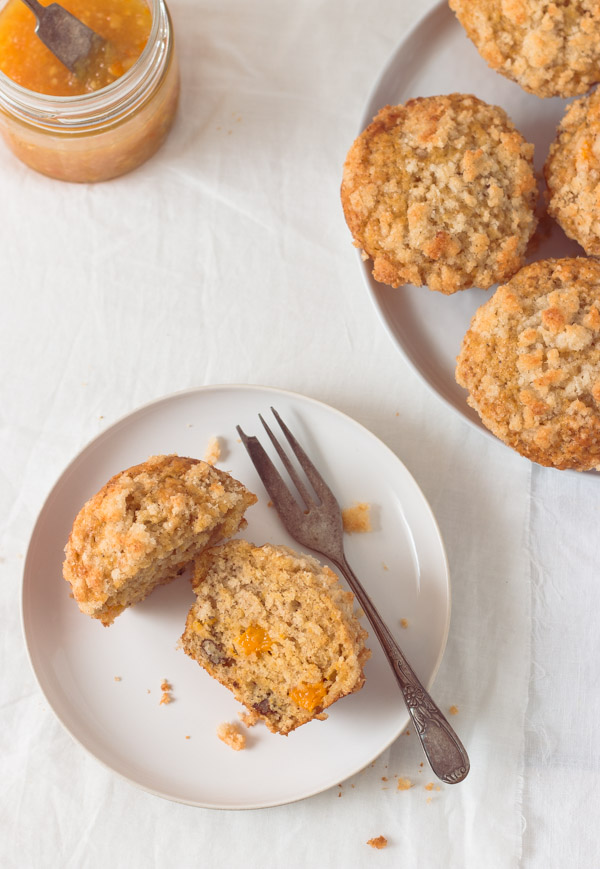 To read more muffin baking tips, check out this post.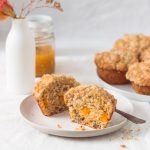 Mango Muffins with Coconut Streusel
YIELD
:
12
standard-sized muffins
Moist, fresh mango muffins with a crunchy coconut streusel topping.
---
Ingredients
Streusel:
1/4

cup

(35g/1.2oz) all-purpose flour

1/4

cup

(50g/1.8oz) light brown sugar (or granulated sugar)

6

tablespoons

desiccated or shredded coconut

1/4

cup

(56g/2oz) cold butter, cut into small cubes
Muffins:
1 3/4

cups

(250 grams or 8.8 ounces) all-purpose flour

1 1/2

teaspoons

baking powder

1/2

teaspoon

baking soda

1/4

teaspoon

salt

1

teaspoon

ground cinnamon

3/4

cup

(150 grams or 5.3 ounces) light brown sugar

2

large eggs

1

cup

yogurt

1/4

cup

canola oil

(or vegetable, safflower)

1

teaspoon

pure vanilla extract

1

fresh mango

, peeled and chopped into cubes (about 1 1/4 cups)

1/2

cup

chopped pecans

(optional)
Instructions
Preheat oven to 220C/425F. Butter 12 muffin cups or line them with liner papers.

The streusel: Place all ingredients in a food processor and pulse until mixture becomes crumbly and unevenly shaped pieces are formed. Alternatively, you can crumble the ingredients in a bowl using your fingertips, a pastry cutter, or a fork. Cover and place in the refrigerator.

The muffins: In a large bowl, sift together flour, baking powder, baking soda, salt, and cinnamon. Add sugar and mix.

In a medium bowl, whisk together eggs, yogurt, oil, and vanilla extract until combined. Pour the wet ingredients into the dry ingredients and stir with a wooden spoon or rubber spatula just until combined. Do not over mix. The batter should be thick and lumpy. Fold in mangos and pecans.

Divide the batter evenly between muffin cups, filling almost fully to the top. Sprinkle with the streusel. Bake for 3 minutes, then reduce the oven temperature to 180C/350F. Continue to bake for an additional 12-17 minutes or until a toothpick inserted into the center of a muffin comes out clean. If the streusel is browning too fast, cover the pan loosely with aluminum foil. Cool muffins in the pan on a wire rack for 10 minutes. Remove from pan and set on wire rack to cool completely.

Muffins are best the same day they are made, but can be stored in an airtight container at room temperature for 2-3 days. Muffins can also be frozen for up to 2 months.