My favorite recipe for mushroom risotto with tips for making it perfect!
Risotto may sound like a pain to make, but it's probably simpler than you think. While you do have to watch the stove for some time, time flies quickly when doing that—especially if you're enjoying a glass of wine from the bottle you just opened for the recipe (like I always do).
Tips for making the perfect risotto:
The type of rice that's commonly used in risotto is Arborio.
Never wash the rice. Washing takes off the rice's starch, and starch is needed for the dish's creaminess.
Cooking liquid. One liter of broth works best for me to cook this recipe to the texture I like, but if you want it firmer, you can add less liquid, or more liquid if you prefer it softer (for additional liquid, you can use water instead of more broth).
Take your time when adding liquid. First, add the wine and cook until nearly evaporated. Then add the broth, a ladleful at a time (½-1 cup at a time, and even less towards the end of the process to keep a constant cooking temperature), and stir until nearly all the liquid has been absorbed before adding the next cup. The rice should be quite sloppy, not dry. A rule of thumb is to not overfill the rice with liquid; always make sure it's just below the point of covering it. This process usually takes me about 20 minutes, but it goes by fast, I promise.
Use warm stock. It's best to heat it in a saucepan and keep it warm over low heat.
Mix the risotto at all times so that the rice won't stick to the bottom.
Don't cover the pot at any time.
Cook until al dente, i.e. firm to touch, not too soft nor crunchy. If you prefer it softer, add more liquid and keep cooking until you reach the desired texture, but don't cook it to the point that it's mushy.
And if you follow all that, you'll end up with a perfect creamy and comforting risotto!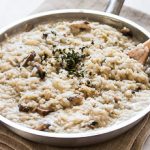 Mushroom Risotto
---
Ingredients
2

tablespoons

olive oil

1

medium onion

, peeled and finely chopped

2

medium cloves garlic

, minced

2

cups

(400 g/14 oz) risotto/Arborio rice

1

cup

(240 ml) white wine, preferably dry

400

g/14 oz mixed mushrooms

(champignon, porcini, Portobello), cleaned and sliced

1

liter

warm chicken broth or vegetable stock

4

finely chopped sprigs fresh thyme or 2 tablespoons chopped fresh parsley

2

tablespoons

(30 g/1 oz) butter (or up to 100 g for super rich risotto)

1

cup

grated Parmesan cheese

1/2

cup

(120 ml) heavy cream

Salt and freshly ground black pepper

, to taste
Instructions
Heat olive oil in a large skillet over medium heat. Add onion and garlic and sauté until soft, 3-5 minutes. Add rice and stir quickly to coat with oil. Heat through, but don't let it brown. Add wine and cook, stirring constantly, until fully absorbed into the rice. Add mushrooms and mix.

Add chicken broth, about ½ - 1 cup at a time, letting it fully absorb into the rice before adding the next cup. This process can take about 20 minutes, so don't rush it. A rule of thumb when adding the liquid is to not overfill the rice—always make sure it's just below covering it. Also be sure to mix the rice constantly so that it doesn't stick to the bottom of the pan. Cook until al dente (i.e. firm to touch, not too soft nor crunchy). If you like soft risotto, you can add an additional cup of broth or water and cook a bit more.

Add thyme/parsley, butter, 1/2 cup Parmesan cheese, and mix until melted. Add heavy cream and stir. Season with salt and pepper.

Spoon into bowls, sprinkle with additional Parmesan, and serve immediately.