There's nothing better than the smell of a sweet, baking ham in the oven on Easter morning. This delicious, sweet ham glaze is easy to make and has layers of nuanced flavors from pineapple, mustard seeds, simmered bourbon and freshly grated ginger. This is sure to be a hit for the whole family.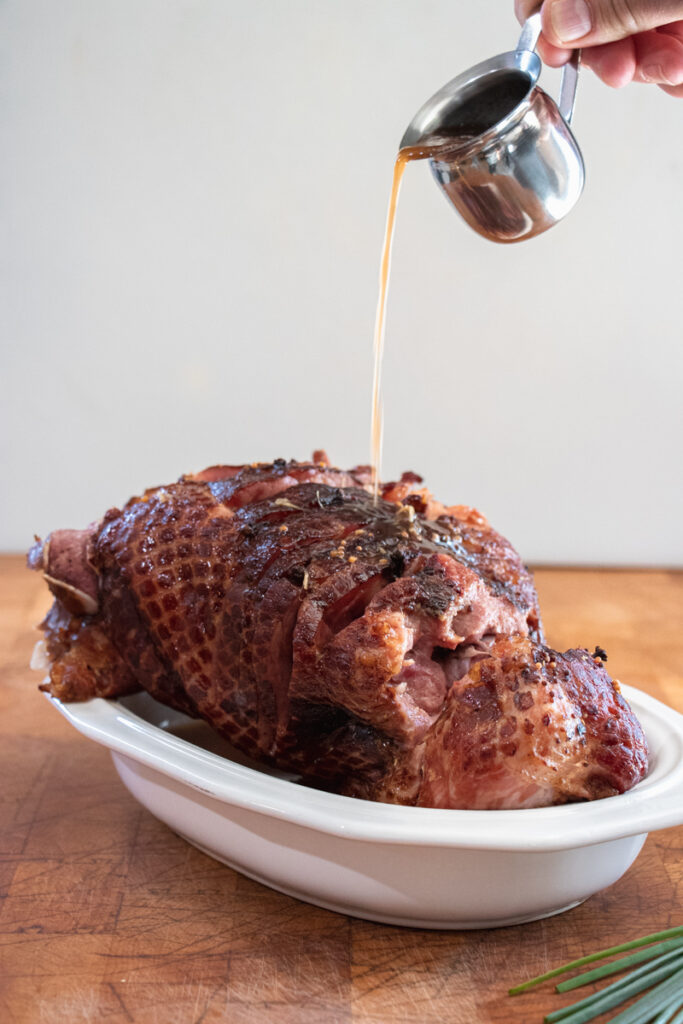 Typically my husband takes over cooking any and all meats for the holiday, but this year he let me handle the ham. What better way to cook a ham than with a sweet-like-candy maple bourbon glaze. I chose to cook the Ham in our dutch oven and I'm not disappointed in the results! Usually I get to make yummy meals with the leftover ham, so I'm dreaming of what my next recipe might be…
What Do I Need To Make A Dutch Oven Ham?
A dutch oven large enough for your ham. (Affiliate link)
Ham – pre-sliced, 5.5 pounds (2.5kg) shown.
Ingredients: 6oz (170g) can of pineapple juice, brown & yellow mustard seeds, whole cloves, maple syrup, dark brown sugar, bourbon (I used Bulleit), fresh grated ginger, and cinnamon.
Cutting board for the ham to rest.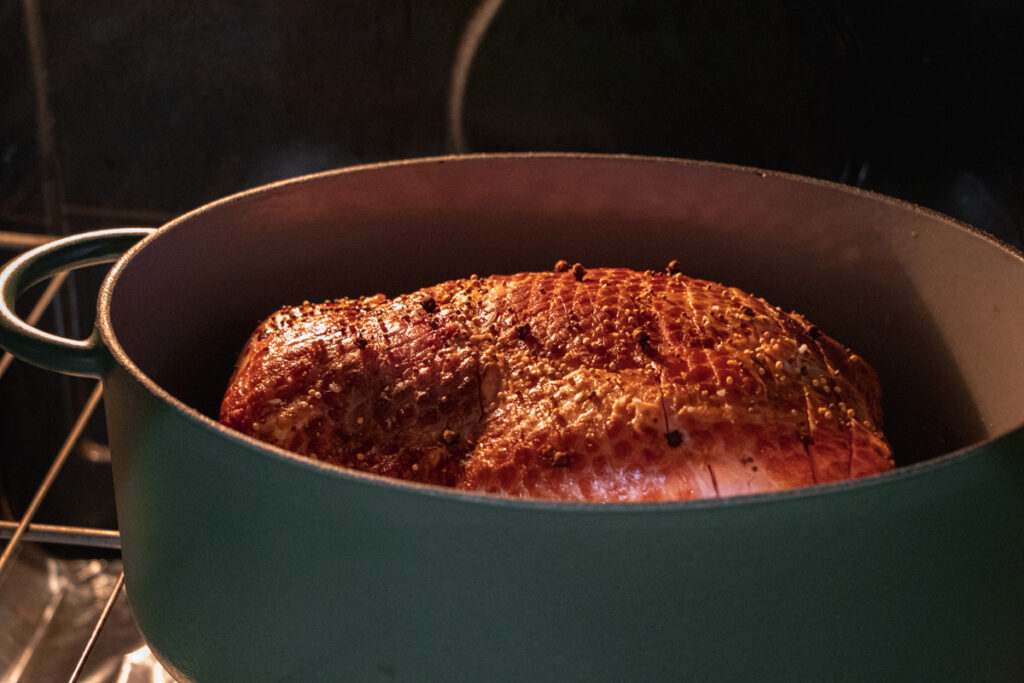 How To Cook The Ham In A Dutch Oven
I started with a 5.5 pound (2.5kg) ham from the grocery store. Preheat your oven to 350F (175C). I recommend slicing your ham first if it isn't spiraled already. If you are choosing to add cloves to your ham, now is the time to do so. I slide them in to the slices of the ham so they stay put during the cooking process.
Add your ham to the dutch oven, cut side down, adding a 6 oz (170g) can of pineapple juice to give it moisture. Typically I add water to the dutch oven when making a classic roast, but in this case my ham already came injected with water so there is no need to add lots of extra liquid. My ham also came pre-cooked, so it will not be in the oven very long. Place your lid on the dutch oven while cooking. The ham should be in the oven around 15 min per pound, but check it frequently as it gets closer to being done. The internal temperature of your pre-cooked ham should be 145F (63C).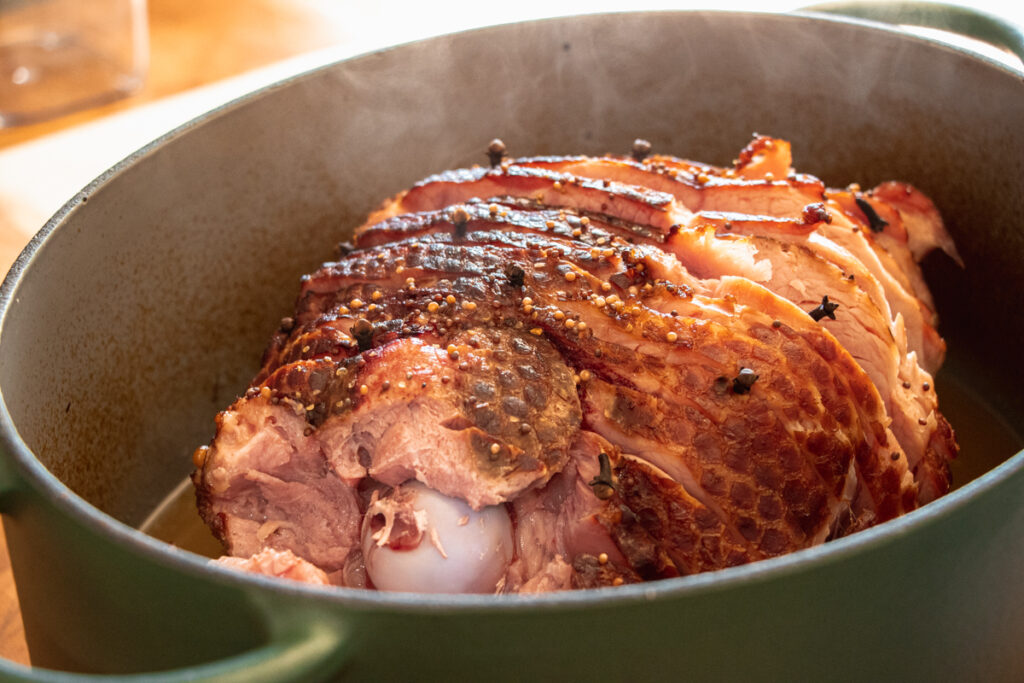 Once the ham is cooked to perfection, remove it from the oven, and take it out of the (very hot!) dutch oven carefully using a pair of tongs and a meat fork. Place the ham on a wooden cutting board (preferably with a trough around the edges to catch the juice) and cover it with foil while it rests.
Place your dutch oven with all the yummy ham juices and pineapple base on the stovetop and turn it to medium-low temperature. This is where you'll combine all the additional ingredients to make the maple bourbon glaze and simmer. Reduce until desired glaze consistency has been reached.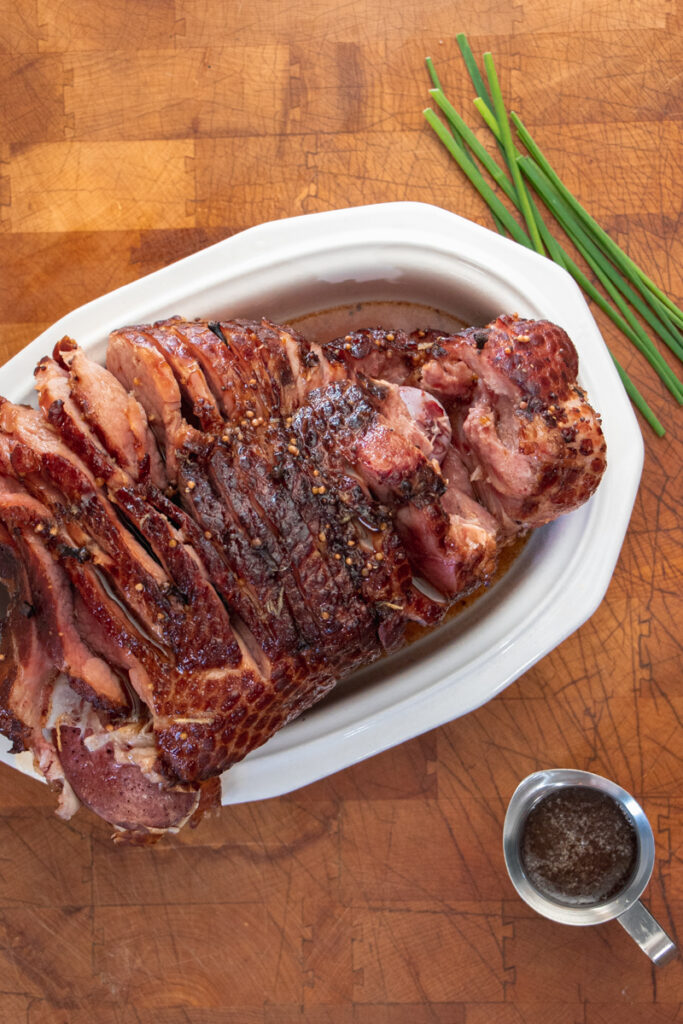 What to do with leftover ham
If your ham comes with a bone, save this and freeze it. Ham bones are an essential if making split pea soup, or white bean and ham soup. The ham bone can also be used to make a ham broth by boiling it in water. I usually chop up leftover ham and add it to casseroles, egg bakes, salads, or breakfast biscuits.
Disclaimer: As an Amazon Associate, I earn from qualifying purchases. I endorse products that I love and use daily.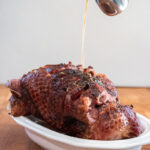 Maple Bourbon Glazed Dutch Oven Ham
This easy-to-make dutch oven ham has a sweet and savory maple bourbon glaze. This recipe is perfect for Easter or Christmas dinner.
Cook Time
1
hour
30
minutes
Total Time
1
hour
45
minutes
Ingredients
1

5-7 lb (2.25-3kg)

Ham

15-20

Whole Cloves

6

oz (170g)

Pineapple Juice

1

teaspoon

mustard seeds

half brown, half yellow
Ham Glaze
½

cup (120mL)

Pure Maple Syrup

¼

cup (50g)

Dark Brown Sugar

½

cup (120mL)

Bourbon

½

teaspoon

Fresh Ginger

grated

¼

teaspoon

Cinnamon
Instructions
Preheat your oven to 350F (175C). Slice your pre-cooked ham if not already pre-sliced, add cloves, and place into your dutch oven cut-side down.

Pour pineapple juice over the ham, cover with dutch oven lid, and place in oven.

Bake your ham around 15 min per pound or until the internal temperature reaches 145F (63C).

Remove dutch oven pot from the oven, remove the ham and place it on a cutting board to rest, cover it with foil to keep the heat and juices trapped.

Place your dutch oven on the stovetop, turn to medium-low heat and add all the ham glaze ingredients (maple syrup, brown sugar, bourbon, ginger, and cinnamon) to the juices remaining in the dutch oven. Stir to combine.

Simmer and reduce the sauce 15-20 minutes or until desired consistency has been reached. Scrape down the sides of the dutch oven continuously to add extra flavor to the glaze. You can add a few tablespoons of cornstarch to thicken the sauce if you prefer this process to be quicker.

Remove from heat and pour liquid glaze into a serving boat or glass pitcher. Pour a bit of glaze on top of the ham slices. Use the remaining glaze to serve on the table.

Cut ham horizontally with the ham bone to slice your pre-cut ham. Pour glaze on each slice as desired and serve.