This refreshing, crunchy Thai salad—prepared either with chicken or as a vegetarian dish—is topped with the most amazing peanut dressing!
I wish I was one of those people who loved vegetables, but I'm not. Still, I've learned two things that comfort me: (1) the older you get, the more you like them, and (2) if you dress them up with something like, say, peanut sauce, they actually taste really good!
The Dressing
This sauce is simply heavenly and full of flavor thanks to the peanut butter. I know it seems like a long list of ingredients, but don't let it intimidate you! They're very simple ingredients, and all you need to do is mix them together—nothing too fancy or complicated about it. I've tried a few versions of this dressing, and this is the winner, though you can easily adjust it to your liking if you don't find it perfect as-is. For example, to make a spicy dressing, you can add 1/4 teaspoon crushed red pepper flakes. Also keep in mind that, although delicious on its own, once this dressing is combined with the vegetables, the whole thing tastes much better. I like it to be a bit thick in consistency, but if you prefer it thinner, you can add in a bit of water.
The Salad
My favorite vegetables for this salad are cabbage, carrots, and cucumber, but I almost always add peppers and scallions, and – of course – chopped peanuts, which add plenty of flavor and crunch. As for the cabbage, I like a mix of white and red for color, but you can just as easily go with only one.
The Chicken (Optional)
In the recipe notes, you'll find instructions on how to use and cook chicken for this recipe. Chicken goes amazing with this salad and is actually my preferred version, but for a light first course or vegetarian meal, you can leave it out.
And if you're into peanut butter, try one of these amazing sweets for dessert:
Peanut butter pie
No-bake Nutella peanut butter bites
No-bake chocolate peanut butter bars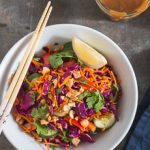 Thai Salad with Peanut Sauce
This refreshing, crunchy Thai salad—prepared either with chicken or as a vegetarian dish—is topped with the most amazing peanut dressing!
---
Ingredients
For the dressing:
1/4

cup

creamy peanut butter

2

tablespoons

vinegar

(rice, white wine)

1

tablespoon

fresh lime or lemon juice

2

tablespoons

vegetable/canola oil

1-2

tablespoons

soy sauce

1

tablespoon

honey

2-3

tablespoons

sugar

2

garlic cloves

, minced

about 1/2 teaspoon salt

, to taste (optional)
For the salad:
3

cups

shredded white and/or red cabbage

2

medium carrots

, peeled and shredded

1

cucumber

, sliced or chopped

1

pepper

, any color, thinly sliced

2

medium scallions

, chopped

1/2

cup

fresh cilantro

, chopped

1/3

cup

chopped peanuts or cashews

For chicken salad – read note at bottom
Instructions
To make the dressing: Mix all ingredients in a bowl until well combined. If you want a thinner dressing, add water, a teaspoon at a time, until you reach the desired consistency. Cover and refrigerate until ready to serve.

To make the salad: Add all ingredients in a large bowl and toss to combine.

Just before serving, drizzle peanut dressing over the top and toss to combine. Dressing can also be served on the side to prevent the salad from becoming soggy.
Recipe Notes
- For a chicken salad, you'll need 2 boneless, skinless chicken breasts. Heat a skillet over medium-high heat and add 1 tablespoon of olive oil. Lightly season the chicken with salt and pepper and add to the hot skillet. Cook, flipping once, until cooked through, about 3-4 minutes per side. Allow to cool, then chop into small pieces and mix into salad.