Moist chocolate cupcakes topped with a creamy dreamy Nutella frosting.
If you have zero self-control when it comes to Nutella, like I do, and if you love cupcakes, which couldn't possibly be more than I do, then you should absolutely consider these cupcakes for your next baking project!
At a recent bachelorette party I went to, we played one of those silly traditional games where you need to pick a card and answer a random question written on it. The question I got was: What is the weirdest thing you've ever carried with you in your bag? Weird, but not too surprising, my answer was a jar of Nutella. The larger jar of Nutella. I'll save from you the whole story of how it got into my bag, because it didn't stay there for that long anyway, but that's just how much I love it.
Let's talk about these cupcakes, although I'm pretty sure I don't need to convince you that these are amazing—especially with the candied hazelnuts added on top. I'm trying hard to keep myself from eating a third cupcake right now. Let's see how well that works.
These moist, fluffy cupcakes have a deep chocolatey flavor. In fact, they're my favorite chocolate cupcakes, and they turn out perfect every single time. I've been using this recipe for years now, and I tried so many before it, so you can count on my word.
And then… there's the frosting. I'm drooling just from thinking about it. And please try to keep yourself from picturing that, because it's not a lovely sight. I ate so much of the frosting before I even started to frost the cupcakes that I barely had enough to finish. And just in case you were wondering, there's lots of Nutella in that frosting!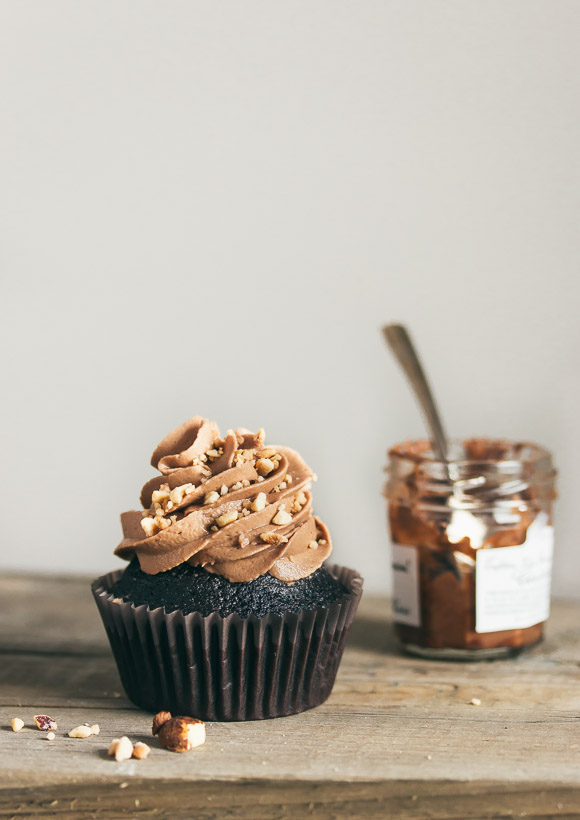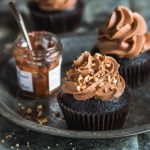 Nutella Cupcakes
Moist chocolate cupcakes topped with a creamy dreamy Nutella frosting.
---
Ingredients
Chocolate Cupcakes:
1 1/3

cups

(185g/6.5 oz) all-purpose flour

1/2

cup

(50g/1.7 oz) natural unsweetened cocoa powder

3/4

teaspoon

baking soda

1/4

teaspoon

salt

1/2

cup

(1 stick/113g) butter, softened

1

cup

(200g/7 oz) granulated sugar

2

large eggs

, room temperature

1

teaspoon

pure vanilla extract

1/2

cup

(120ml) whole milk

1/2

cup

(120ml) hot water

1/2

cup

(50g/1.7 oz) hazelnuts, toasted* and chopped, optional
Nutella Frosting:
1

cup

(2 sticks/227g) unsalted butter, room temperature

2 1/4

cups

(270g/9.5 oz) powdered sugar, sifted (plus more as necessary)

2/3

cup

(200g/7 oz) Nutella

1

teaspoon

pure vanilla extract

2-3

tablespoons

heavy cream

(or whole milk)

Chopped candied hazelnuts

, to sprinkle, optional
Instructions
Preheat oven to 350F/180C. Line a muffin tin with cupcake liners and set aside.

In a medium bowl, sift together flour, cocoa powder, baking soda, and salt. Set aside.

In a standing mixer fitted with the paddle attachment, beat together butter and sugar on medium speed until light and fluffy, about 2-3 minutes. Scrape down the sides and bottom of the bowl as necessary. On medium speed, beat in eggs, one at a time, beating well after each addition. Add vanilla extract and beat until combined. With the mixer on low speed, add half of the dry ingredients and beat just until combined. Beat in milk until combined. Add the other half of the dry ingredients and beat slowly until combined. Add hot water and beat just until combined. Do not over mix—the less you mix, the lighter the cake will be. The batter should be liquid. Fold in hazelnuts if using.

Divide batter evenly between cups, filling them about 3/4 full. Bake for 15-20 minutes, until a toothpick inserted into the center comes out clean or with just a few moist crumbs. Allow cupcakes to sit for 10 minutes, then remove from pan and allow to cool completely on a wire rack.

For the frosting: In the bowl of an electric mixer fitted with the paddle attachment, beat butter at medium speed until pale and fluffy, about 2 minutes. Add powdered sugar in 2 additions and beat until completely smooth. Add Nutella, vanilla extract, and heavy cream, and beat until combined and creamy. Add powdered sugar as necessary until frosting is spreadable. Frost cupcakes once they've cooled, then top with candied hazelnuts. Use frosting immediately to frost cupcakes or store in the fridge, covered, for up to 3 days. Before using, bring to room temperature and beat or whisk by hand until smooth again, about a minute.

Cupcakes are best the same day they're made, but can be kept in an airtight container at room temperature for up to 3 days. Unfrosted cupcakes can be kept in the freezer for up to 2 months. Thaw, still covered, on the counter or overnight in the fridge.

* To toast the hazelnuts, place them in an even layer on a pan lined with parchment paper. Bake in a preheated oven at 350F/180C for 5-8 minutes.