These are my favorite lemon cupcakes. They are moist, tender, have the perfect balance between sweetness and tanginess, and are bursting with lemon flavor.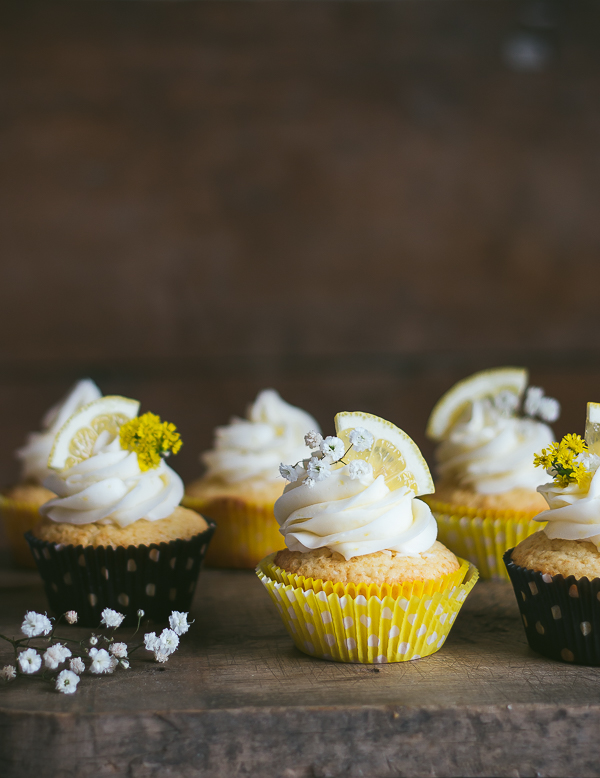 My palate has changed rather drastically in the last couple of years, and while I didn't like cupcakes and lemon desserts that much, now lemon cupcakes are one of my favorite desserts. Lemon has actually become one of my favorite flavors, and I think it can do miracles to a plain cake. Plus, in cupcakes especially, it helps to cut down on the sweetness quite a bit, so if you're not a fan of classic sweet buttercream, you might still love these cupcakes. You just have to!
These cupcakes are moist, delicate, and full of lemon flavor. The frosting is a simple classic buttercream, made mostly of butter and sugar. Luckily, these cupcakes are worth every single calorie.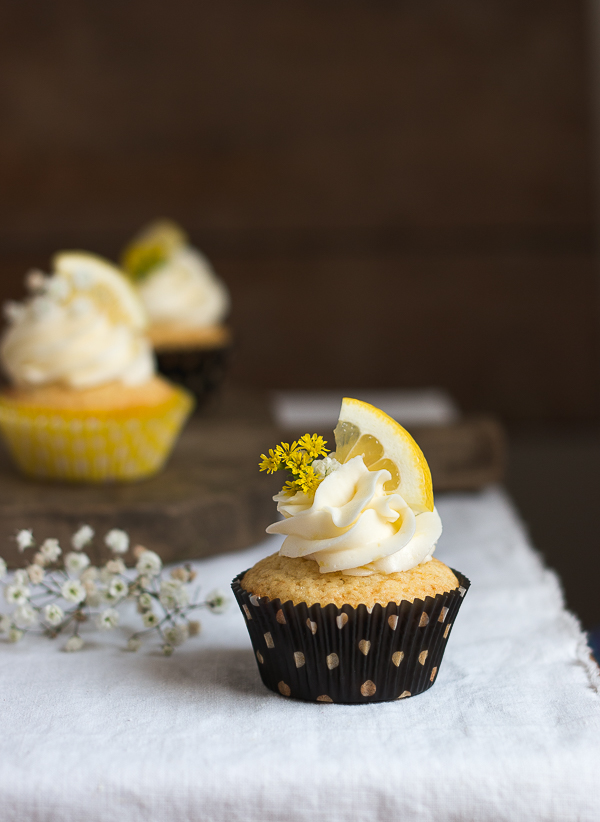 Frosting
I use lemon buttercream for these cupcakes, but if you prefer a frosting with less sweetness, you can try these:
For both options, you should add either lemon curd (homemade or store-bought) or lemon juice and zest to the frosting until you reach the desired taste. For enough frosting to frost 12 cupcakes, I like to add about 2 teaspoons of zest and 1 tablespoon juice, or a few tablespoons of lemon curd. You can add as much as you like, of course, but just make sure that, if you're using cream cheese frosting, to only add a little bit of juice at a time. Otherwise, the frosting can be too thin. If that happens, add more powdered sugar until desired thickness.
Mix lemon zest with sugar
You'll notice that I toss the lemon zest together with the sugar. That's my little trick for bringing out lemon flavor in baked goods. Doing this causes the lemon zest to release its natural oils, which will absorb quickly into the sugar, helping to distribute the flavor throughout the batter. Just be sure that, when grating the zest, you only grate the yellow part and not the bitter white pith beneath it.
Fill cupcakes with lemon curd
If you want to make these cupcakes even more delicious and lemon-y than they already are, you can add lemon curd filling to the center of each one. It's so good! Homemade lemon curd can be prepared ahead of time and frozen for a couple of months. I always make a double batch, freeze it, and thaw as much as I need to use for filling cakes, pavlovas, doughnuts, and more.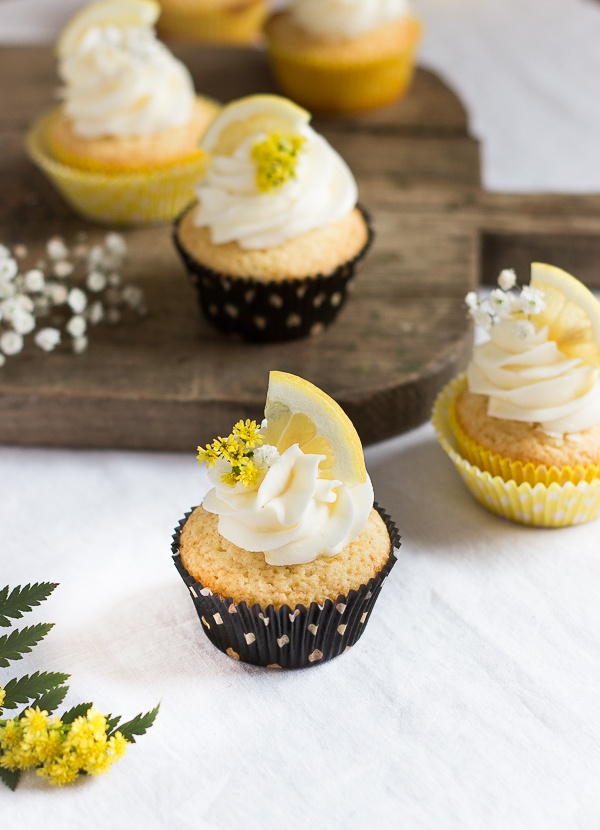 More Lemon Desserts: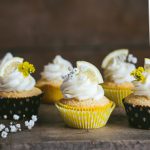 Lemon Cupcakes
This amount of frosting is enough for me to frost exactly 12 cupcakes, but I don't use a lot of frosting for each cupcake (as you can see in the photos above). If you want more frosting, multiply the frosting recipe by 1.5.

---
Ingredients
Lemon Cupcakes:
1 1/3

cups

(185 g/6.5 oz.) all-purpose flour

1

teaspoon

baking powder

1/4

teaspoon

salt

1

cup

(200 g/7 oz.) granulated sugar

1

tablespoon

lemon zest

1/2

cup

(1 stick/113 g) unsalted butter, softened to room temperature

2

large eggs

1

teaspoon

pure vanilla extract

1/4

cup

plus 2 tablespoons (90 ml) whole milk

2

tablespoons

(30 ml) freshly squeezed lemon juice
Lemon Buttercream Frosting:
1/2

cup

(1 stick/113 g) unsalted butter, softened to room temperature

1 1/2 – 2 1/2

cups

(180-280 g) powdered sugar

, sifted

1

tablespoon

heavy cream (or whole milk)

1

tablespoon

freshly squeezed lemon juice

2

teaspoons

lemon zest
Instructions
For the cupcakes: Preheat oven to 350°F/180°C. Line a muffin tin with cupcake liners. Set aside.

In a medium bowl, sift together flour, baking powder, and salt. In another small bowl, toss together sugar and lemon zest until combined.

Using a mixer fitted with the paddle attachment, beat together butter and lemon-sugar mixture on medium speed until light and fluffy, about 2-3 minutes. Scrape down the sides and bottom of the bowl as necessary. On medium speed, beat in eggs, one at a time, beating well after each addition. Add vanilla extract and beat until combined. With the mixer on low speed, add half of the dry ingredients and beat just until combined. Add milk and lemon juice and beat until combined. Add the other half of the dry ingredients and beat slowly until just combined. Do not overmix – the less you mix, the lighter the cupcakes will be.

Divide batter evenly between the cups, filling them about 3/4 full. Bake for 15-20 minutes, until a toothpick inserted into the center comes out clean or with just a few moist crumbs. Allow cupcakes to cool in pan for 10 minutes, then remove from pan and allow to cool completely on a wire rack.

For the frosting: In the bowl of an electric mixer fitted with the paddle attachment, beat butter on medium speed until smooth, creamy, and the consistency is similar to mayonnaise, about 2 minutes. Add 3/4 cup (90 g) powdered sugar and beat well until smooth. Add cream, lemon juice, and lemon zest and beat until combined and smooth. Add another 3/4 cup sugar and beat until completely smooth and fluffy. Beat in more sugar as needed, until desired consistency (thick enough to pipe). Frost cupcakes once they've cooled.

If you wish to add lemon curd filling:

Once the cupcakes have cooled, cut a 1/2-inch hole in the center of each cupcake using a spoon or melon baller. Spoon about a teaspoon of

lemon curd

into the hole, then frost the cupcakes.