Juicy, sweet, and lightly spiced peaches, topped with a classic biscuit topping that's tender on the inside and crunchy on the outside. This peach cobbler recipe is easy and quick to make so it's a great dessert to put together before your guests arrive.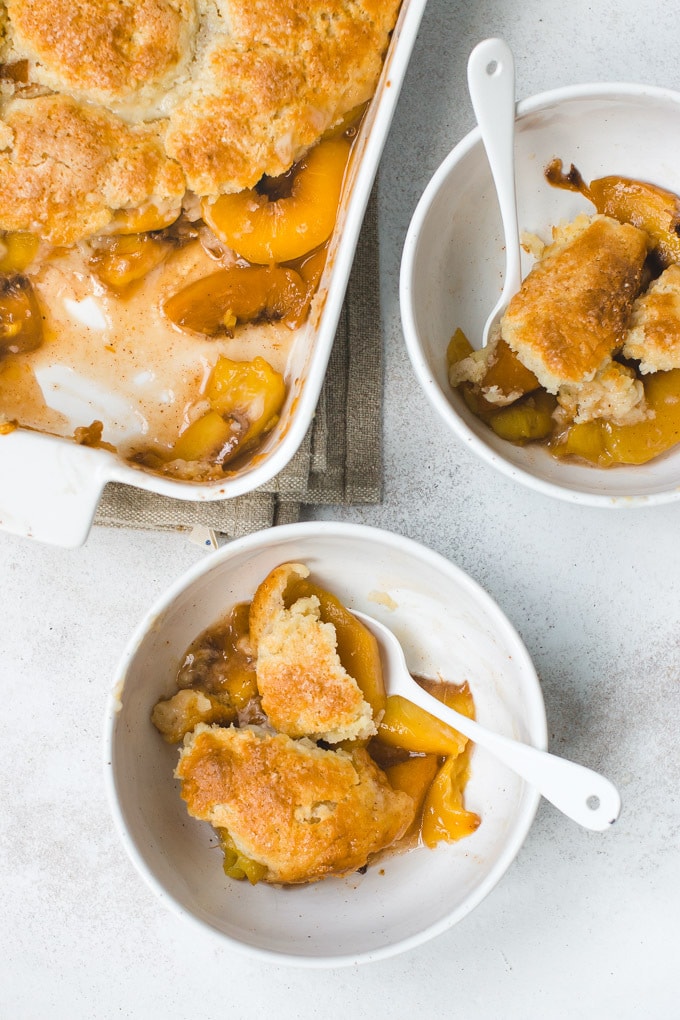 I've spent all summer telling myself I should share my recipe for fresh peach cobbler while peaches are still in season, but only now that they begin to disappear from the shelves, I realize that I haven't done it yet. But hey, it's better late than never.
This easy peach cobbler recipe is seriously delicious and the topping is the best part! Tender on the inside and crisp on the outside. The list of ingredients may look long but they are all simple ingredients that add lots of flavor.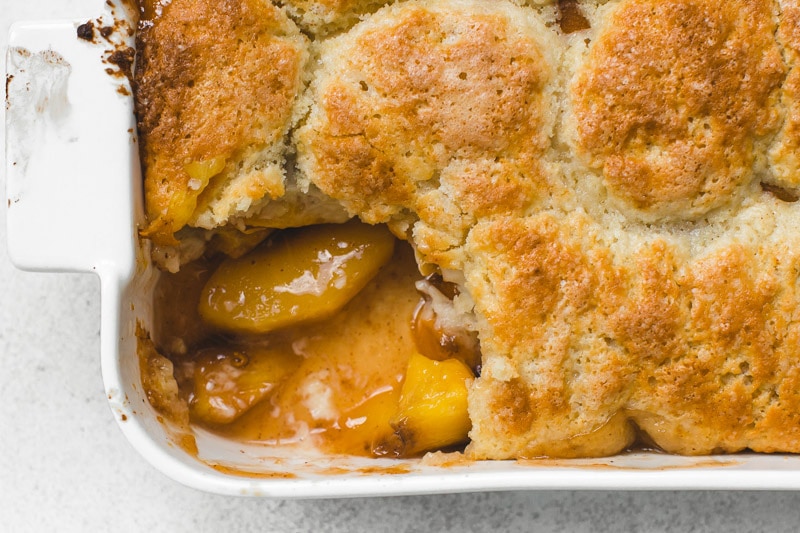 How to make peach cobbler
The first step in making homemade peach cobbler is mixing all the filling ingredients in a bowl – fresh peaches, sugar, lemon juice, cornstarch, and spices for more flavor. Then place the filling in the baking dish.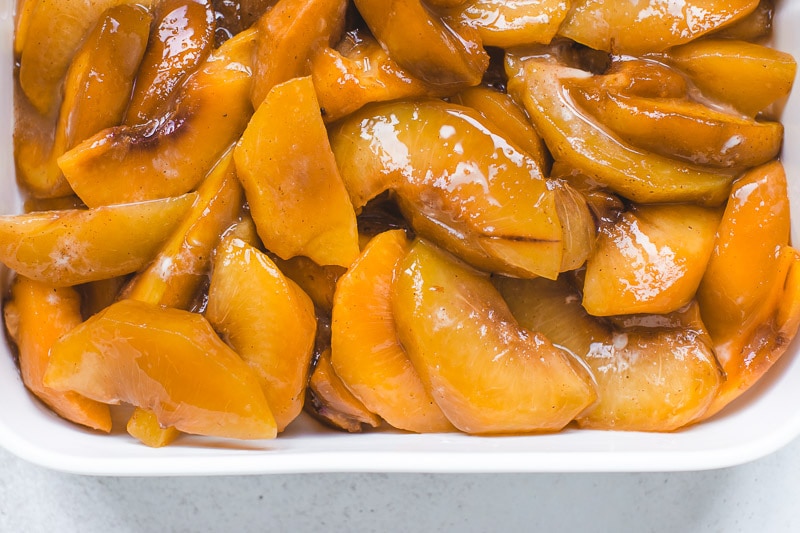 The second step is making the topping. I use a classic buttermilk biscuit topping which is light and tender. I use a pastry cutter to make the topping but if you don't have one, you can crumble everything by hand using your fingertips. First mix the dry ingredients with the butter until you get pea-sized bits of butter coated in flour. Then add the buttermilk and vanilla and mix everything together. I use a wooden spoon but use whatever you have. Mix just until the ingredients are combined and a soft dough is formed. Drop large spoonfuls of dough over the filling and gently flatten them out. The size of the dough pieces doesn't matter and it doesn't have to look perfect. The dough is going to spread during baking.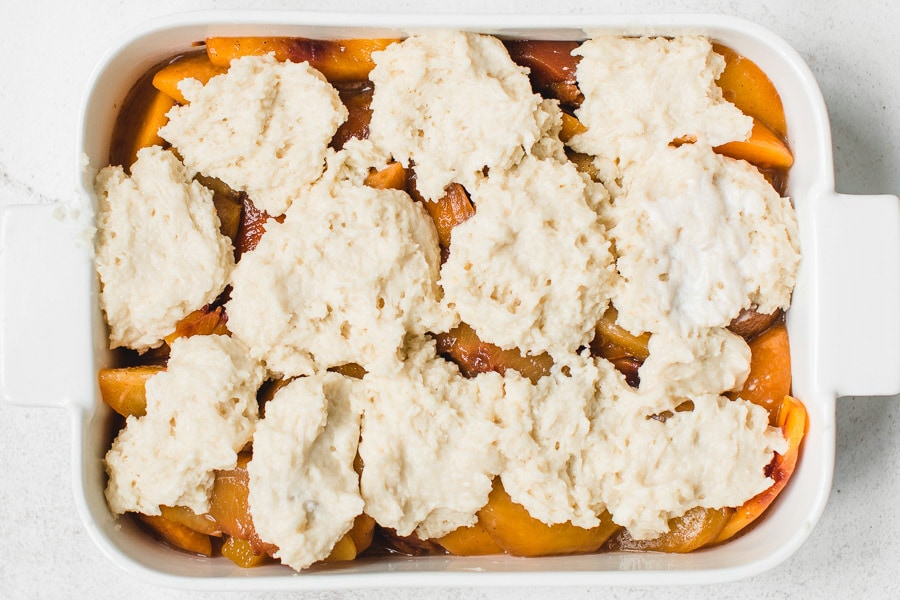 My cobbler is usually ready in 40 minutes. Even if the topping looks done, insert a toothpick into the biscuit topping to make sure it's cooked through.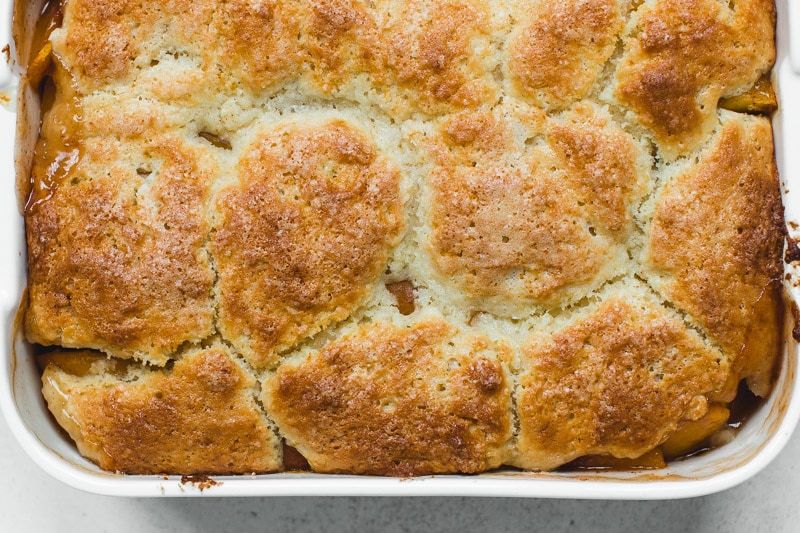 Tips before you start
Use peaches that are ripe but firm, not mushy.
This might sound obvious but taste your peaches first. I once used a batch that wasn't sweet and kind of flavorless, and the filling tasted the same.
You can halve the recipe and use an 8×8 baking dish. Bake for 35-40 minutes.
If the peaches you use are very sweet, 1/4 to 1/3 cup sugar will be enough for the filling.
If you want to use fresh ground nutmeg (highly recommended), grate it on top of the peaches before mixing the filling ingredients.
Ginger pairs deliciously with peaches. Grate some fresh ginger on top of the peaches before mixing the filling ingredients.
Make sure the biscuit topping is cooked through. It may look done at the top but still be liquid at the bottom. If you find that it's not cooked enough, you can pop it back into the oven.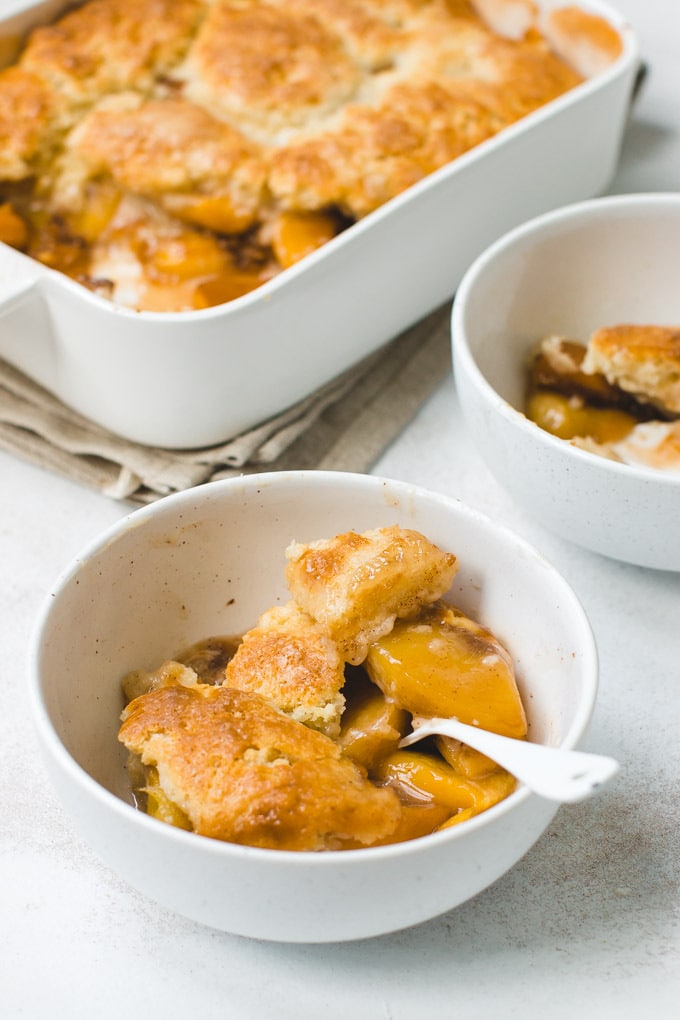 More Recipes: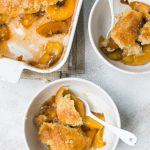 Peach Cobbler
---
Ingredients
Filling
4.5

lbs

(2 kg) firm but ripe peaches, peeled, halved, pitted, and cut into 3/4-inch thick wedges or chunks (about 8 cups, 8-10 peaches)

1 and 1/2

tablespoons

freshly squeezed lemon juice

1/2

cup

(100 g) granulated sugar

1

tablespoon

cornstarch

1/2

teaspoon

ground cinnamon

1/8

teaspoon

ground nutmeg
Topping
2

cups

(280 g) all-purpose flour

2/3

cup

(135 g) granulated sugar

1 and 1/2

teaspoons

baking powder

1/4

teaspoon

baking soda

1/2

teaspoon

salt

1/2

cup

(1 stick/115 g) cold unsalted butter

, cut into small cubes

1 and 1/8

cups

(270 ml) cold buttermilk

1

teaspoon

vanilla extract

1

tablespoon

cream or milk

, for brushing the top

granulated sugar
Instructions
Preheat oven to 375°C/190°F. Grease a 9x13-inch baking dish. Set aside.

To make the filling: In a large bowl, toss peaches with lemon juice. Add all other ingredients and toss evenly to coat. Transfer mixture to prepared baking dish and spread evenly. Set aside.

To make the topping: Place flour, sugar, baking powder, baking soda, and salt in a medium bowl and mix to combine. Add butter and crumble the ingredients in a bowl using a pastry cutter, your fingertips, or a fork until it resembles coarse meal and there are no longer large pieces of butter. Add buttermilk and vanilla and mix until evenly combined (I use a wooden spoon). Place large spoonfuls of dough over the filling in the baking dish and then gently flatten them. It doesn't need to be perfect, some of the filling can be showing, and it will spread during baking. Lightly brush the dough with cream or milk and sprinkle with sugar.

Bake for 40-45 minutes, until juices are bubbling, and a toothpick inserted into the biscuit topping comes out clean. The topping should be golden brown, but if it browns too much while baking and the topping is still not cooked through, cover the baking dish loosely with aluminium foil. Allow to cool for a few minutes on a wire rack until warm. Serve warm with ice cream or whipped cream.

The cobbler is best on the first day it's made, when the topping is still crispy.