Sweet and tender peaches topped with a crispy, crumbly, nutty streusel topping.
Lately, while wandering the streets to relax in the evening, I find myself constantly complaining about the humid weather and wishing it would pass already. I love the cozy winter and I really don't like to sweat (not appropriate for a lady) or make tons of laundry. There's just not enough room to hang so many clothes in my tiny house. However, while picking some peaches for my crisp this morning, I saw the piles of summer fruits that I love so much – watermelon, peaches, mangos – and wanted summer to last just a bit longer. If I didn't have such a tiny freezer, I would have stockpiled these fruits so I could enjoy them in shakes and desserts for the next year.
Peach crisp is a great light and fruity dessert to serve after a heavy meal. Serve alongside ice cream to turn it into a small summer heaven. It's also much simpler and easier to make than pie. Simply cut the peaches, mix with a few ingredients, and place in the pan. Then make the crisp topping and sprinkle it on top. That's it!
Make sure that the peaches are fresh and tasty. If they aren't sweet enough, you can add more sugar. You can also increase the spices or even add some fresh or ground ginger.
If the peaches are ripe and tender, they won't be easy to peel. If that's the case, you can place them in a pot of hot water for 15 minutes, then transfer to a bowl of ice cold water for a few seconds. Peel them immediately after.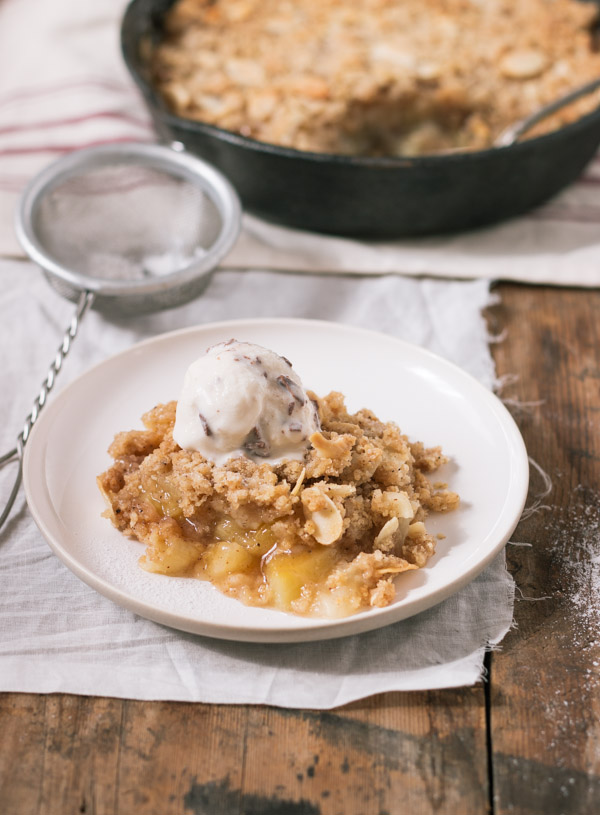 Although you could use less ingredients for the crisp by simply using flour, sugar, and butter, I like the crunch and taste that oats and nuts add. Since the dish is already simple, these textures and flavors give this dessert a little something special. If you don't have a food processor or pastry cutter, you can simply toss all the ingredients together using a fork or your hands.
The peaches should be soft and tender after baking, but not mushy. It's usually done when the crust turns golden brown and the juices start to bubble up to the sides of the dish. Depending on the pan you bake it in (8 or 9-inch pan, square or round), the peach crumble should be ready in about 30-40 minutes.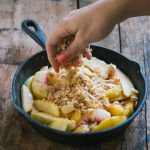 Peach Crisp
Sweet and tender peaches topped with a crispy, crumbly, nutty streusel topping.
---
Ingredients
Filling:
3

pounds

(1.3 kg) peaches, peeled, halved, pitted, and cut into 3/4-inch thick wedges (about 6 cups)

1

tablespoon

freshly squeezed lemon juice

1/4

cup

(50 g/1.8 oz.) granulated sugar

Pinch

of salt

Pinch

of ground cinnamon

Pinch

of ground nutmeg

1

tablespoon

cornstarch
Topping:
1/2

cup

(70 g/2.5 oz.) all-purpose flour

1/2

cup

(100 g/3.5 oz.) light brown sugar (or granulated sugar)

1/2

teaspoon

ground cinnamon

(or 1 teaspoon for stronger flavor)

1/8

teaspoon

salt

6

Tablespoons

(85 g/3 oz.) cold butter, cut into small cubes

1/3

cup

(30 g/1 oz.) old-fashioned oats

1/4

cup

sliced almonds

(or other nuts such as walnuts, pecans, or hazelnuts, chopped)
Instructions
Preheat oven to 350C/180F. Lightly spray or butter a 9-inch or 8-inch round or square baking dish. Set aside.

To make the peaches: In a medium bowl, toss peaches with lemon juice. Add all other ingredients and toss evenly to coat. Transfer mixture to prepared baking dish and spread evenly. Set aside.

To make the topping: Place all ingredients except oats and almonds in a food processor and pulse until mixture clumps together into crumbly balls. Sprinkle oats and almonds over mixture and pulse 2-3 times to combine. Alternatively, you can crumble the ingredients in a bowl using your fingertips, a pastry cutter, or a fork. Sprinkle crumble evenly on top of filling.

Bake for 30-40 minutes, until topping is golden brown and juices are bubbling. The peaches should be tender, but not mushy. Allow to cool for a few minutes on a wire rack until warm. Serve warm and, if you like, add ice cream or whipped cream.

Crisp will keep, covered, in the refrigerated for up to 3 days, but will taste best on the first day it's made, when the topping is still crispy. After that, it will slowly become soggier.