Super thick peanut butter cup cookies full of peanut butter flavor and topped with peanut butter cup. These cookies are the perfect combination of crumbly and soft. They literally melt in your mouth!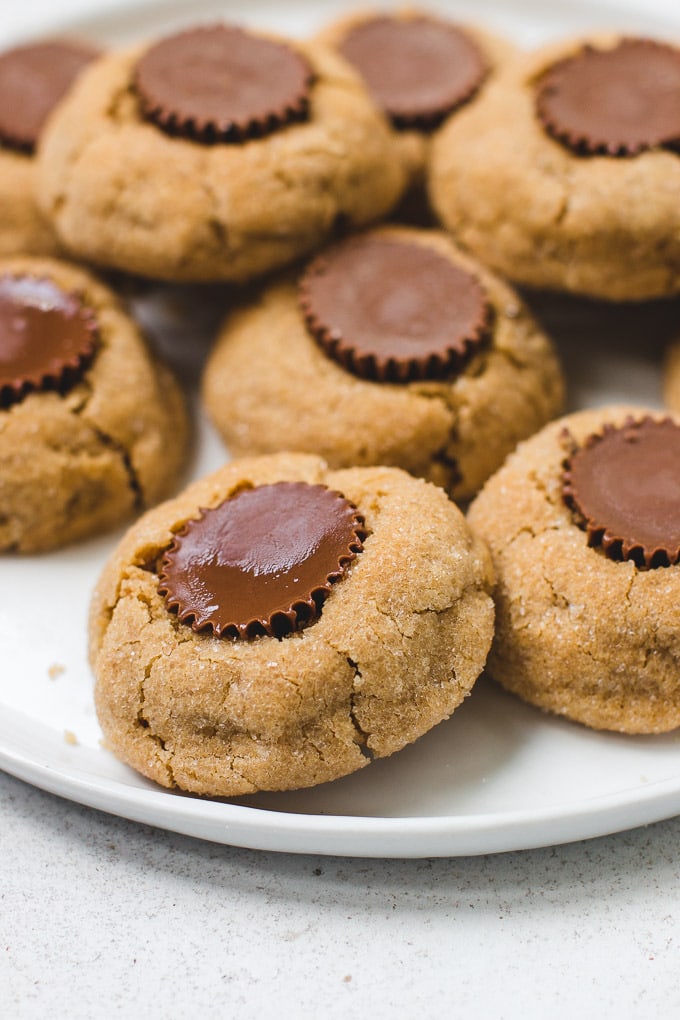 These cookies are a peanut butter lover's dream. Which means, they are my dream.
These cookies are like peanut butter blossoms, only instead of using Hershey's kisses chocolates for the topping, I use peanut butter cups, which is even better if you ask me!
These cookies are so soft and thick, and with their sparkly sugar and shiny melty chocolate topping, they are hard to resist. You'll want to eat the whole batch of cookies in 5 minutes. Their flavor is amazing but their texture is everything. They will melt in your mouth if you slightly underbake them.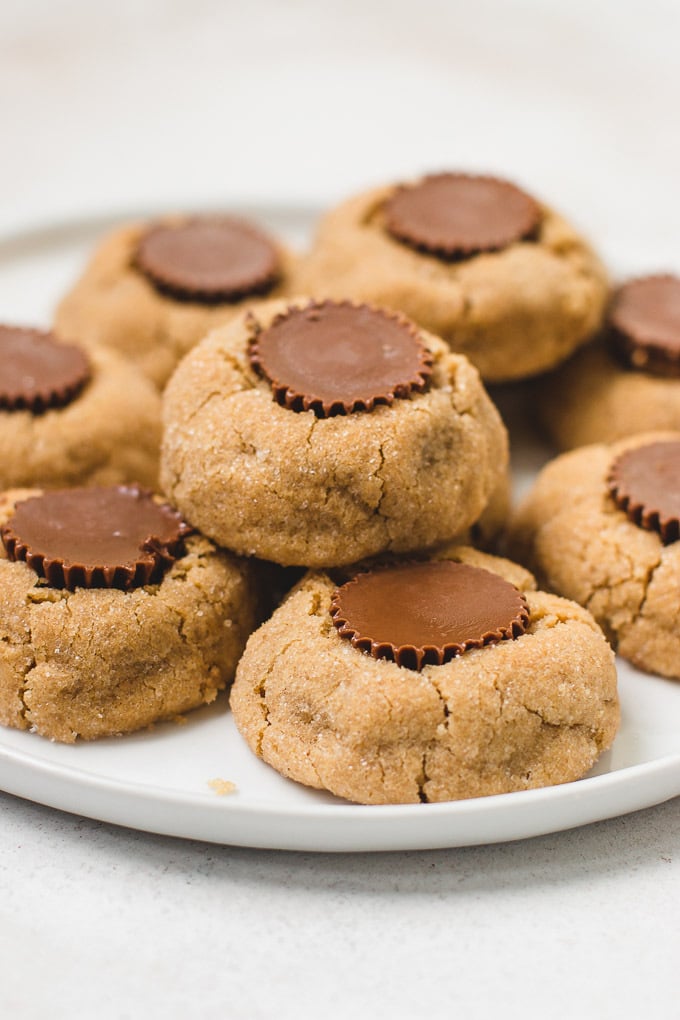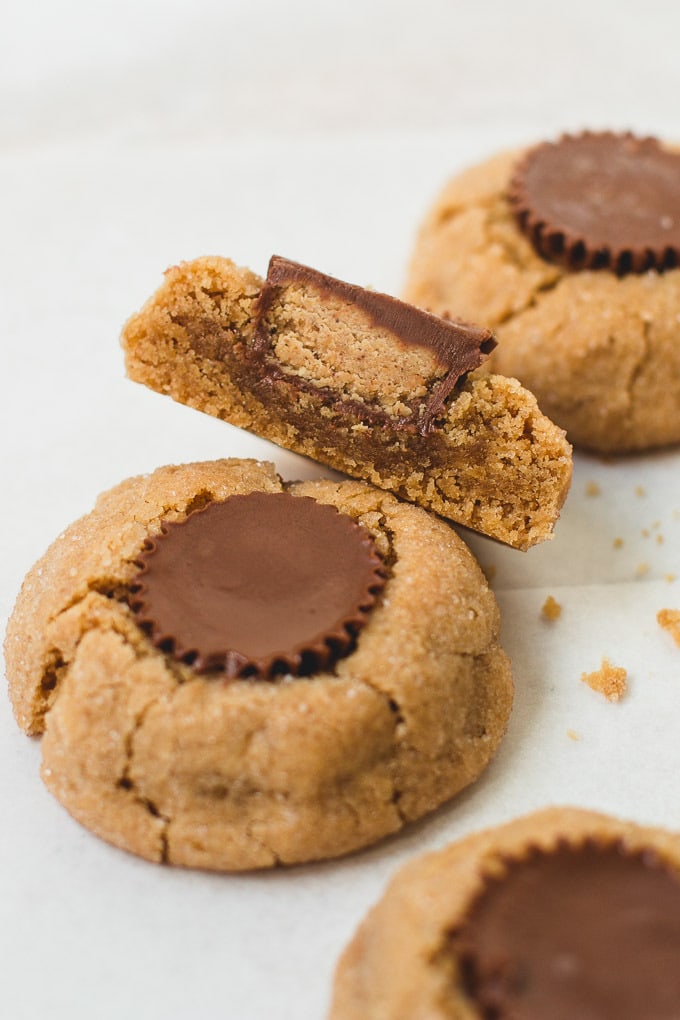 How to Make The Cookies
First you'll need to make simple peanut butter cookies by mixing the ingredients one after the other in a mixer. If you don't have a stand mixer, you can use a hand mixer fitted with the whisk attachment. Once the dough is ready, roll it into balls. I use an ice cream scoop for even cookies.
I like to roll the cookie dough balls in sugar before baking because a little sparkle never hurts, but that's optional.
Bake the cookies until they are puffy and slightly cracked. They don't spread much and stay super thick, which is the fun part!
After baking, allow the cookies to cool for 5-10 minutes, then gently press mini Reese's peanut butter cup into the center of each cookie. Don't worry if the cookies break; just squeeze the broken-off bit back onto the cookie.
What if the peanut butter cups start to melt? 
They will melt slightly and that's ok. You don't have to do anything. But if you prefer they won't melt at all, you can stick the cookie sheet into the freezer, or transfer the cookies to a plate and place the plate in the freezer. Leave them there for just a few minutes, and then they're ready to be eaten.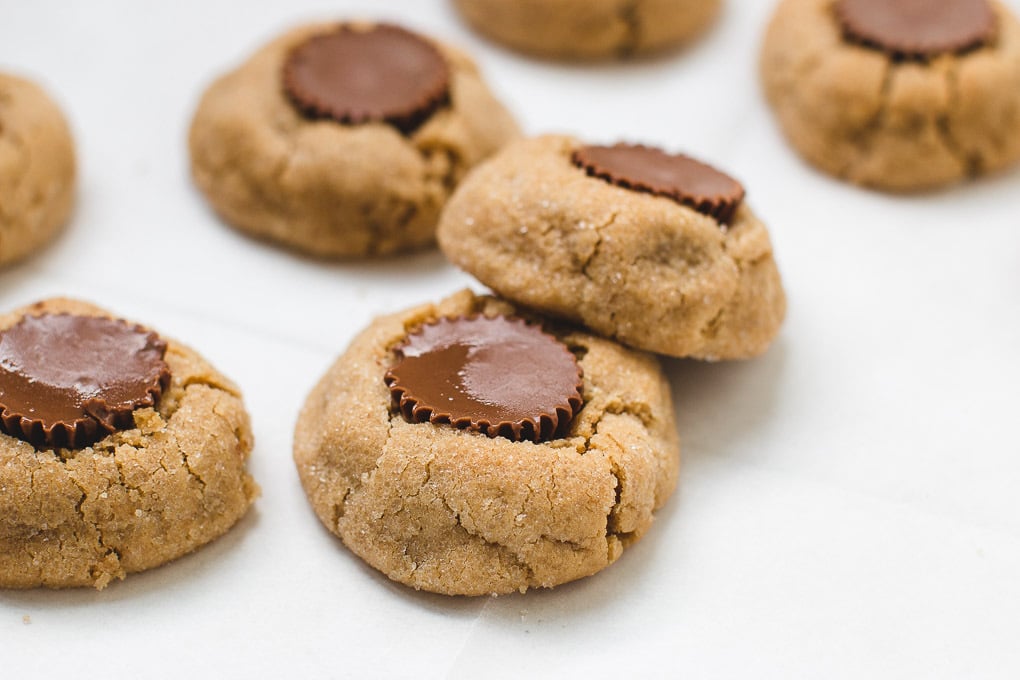 Underbake The Cookies
The baking time can affect the texture of the cookies greatly, and slightly underbaking cookies will make them softer and chewier. If you measured the cookies as suggested in the recipe, the baking time should be around 10 minutes (depending on your oven). They won't be fully baked at the center, which is why they're soft.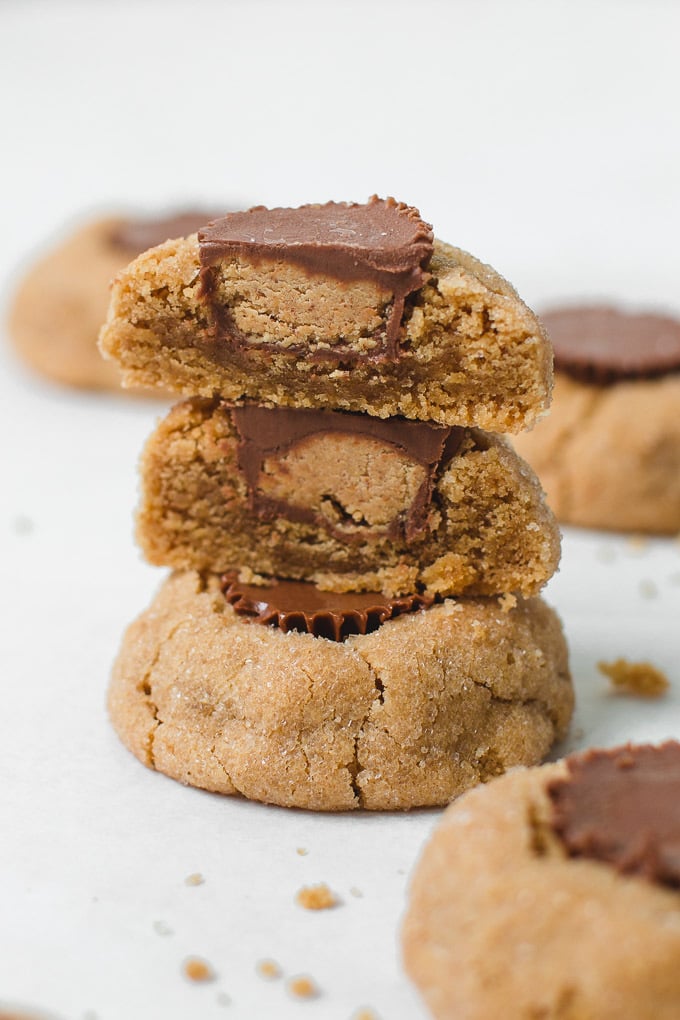 More Peanut Butter Recipes: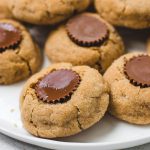 Peanut Butter Cup Cookies
---
Ingredients
1 and 1/3

cups

(185g) all-purpose flour

3/4

teaspoon

baking soda

1/2

teaspoon

salt

1/2

cup

(115g/1 stick) unsalted butter, softened to room temperature

3/4

cup

(185g) creamy peanut butter (not natural)

1/2

cup

(100g) granulated sugar

1/4

cup

(50g) light brown sugar

1

large egg

1 and 1/2

tablespoons

milk

1

teaspoon

pure vanilla extract
Topping
1/4

cup

(50g) granulated sugar, for rolling

24

unwrapped Reese's Miniature Peanut Butter Cups
Instructions
Preheat oven to 375°F/190°C degrees. Line 2 pans with parchment paper.

In a medium bowl whisk together flour, baking soda and salt. Set aside.


In a mixer bowl fitted with the paddle attachment, beat butter, peanut butter, granulated sugar and brown sugar on medium speed for 3-4 minute until fluffy and creamy. Add the egg, milk, and vanilla extract, and beat until combined. Add flour mixture and mix just until combined. Do not overmix.


Place 1/4 cup granulated sugar in a small bowl for the topping. Set aside.
 Roll dough into balls, the size of 1.5 tablespoons each (I use this ice cream scoop for even cookies), and 1.5 inches/4 cm in diameter. Roll balls in sugar, and place onto the cookie sheets, 3 inches/8 cm apart.

Bake cookies for 10 minutes until puffy and slightly cracked. Allow cookies to cool for 5-10 minutes, then gently press peanut butter cup into the center of each cookie. Cookies will crack, that's ok. If they break too much, squeeze the broken-off bit back onto the cookie. The peanut butter cups will slightly melt and that's ok (you can place the cookies in a plate and in the freezer for several minutes, but that's optional). Gently transfer cookies to a wire rack to cool completely. Serve cookies warm or at room temperature.


Store cookies at room temperature in an airtight container for up to 3 days. If you plan to keep them for longer, place in the fridge for up to 1 week, or freeze for up to 2 months.