This dreamy, creamy classic peanut butter pie recipe is made with a chocolate cookie crust and has a fluffy peanut butter mousse filling. Like a Reece's Peanut Butter cup in pie form, one bite and you'll be in heaven!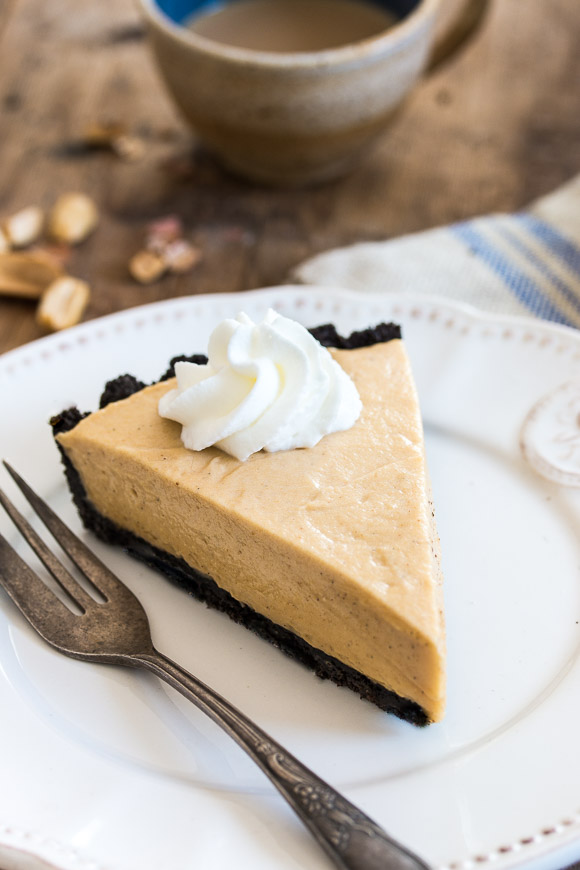 The texture really of this pie is dreamy. It's creamy, fluffy, silky smooth, and pretty light given the heavy ingredients, with a definite peanut flavor. It's not too sweet, either, with a hint of saltiness that makes it just perfect. This pie and my chewy peanut butter cookies are definitely competing for first place on my list of favorite peanut butter dessert recipes 🙂
How to make peanut butter pie
Are you a peanut butter fanatic like me? Well, you've arrived at just the right place! This peanut butter pie is not only simple to make, but it has a rich, creamy, mousse-like filling you won't be able to resist.
Let's start with the crust
Process Oreo cookies (including filling) in a food processor until they are finely ground, then mix them with the melted butter until completely combined and moistened. Then, press them firmly into a pie pan.
No-bake or baked crust?
I like to bake my crust for a few minutes in the oven to give it a nice crunch and prevent it from becoming soggy. But, if you're really not up to it, you can skip it and just chill the crust for at least 30 minutes or until it firms up a bit. Either method will work and produce an exceptionally yummy pie!
Heavenly peanut butter pie filling
Combine cream cheese and peanut butter. In a mixer fitted with the paddle attachment or using a hand mixer, beat the cream cheese and peanut butter together until light and fluffy.
Add sifted powdered sugar. Continue to mix the ingredients until all the powdered sugar is combined. Lastly, add the vanilla extract.
Fold in the whipped cream. Whip the cream to medium peaks and gently fold it into your peanut butter mixture. If you need some pointers, check out my blog post on how to make whipped cream.
Chill. The pie needs to chill in the fridge for at least 3-4 hours, or preferably overnight. You want it to set so that it slices into neat wedges. The wait will be worth it.
Garnish. You can top the pie with half of this recipe of chocolate ganache if you want it extra chocolatey. You can also top it with whipped cream, peanuts, peanut butter cups, or milk chocolate shavings.
Customize to your liking
I tried this recipe a few times with various amounts of cream cheese, peanut butter, and whipped cream, and the truth is they were all amazing. This recipe has an incredibly balanced flavor of peanut butter and sugar with a light, fluffy texture. However, feel free to customize it as you see fit! One thing that I love about this recipe is that it's incredibly versatile. Add more peanut butter for a stronger flavor, or fold in extra whipped cream if you want it extra light and fluffy. Feel free to experiment to see what ratios you like best!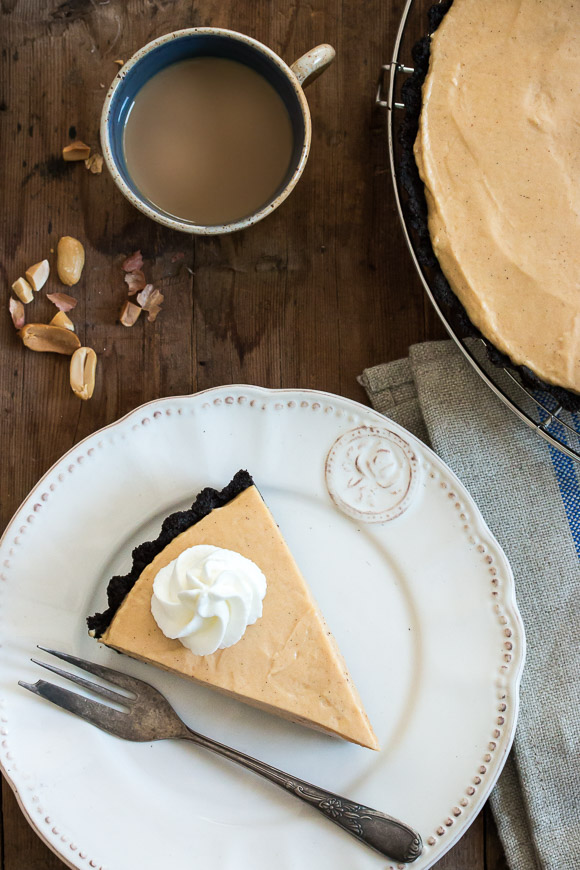 Tips for perfect peanut butter pie
Use room temperature cream cheese. When making the filling, be sure to pull the cream cheese from the refrigerator ahead of time so it has time to warm up a bit. This will make it much easier to combine with the rest of the ingredients, ensuring it's incredibly smooth and free of lumps.
Don't use natural peanut butter. I found that natural peanut butter does not work as well in this recipe because it is much thinner and lacks any additional sugar or salt, which really adds great flavor to this pie. My preference is to use creamy Skippy peanut butter, but any non-natural creamy peanut will do.
Bake the crust if you have the time. While your pie will still be delicious if you don't bake it, I highly recommend doing so if you have the time because it helps produce a crunchier, more sturdy crust. Just be sure to let it cool completely before adding the filling.
Use cold whipped cream. Cold whipped cream whips much more easily in whipped cream than room temperature cream.
Freeze for up to 3 months. If you want to freeze this pie, just wrap it up in plastic wrap to keep it from getting freezer burn. To thaw, place it in the refrigerator over night.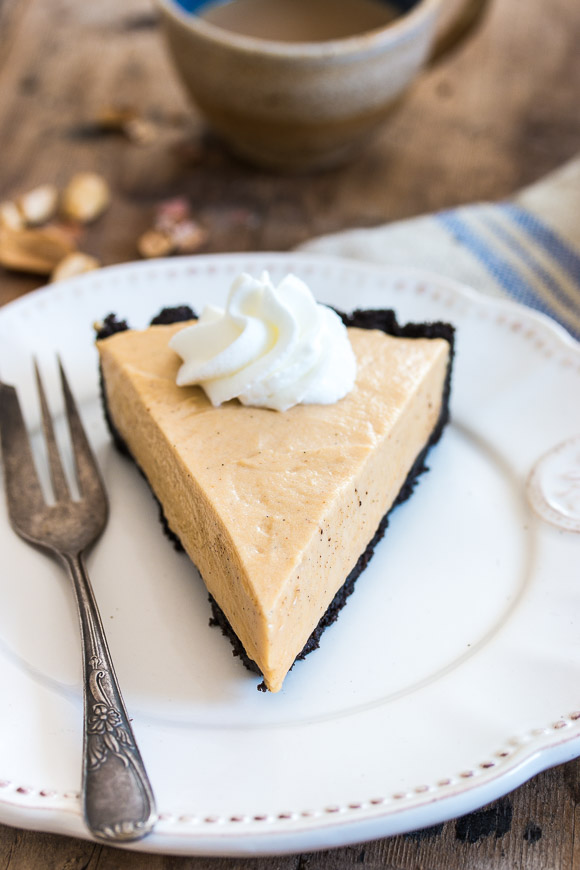 More delicious chocolate peanut butter recipes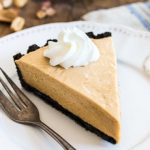 Peanut Butter Pie
This dreamy, creamy classic peanut butter pie is made of chocolate cookie crust and a fluffy peanut butter mousse filling.
YIELD
9
-inch (23 cm) pie
Ingredients
Chocolate Crust:
20

whole Oreo cookies

5

tablespoons

(70g) unsalted butter, melted
Peanut Butter Mousse Filling:
1

cup

(224g) full-fat cream cheese

, at room temperature

1

cup

(250g)) creamy peanut butter (not natural)

1

teaspoon

pure vanilla extract

1

cup

(120g) sifted powdered sugar

1

cup

(240 ml) heavy cream
Instructions
Make the crust: Pulse Oreo cookies, with their filling, in a food processor until finely ground. In a medium bowl, mix together crumbs and melted butter until combined and moistened. Press the mixture onto the bottom and up the sides of a 9-inch pie or tart pan. I recommend baking the crust to make it crunchy. If you choose to do so, bake in a 350F/180C preheated oven for about 8 minutes until fragrant and firm, then let it cool completely on a wire rack. If you prefer a no-bake dessert, just place it in the fridge for 30-60 minutes to firm up before adding the filling.

For the peanut butter filling: In a large bowl using a mixer fitted with a paddle attachment, beat cream cheese and peanut butter on medium-high speed until combined and smooth. Add powdered sugar and beat until combined and fluffy. Beat in vanilla extract. Set aside.

In a medium bowl using an electric mixer fitted with the whisk attachment, whisk heavy cream until soft peaks form; they should hold their shape but have a soft texture. Using a spatula, gently fold half of the whipped cream into the peanut butter mixture, then fold in the other half.

Pour filling into the pan over the crust and smooth the top. You can glaze the pie with

chocolate ganache

(half of the recipe will do), and/or top with peanut butter cups, peanuts, or

whipped cream

.

Cover pan loosely with plastic wrap and place in the fridge for at least 4 hours, or until completely set, before serving. Serve cold.

Peanut butter pie will keep for 3-4 days in the fridge.